Who wouldn't love the idea of living in an actual country farmhouse, surrounded by farms and open fields, and fresh air? Although the idea could be a bit far-fetched for most people living in city apartments and suburbs, you can create the farmhouse style interiors in just about any style of house or any location you live in. 
Here's all you need to know about farmhouse furniture style and its décor ideas.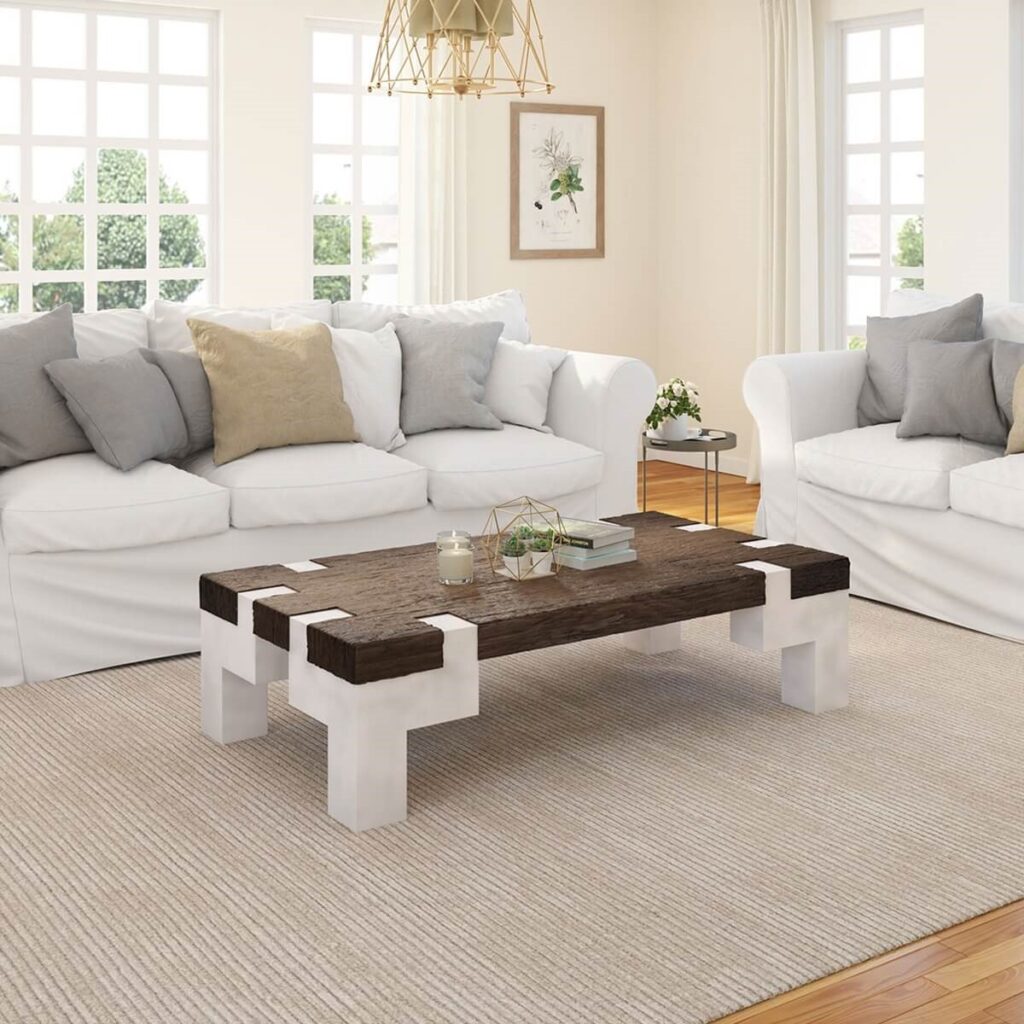 What is Farmhouse Style?
Farmhouse style is inspired by nature and humble, rural architecture, mostly from yesteryears, blending into the needs of a modern lifestyle. Focused on simplicity, durability and practicality, while also embracing modern comforts, this style of architecture exudes rustic charm and creates an interior that is relaxed, comfortable, and laid back. 
What is farmhouse style furniture?
A farmhouse style interior can be achieved by putting together furniture from natural materials that are minimalist in design. The essence of a home collected over time is the dominant feature in this style, hence a weathered and worn look on furniture offers both form and function.  
History of farmhouse style
This style emerged in Europe after the industrial revolution and came to the US during its colonial years. The farmhouse style gained prominence in the late 20th and early 21st centuries as a major style form in modern homes.
Basic elements of farmhouse style
Furniture designed in farmhouse style celebrates the designs of yesteryear by using distressed wood with accents, floral motifs, pastel colors, and an organic look. Solid wood, wicker, and wrought iron are used to build farmhouse furniture pieces. Stained or natural wood with open shelving is used to give the interior an airy feel.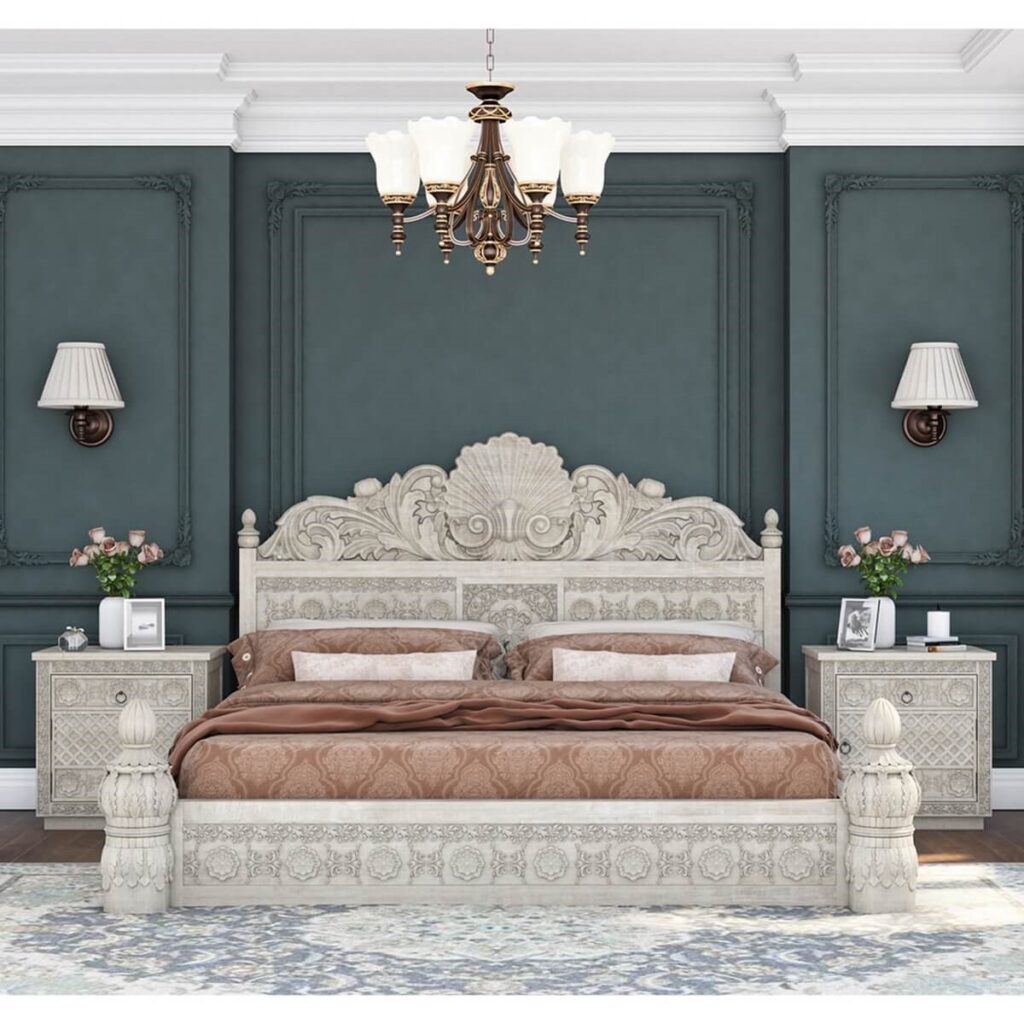 Complete Home Decor Ideas for Farmhouse Style
If your home features farmhouse style, there is a lot more you can do with decoration. Styling up the console table or sideboard with figurines might be just the thing you are looking for to come up with farmhouse décor ideas. 
Living room
Keeping walls neutral in the living room allows lots of natural lighting that hallmarks the farmhouse style. Wooden beams and wicker accents pieces like a TV stand, vintage looking crates, and weaved basket along with fresh potted plants create a more organic feel.  The farmhouse style pairs really seamlessly with bohemian decor style. Add in that boho chic look with your favorite macrame wall hangings, chunky knit cushion covers, patterned rugs and whimsical wallpapers.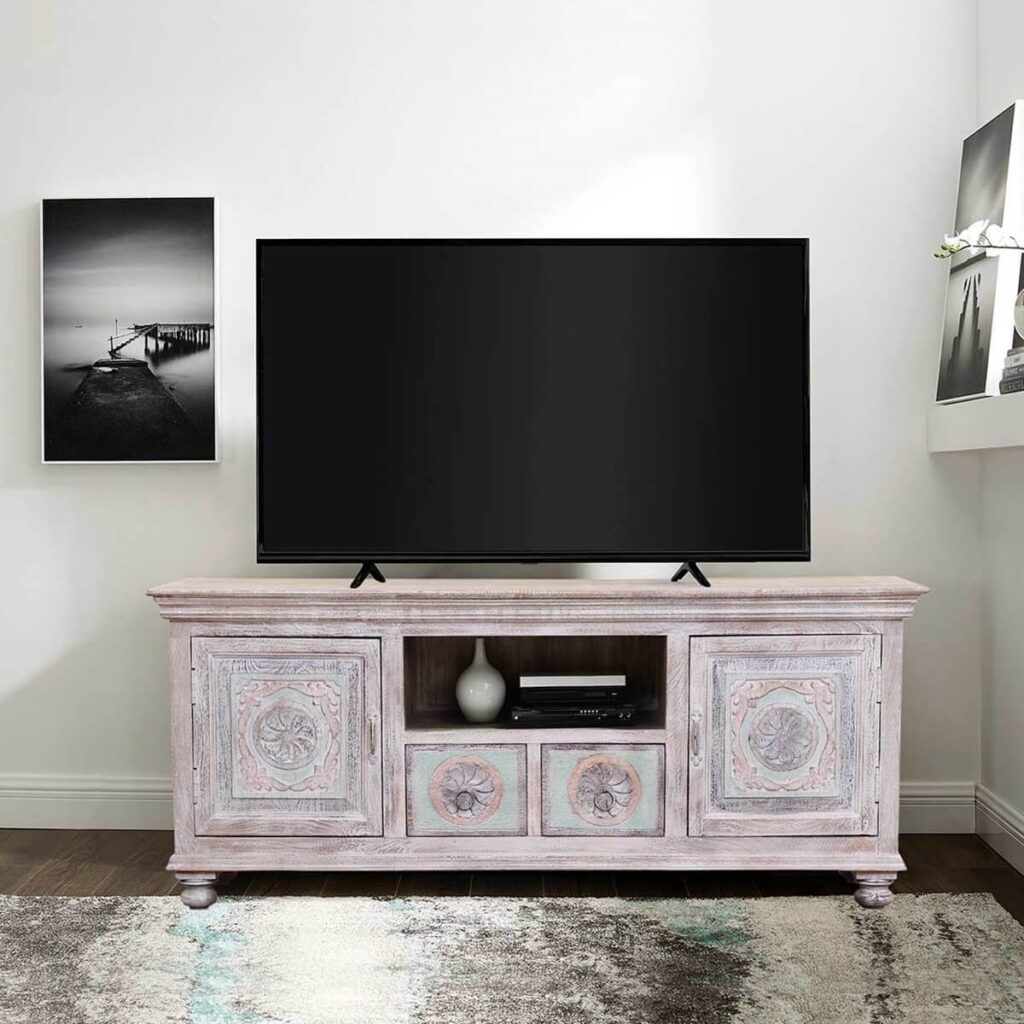 Bedroom
The use of wooden furniture in the bedroom in a neural ambiance puts focus on the farmhouse style décor. An iron and solid wood dresser and accent chairs bring out the traditional flair to put up a farmhouse look. Table lamps and candle stands in lighter tones and matte finish can top of the look, along with barn doors, exposed bricks and shiplap feature wall.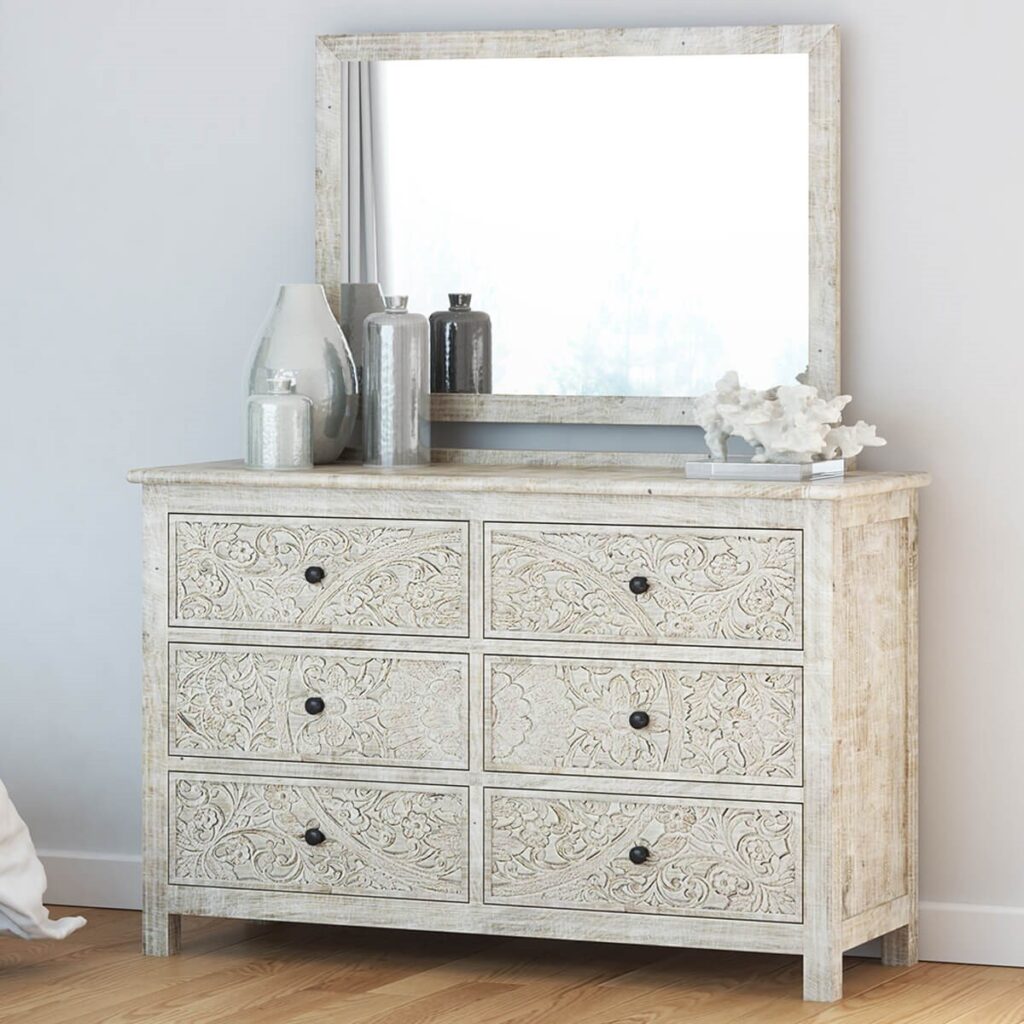 Kitchen
Placing a buffet table made of repurposed wood for storage makes the kitchen welcoming and functional to create a farmhouse style. A kitchen island could bring the traditional and country charm to create extra storage while the glass and ceramic utensils and appliances in lighter tones in reclaimed wood cabinets weave the old to the new.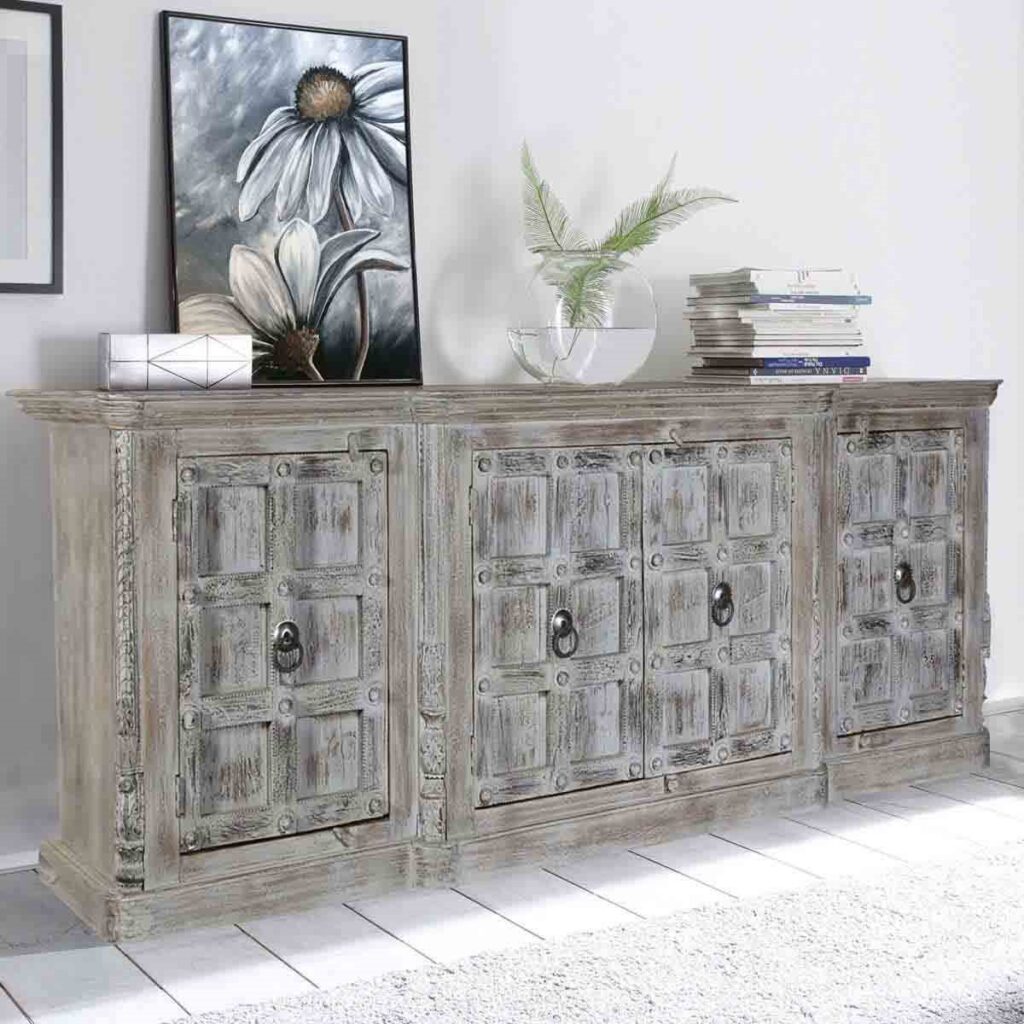 Dining room 
A farmhouse dining space is all about practicality and elegance. Usage of distressed finish buffets or hutch as storage furniture for the dining room sets a vintage tone in the dining space.  X-Shape table legs with stretchers, or turned baluster legs are a dominant feature in this style. Add in a benched along with table and chairs in distressed finish to create a fresh, cozy, and warm dining area.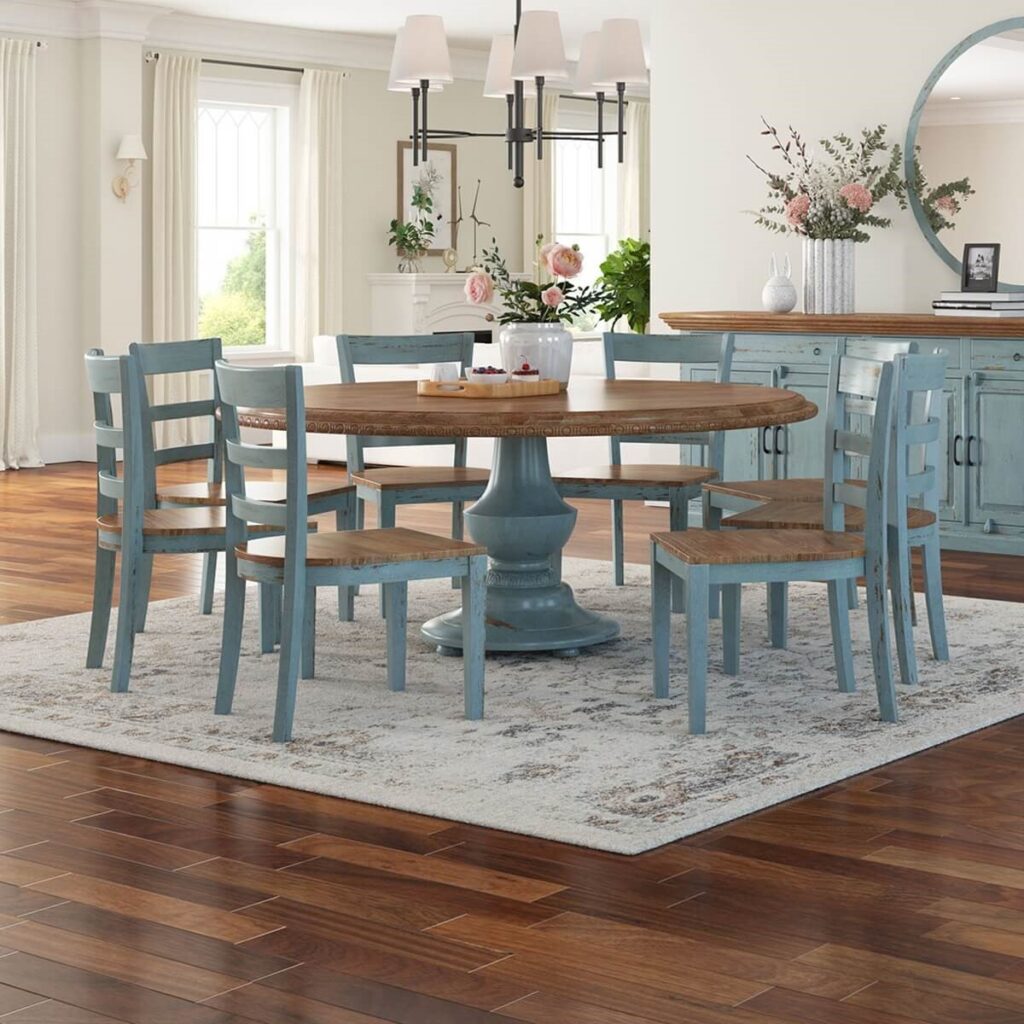 Bathroom
A bathroom can set a warm feel when equipped with the farmhouse style décor like a solid wood cabinet or vanity. Open wall shelves in earthy tones makes a bathroom rustic and charming while offering you relaxing time to unwind.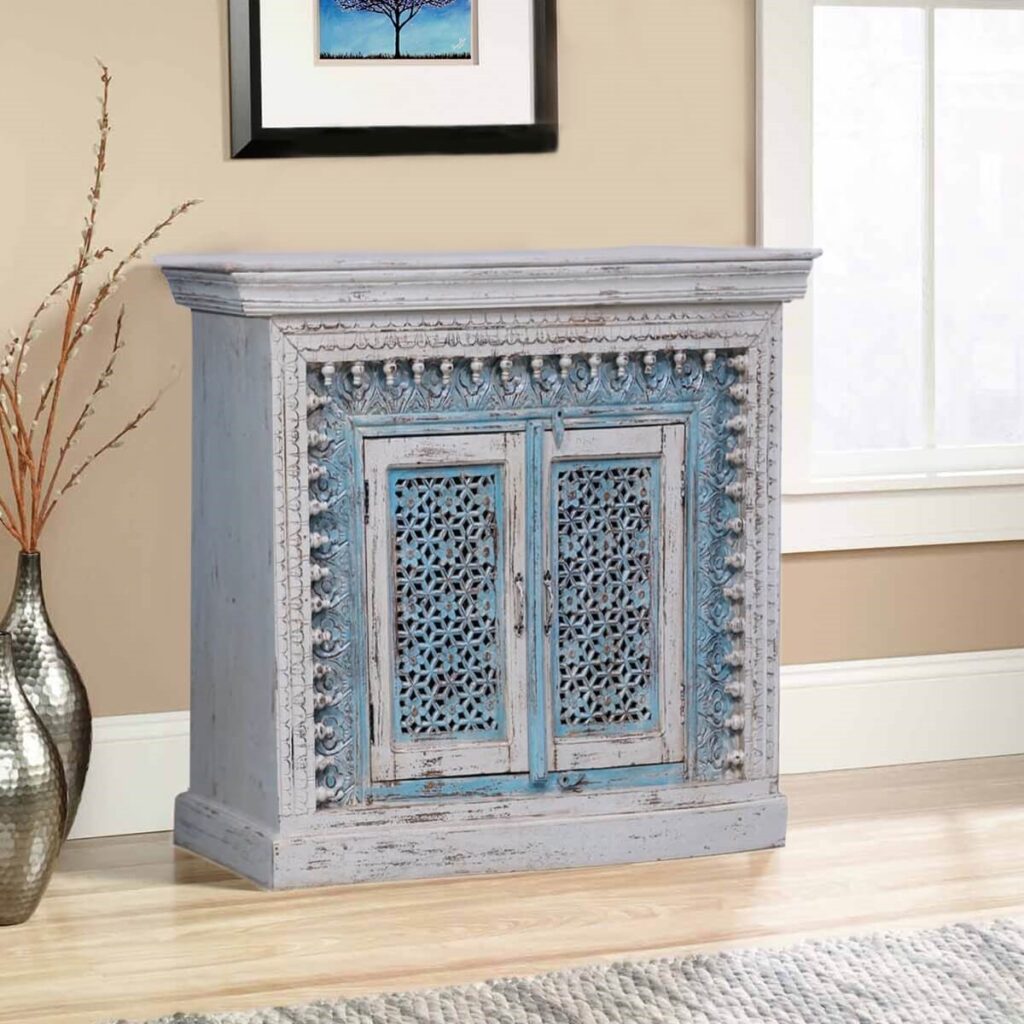 Outdoor
Bring in a farmhouse style vibe on the patio of your home with wicker furniture along with a hand woven rug to create a simple yet beautiful outdoors. Go for the classic white look with natural wood elements. With a firepit and a rustic couch and lounge chairs, the outdoor living space will be perfect to enjoy the fresh air. A true farmhouse style exterior isn't complete without barn lights. While setting up a lounging spot in your backyard, you may add vintage string lights to elevate the whole look and feel. 
Office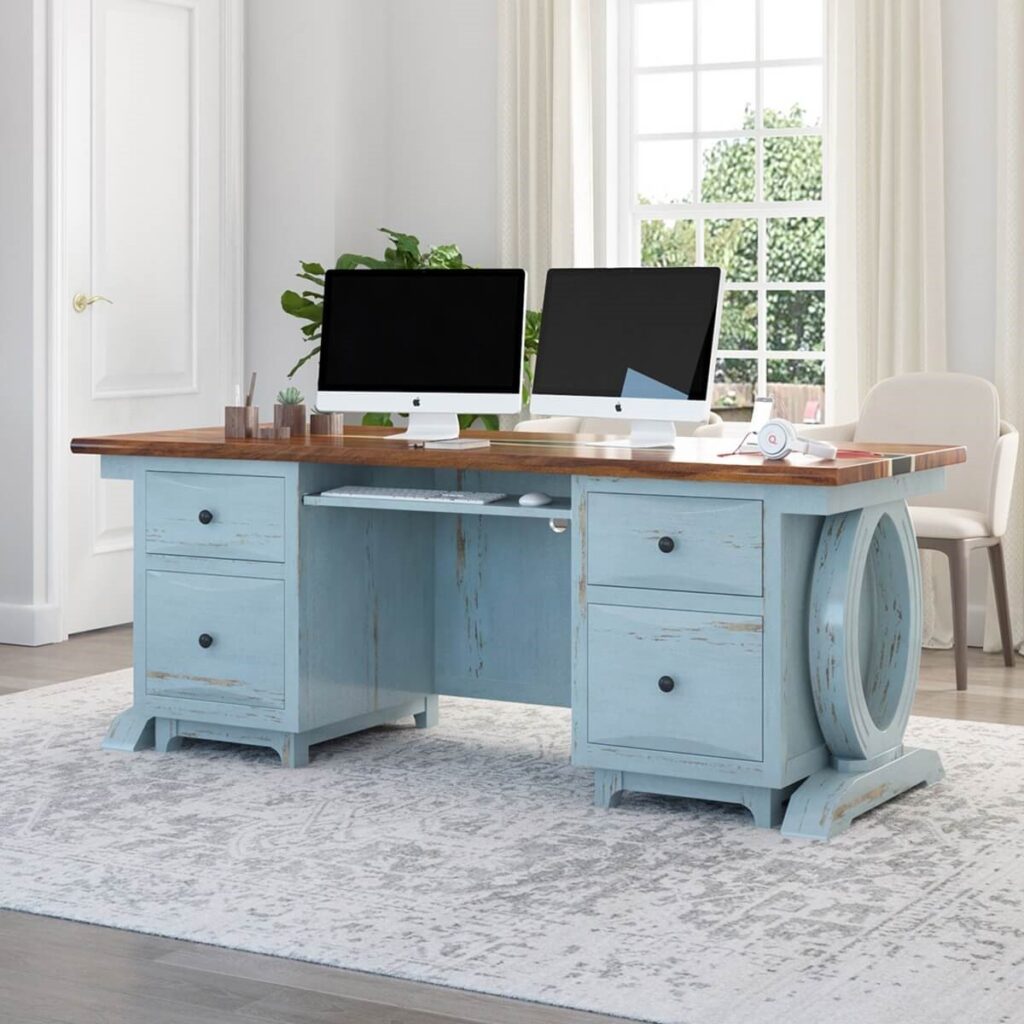 Farmhouse style home offices focus on having a decluttered and bright ambiance. Two tone wood desks with natural wood tops and distressed white or brown-ish legs are perfect to keep things organized and airy where to place the computer or use it as normal writing or executive desk. Robustly built wooden bookshelves offer great storage while making the office space warm and inviting. Decor elements like large vintage clocks, typographical wall art with wooden frames, orbs and plants can make work hours feel more relaxed.
Rustic farmhouse style furniture
With a hint of industrial features, the rustic farmhouse is the style that blends fresh elements into traditional styled furniture. The rustic elements focus on unfinished cuts, rough textures, and distressed color of patina on the furniture for a sharp and contrasted look balanced with soft traditional elements.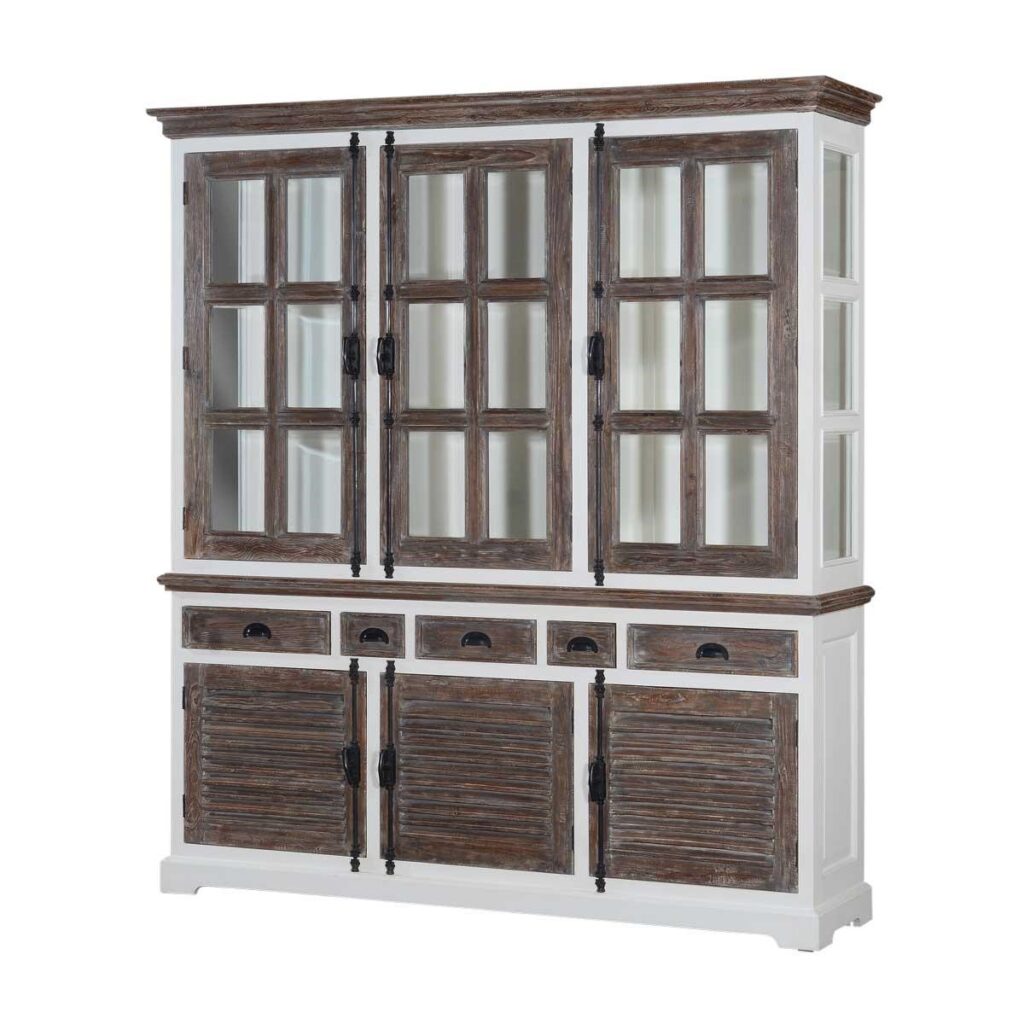 Country vs farmhouse style
Farmhouse style furniture focuses on functionality and form to be practical while having a naturally weathered, distressed, and worn look. Country style furniture is softer with lots of curved lines and features a decorated look while farmhouse style is cleaner with defined lines.
Traditional vs modern farmhouse style
The traditional style uses warm tones and neutrals whereas the modern farmhouse invites white tones for a brighter look. The traditional style incorporates antique furniture and modern farmhouse style goes more with practical and light furniture.
Where to buy?
Farmhouse style is one of the most sought-after styles in the furniture industry. From your local retailers to the furniture giants, you can get farmhouse style furniture that suits your style and fits your budget. Robust build being an inherent feature of this style, consider investing in quality solid wood furniture. There are also brands like Sierra Living Concepts that make custom solid wood furniture, so you can buy yourself a piece of farmhouse style furniture that truly matches your design needs and style preferences at rental market trends in  Las Vegas, Nevada.