Have you ever considered the environmental impact of even a chair that is damaged, a defective desk, or a malfunctioning charging station? Well, it won't be as comfortable and welcoming as the completely kept and equipped one. Hence, here we are to comprehend the importance of the right office furniture solutions and space planning and how it impacts the employer's mental and physical health. From wall colors to the lighting and furniture placed, every minute and major detail adds to the overall impact and productivity of the employers. 
Therefore, you should take these variables into account right away if you are neglecting any tiny flaws in your sitting chair and wondering why you can't concentrate well.
For Better Mental and Physical Health of the Staff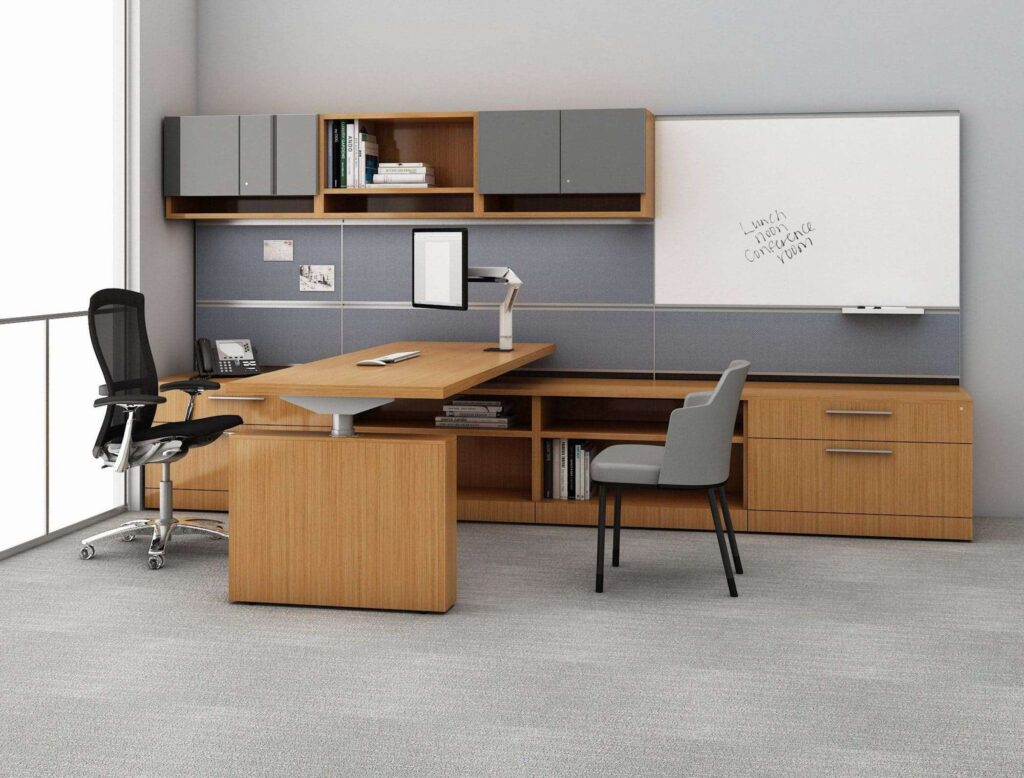 source: pinterest.com
Good office furniture and spacious rooms lighten your mood and make room for happiness and abundance. An ergonomic, stylish and healthy office space shall birth more able and energetic employees than the dull, gloomy and boring aura. Office furniture needs to promote the staff's mental and physical health for several reasons. 
First, employees are more likely to be productive when they are comfortable. Second, when employees have access to ergonomic furniture, they are less likely to experience pain or discomfort that can lead to absences from work. Finally, healthy employees are more likely to be engaged and less likely to experience stress or burnout.
To Increase productivity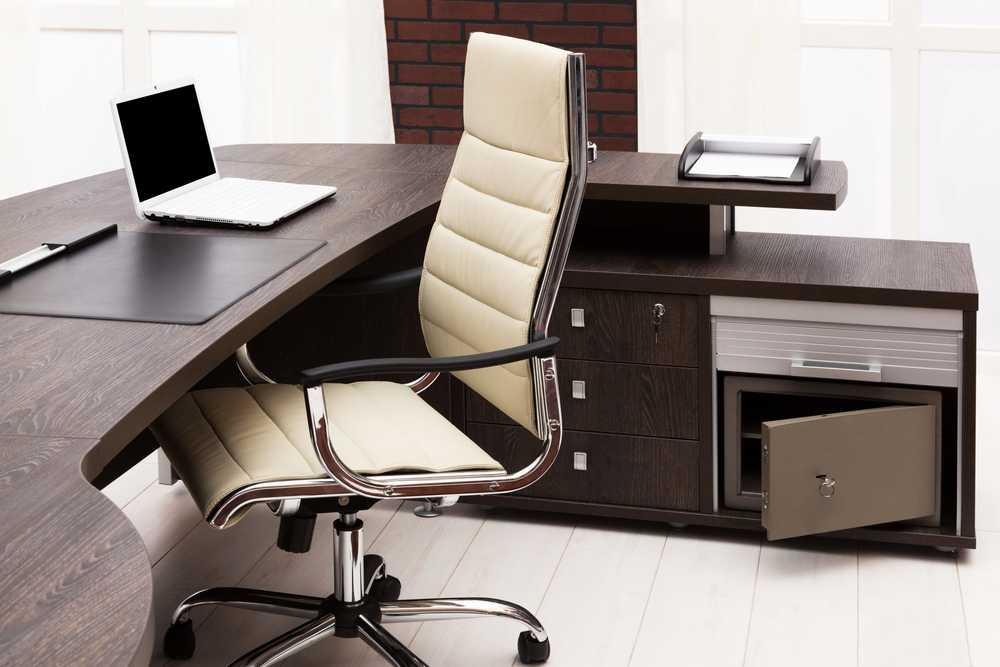 source: pinterest.com
The ergonomic furniture is supposed to give you a comforting space and draw out the best in you. The role of the furniture is far beyond our thinking and extensive in executing office chores efficiently. Suppose the office environment is pleasant and inviting. In that case, it will automatically improve the capabilities of the staff, making them focus more on the client's deadline rather than repeatedly complaining about the dismantled chair. 
To Create a Comfortable and inviting space
The office's ambiance is supposed to give you good vibes and a relaxing atmosphere where the employees can thrive to the fullest. Here are a few things to keep in mind when choosing office space furniture and how to plan your space well: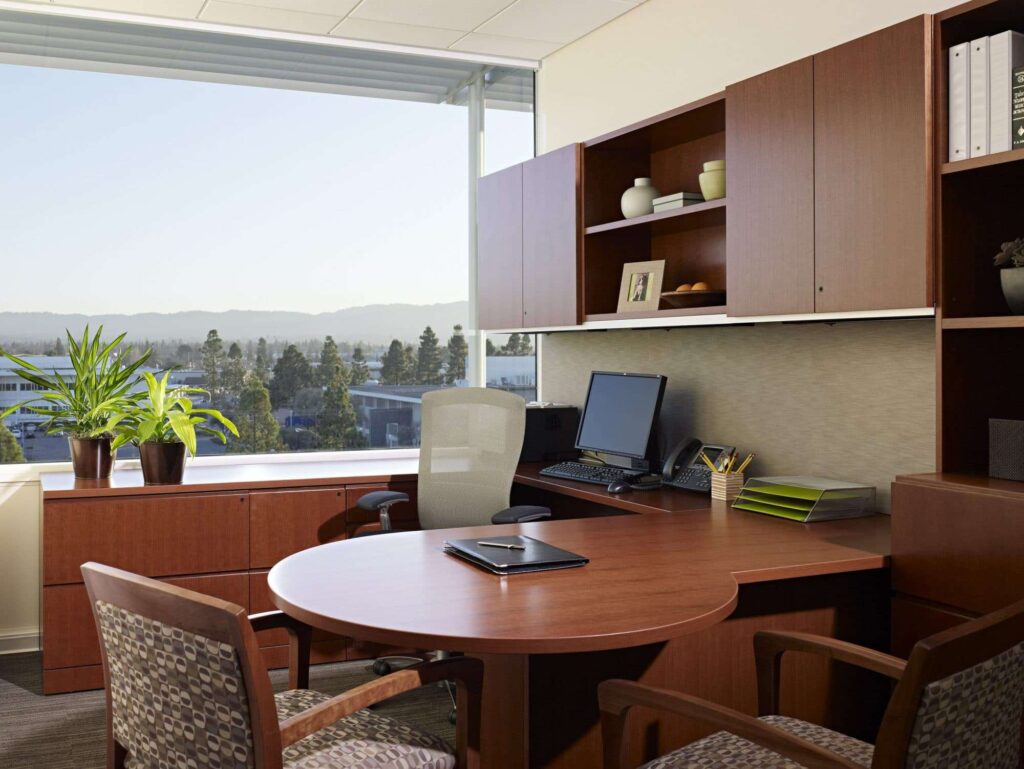 source: pinterest.com
Functionality: Make sure the pieces you choose are functional for the way you work. If you spend much time on the computer, invest in a comfortable chair that provides good back support. If you often need to collaborate with others, look for furniture that promotes collaboration, like conference tables and whiteboards. 
Comfort: Your office should be where you enjoy spending time, so comfort is key. Look for furniture that suits your style and provides all the support you need.
Good and Maintained Furniture gives a Spacious Look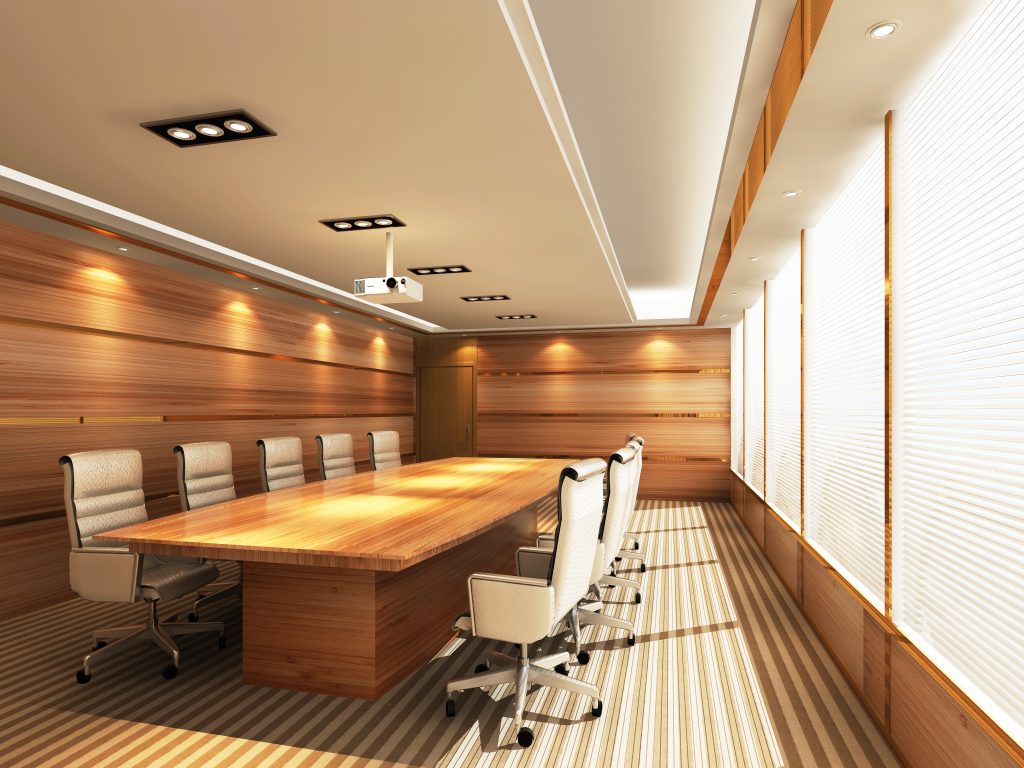 source: pinterest.com
Choosing the best furniture for your business will also work in your favor. You can choose office furniture based on space, aesthetics, acoustics, etc. If the furniture is placed properly, it can transform the space into more tempting and fascinating. Having good quality, well-maintained furniture in your office gives the space a more open and spacious feel. Hence, office space planning is likely to yield positive results. 
This can significantly affect how your employees or clients perceive your business. First impressions are everything, so it's important to ensure your office puts its best foot forward at all times. Having the right office space furniture is one way to ensure that.
To Ensure Safety
source: pinterest.com
If the furniture is properly placed, it can ensure better and safe mobility of the employees rather than improperly designed furniture. Having the right office furniture is important for good space planning and other reasons. Still, one of the most important is safety. Poorly designed or cheaply made furniture can pose a serious safety hazard to employees, customers, and anyone who comes into contact with it. 
Here are a few things to keep in mind when selecting office furniture to ensure everyone's safety: 
First, make sure that any chairs or other seating options are stable and will not tip over easily. 
Second, avoid sharp edges or corners on desks, tables, and other pieces of furniture. Third, ensure that drawer handles and knobs are not loose or likely to come off, as this could cause someone to hurt themselves if they grab onto one while trying to open a drawer.
Conclusion
source: pinterest.com
All in all, the importance of having the right office furniture and space planning cannot be underestimated. From improved focus and better productivity to enhanced comfort and an inviting atmosphere, there are plenty of benefits from investing in quality office furniture. This is why ensuring your office space furniture for your staff is important. A good investment now can pay off huge dividends later on!