We all enjoy spending more time outside as the weather warms and the days lengthen. In order to appreciate the beauty of nature, it is necessary to create a peaceful and uplifting environment. 
In order to create a relaxed, peaceful atmosphere in your garden, boho outdoor decor and design concepts are definitely a great choice. Take a step forward to becoming a relaxed and calm person with these boho modern outdoor decor ideas.
In short, boho style designs have a special quality, so let's turn our backyards or patios into something novel and captivating. Shall we throw pretty colorful stuff now?
Boho Style Means…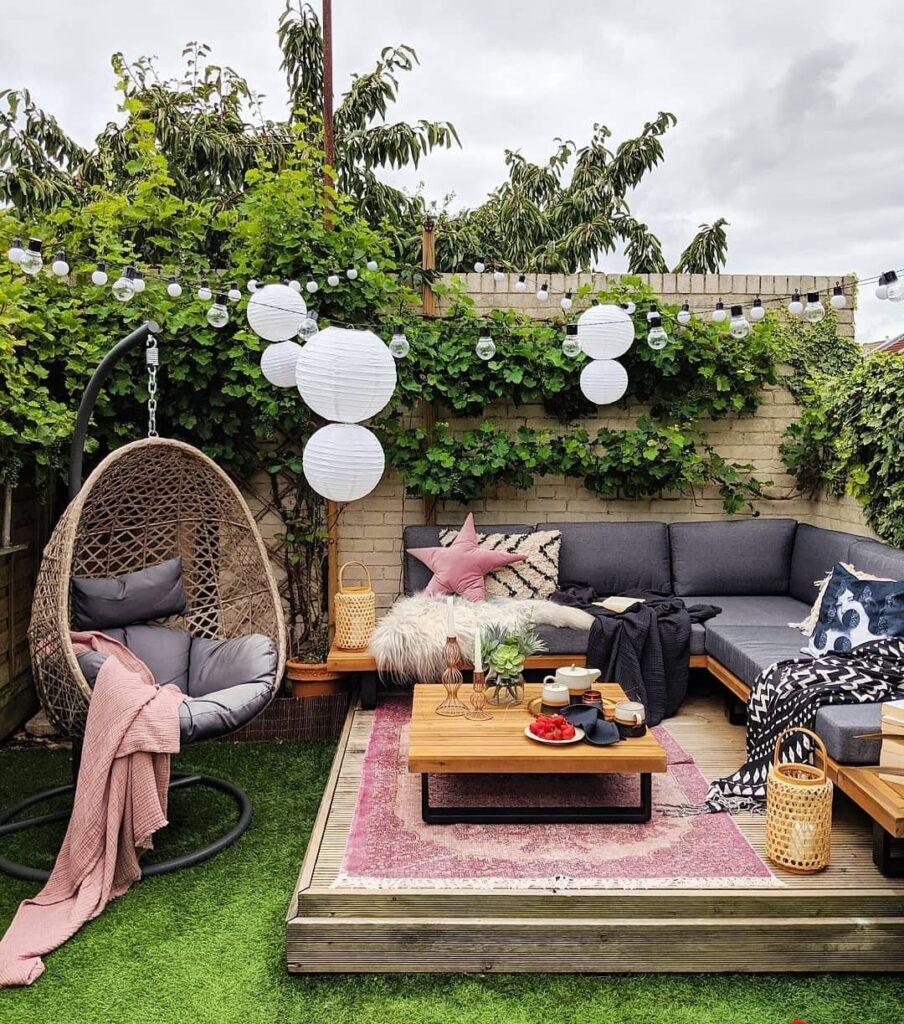 source: pinterest.com
Boho style is a carefree bohemian manner of wearing and decorating that dates back to the counterculture movement and the hippy-dippy trail of the 1960s and early 1970s, which included Ibiza. It resurfaced in the early 2000s, and with the seventies rebirth in interior design, it has made a glorious return.
Bohemian Style Exterior
Are there any ways to create bohemian-style exteriors? Simply let your imagination run wild! Natural materials, old furniture, colorful textiles, and a plethora of flora dominate gardens created on the basis of this concept. You may have noticed that when it comes to Boho, there are no restrictions and that you may switch up different styles, colors, motifs, and patterns. 
Keep in mind that the exterior of your boho style patio theme should represent your distinctive style while designing it. Surround yourself with furniture, 
keepsakes, and decorative things that evoke memories of traveling and other places, and relive precious moments.
Boho Patio Decorating Ideas: Quick Tips & Tricks
Introducing Vibrant Colors & Details
While there are no hard and fast rules when it comes to Bohemian decor, warm earthy colors, metallics, and jewel tones are popular. Base colors should be rich browns, greens, and greys, with vivid purple, flaming orange, and turquoise as accents. It's characterized by its use of color layering and combinations.
Don't be scared to combine designs and patterns, and don't be embarrassed to combine styles that don't exactly belong well. To give the area a sense of joy and quirkiness, use colorful textiles and designs from all over the world.
Throw Cushions & Hammock
When looking at photographs of Bohemian patio design ideas, you'll notice that textile is used extensively. Choose colorful textiles and scatter them carelessly across couches, chairs, & armchairs: they'll be the finishing touch that makes a real difference.
A hammock or swing converts a room into a hidden spot, a "little garden" where you may love to read or daydream. Put a few cushions and a snuggly blanket on the hammock, and you've got yourself a perfect me-time spot!
Unveiling Vintage Furniture Collection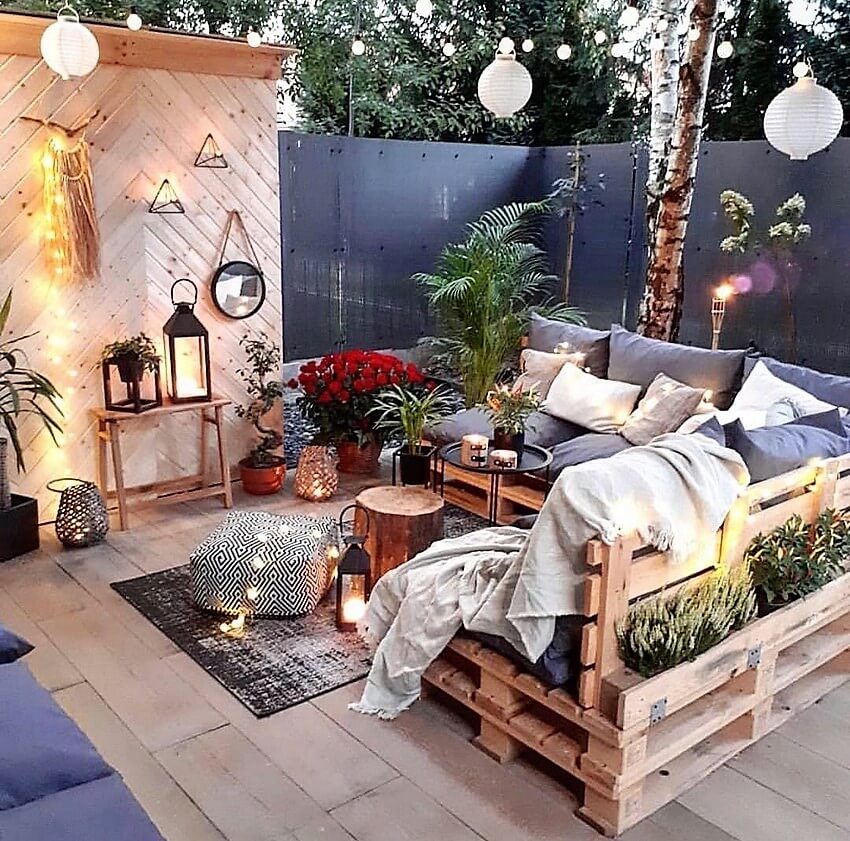 source: livingstyleideas.com
Consider at least one vintage stuff, such as small tables, armrests, or chairs. A "grandmother's coffee table" or a bookshelf to hold flowers and novels would delight everyone. Fine-tune furniture from various designs, such as a Moroccan wooden table and rattan chairs, earthy benches, and an antique sofa. The main factor to bear in mind is that furniture should be built from natural materials such as wood, bamboo, and rattan.
Embrace the Green Space
Do you wish to live in greenery? Mine as well! Your patio is the perfect spot to go all out with hanging plants. If you don't have a covered area to place them, consider placing numerous hooks at various heights throughout your space.
In line with the earthy bohemian vibe, use a bunch of vine plants and trailers to create that beautiful spectacular appearance. Hanging mint, ivy, lobelia, sweet potato vine, ferns, and/or strawberries might all be used.
Lighten-Up the Space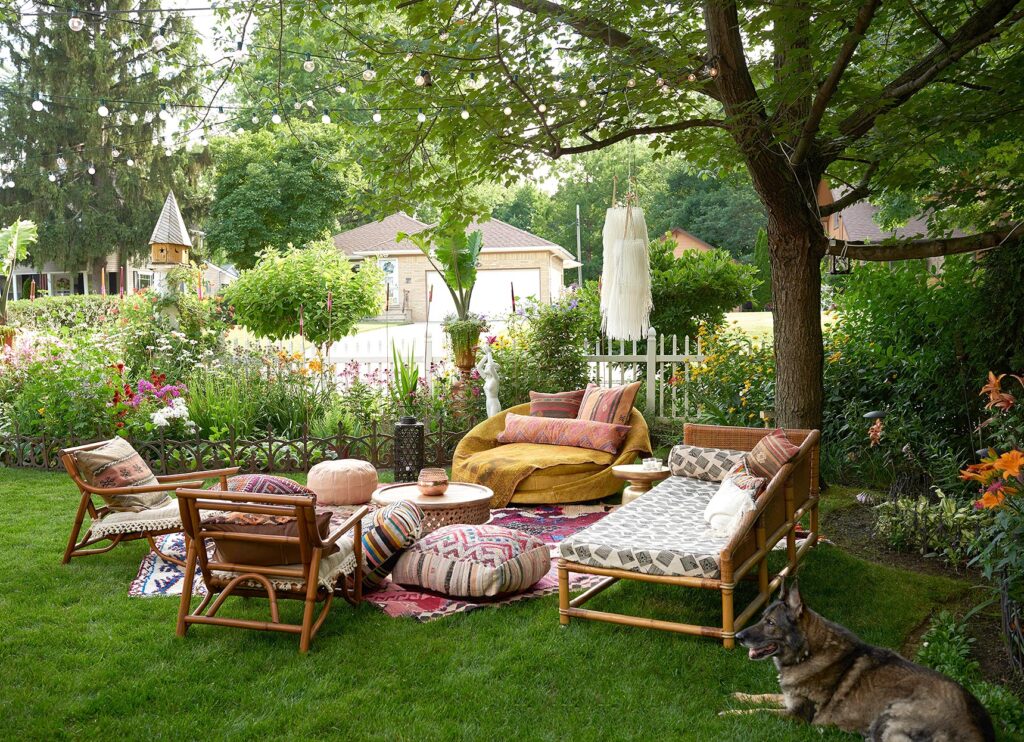 source: pinterest.com
Outdoor lights will help to create a romantic ambiance in a lovely Bohemian garden or patio. Installing enormous, natural rattan basket garden lanterns near your blissful area will have a dramatic effect. Solar lamps are a fun alternative to delicate, beautiful lanterns. There are various options for outdoor lighting ideas such as classic lamps composed of durable materials or metal and timber, string lights, and flames.