The fight for space in your home is a fight without end, and especially so for those growing their family. No matter how much space your home offers you, it is somehow never quite enough, as you accumulate more belongings and the clutter of everyday life keeps getting in the way. 
According to recent statistics, nearly three quarters of us live in cluttered homes. The kitchen is often the nexus of this struggle, as pots and pans unceremoniously stack up in cupboards or by the sink. The idea isn't to suddenly acquire tons of storage space, it's to use it wisely. What can you do to optimise storage in your kitchen, and improve access to everything as a result? 
By implementing a few small changes, you can transform your kitchen and your mindset. 
Install a Pot Rack
source: pinterest.com
Your pots and pans are perhaps the most unwieldy things you have to store in your kitchen; all too often we find our cookware filling vital cabinet space, and find it just as difficult to remove the pans we want as we do to place them back in some form of neatness and order. It's important to take advantage of all the empty vertical space in your kitchen. You can also install little hooks under your shelves to hang up your mugs. 
A pot rack is a simple, elegant and practical solution to this problem, with a bonus aesthetic appeal. By installing a rack above your kitchen island, or even by your stove, you can display your beautiful frying pans for all to see – and access them straight away when it comes time to cook.
Use Risers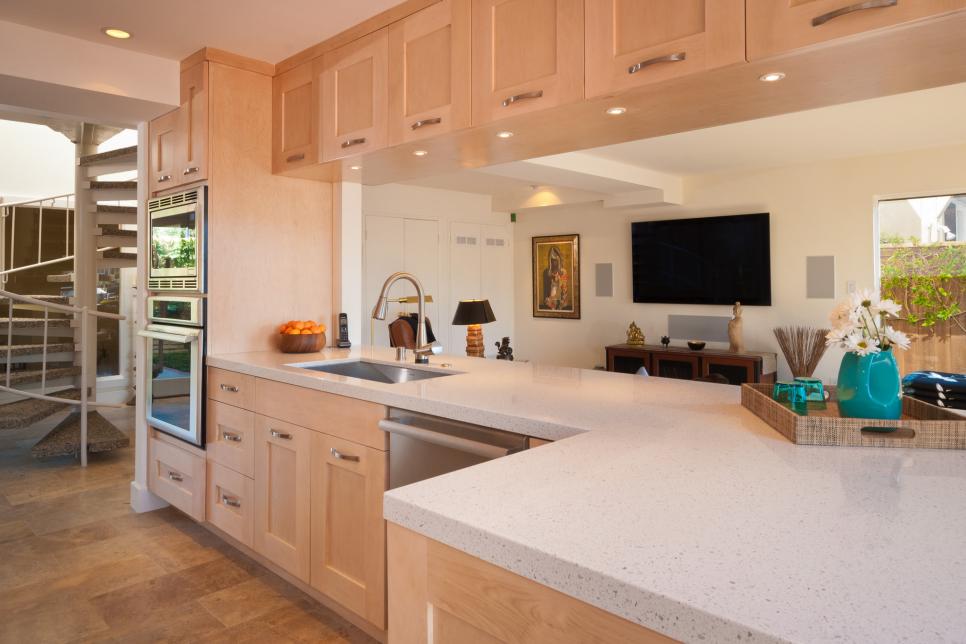 source: pinterest.com
This doesn't mean your kitchen cupboards can't be put to good use. If your kitchen is on the smaller side, or if wall space is at too much of a premium to hang a pot rack, there are clever ways to maximise the cupboard space you do have available.
Cupboard risers are one such method. Rather than stacking pans to make them fit, risers allow you to create additional shelf space and make your cookware more accessible. They also enable you to make the most of your cupboard's vertical space.
Cabinet Door Storage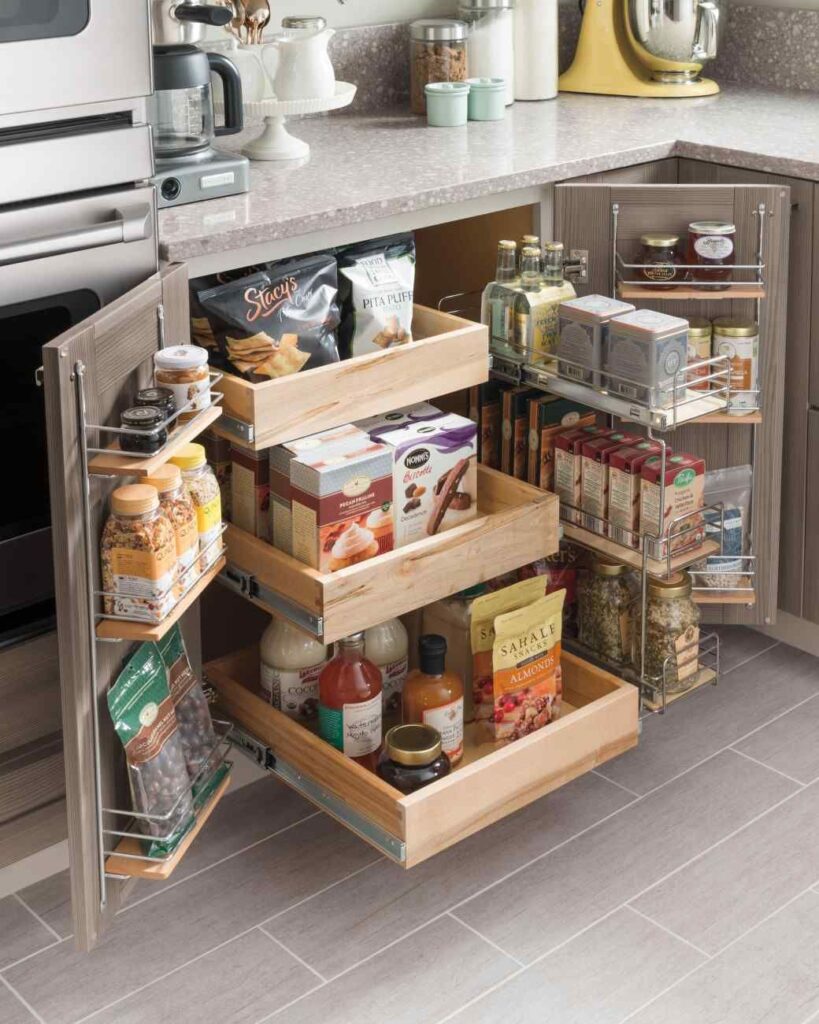 source: pinterest.com
Another way to think about using your cupboard space efficiently relates to your cupboard doors. The inside of your cupboard doors can be used to house more cookware, with hanging racks and trays particularly useful for storing pot lids and baking trays. They could either be hung via hooks or screwed into the door, and arranged to fit specific cookware items. You could also install some ingenious mini pull-out shelves, which can make for extremely handy spice racks.
Organise Pantry Items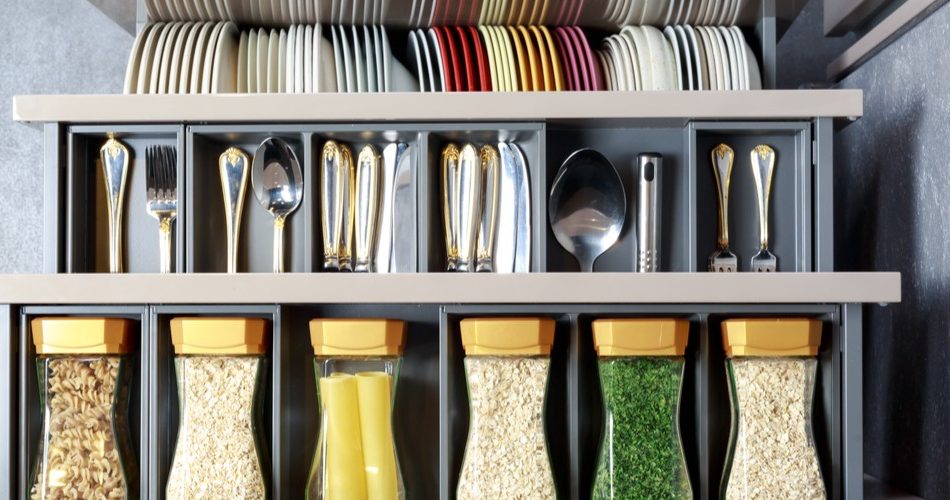 source: pinterest.com
Speaking of spices, it is not just your cookware you need to consider when it comes to kitchen storage. You can also apply smart kitchen optimisation ideas to the organisation of pantry items and perishables, whether in cupboards and on counters or even in your fridge.
For food items, after-market solutions are often the best option. Clear, food-safe storage boxes can be used in a modular way to keep everything from fruit and veg to pasta and pulses. Herbs and spices can be re-packaged into your own spice jars to reduce the amount of space taken up by packaging. 
Consider Design and Colour
source: pinterest.com
Of course, a kitchen's aesthetic doesn't tie in too strongly with its effectiveness in storing items. However, you can choose certain colours and finishes that can make your kitchen appear bright and open, such as handless cupboards for an uncluttered and sleek look, and pale neutrals that can fit into many different styles, from vintage to modern. A glossy finish in your kitchen will help to bounce the light around the room and give an illusion of a bigger space.