Man a time, sofa shopping is a daunting task. The reason being that there are thousands of choices to make while looking for a perfect sofa. A recliner is an excellent addition for most rooms as it combines comfort and style in just one indispensable piece. However, often confusing is the leather vs. fabric recliner debate, but the truth is, they both have unique considerations. Going home every day to that comfy seat waiting for you is one of the best feelings. Chances are, your sofa will be in use for a lifetime; thus, you need to make an informed decision. Read on this article to determine which material is better for you.
Leather Recliners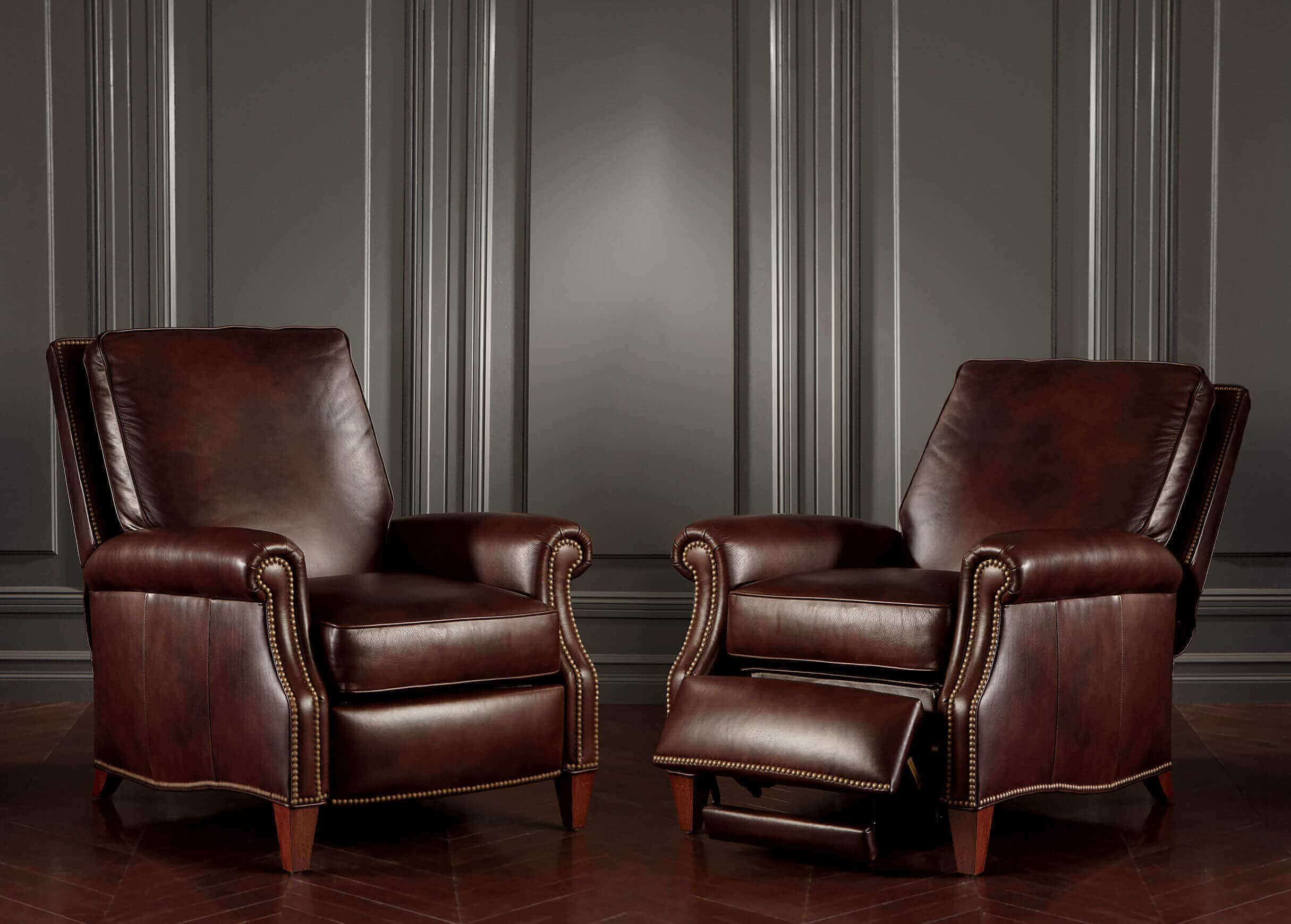 source: seriouseats.com
If you are thinking of getting a leather recliners chair, you must be attracted by its look, durability, feel, and maybe the general cleanliness of authentic leather.  There are three significant types of leather recliner chairs. The traditional, modern, and transitional chairs.
Traditional is one of the most popular because it emphasizes the best things about a seating experience, including nap-friendly features, generous dimensions, and casual but classic design. Modern recliner styles incorporate technology and style while transitional is an intermediate between modern and traditional recliners, just as the same suggests.
Leather being porous, it breathes and adapts to any environment it is placed in. Therefore, the leather may be cold when you first sit on it, but it quickly gets warm. Finding the best leather sofa, one that is of high quality stands the test of time. Paying a colossal price is undoubtedly worth it. If you are not sure whether the leather is authentic, you could try running your nail over it, if the leather scratches walk away.
source: furnituredealer.net
While looking for a leather recliner, always look for quality upholstery, which is stain resistant and also easy to maintain. Also, look for high-density fiber/foam cushions that will maintain their shape over time with daily use rather than crumbling, compressing, or reshuffling.
Leather is often considered to be firmer than fabric. It is also very durable, and if well-maintained, it could last up to a lifetime. Typically, buying a leather recliner depends on your lifestyle in terms of the room, environment, and whether you have a young family or even pets. While selecting a color, you should have in mind that the lighter the color, the higher the maintenance required, and vice versa.
Generally, buying a perfect leather recliner chair that is considered stylish, comfy, and improves with age adds instant luxury to any room. It is an attractive material that is available in various styles, strengths, and colors to suit individual preferences.
Pros of Leather Recliners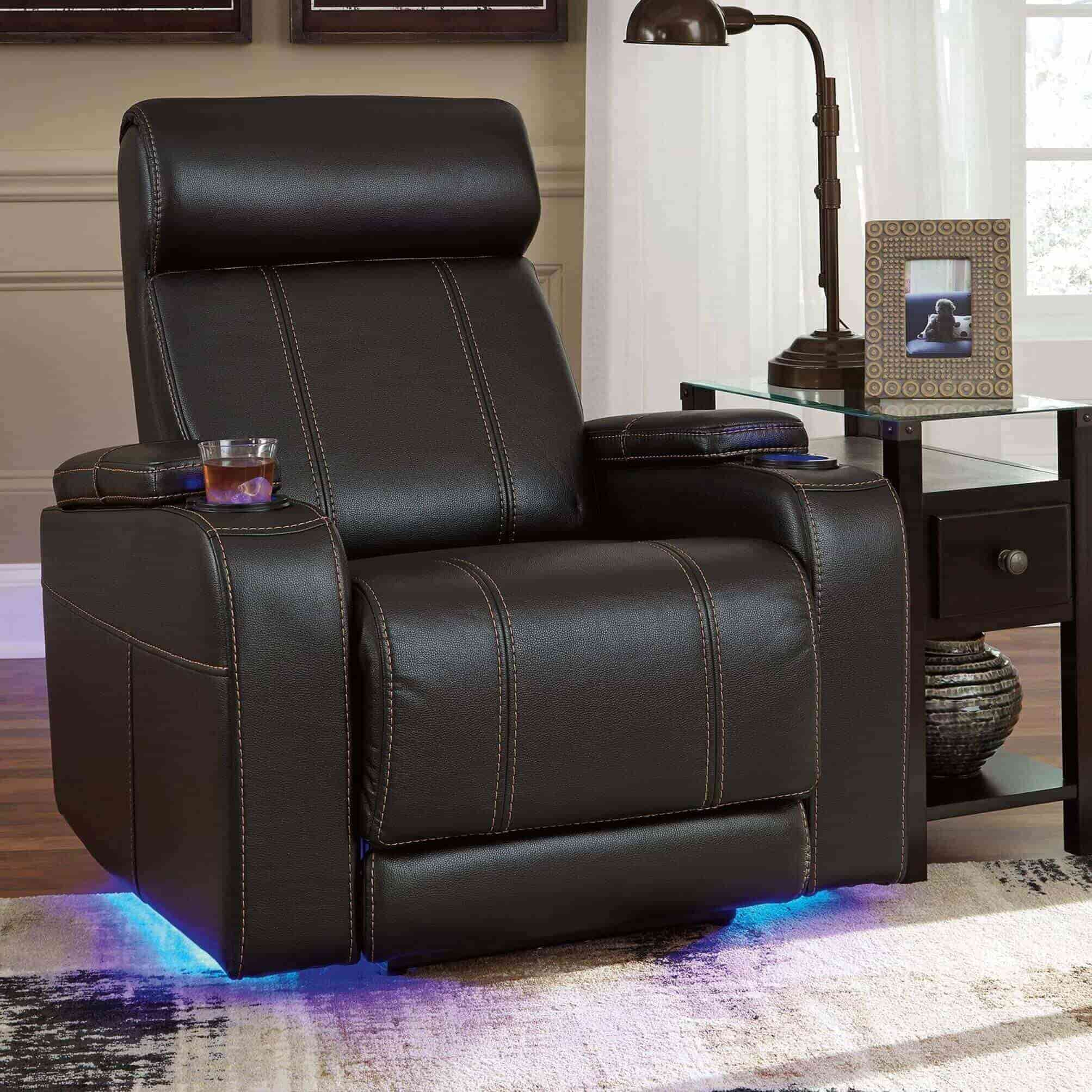 source: perfectdailygrind.com
Hypoallergenic
Leather sofas are great for those who are prone to allergies because it does not harbor pet dander, dust mites, or any other allergens easily.
Appearance
A leather sofa brings about elegance to a room that is hard to duplicate with a fabric. Leather also appears to be more trendy than its fabric counterparts. If you prefer a contemporary modern look, leather seems to be more high end and sleeker when you compare leather vs. fabric sofa.
Comfort
Leather is generally very comfortable. Their recliners also have a unique design to allow for your feet to feel more comfortable. Their design is primarily made to provide maximum comfort while not compromising on style.
Care and Durability
Leather lasts longer, but with proper maintenance! Care requirements depend on your household, but generally, leather is easy to clean. It requires a light dusting or a rub down a few times a year. There are recommended procedures for ensuring your leather is well maintained.
Cons of Leather Recliners
source: seriouseats.com
Expensive
Leather is considered expensive to buy and maintain, unlike fabric. It is also prone to damage if you have pets running around. However, you indeed get what you pay for! Leather is undoubtedly worth its price.
Fabric Recliners
When dealing with fabric, there are Various designer recliner chairs to choose from because there are very many types of fabric. Along with the design and size, you also have to decide on the type of fabric you would want your recliner furnished in. Certain fabrics work Appropriate for exact situations, and not all blend in well with every decorating style.
The main types of fabrics are made from natural fibers and synthetic fibers. Fabrics manufactured from natural fibers are usually soft and the best for the tailored look that most recliners have. Natural fibers are, however, prone to fading when exposed to sunlight. Natural fibers have a flat weave that is ideal for patterns. They include linen, cotton, silk, and rayon.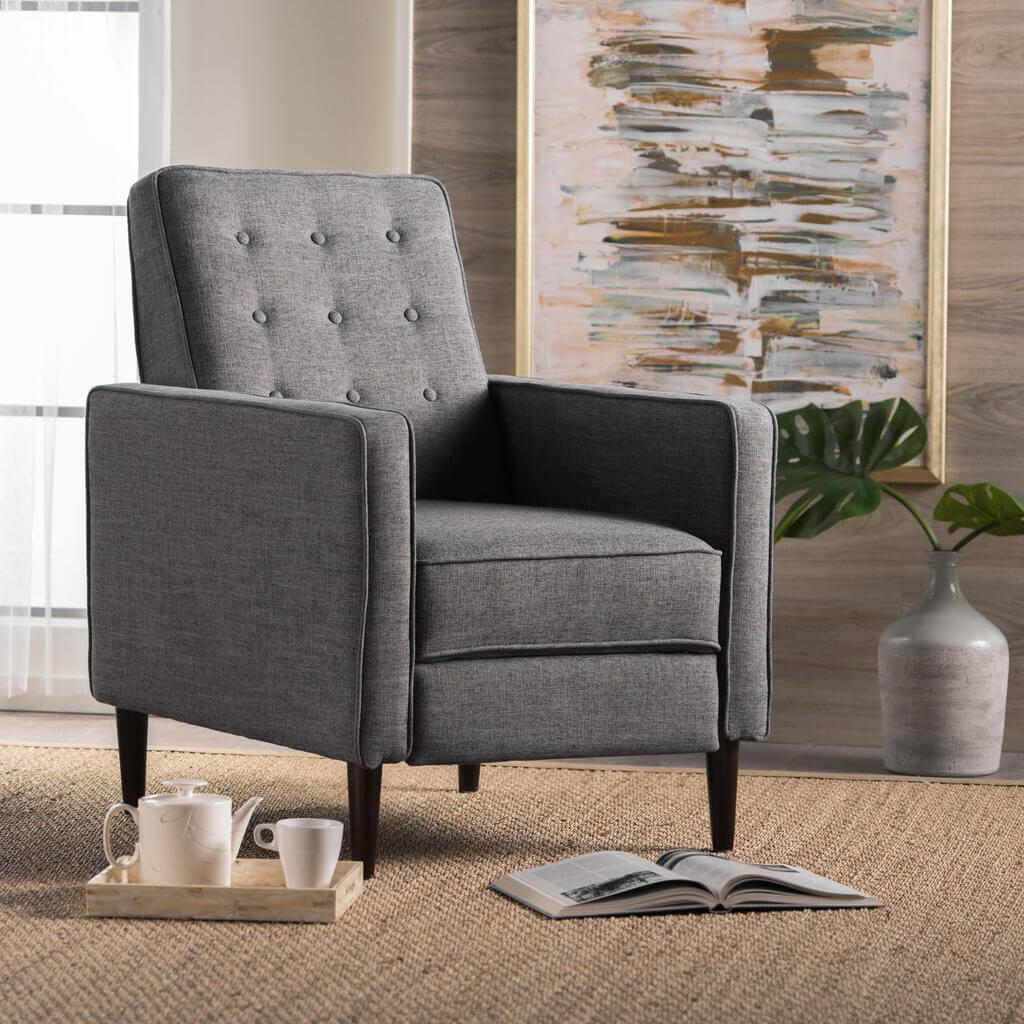 source: gdfstudio.com
Synthetic fibers, on the other hand, are usually more durable than natural fibers. Most recliners are typically upholstered in human-made fabrics. Also, synthetic fibers are resistant to fading and rusting, although they are still prone to pilling as time passes by. Synthetic fibers include acrylic, nylon, polyester, olefin, and polypropylene.
Natural and synthetic fibers can be woven into various types of fabrics. These can either be woven, knit, print, or even non-woven fabrics. Each type of material has its pros and cons and are all suitable for a specific purpose.
There are various pattern types that you can choose from when it comes to fabrics. They are too many to be listed because they are made to cater to diversity. Some may even be a leather and fabric combination sofa to make sure you get the best from both materials. You can never run out of options with fabrics with each design made to suit different consumer preferences. Choosing a fabric recliner and a pattern helps make sure that you find one that looks just how you imagined it sitting in your living room.
Pros of Comfort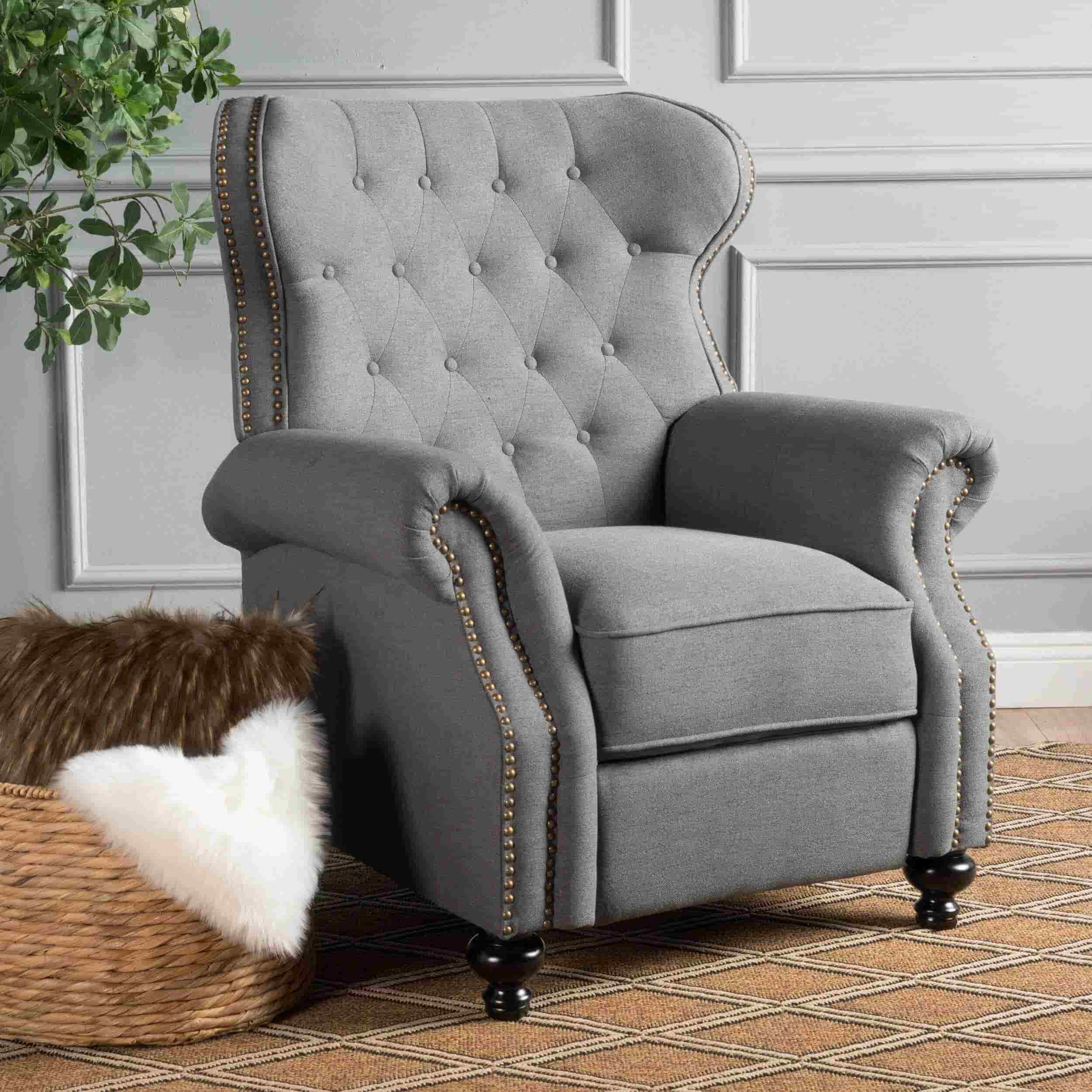 source: littlecoffeeplace.com
The feel of fabric sofas tends to vary depending on the sofa's support system and the fabric itself. Fabric recliners, however, are usually warmer, softer than the leather sofa in summer. You want a material that is not too soft, but soft enough to maintain its shape.
Care
The wear or tear of fabrics depends on the fabric's grade or quality. The high-quality fabrics withstand wear and tear better. Most materials are also treated with a stain-resistant finish for easy cleaning in case of stains. Also, the fabric is not scratched easily, unlike leather. They are thus more suitable if you have pets at home.
Colors and Various patterns
Fabrics are virtually available in unlimited patterns, colors, and texture. There is, therefore, a great chance of matching your home décor with the look you'd want.
Cost
You will most likely get a better ban for your hard-earned money if you opt to go with a fabric sofa. Quality framing and fabric may be expensive, but a similar sofa would cost more with leather.
Cons of Fabric Recliners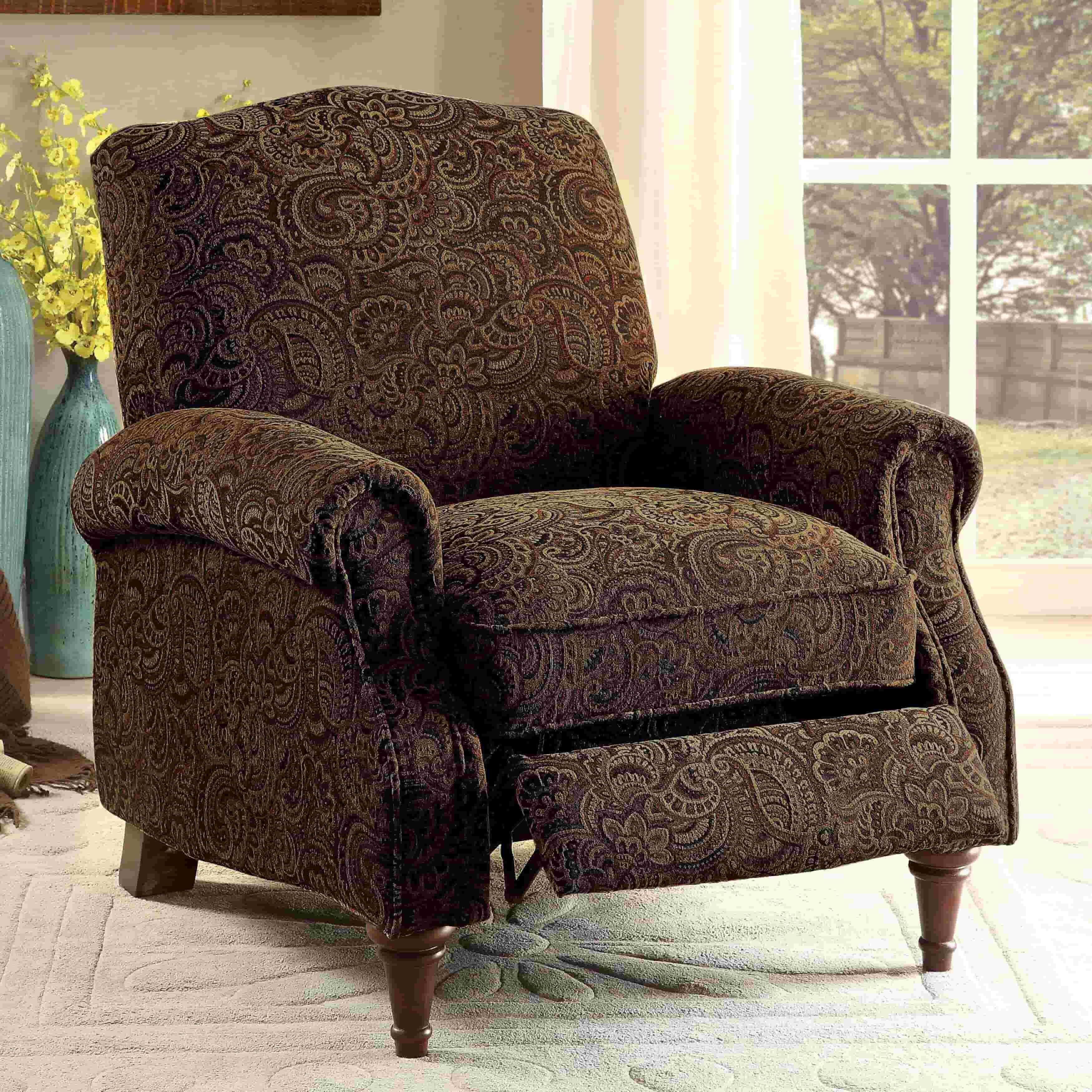 source: cookinglight.com
Hypoallergenic
Fabric recliners, unlike leather, are more prone to cause allergic reactions for allergic people. They attract easily and retain allergy agents such as dust, pet dander, and others.
Conclusion
Having discussed leather vs. fabric recliner, which one should you pick? In most cases, it all boils down to your taste and preference. For some people, comfort would be the deciding consideration, while others would consider style and maintenance. Take your time because this is a decision that you may either regret or praise for the rest of your life. The best thing is, decide on what is the most and least important thing for you and then proceed from there. I hope his article has been resourceful enough to help you make the right choice. Happy Searching!