Furniture and fixtures add a pleasing sense of order to our homes. Interior designers always focus on making furniture useful and durable. Furniture arrangement is an expression of personal style choices. It suits your home style and adds comfort to the lifestyle. Wooden furniture lasts for generations to showcase heritage and glory. 
Wooden furniture never goes out of the fashion. Despite the popularity of other materials like vinyl, plastic, and glass, wooden furniture has survived the competition. Wood is used in homes that all have sophisticated and contemporary designs. Let's have a look at some modern and unusual wooden furniture designs.
Light Toned Wooden Sofa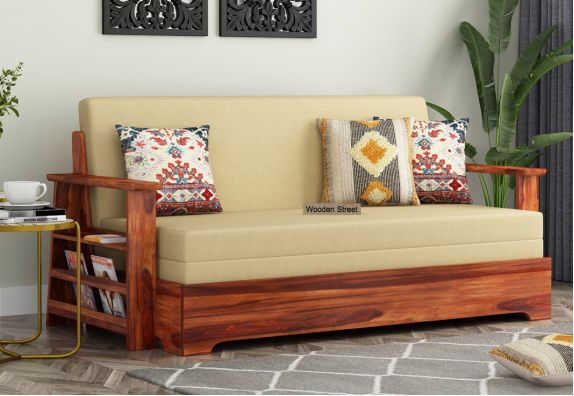 source: woodenstreet.de
Wood with a light color tone includes oak, maple, ash, and hickory. It has an aesthetic value as it is very light in color and beautiful in the finish. The material of wood also matters in making furniture. For making a sofa, maple wood is good as light-toned wooden furniture. Maple wood has a creamy texture. When you add light-toned furniture to your decor, it will create a style statement.
This lounger has a very contemporary design that can be placed in a living room corner. We can use it as a relaxing area while reading a book or lying down and watching a movie. If you have unexpected guests, this hardwood sofa can also serve as a bed. A lounger sofa with wooden background is a classic combination of traditional and contemporary furniture design styles.
Wooden Bed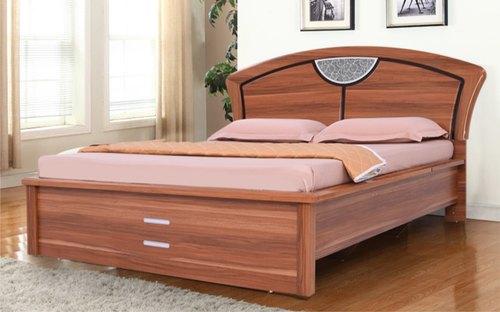 source: pinterest.com
One of the nicest beds you may have in the bedroom is the platform. With a base for the mattress, it is lower. This bed includes wooden rows on which the mattress may be conveniently stored. Modern homes are particularly popular with platform beds since they provide support for the entire body. 
The next type of bed frame is a folding bed, which is among the most practical ones for a home. When not in use, these beds may be effortlessly folded and stored in a closet, taking up less space in the home. A wooden headboard is also there which is suitable for sleeping. Thus, a folding bed is also an affordable option for wooden beds. 
Wooden Chair
A chair is a piece of seating furniture with various seating capacities. These furniture items are made from a wide range of materials, including plywood, aluminum, teak wood, and many others. It features a lovely design, exquisite polishing, and termite resistance. The cost of these wooden seats is reasonable. These chairs are utilized in restaurants, hotels, homes, and IT businesses, among other places.
Lattice pattern wooden chair style is a good option to add a wood touch to your furniture set. It will make your home look ambient and classy. Folding wooden dining chairs are in trend due to their space-saving nature. If you have a garden patio, folding wooden chairs are the best option to have in your furniture decor. 
Rustic Wooden Bench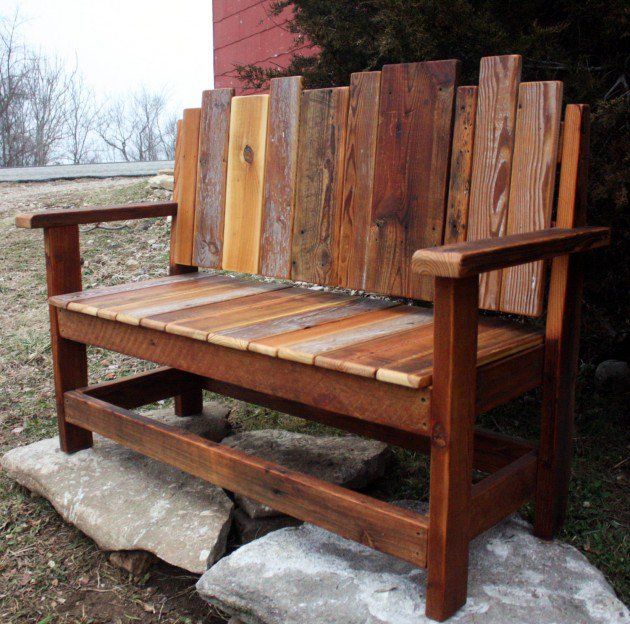 source: pinterest.com
Why should we add a wooden bench to your home or garden? It is convenient, sturdy, and adds aesthetic value to the place. Wide rustic wooden bench made of salvaged wood, cedarwood, and pallets. It can be used as a coffee table or a bench for your foyer. Cedarwood is a fantastic wood for home furnishings since it is both light and durable. 
A rustic bench finished in Red Oak Satinwood is another good option to add wooden benches. This wooden seat can be a lovely addition to gardens with a rustic theme. There are no visible screws on the bench because it is constructed with pocket holes. In other words, you may now avoid having clothing shredded by improper nail care.
L-shaped Wooden Study Table
A broad range of wooden study tables is available in the markets. Wall-mounted study tables are best for convenience. Floating wooden shelves for the study tables are also good to save floor space. Generally, study tables come with drawers to keep stationary items and books. However, modern wooden study tables have more concerned with designs and functionality. The L-shaped wooden study table design is suitable for adding a desktop computer to your study table desk.
Wooden Dining Table
source: kendalwood.in
Living edge wooden furniture is the latest in trend. Use this unique piece of furniture, which is trendy, to decorate your dining room. This magnificent wooden dining table feels like it might come right out of a knight's banqueting hall. However, the light wood tones and stark white chairs transform it into a modern statement of elegance and class.  This piece of wooden furniture also demonstrates to your guests the value of eco-friendly natural furniture.
Geometric shape Wooden Coffee Table
A compact coffee table that will add some geometric charm and minimalist design to your living area. It has three splayed legs and a sleek hexagonal tabletop with beveled corners. Use the smaller table as an end table for an instant coherent look, or combine it with it as shown to make a more dynamic coffee table. You may have any other shape of your choice. 
The rustic wood coffee table is an evergreen concept for interior decorators. This wood coffee table can be easily incorporated into a range of décor styles, and is great for farmhouse style decor or adding a rustic touch to a contemporary area. In addition to providing longevity and stability, the table's solid wood construction and substantial legs also give it a casual and welcoming appearance. 
Final Thoughts
source: kendalwood.in
No household, whether rural or urban, can exist without furniture. They still favor solid wood furniture because of its durability and higher artistic value. In a split second, modern wood furniture design may uplift your interior design game. Hardwood or softwood are the ingredients to make wood furniture designs. The quality thus varies in terms of density and strength. 
Wooden furniture can radically alter the look and feel of a space, whether it has an antique feel to it or is entirely modern. Select the designs as per your interior decor and affordability.