A backyard can be so much more than just a patch of grass and a few shrubs. With a little planning and creativity, it can transform into an outdoor oasis that the whole family can enjoy. Whether you're dreaming of a lush garden, a fun-filled play area, or a serene spot to unwind, achieving your ideal space may require some expert advice. Consulting with a Surrey architect can help you effectively design and utilize your outdoor space to its fullest potential. Here are some ideas to help inspire your family-friendly backyard retreat.
Natural Playground:
Instead of the usual swing set or slide, consider building a natural playground with logs, rocks, and sand. This offers children a chance to engage with the environment and fosters imaginative play. 
Edible Garden: 
source: pinterest.com
Teach your kids about the joys of gardening by planting fruits, vegetables, and herbs. Not only will they learn about the process of growing food, but they'll also have fresh ingredients to enjoy at mealtime.
Outdoor Living Room: 
Imagine an area with comfortable seating, a fire pit, and maybe even an outdoor movie screen. This space can serve as the perfect spot for family movie nights, marshmallow roasting, and storytelling.
Nature Nook: 
Create a quiet corner with a hammock or swing, surrounded by fragrant flowers and plants. It's the perfect spot for reading, meditating, or simply enjoying the sounds of nature.
Water Feature: 
source: pinterest.com
Whether it's a pond, a fountain, or a small stream, water features add a calming ambiance. You can even consider adding fish or water plants for an extra touch of nature.
DIY Obstacle Course: 
For active families, setting up a DIY obstacle course can be both fun and challenging. Use items like ropes, tires, and planks to design different challenges.
Wildlife Corner: 
Setting up bird feeders, butterfly gardens, or even a small pond can attract local wildlife. It's a great way for children to learn about local species and the importance of caring for our environment.
Outdoor Art Studio: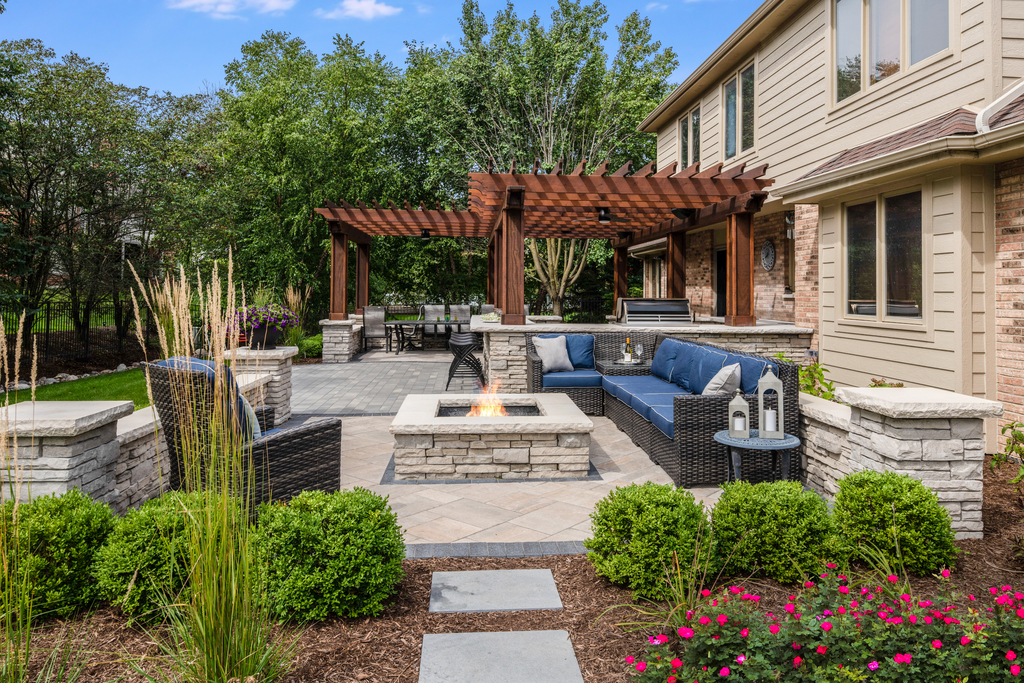 source: pinterest.com
Set up an area with an easel, paints, and other art supplies. This will give budding artists in your family a place to create and draw inspiration from nature.
Barbecue and Dining Area: 
Having an outdoor kitchen or barbecue spot allows families to enjoy meals outside. Pair it with a dining table and you're set for al fresco dining.
Multi-Functional Shed: 
Instead of a standard storage shed, consider one that can double as a playhouse, workshop, or even a mini-gym. 
Incorporating even just a few of these ideas can drastically change the feel and functionality of your backyard. Remember, the key is to create spaces that cater to the interests and needs of all family members. And, with the guidance of a Surrey architect, you can craft a design that's both beautiful and practical. Your backyard oasis awaits!