If you would love to own a relaxed and cozy bathroom, you can't go wrong with adding farmhouse bathroom decor. It's a great way to transform your place into a rustic country paradise which gives you the best soaks ever. In this post, you'll find different ways to embrace this theme for your bathing space. Let's see which ones below fit your style and budget the most.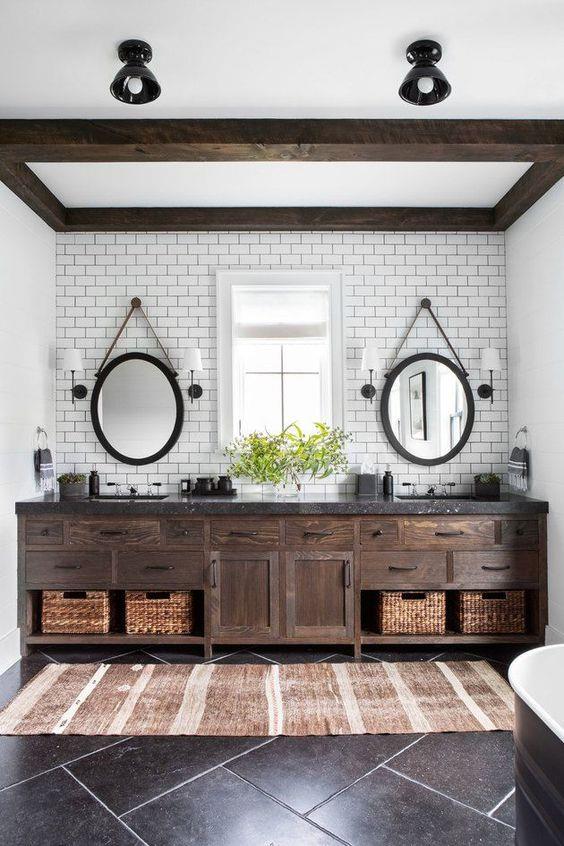 Having a farmhouse bathroom means that you have an ideal place to wind down from a long day. It gives you warmth, comfort, and relaxation. It also bears a rustic vibe that drives you to nostalgic moments in your life. Once you love these experiences, do not hesitate to apply the following ways to upgrade your farmhouse bathroom decor. These ideas vary from methods to materials, from upcycling old items to installing something new. Read on to get inspired! 
Stay rustic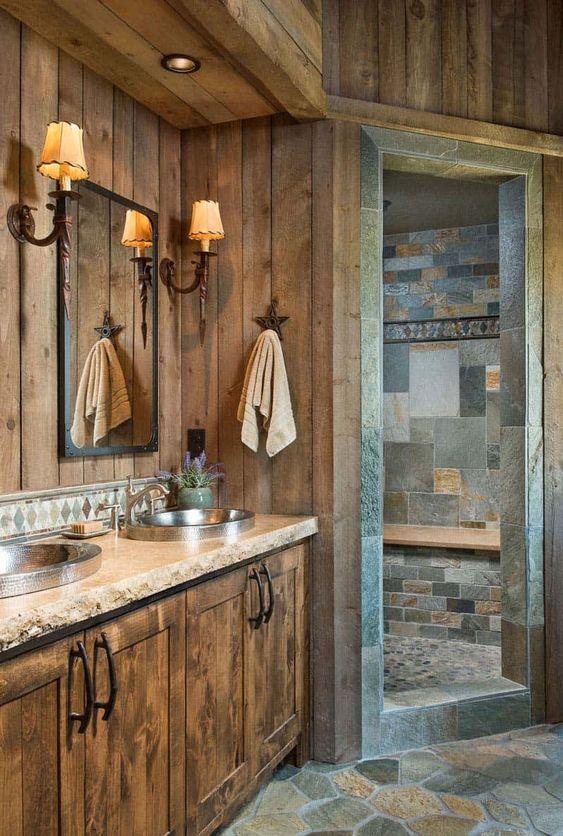 Rusticity is the key to the farmhouse style. You can achieve this by getting old furniture and decorative pieces for your bathroom. It might be exposed stone flooring that creates an antique look or a worn tub and sinks which are inherited from your family. Hand-me-down items or rustic-inspired things from flea markets are also good choices. 
Bring nature indoors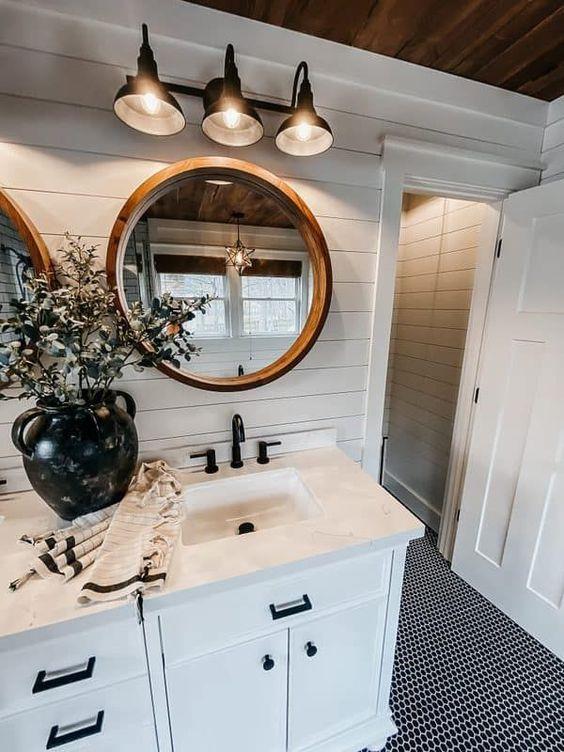 Greenery elements make your bathroom an inviting place. Besides adding fresh color and atmosphere, tree pots are great pieces of farmhouse bathroom decor that everyone should get. Just a couple of plants is enough for this bathing space. They can be put upon the vanity or on the open shelving. Your room will instantly look more elevated. If you want to check out more information about farmhouse style, feel free to check this article.
Add on-theme art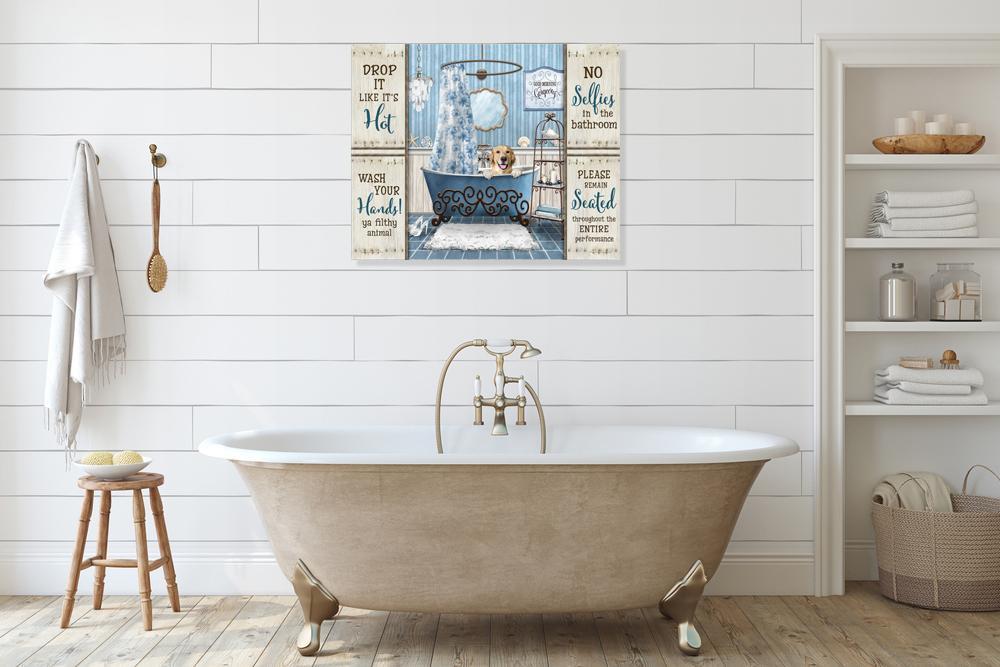 On-theme art will add an extra dose of vintage charm to your bathroom. A natural landscape painting or a lovely animal canvas print is a perfect idea for farmhouse bathroom decor. You'll get more relaxed moments when spending time in a room having these adorable pieces.  
Customize a vanity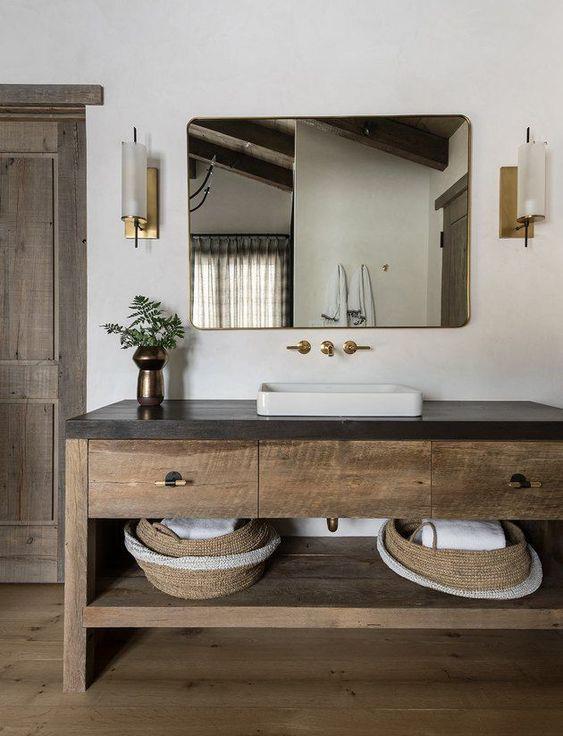 Another way to bring the farmhouse trend home is by customizing the vanity. For example, you can transform a worn dresser into a vanity with an old stone or marble topper. Decorate this area with some candles and vases of flowers. Then add a cozier vibe with two wall sconces. Now, you've got an amazing transformation that makes your bathroom more and more vintage.  
Double it up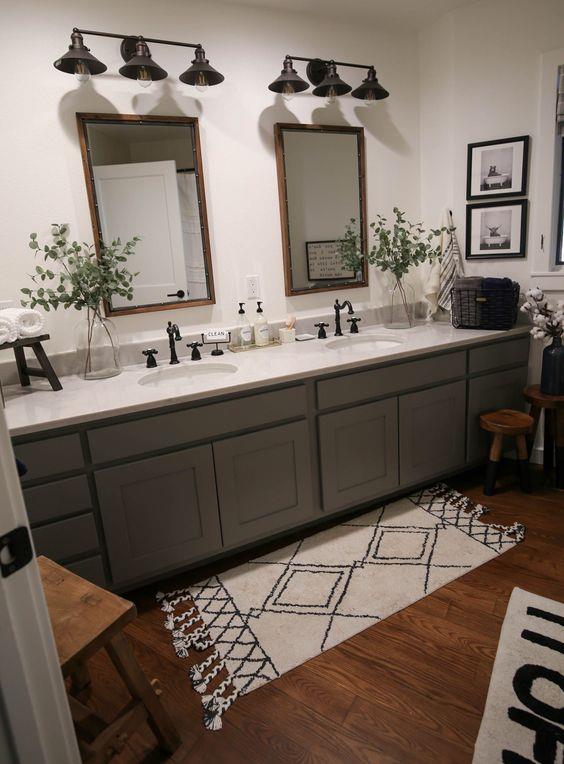 Farmhouse style also aims for practicality. Then double sinks will give you the best experience ever. Apparently, it saves you time. But rather than that, it provides you the most comfortable and antique-inspired space for private time.
Install a barn door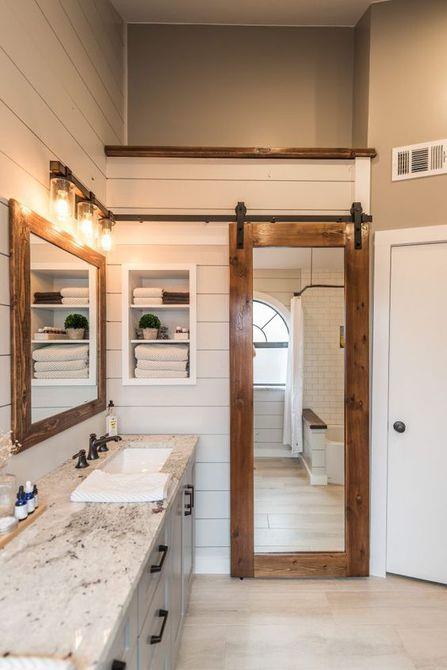 The sliding barn door is always a win. It bears a rustic-inspired look more than anything else. By having a worn and weathered beauty, this door makes your bathroom a warm and friendly place that no one can resist. It's also one of the farmhouse elements that you can create and install by yourself. Thus, don't omit this stunning piece when thinking of farmhouse bathroom decor.
Pop-up color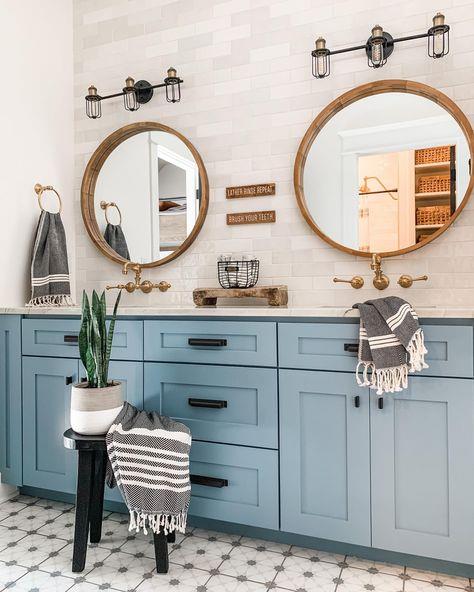 A pop-up color can be a focal point of your farmhouse bathroom. It creates a new look and makes the place less boring. This accent can be achieved by painting the vanity a different color, having a colorful curtain, or making an accent wall. Sometimes, small pieces like red vases or blue mirror frames also have a big impact on the overall farmhouse look. 
Add shabby chic sweetness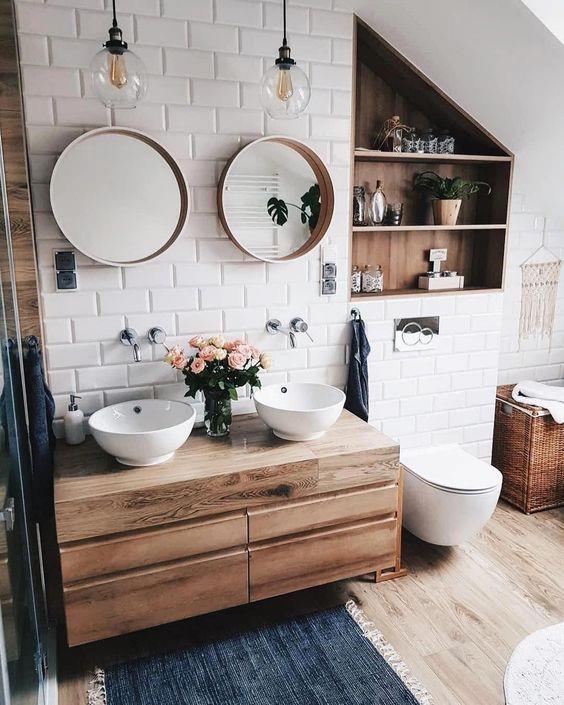 Your bathroom would become more adorable with shabby chic elements. It's not difficult to achieve this look. By preparing some charming vases or galvanized metal baskets, you've made a little change but a mighty impact on your bathing space.  
Use wallpaper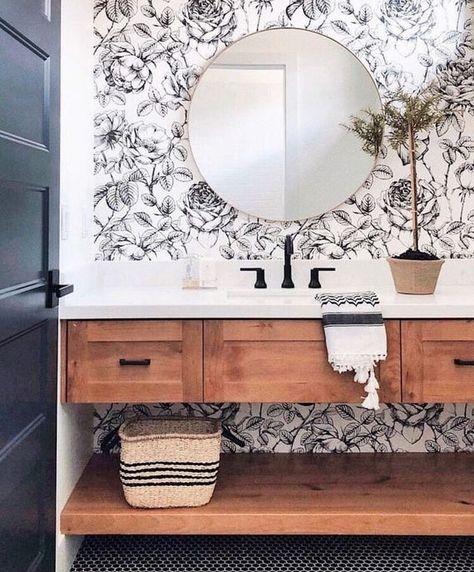 Wallpaper is something that can add a touch of dimension and rusticity to your room. By being upholstered on the bathroom wall, wallpaper freshens up this space and gives you an amazing experience there. If you don't know where to start with wallpaper, we would love to recommend the floral themes that will definitely add a nice pop and bring interesting color to the bathroom.
Now you've got some clues about how to transform the look of your farmhouse bathroom decor. Choose the best ideas at the Architecture Designs that suit you and your interior design. Then make it the way that you love your bathing space to be.