The dining area is the heart of the house. It's where you eat delicious meals and spend valuable time with your family, so, logically, you'd want a clutter-free, stylish place. The alternatives are unlimited, whether your dining room requires a complete makeover or simply a few basic design enhancements such as a fresh coat of paint on the walls or floor. There are a plethora of low-cost design ideas that you can complete on a weekend or in a couple of minutes to elevate your dining room design.
Don't worry if papers and bills have taken over your dining table.  "You need to figure out what's causing the clutter and deal with it with compact solutions," an expert advises. For example, you can easily buy a wheeled cart for paying bills at the table, keeping paper waste out of sight when it's time to eat.
Are you ready to spruce up your dining room? Browse through these exquisite dining room ideas for plenty of artistic inspiration.
Eat-In Space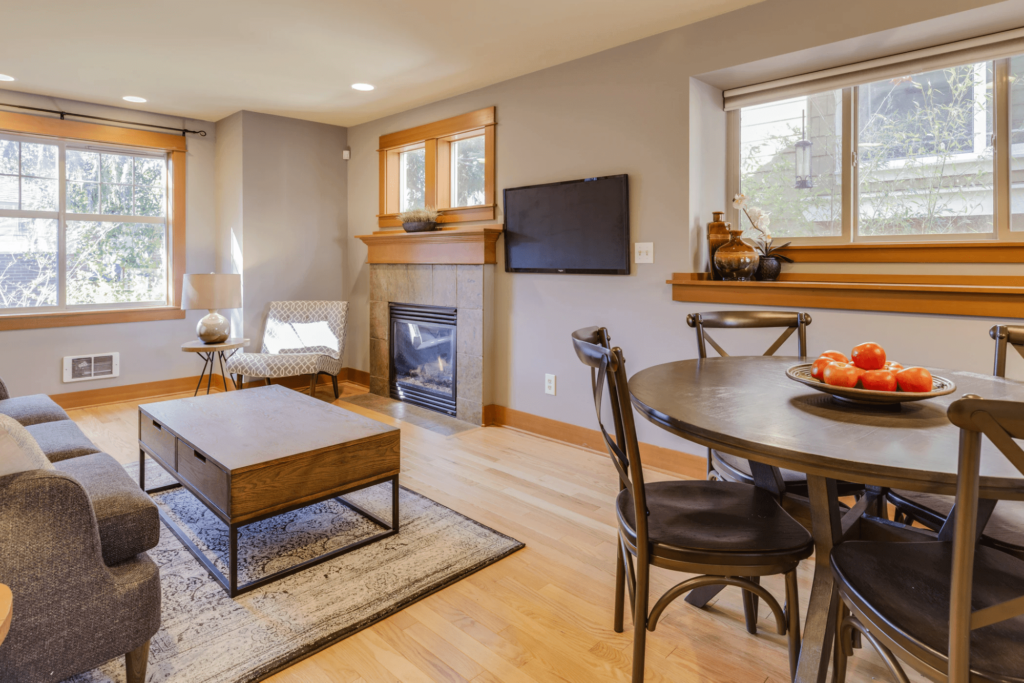 source: casaone.com
In this kitchen, elegant stainless steel and eye-catching marble are used to give the eating area a glamorous and modern backdrop to complement the dining room design. It has a more formal feel than a normal kitchen corner, allowing the homeowners to use it as a systematic spot to dine.
High Contrast 
The large-scale artwork grounds the room and establishes the tone in this dining space. While it pays homage to the antique dining set and sconces. It stands out against the bright white paint, blond wood floors, and duo of sleek pendant lights.
Restore Vintage Stuff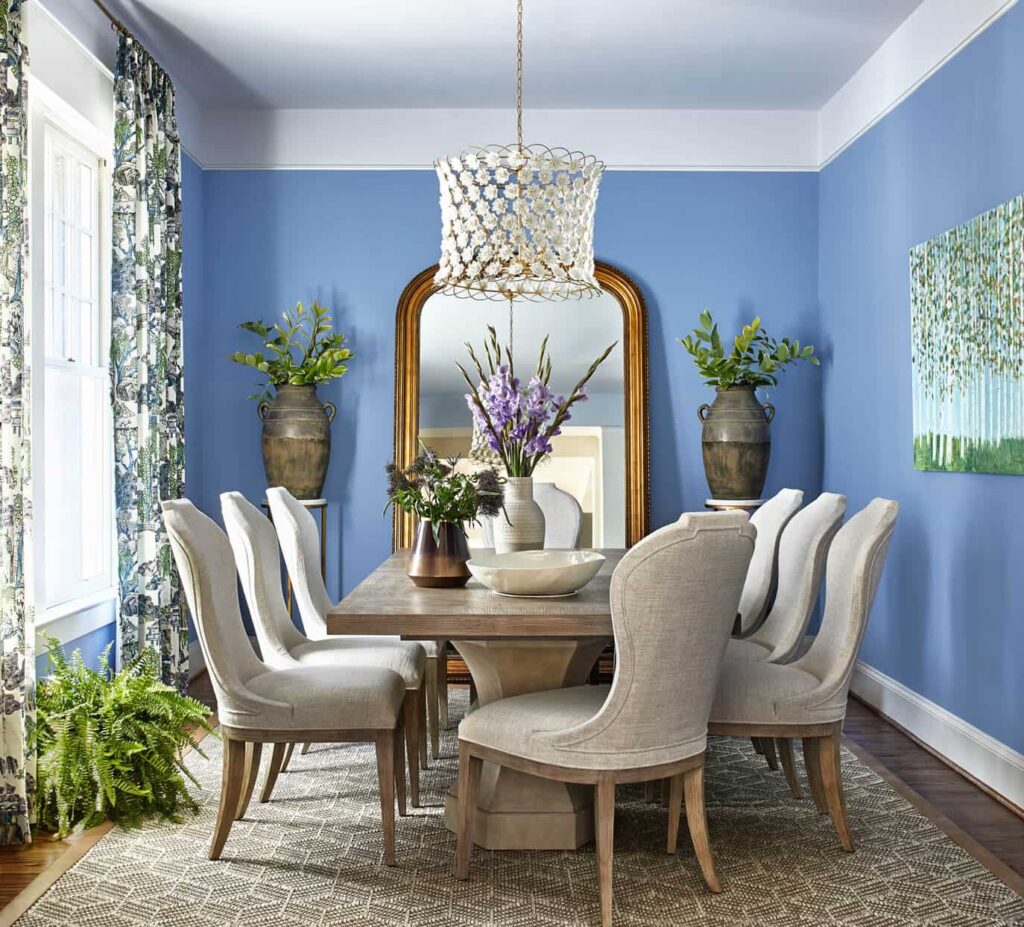 source: static.onecms.io
Though modern in design and look! This dining room design still has a lived-in, historic sense to it. This is due to the vintage elements, which range from the carpet to the lamp fixture and the farmhouse-style hints, such as the display of colorful plates and the wooden table.
Ranch Style
The architect and designer from New York City gave this isolated Utah dining room a flawlessly matched individuality. The refined elements and exquisite craftsmanship and the vibrant flashes of color and beautiful artwork elevate the more rustic qualities without appearing out of place or excessively precious. As a result, the ranch-style has been refined.
Basement Dine-In
With polished black and grey dining chairs and decorative flower pots atop a plain table, the designer gave this cellar in a Boston rowhouse a smooth makeover.The exposed brick and concrete floors were also painted a light grey by the experts, who also added a relaxed, neutral-hued striped carpeting. Rather than competing with the bones, as the exposed stone did, the new pieces enhance them.
Unexpected Splash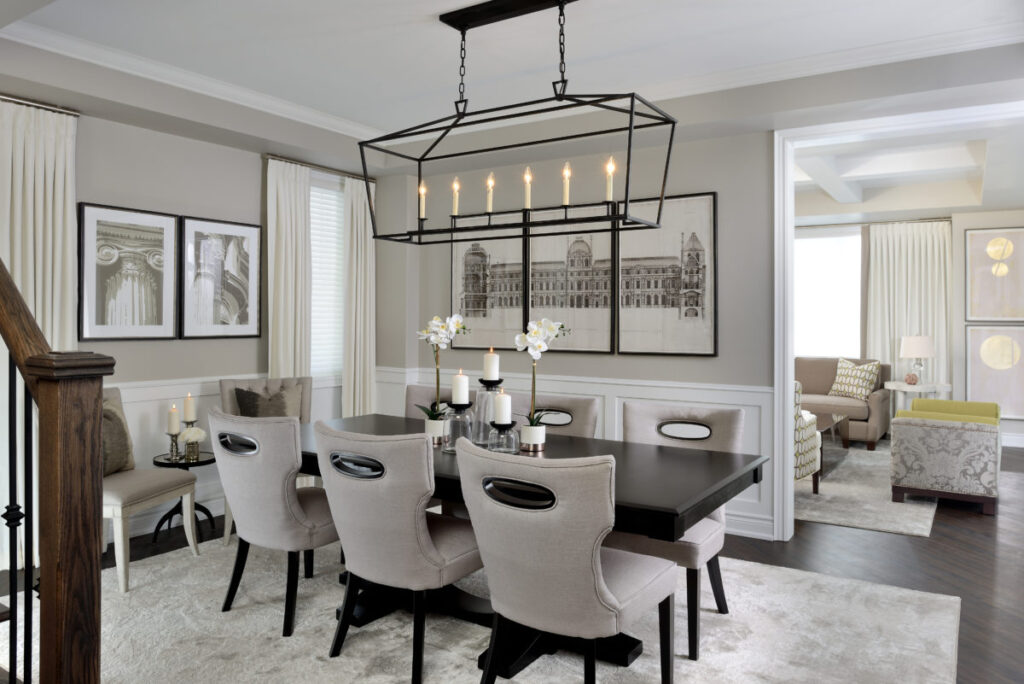 source: foyr.com
Consider painting your walls a unique color with a high gloss finish for a more traditional, cozy, yet lively and bright ambiance. "The saturation of this hue is what makes it pleasant," explains the designer of these walls. The room has a stately European look to it, surrounded by unique yet traditional furnishings.
Sunshine Bright 
Halden Interiors was charged with refurbishing this recently widowed woman's house, so they took advantage of every chance to brighten up and create a space that inspired healing and optimism. It should bring a cheery vibe. The dining area, for example, has a yellow ceiling that energizes and brightens the space like sunshine.
Highlight Fireplace
source: pictures.lonny.com
This dining space has a great mix of warm and cold tones. The soft blue-gray and clean white walls, light appliance, and texture marble table are invigorating, while the artwork, armchairs, and sconces add warmth. The fireplace itself also contributes to a cozier atmosphere.
Work Showcase 
If you have a lot of dinner parties, your dining room is the ideal area to display your best artwork. From the refinished lime green chairs to the wallpaper and moldings, the striking artwork determines the color scheme of this dining room created.
Try Monochrome
Seating should be alternated between benches and chairs, but the same materials and upholstery should be used to maintain a constant, clean design. Place monochrome art asymmetrically to break up the geometric symmetry of the rest of the space for a similarly modern and monochromatic dining room.
Enhance Dining Space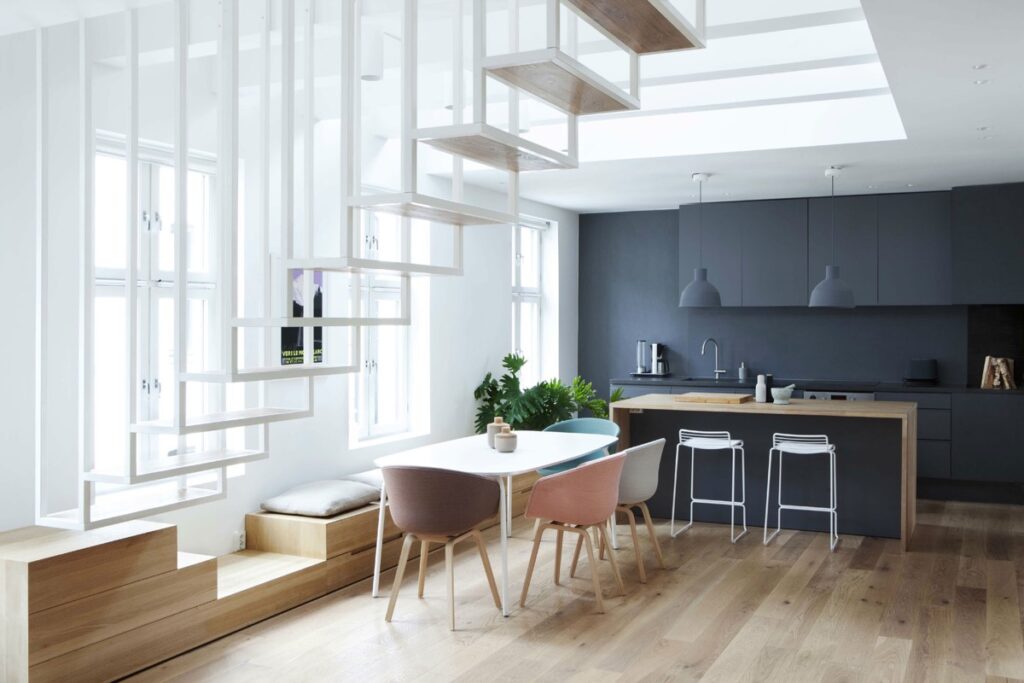 source: home-designing.com
Unlike other dining spaces, this one lacks a huge pendant light as a focal point. The emphasis is instead on the place itself. Work with raw materials like concrete, jute, and wood to improve the aesthetic of a space like this one, and leave the beams exposed. An illustration in light clay tones adds to the dining nook's opulence.
Chair Next To Window
This dining room design is flawless. From the eclectic blend of dining chairs styles to the stained glass vases, architectural framework, and vast perspective, it's a unique setting for both casual family meals and formal dinner gatherings.
Moody Dining Space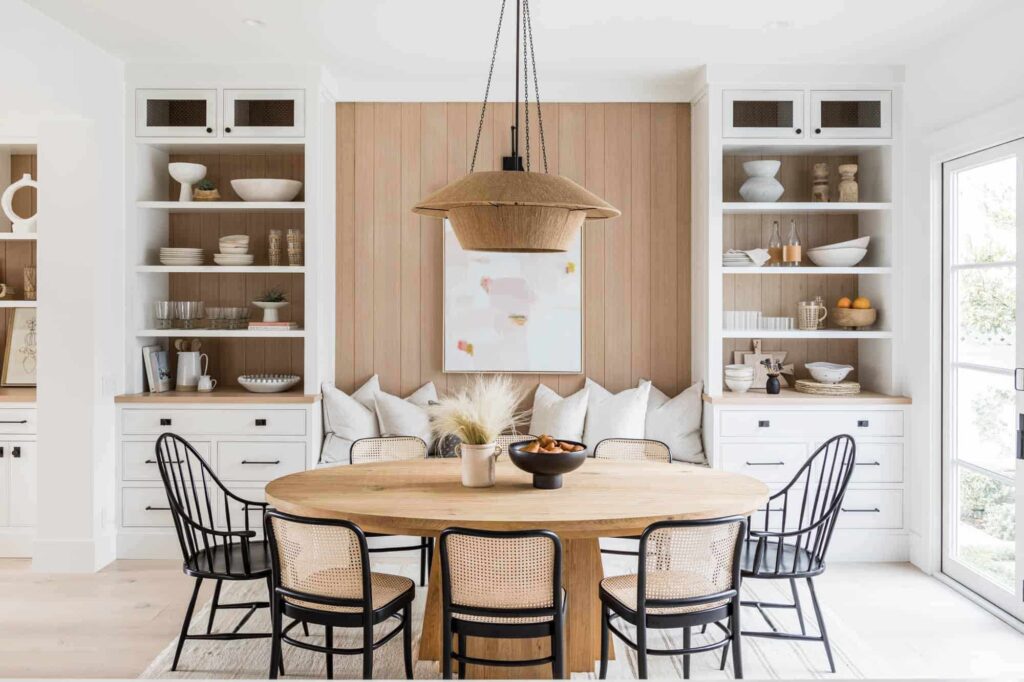 source: mydomaine.com
Melancholy dining room ideas demonstrate that formal does not always imply fussiness. Rich jewel-tone textiles and luscious layers of patterns bring the room to life, but they are utilized sparingly so that the contemporary art exhibition table and light fixture can impose a more sharp and serious tone.
Kitchen Match
If you have an open concept and the dining room and kitchen are in the same room. The cabinets are really sleek and modest, and the hardware nicely fits the lighting over the dining table.
Make Everything Remember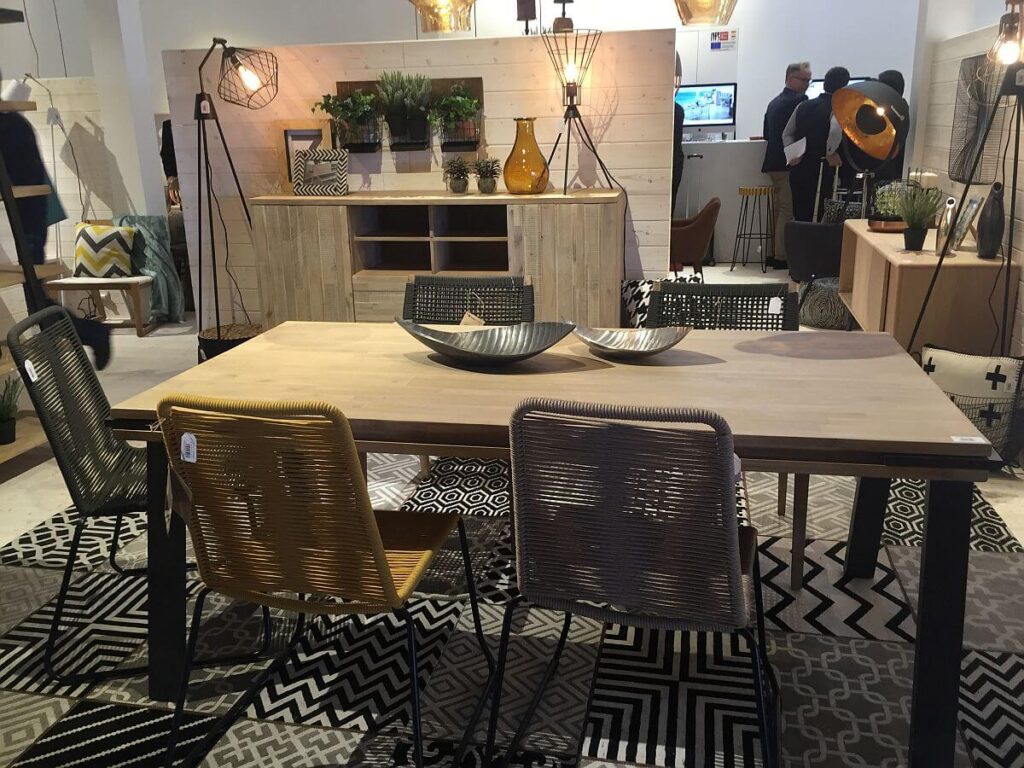 source: decoist.com
When all you have space for is a little eating area, make each piece count. This space most emphatically satisfies that criterion. It's a stunning exploration of shape and design, from the curving chrome frame of the dining chairs to the round pedestal table, square sconce, and geometric candlestick holder.
Stay Cozy
If you don't have enough room for a lengthy dining table, go for something round. When visitors come around, it's easy to slide an additional chair up, and it sparks nice conversation. The circle concept was brought to life with a spherical paper pendant lamp. The contrasts were given by blackening the window trimmings, spreading a square rug on the concrete floors, and dangling a small classic gilt frame.