A galley kitchen, with two parallel countertops, is a timeless design that has stood the test of time. While it is generally the most economical layout for a kitchen with little square footage, it also works well with some extra room. 
We scoured the Internet for our top 13 galley kitchen design ideas, each of which is brimming with fantastic ideas to steal for your own house.
What is a Galley Kitchen?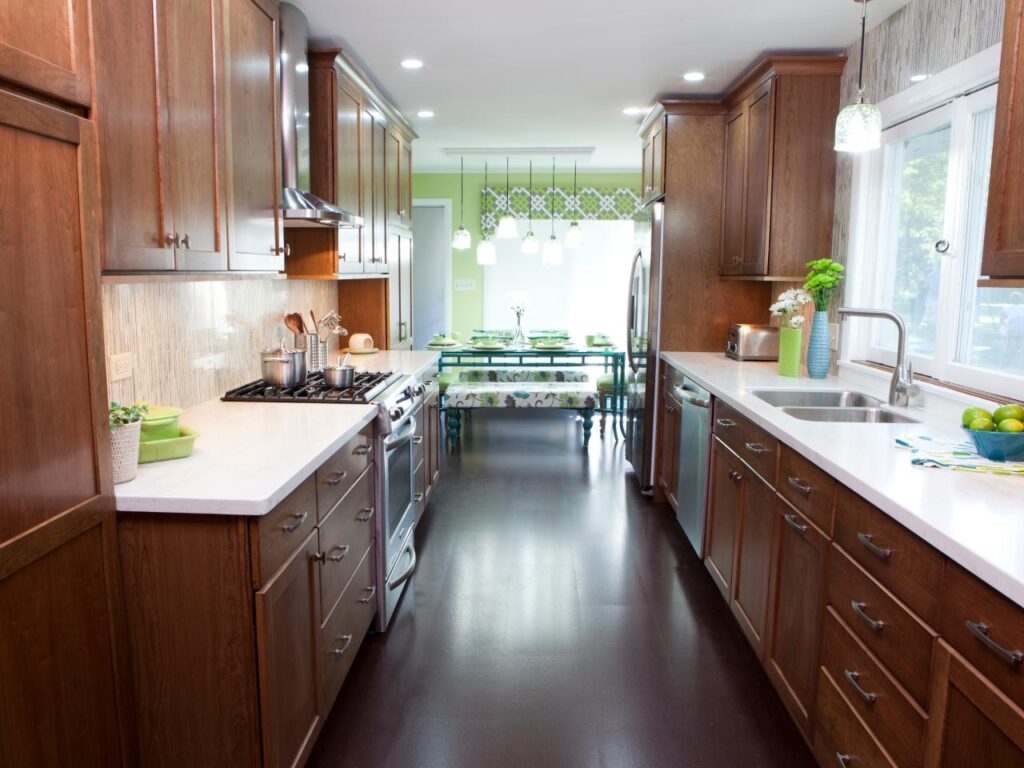 source: hgtv.com
Wall cabinets, Base cabinets, countertops, and other amenities are positioned on one or both sides of a central passageway in a galley kitchen. Because the main traffic channel is a long, narrow aisle, a galley is also referred to as a corridor kitchen. Appliances such as refrigerators, sinks, cabinets, and other practical elements can be interspersed throughout the worktops.
The cost of installing or remodeling a galley kitchen is typically lower than other kitchen layouts due to its compact size. Due to the fact that key services are grouped together, galley kitchen designs are more ergonomic than some other kitchen design layouts. There will be very little walking or reaching between the refrigerator, stove/oven, and sink.
Eye-Catching Galley Kitchen Design Ideas
Shocking Color Splash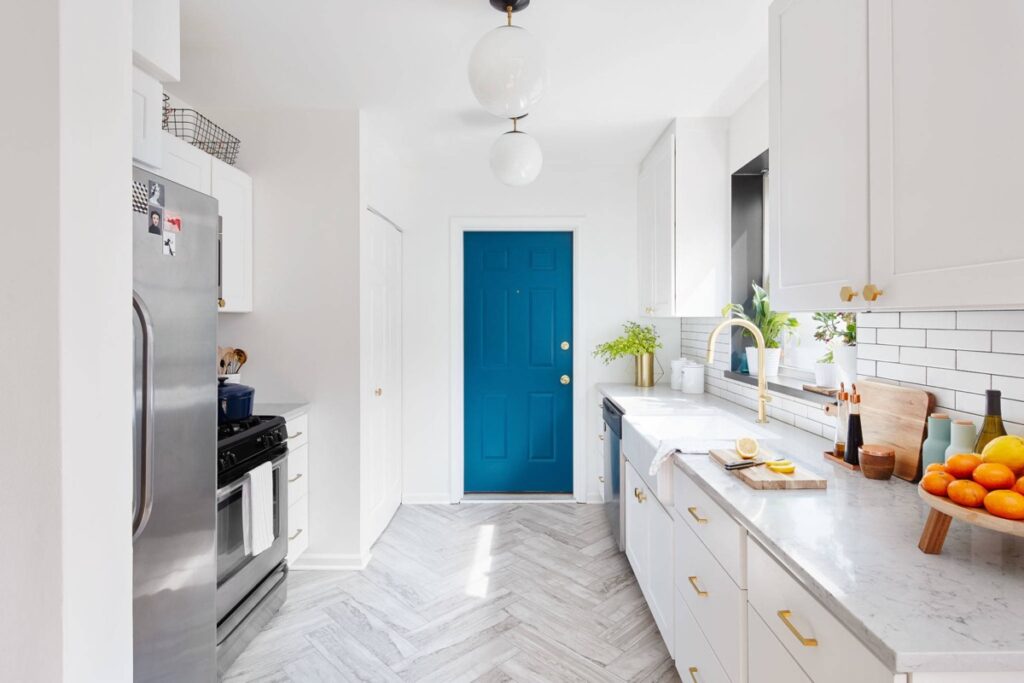 source: home-designing.com
This light teal tone is unusual in a kitchen, but it truly makes the tiny area stand out in this stunning example. A slim console table with chairs as a breakfast bar is a brilliant option for a little kitchen. The paintings and carpeting quickly make the area seem cozier.
Classic Grey
Another excellent approach is to use only one color. The grey tone hue of the walls is echoed in the countertop as well. The use of a single color unifies the look of the kitchen.
Windows Wall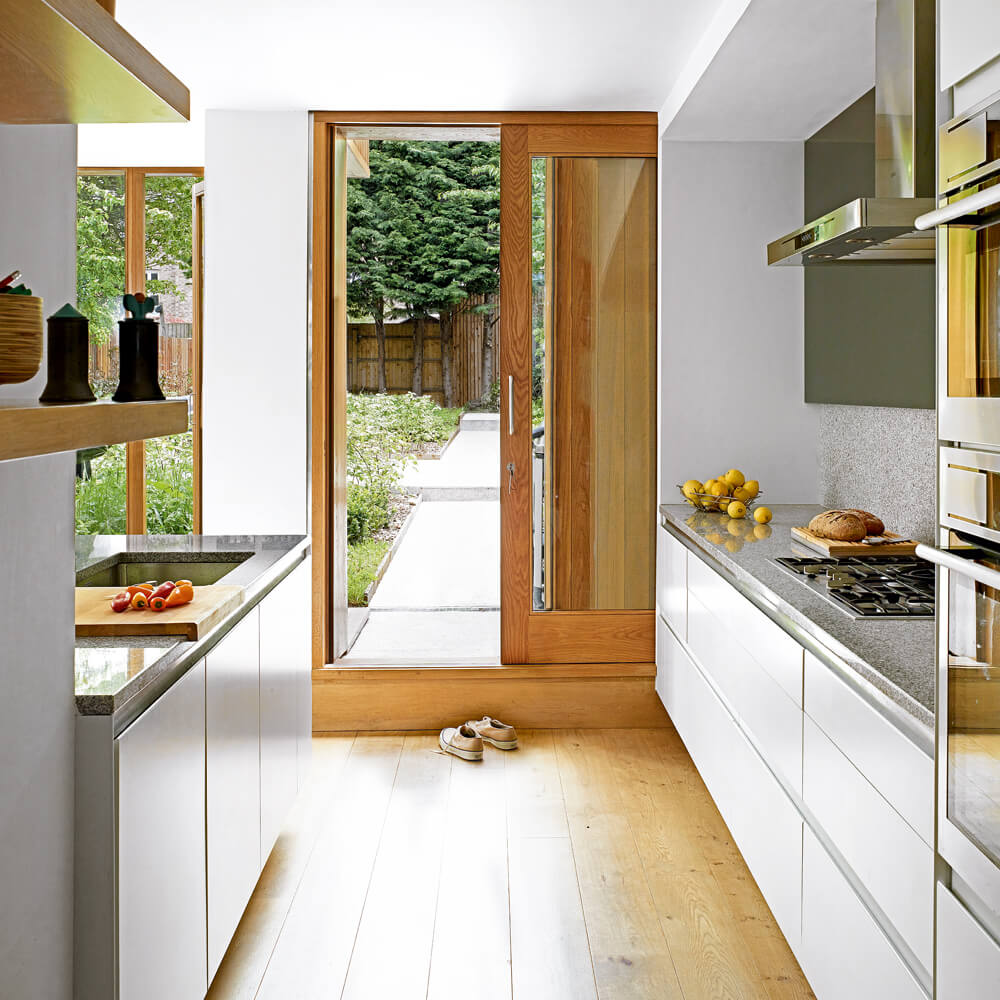 source: timeincuk.net
If you can construct a comparable wall of windows in your own kitchen, it could be worth foregoing some cupboard space. In this example, the owners accounted for the lack of space by expanding the cabinets all the way up to the ceiling of the wall adjacent.
Golden Charm
Consider adding hammered gold cabinets in your galley kitchen to "raise" the glam element, as they did in this space. While it's a big statement, it will work extremely well in a little area. Take note of how the remainder of the room is basic and neutral in order to balance off the strong gold hue.
Hiding Cabinets
The cabinets almost merge into the backdrop in this modern galley kitchen design. You can get a similar aesthetic in your own room without using any cabinets. The lovely skylight and brilliant white hue make this room feel much grander.
Artistic Tile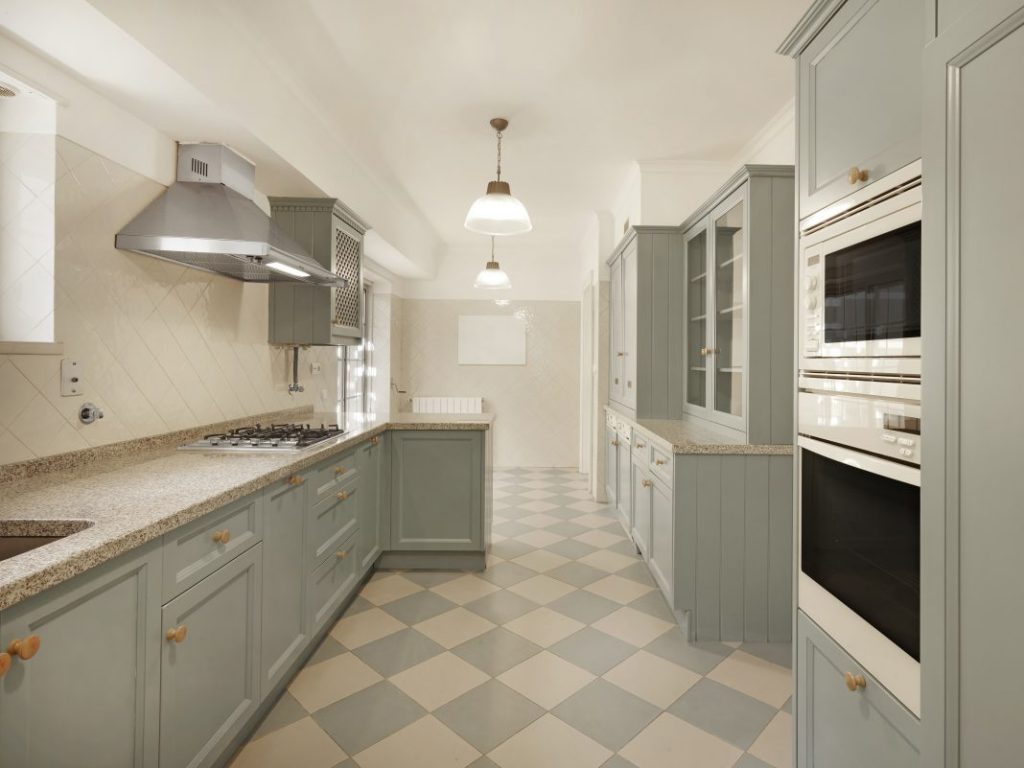 source: storables.com
Bringing visual appeal to your floor by using a vibrant or striking pattern tile. It's an especially hidden gem to experiment with if you just have a little amount of floor space. If you're covering fewer square feet, you might be able to invest more in the tile.
Shiplap 
Shiplap is a common material seen in barns and older homes, but it's also a wonderful option for tiny galley kitchen design ideas. You can use shiplap only on the walls or all the peaking to the ceiling as they did in this space.
Large Space
Galley kitchens are commonly selected for homes with bigger areas, despite the fact that we generally think of them as an option for smaller homes or compact spaces. The galley kitchen in this example is spacious, with a vast open area between the two parallel countertops. They even fit a wood-burning fireplace in there!
Dual-Shade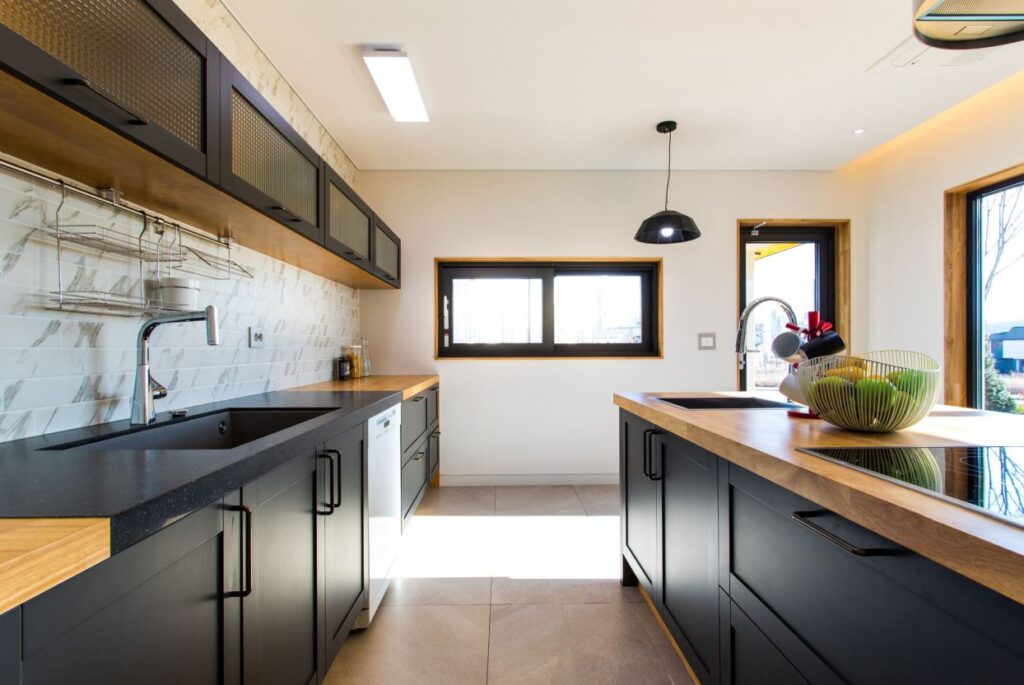 source: pinterest.com
There's no clause that states you have to paint each side of your kitchen the same shade. The homeowners in this example have given visual interest to their room by employing a darker shade on one side. You can sustain your room seeming cohesive by using a palette from the same tonal family.
Geometric Floor
If you're hesitant to use a bold tile but still want to make a statement with your kitchen floor, try placing it in an unconventional pattern with more typical wood flooring. This chevron-patterned floor deviates from the traditional vertical plank pattern seen in wood flooring, making it a wonderful way to enhance your home.
Antique Rug
This lovely antique rug complements the bright, white kitchen flawlessly. One of my favorite ways to add flair and originality to a place is to use a classic, non-kitchen rug. Runners are an excellent alternative for small areas.
Extended Windows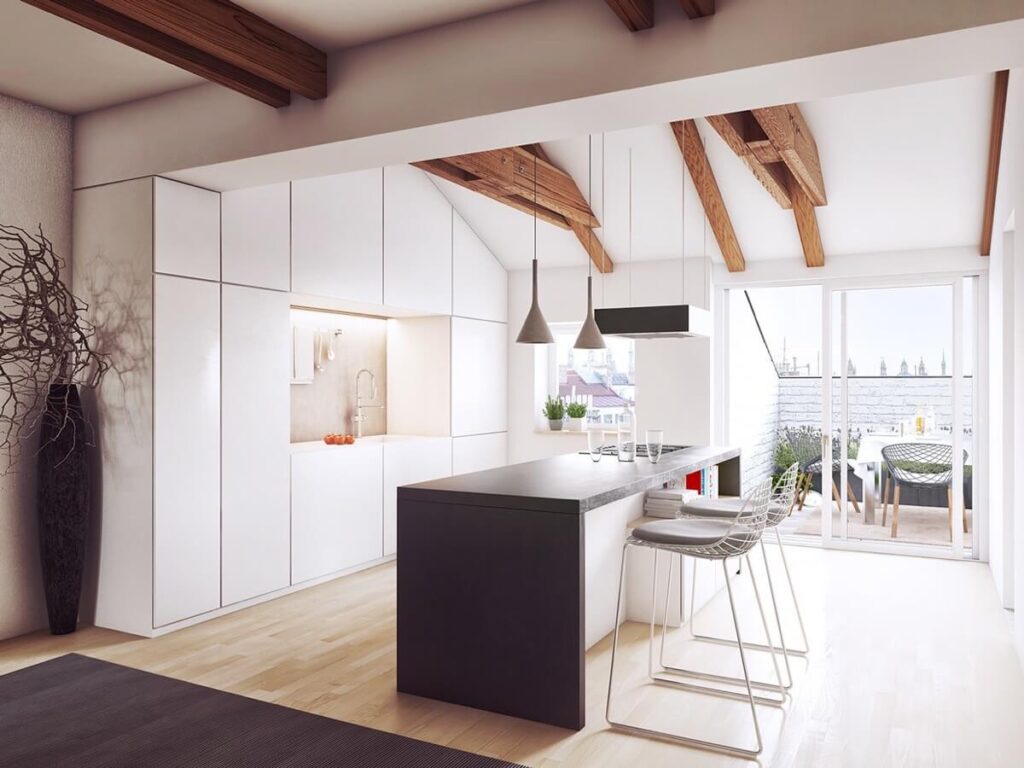 source: home-designing.com
If you have high ceilings, consider installing an additional tall window in your galley kitchen. In this case, the window elevation lets in more light, making the small area feel more open and large.
Minimalist look Kitchen 
Do you believe that with galley kitchen designs, you can keep finishes and accessories to a minimal level? Consider again! This stunning room demonstrates that you can mix and match in a tiny area without causing chaos.