Granite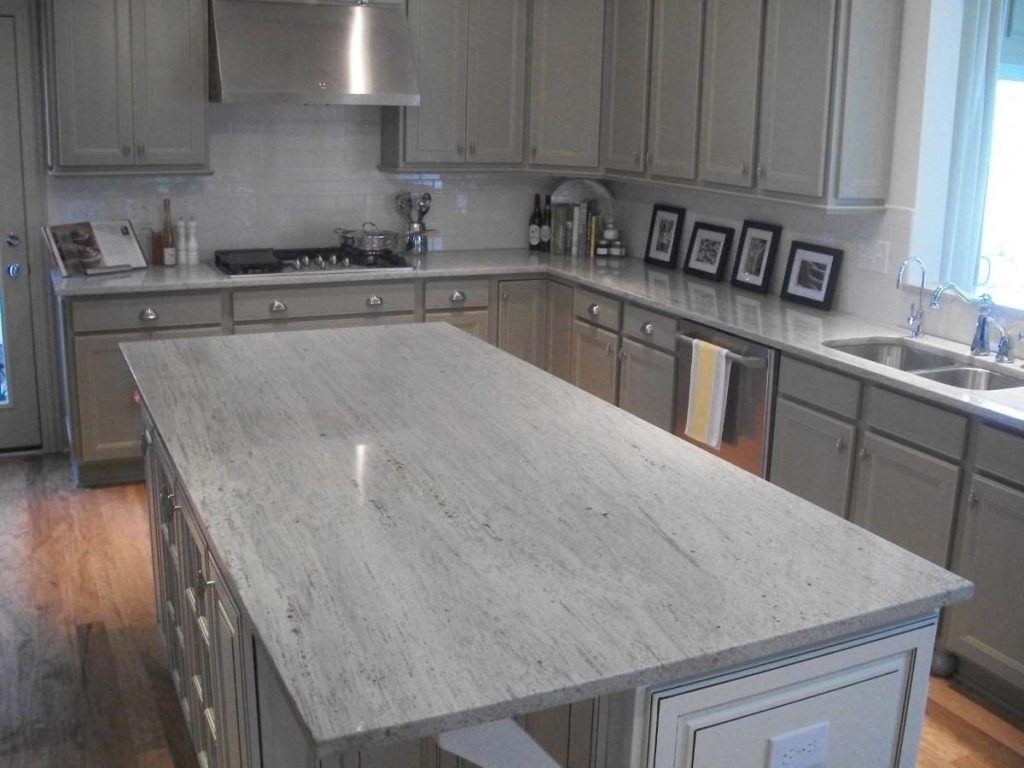 source: distinctivemarbleandgranite.com
Granite is an ideal material for kitchen counter tops as this natural stone has great durability and can also be cut with different edge choices, be it ogee, beveled, square, or anything else. It is also available with all sorts of flecks and variations in a wide range of colors. Besides, these are very low maintenance and also heat resistant. However, it's better to keep harsh cleaning products away from granite kitchen counters.
Soapstone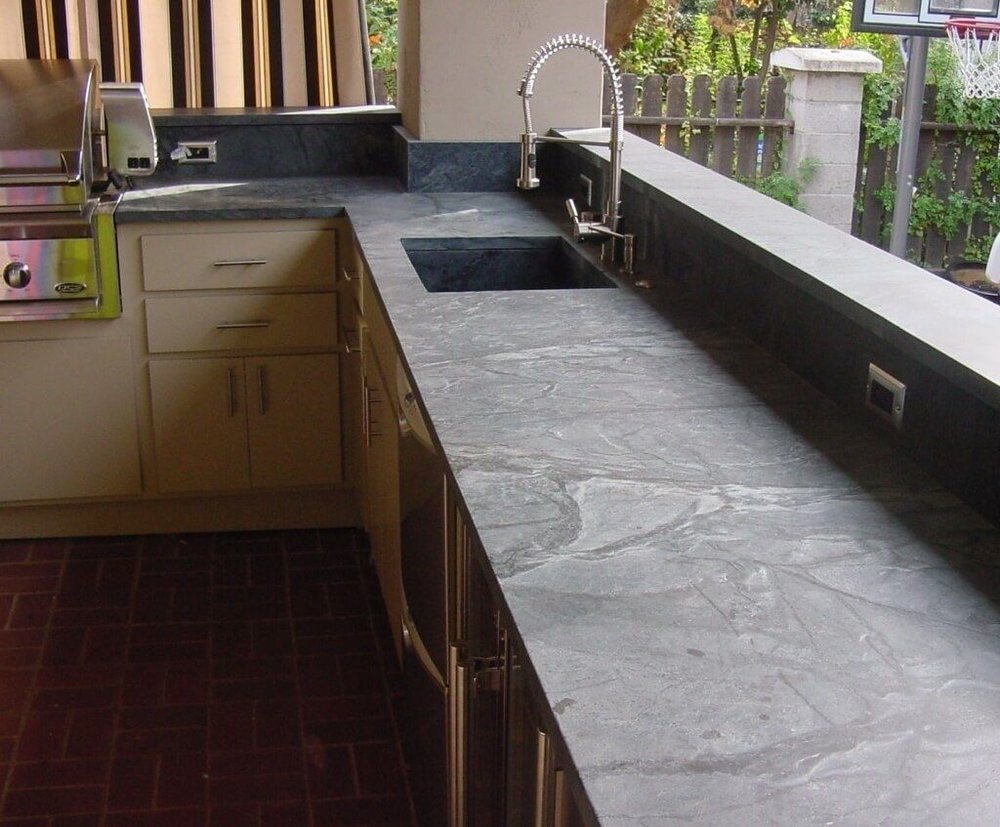 source: moonlighttileandstone.com
Soapstone is a unique looking natural stone that comes with naturally occurring talc in high percentage that makes the surface feel soft and soap-like. Besides, soapstone is a very low maintenance material and is also resistant to heat, bacteria, and stains. This natural stone is available in several different shades of grey and has green or blue undertones. It also has marble-like veinings that can vary from one stone to another.
Marble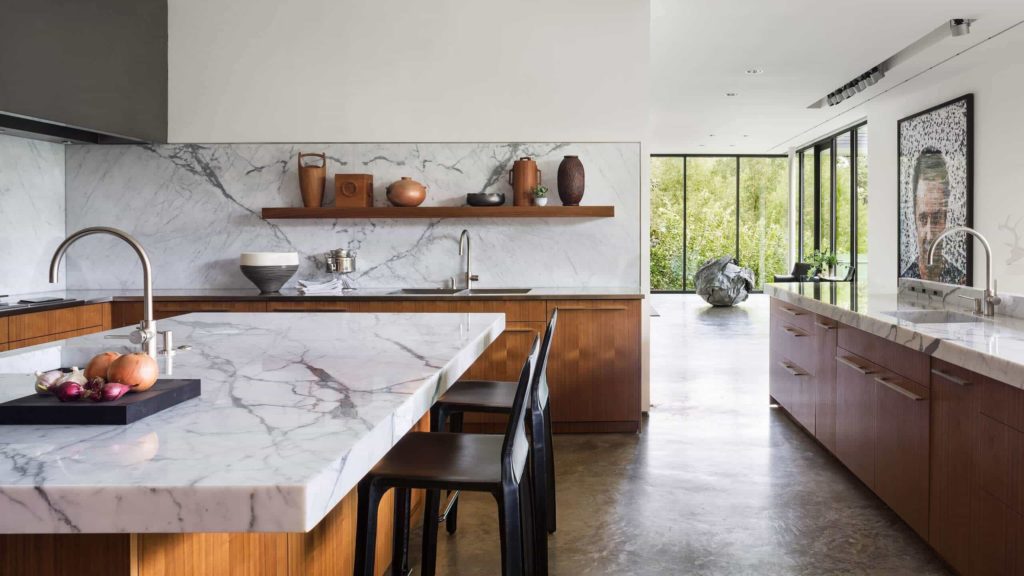 source: architecturaldigest.com
Since it's porous and softer than the other natural stones, marble may not be the most practical choice for kitchen counter top material. However, its presence can instantly elevate the interiors of any kitchen and make it look clean, contemporary, and sophisticated. This natural stone is available in different colors, such as grey, taupe, brown, and green, but nothing can match the look of bright white marble kitchen counters.
Quartz (Engineered Stone)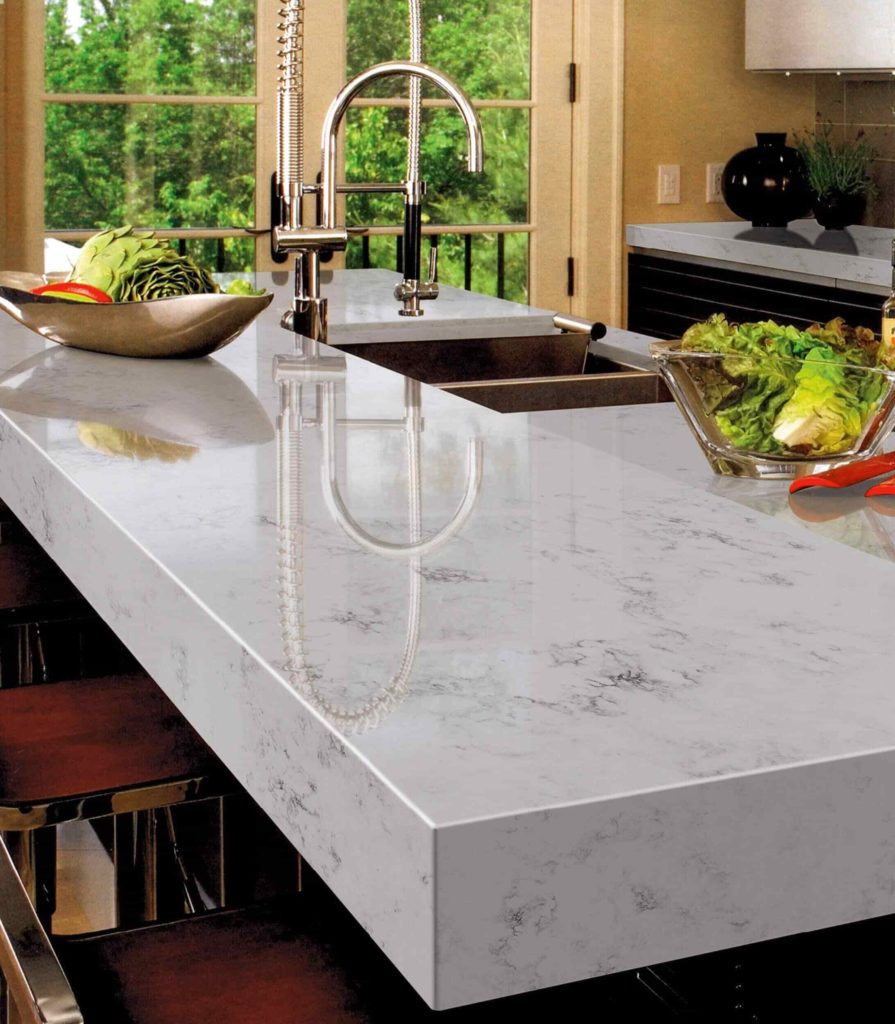 source: housetrends.com
Quartz is the perfect kitchen material if you are looking for a durable kitchen counter top. It is also known as Engineered Stone for it is a mixture of a resin binder and composite stones that engineered from natural quartz. And being man-made is what makes it more durable than natural stones and still look like one, thus making it a smart investment for a contemporary kitchen.
Solid-Surface Material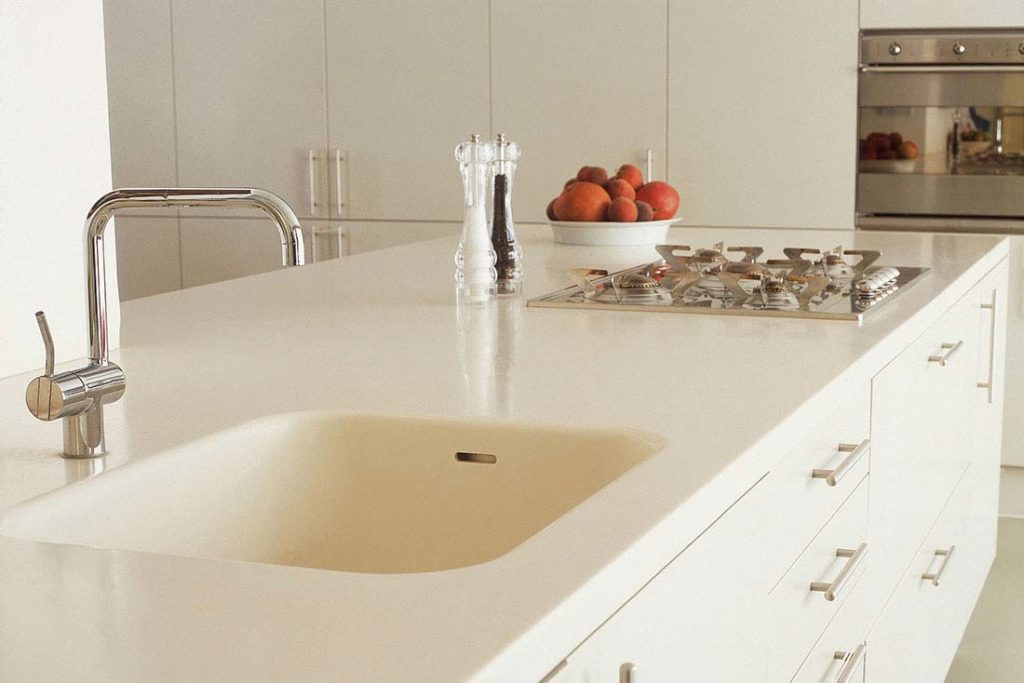 source: andersonhomeswi.com
Solid-surface material is nothing but a combination of resin and acrylic and is available in endless styles. This kind of kitchen counter tops are seamless and resistant to stain but are not resistant to heat.  And the best part is that in most cases damage made to this can be easily sanded out.
Ceramic Tile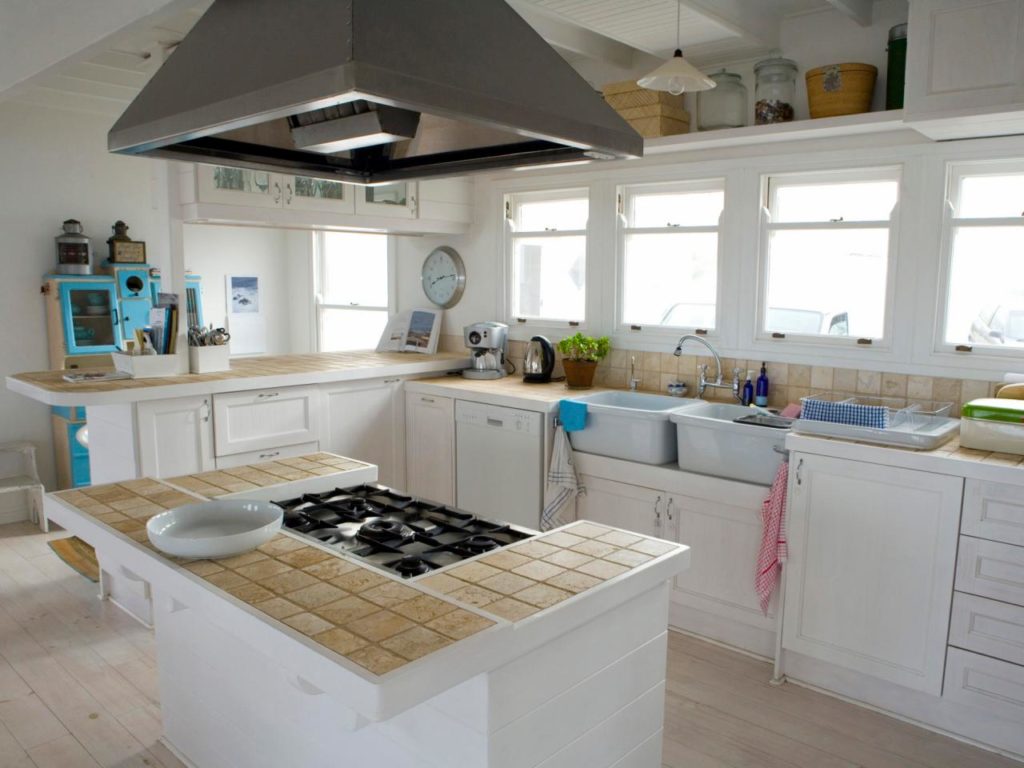 source: hgtv.com
Ceramic tiles were popularly used as kitchen counter material in the 70s and 80s and are now coming back in trend. When looking for affordable kitchen material, ceramic tiles are a good option. Moreover, tiles are available in a wide range of shapes, sizes, colors, and even different materials, such as natural stones or porcelain.
Laminates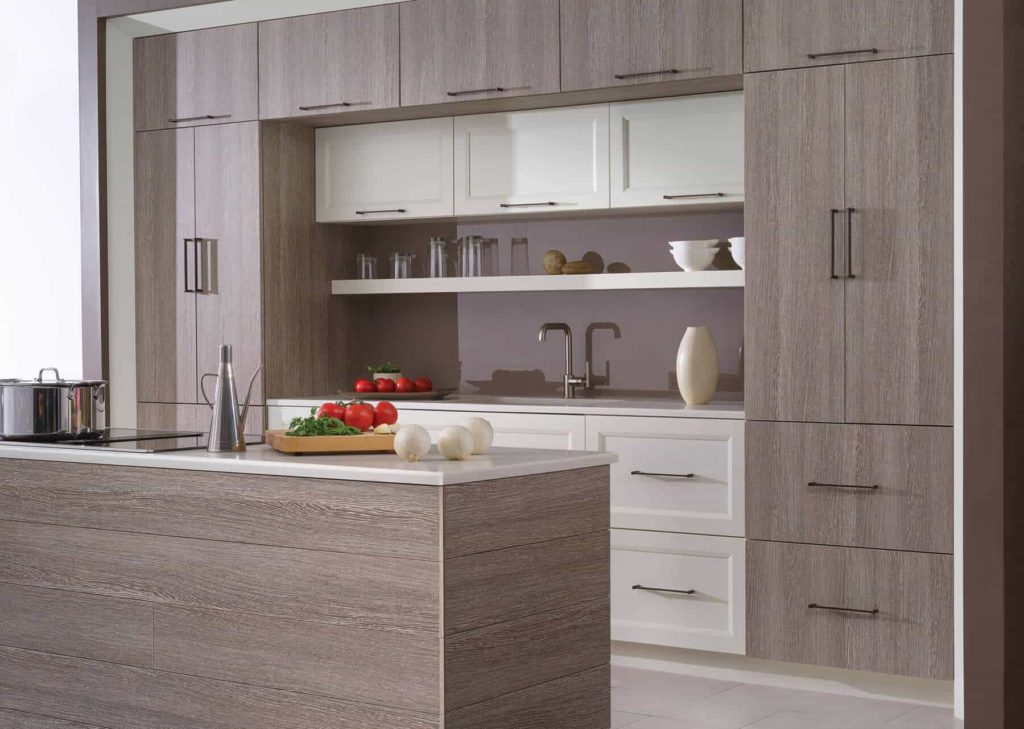 source: cabinetdepot.com
Laminates are a kitchen counter top material that dates back to the 80s. This material can give you different types of looks, depending on whether its new or old. While the new ones can look like expensive materials such as stone and wood, the old ones can give your kitchen a dated look. However, laminates are not heat resistant and can be easily damaged by it.
Wood or Butcher Block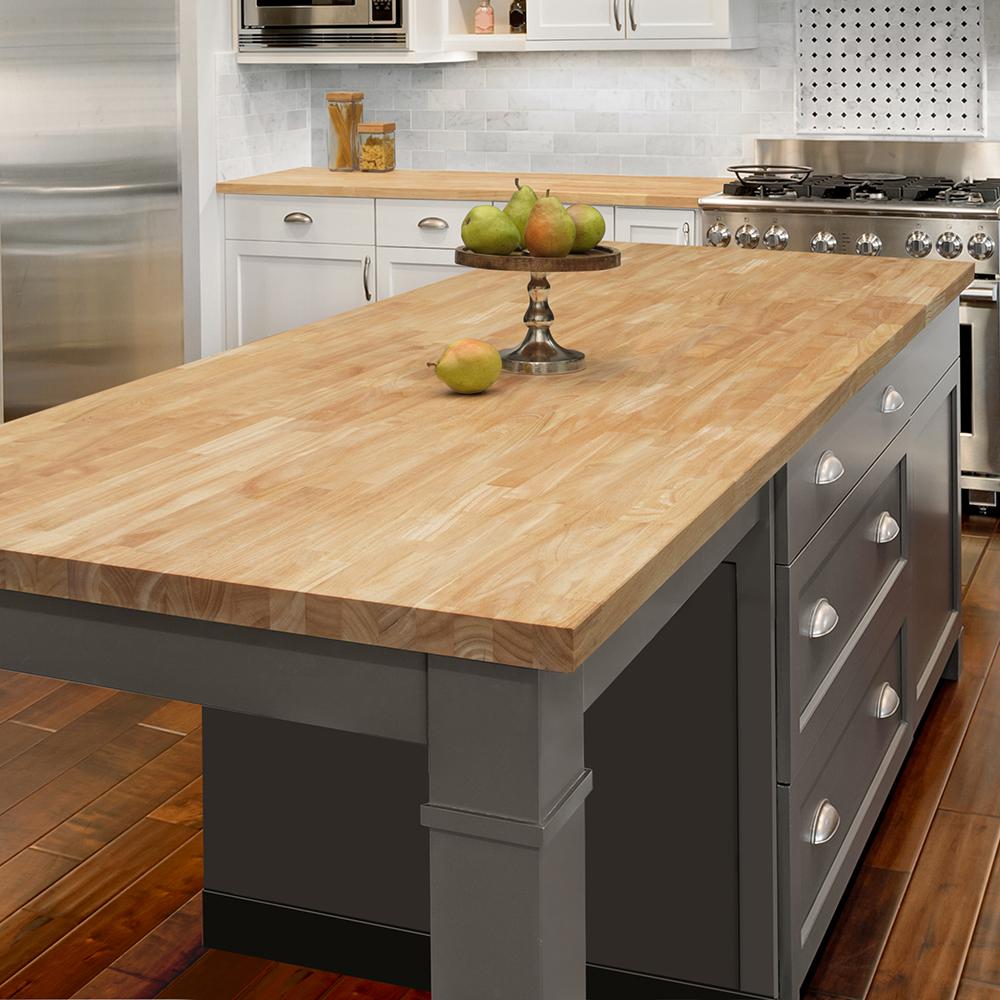 source: homedepot-static.com
Wood or butcher block is the best affordable alternative to the kitchen counter tops made of natural stones. Being made from small pieces of wood, this type of counter serves just like a giant cutting board. The best part is that butcher blocks can be made from all types of wood, be it teak, maple, cherry, oak, or even walnut, and can add a warm touch to your kitchen.
Stainless Steel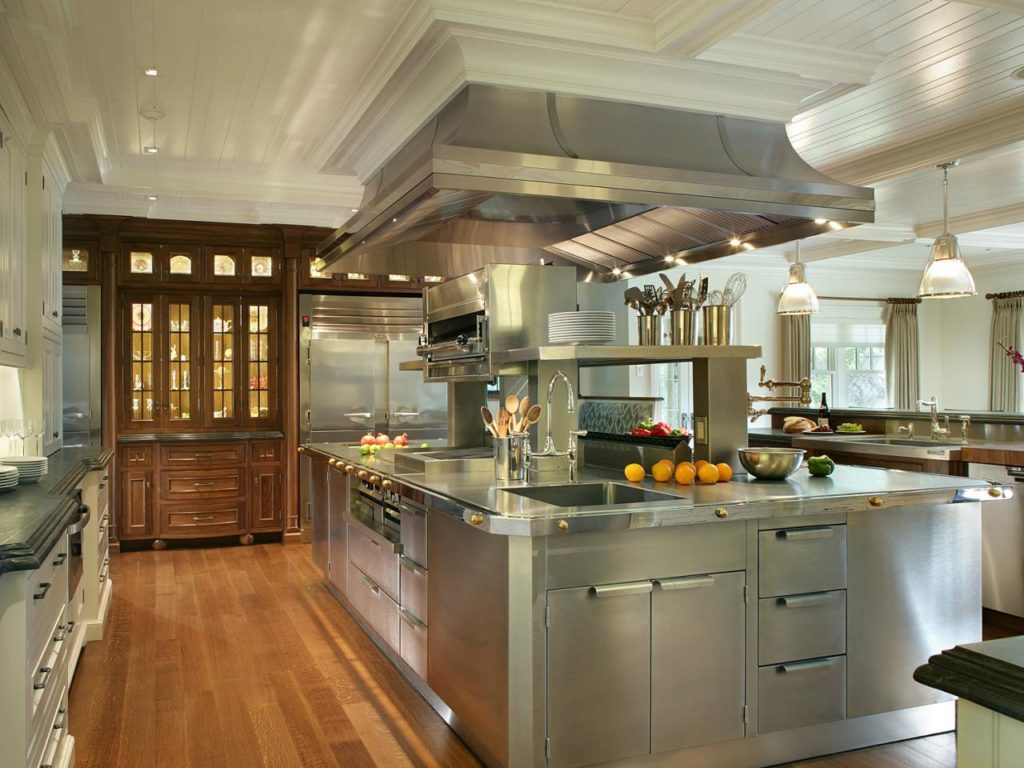 source: hgtv.com
Stainless steel is a kitchen material mostly used for commercial kitchens, which for its incredible durability is now used in residentials too. This kind of kitchen counters can instantly elevate your kitchen interiors and make it look chic and industrial. However, this kind of kitchen counters, if not cleaned properly, can be hard to maintain as it shows even water spots and fingerprints.
Concrete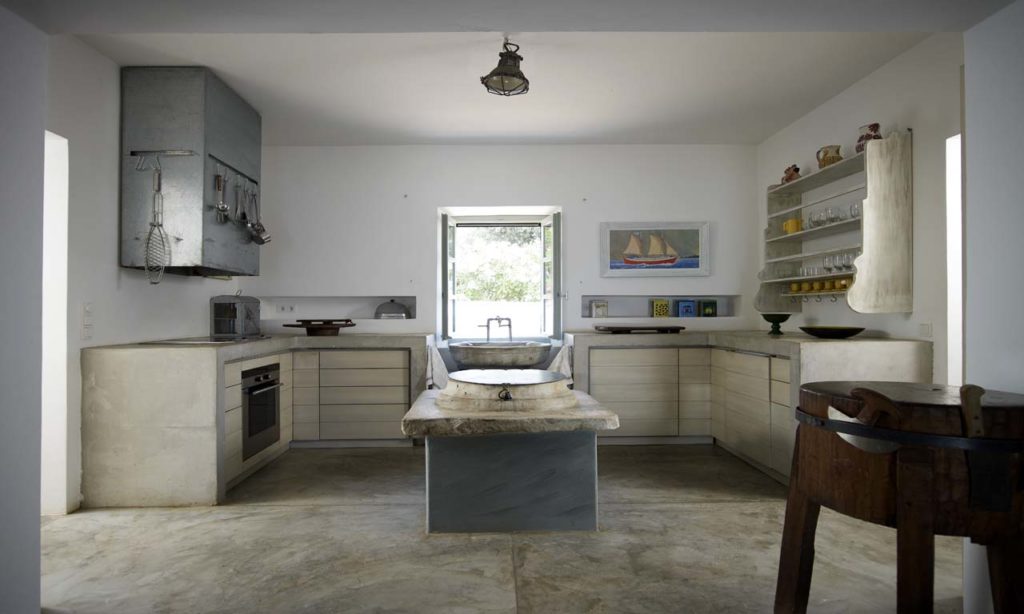 source: pinterest.com
If you are looking for a material that will make your kitchen counter tops almost indestructible, look no further than concrete. Concrete kitchen counters can add a special touch to the interiors of any kitchen and make it look striking and bold. And the best part about concrete counter tops is that you can make one on your own. However, it can take as long as 28-30 days to be completely ready.