A kitchen is a part of the house that is not just built with bricks stones or wood but with bonds emotions and love, is often called the heart of the house. The primary use of the kitchen is to preserve and cook meals-as it energizes the body and mind. A simple kitchen is generally equipped with gas, cylinder running water utensils refrigerator and kitchen shelves, the remaining areas can be used for dishwashing and having meals. As people or modernizing with time kitchen renovation has a huge market all over the world as the kitchen is the base of Nutrition a few tips to you must know before your kitchen renovation.
Budget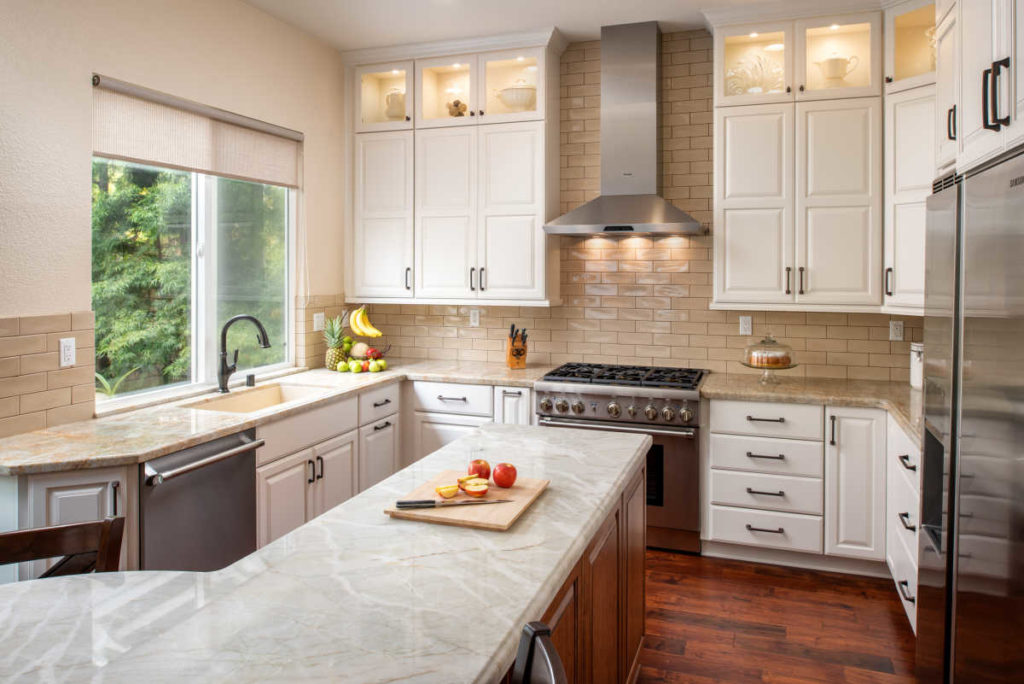 source: ctfassets.net
Budget is the most important factor when it comes to any renovations. Everybody wants the best quality of kitchen designs in an adequate budget. If you are having a proper budget you are benefited as-
Development budget prior helps you to save a lot of time while selecting products it helps the time required for selecting that that ends up being too costly or too cheap. 
Having budgets help to choose between "must-have" and "might need "helps to cut down a few products to avoid financial crawls.
Some essential products that are in good condition may be used from the old kitchen so reduce the budget.
For better budget management consult a professional renovator or designer to create a mesmerizing kitchen design.
Style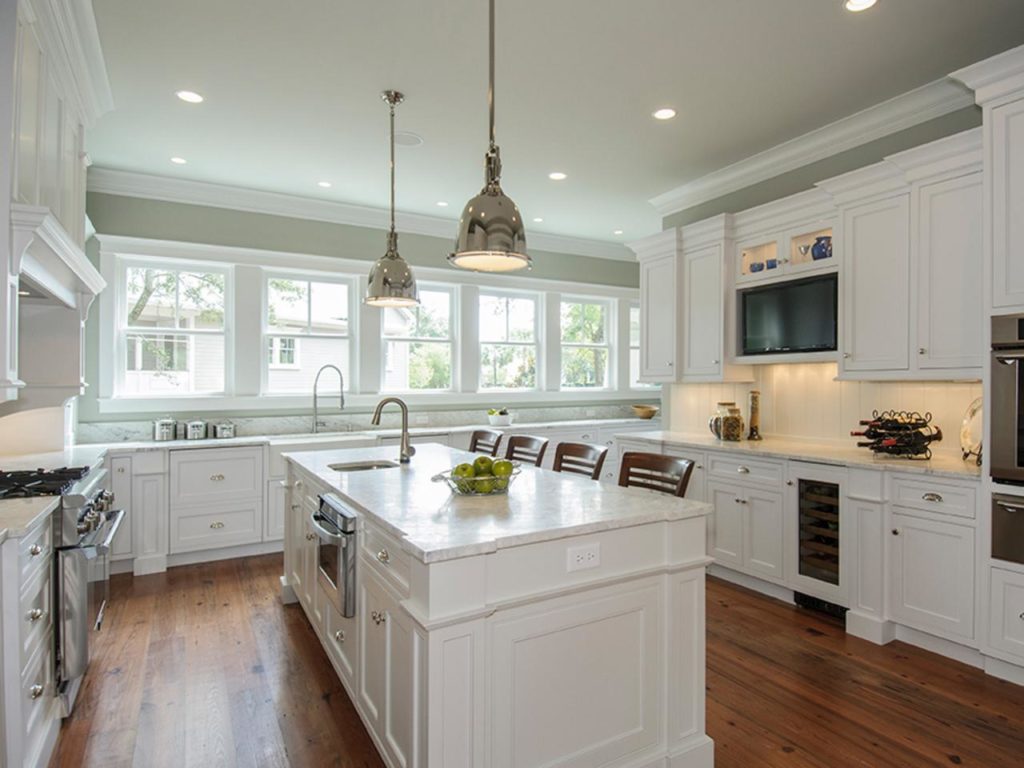 source: hgtv.com
Kitchen is the most used room of the house; kitchen renovation plays an impotent role in uplifting
The beauty of the house, from blissful cosy kitchens to wide-open airy kitchens here are few kitchens styles to renovate your kitchen:
The country farmhouse style with farmhouses like tables and furniture gives you a weekend vibe straight from your kitchen. The colours of these kitchens are bright red or yellow with a blend of cream or pale-yellow.
A cosy kitchen for modern style with highly polished surfaces, the high-quality fibber and exotic fabrics interprets the style of Morden age.
From cooking in a company to cooking for company contemporary style of kitchen is ideal. Here you can find plenty of space for hosts and guests to work and interact comfortably.
Eat-in kitchen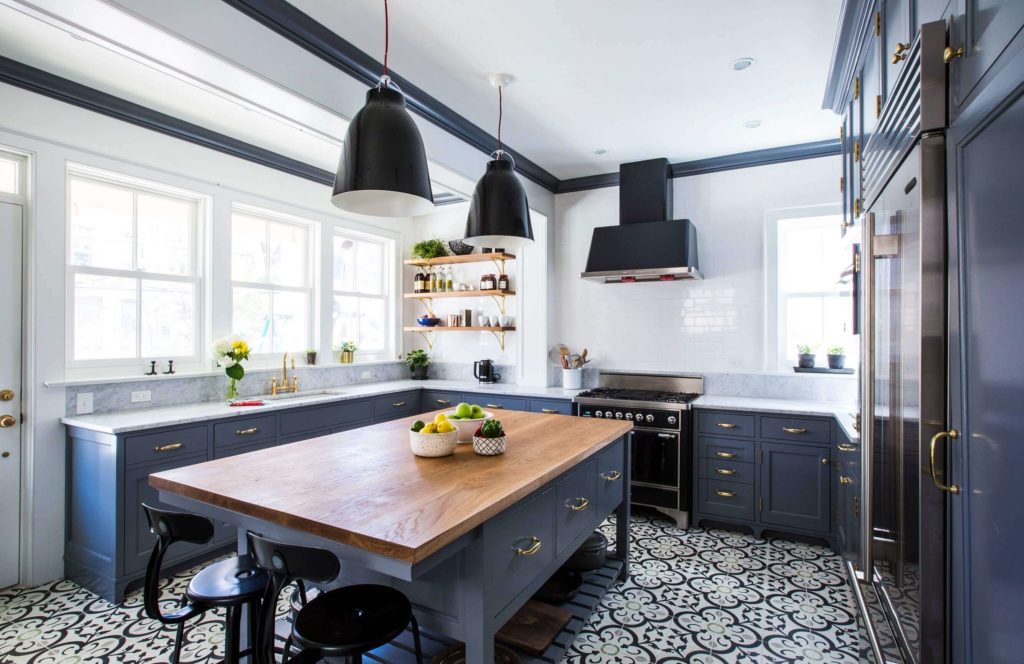 source: architecturaldigest.com
The eat-in kitchen provides the facilities for eating the food where it is cooked. The seating options range from large kitchens with lots of people comfortably eating to small casual eat ins. Eat-in kitchens also help in reducing the cleanups. Here are few eat-in kitchen designs
An L-shaped banquette on the corner with a small table can be very functional. Rectangular restaurant-style chairs facing each other banquette can save a lot of space without blocking any window.
In the case of very small kitchens use transparent and moveable chairs as their clear view almost makes them disappear and make the room feel larger.
You can use foldable tables that provide bonus seating for guests.
kitchen countertop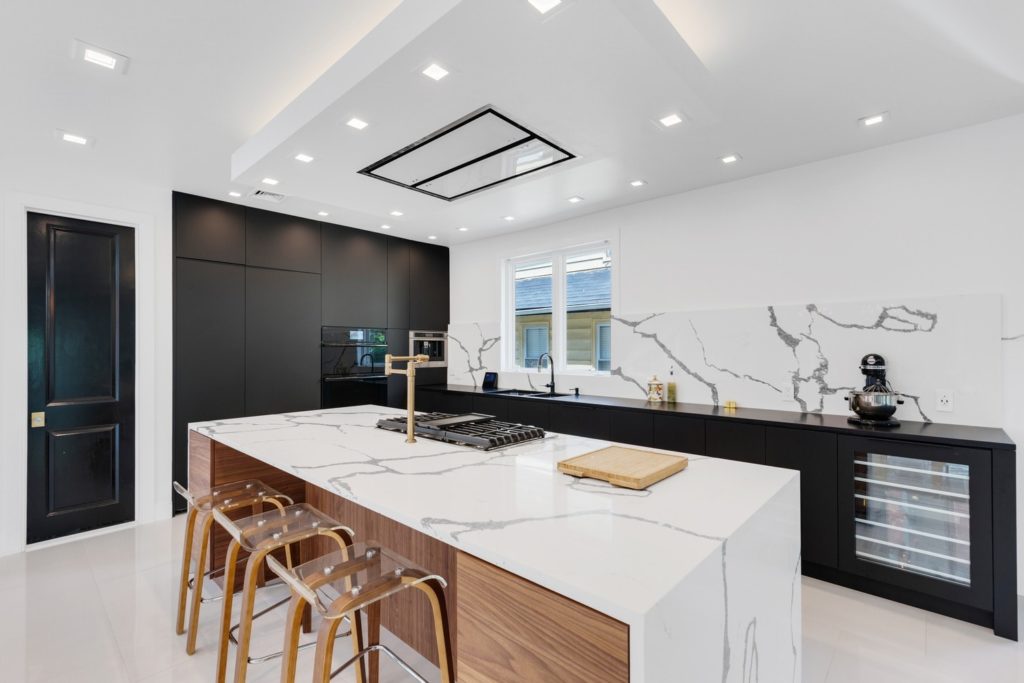 source: webflow.com
Marble is commonly used as material countertops apart from marbles here are other gorgeous options like blush pink or deep blue shiny quartz, bright-collared water-resistant fibreboard, lavender textured wood cabinetry with glossy oak worktops gives a blend of the rustic and classic kitchen, use of stainless steel countertops are highly preferable as they are resistant to stains of foods and can be easily cleaned.
Storage Space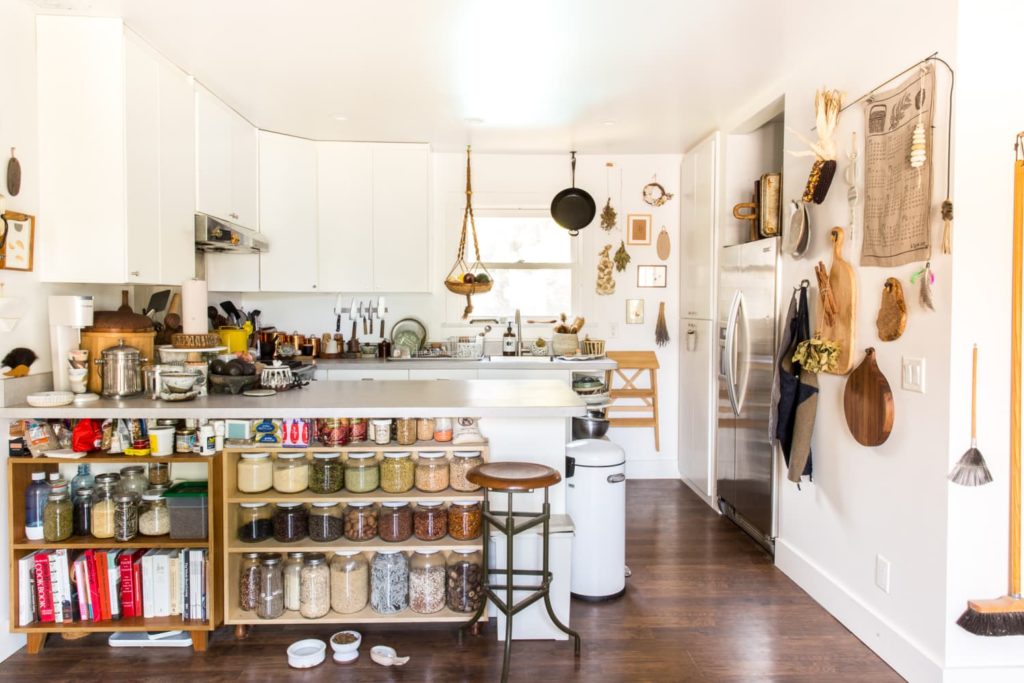 source: apartmenttherapy.info
Kitchens are used for storing everything of foods and cooking like vegetables, fruits, utensils and many small appliances but for a kitchen to look classy it needs to be well organized. Here are a few ideas to maximize your kitchen storage:
Instead of hanging utensils on shelves use a pegboard to hang them; magnetic racks can be used to hang knives, spoons and many more.
Use the windows for decoratively storing utensils and jars.
Use shelf riser racks to avoid cluttering and keeping in an organized way.
Kitchen Space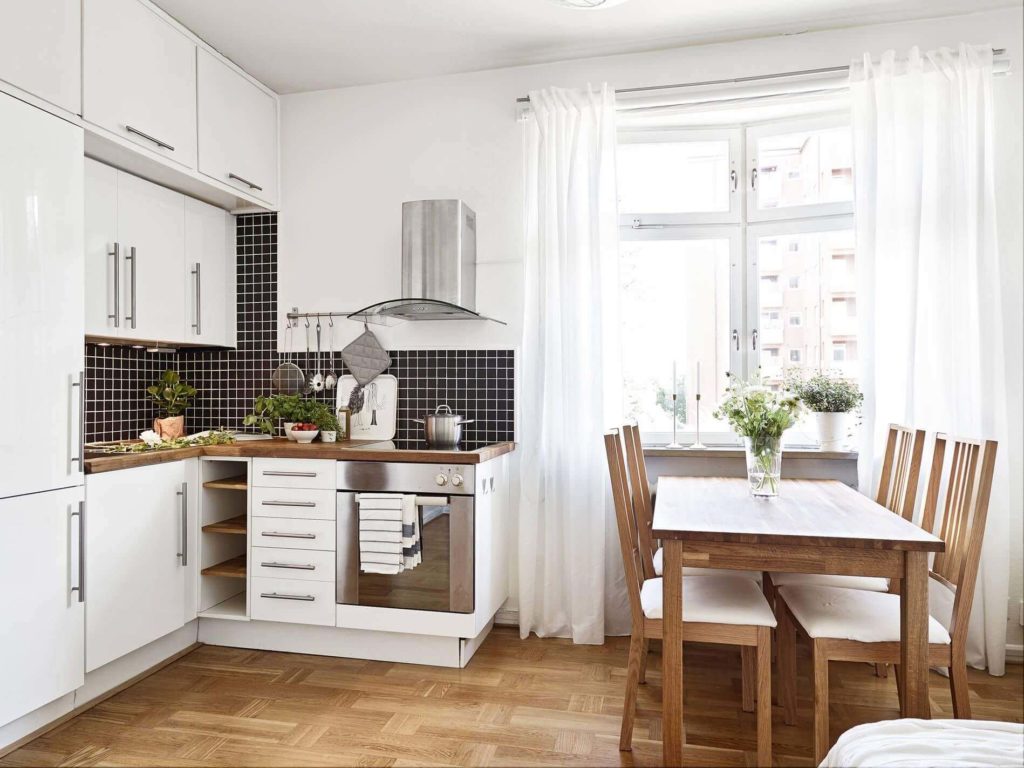 source: thespruce.com
Gone are the days when kitchen word used just as workspace in modern houses kitchen is the focus of the house. The kitchen is always going to be full of traffic make sure the primary part of the kitchen is free from obstruction. Prefer an adequate size it is a great way to show off your expensive cutlery. Place the stove exterior wall as it reduces the cost of the ventilation system. Focus on the smallest details make sure every inch is counted.
Kitchen Appliances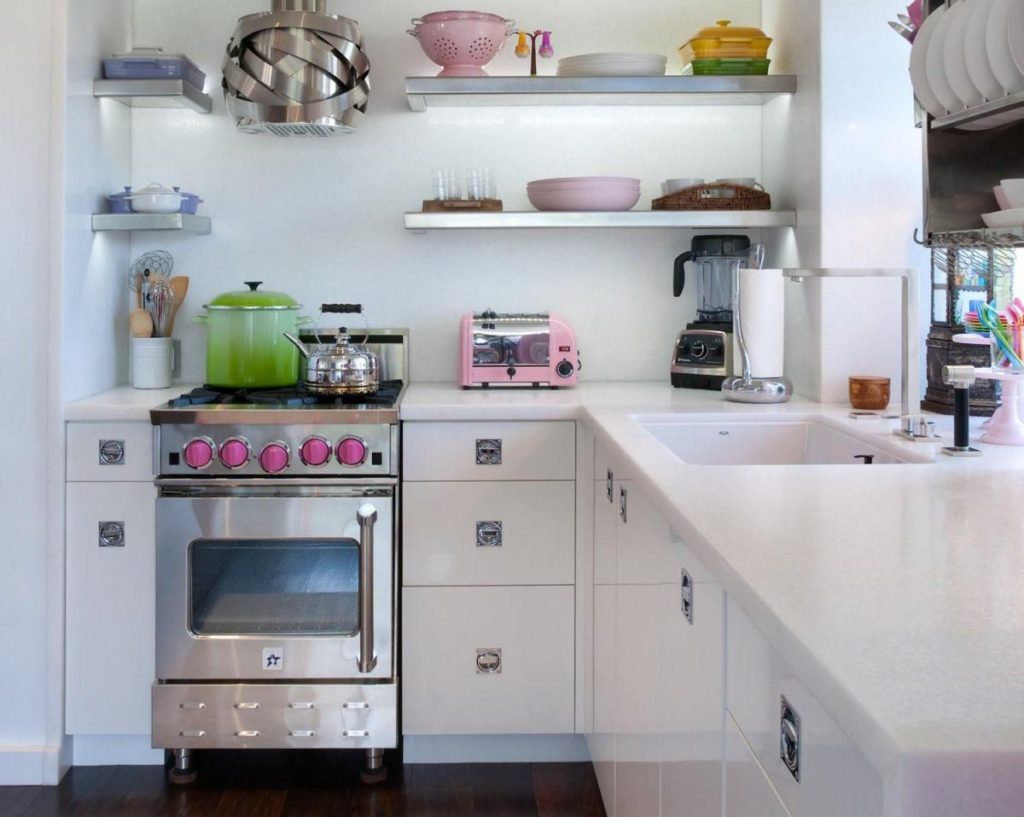 source: forbes.com
Kitchen appliances give efficient and static view to the kitchen gas varieties are crucial appliances in a kitchen along with refrigerator, mixture, microwave oven, pressure cooker, cutting board, can-opener, vegetable peeler, spoon, whisks, spatula, tongs and many more.