Home designing is slowly and gradually becoming the first priority to attain better living and a modern stylish look. As the trend keeps on changing, before investing in it you must be conscious and have to make a precious decision. The only aspect of home designing is to give your home an elegant and stylish look, with a better taste of living which everyone would like to have in their day to day life.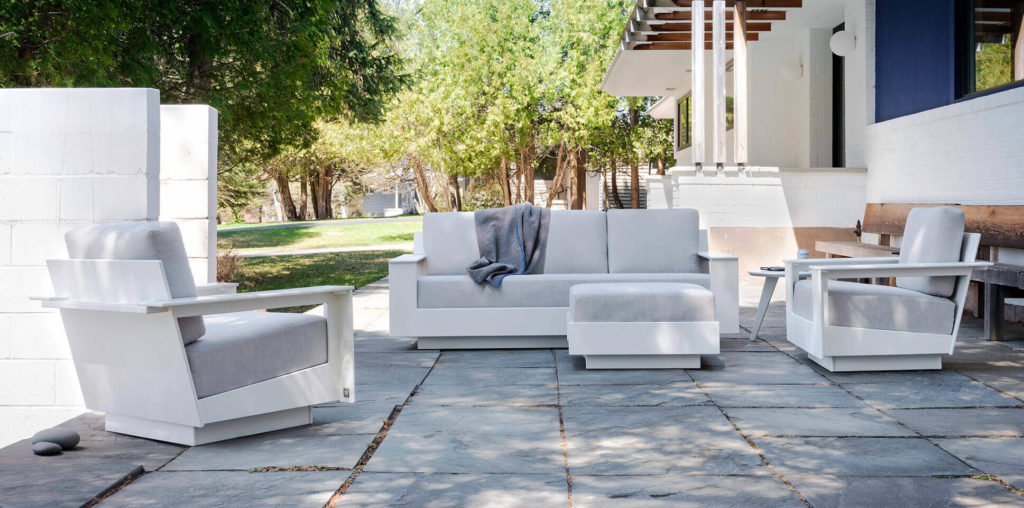 source: lolldesigns.com
There are mainly two parts home interior and home exterior both of them are inter related to each other, without home exterior furniture interior is incomplete and without home interior furniture exterior is incomplete. Thus, for achieving overall complete look of the home you have to manage them consequently at equal level, if both are not maintained equally then your house would look uneven, if exterior looks elegant and interior is messy than it would make a bad impact on the visitor in the same way if interior is elegant but the exterior looks old fashioned than people would think twice while visiting inside the house.   
How to design your house exterior furniture? There are various materials and designs available to start designing furniture for your home exterior. Before you start buying materials or anything else for designing, first of all take a survey of your home exterior, whether it is your lobby, lawn or door, because without taking a survey or without having any plan in hand one could not proceed for further circumstances, thus, survey is must. What is next? Here, in The Architecture Designs, we have the best tips to design your home exterior furniture without facing any kind of tribulations; also you can find plans according to your needs and requirements regarding it. We have some home decoration ideas too to make your exterior look elegant and most beautiful.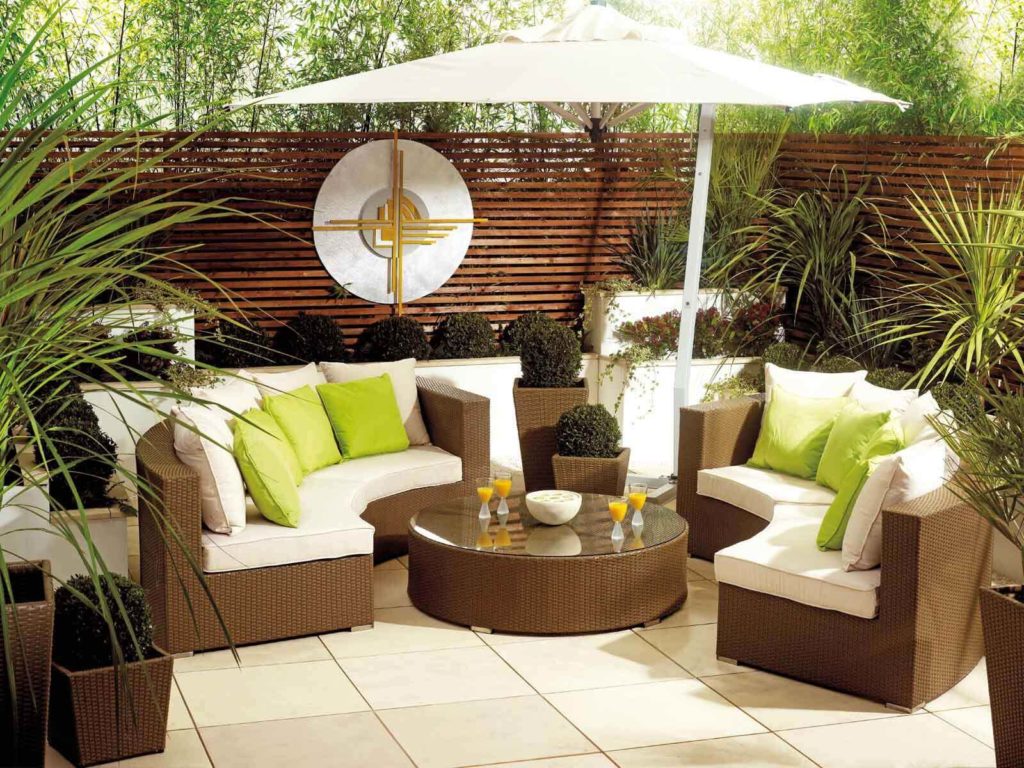 source: storables.com
The first step to be taken while making home furniture is selection of material, as we are going to furnish our exterior of the home we have to look for water resistant, fire resistant and scratch resistant materials, there are many combination of materials which do have the same property mentioned above, if you want to go with the nature select timber wood, rather than that ceramics, marbles and plastic would help a lot while for home exterior designs.
What comes in the exterior furniture of home and how can we decorate it?
The parts that are to be considered as an exterior part of home are outdoor which includes shoe racks and if required than a staircase box, balcony we can furnish it as per our needs, and last but not least lawn / garden where you can have a lot of furniture for all your needs.
Outdoor ways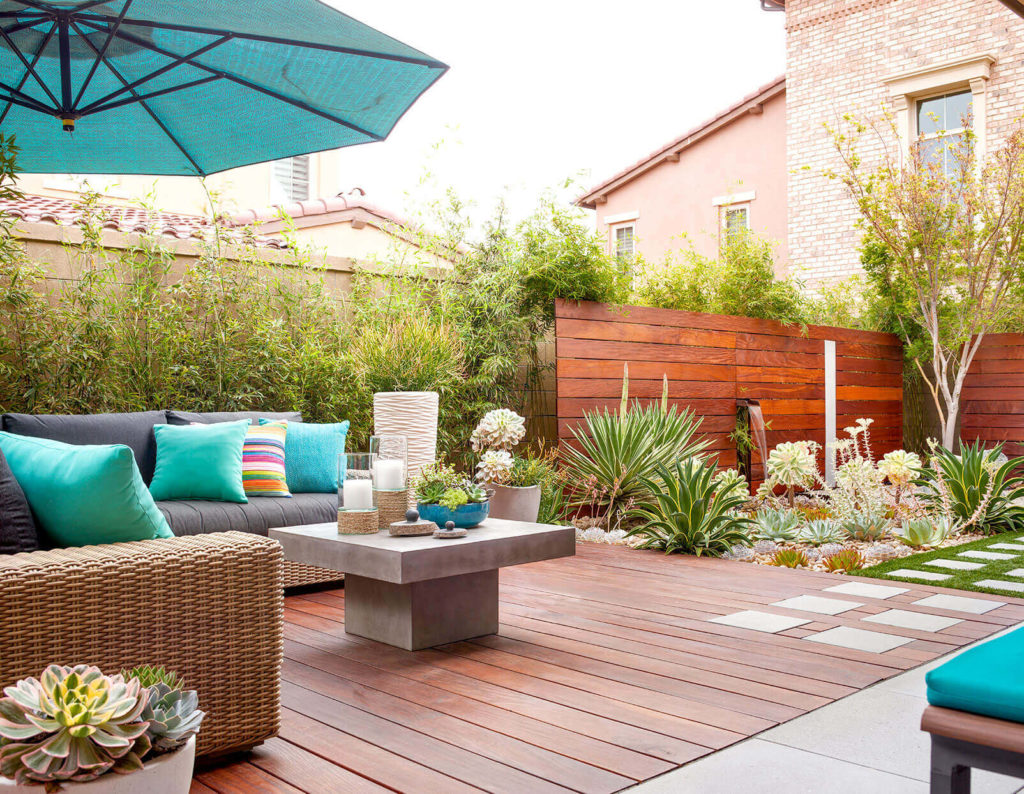 source: meredithcorp.io
Outdoor ways or entryways, most often everyone likes to keep shoe racks outside the home as whosoever visits or removes their shoes and leave it here and there which from back gets tangled between in some other legs,  thus they must be kept at proper place, for instance shoe racks are made. While designing the shoe rack we have to keep some aspects in mind, the material must be tough and water resistant, the place must be decided keeping all consequences in mind, and the color of the racks must be according to the door.
By color we mean that, if the color of your door is dark then shoe rack must be kept in light color appearance as keeping the aspect of elegance in mind, dark mix matches with light color very well and gives a stylish look to your entryway, more you can add wheels on shoe rack thus whenever required you can switch its place as per your needs.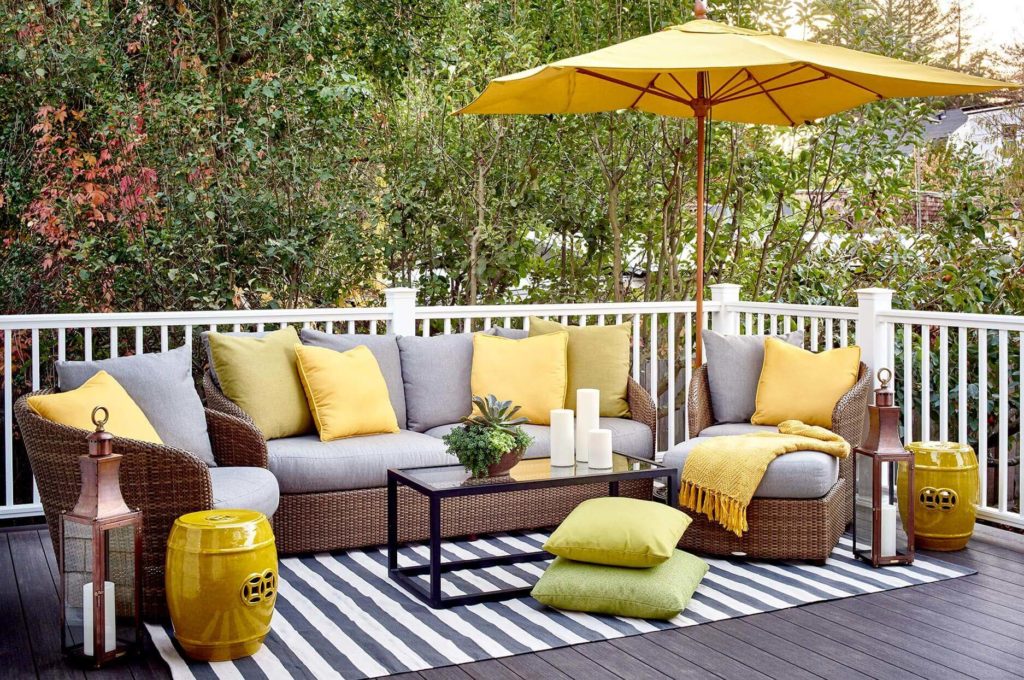 source: meredithcorp.io
Moreover, the furniture around the door matters a lot; if someone is visiting your house obviously they will have to enter from door, if decoration around door would be eye catching then the visitor would come to know about the taste of your living, though you can decorate your door furniture with some home decoration things likewise you can hang picture, can put some smiley balls just o create a good environment, and you can fix a music emitting device too just with the aspect if someone is waiting on door rather than being frustrated would enjoy the surrounding.  
The designing of shoe racks can be done as precisely as it can be used as a sitting stool too. As we know shoe rack is made up of a rigid material, thus we can design it in a way that along with keeping shoes in shoe rack one can even sit on it in case of waiting.
Balcony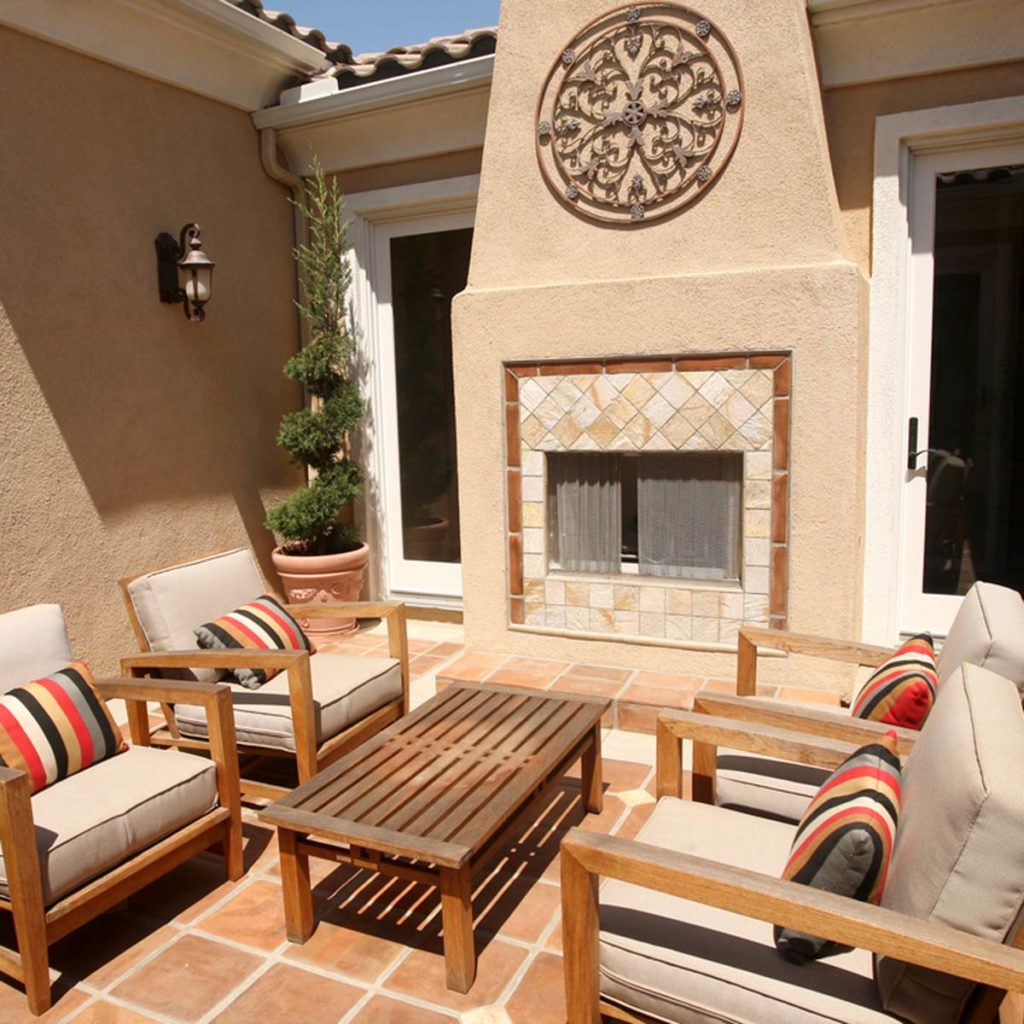 source: familyhandyman.com
A place which is inside the home but still considered as exterior of part of the home, balcony is a place where one could meet nature and get relief, balcony is an open space inside the home; it is way similar to the small terrace in the home.
Designing furniture for the balcony is a way easy task for one to do, all you need is a wooden deck with a swinging chair in the balcony, where one can enjoy tea swinging on the chair and with some snacks on the desk behind the chair. Thus all you need to do is to place the furniture in a good manner on the balcony so that accessibility becomes easier and one would feel he / she is sitting in a good restful environment. Moreover, you can add a hanging chair in your balcony which would give you a good taste of living as well as decoration and style.
Lawn / Garden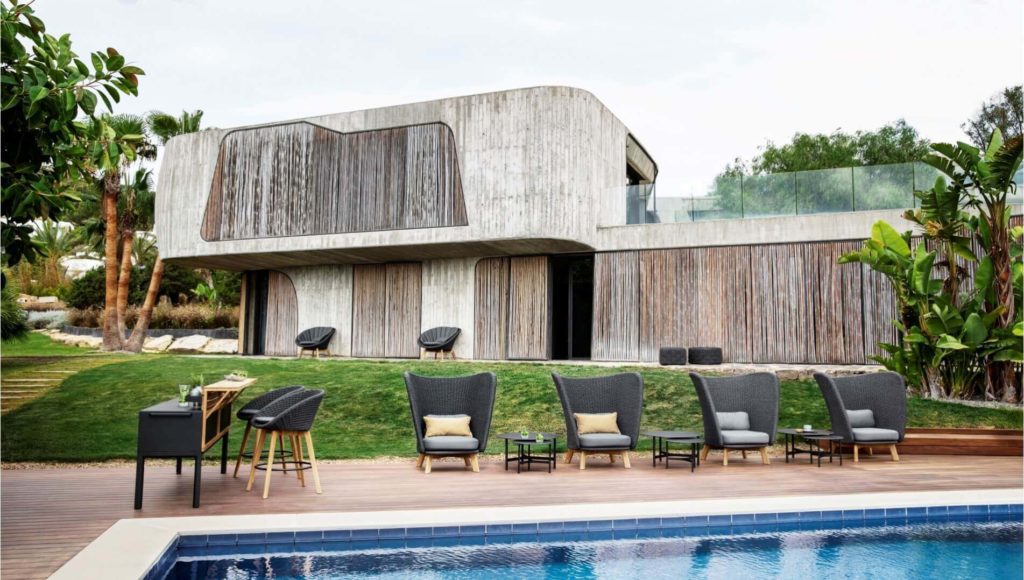 source: exterioramenities.com
The main exterior part of the home is your lawn, the bigger the lawn in an area, better the standard of furnishing it and enjoying the environment. There are many ways to furnish the garden. You can build up a sofa, a dining place as in open restaurants, you can even make a pool and then furnish the surrounding accordingly, and many more. While furnishing in the garden you have to be careful about the rain, water is one of the bad factors for maximum types of furniture, thus we have to build furniture with materials which are water resistant.
Ways for furnishing garden:-
–          Sofa
–          Dining table
–          Swimming pool
Sofa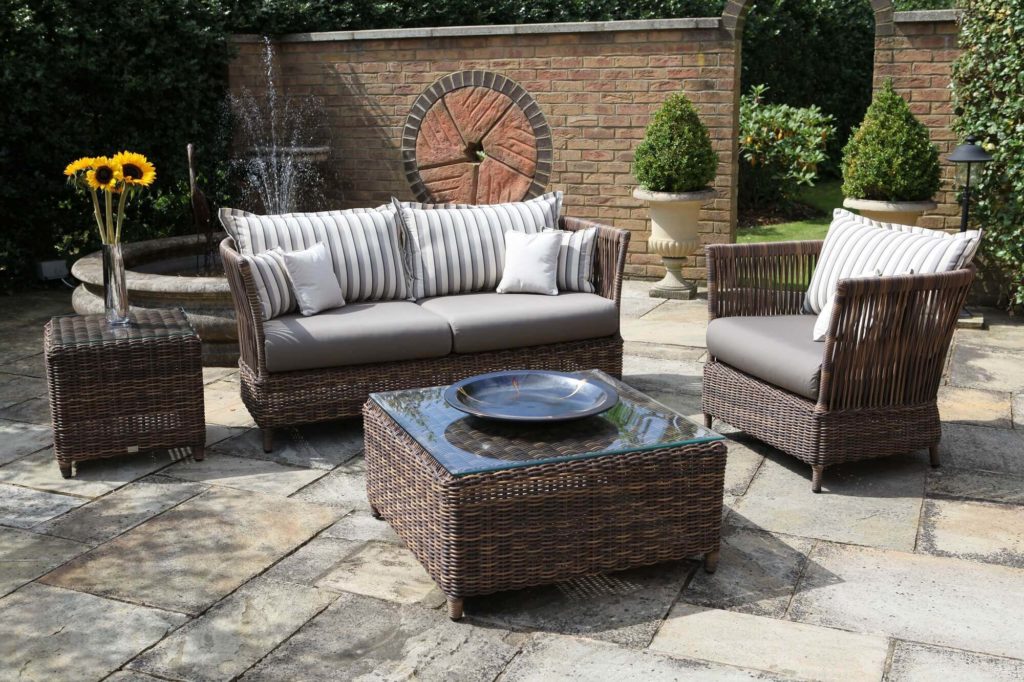 source: diyhousedecor.com
If you are way doing numbers of meetings related to your work or with your family members and though you like to spend time relaxing in your lawn, then go designing a sofa as a furniture in the exterior of your home.
Prefer making material as wood or PVC as they won't disintegrate in any condition though they are rigid and provide a good strength. Moreover, for attaining a better look you can add umbrellas so that you can prevent your body from excess sunlight coming through the sun.
Moreover at the time of any occasions you can set some more chairs so that visitors could sit over there. You can even put different parts of the sofa and can make a circular ring type and you can perform a campfire over there. Thus, sofa as furniture is one of the best ideas and also a priority too.  
Dining table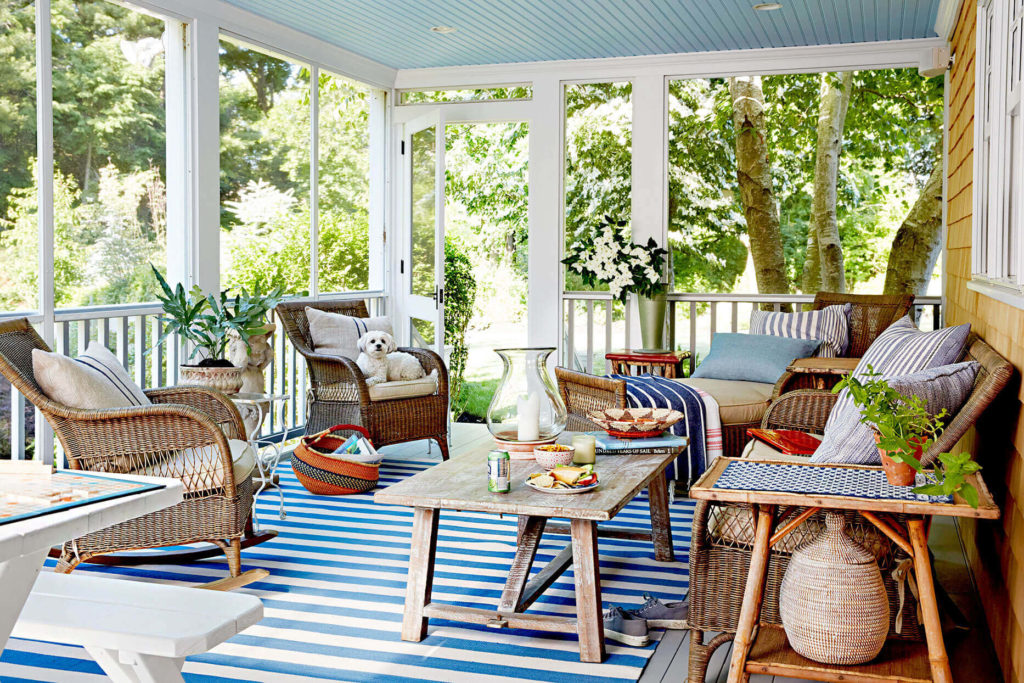 source: meredithcorp.io
Want a place where you can enjoy a picnic anytime and anywhere, why not in your garden? You can try furnishing a dining table in your garden though, instead of sofa and other all stuff try keeping a dining table. Eating your dinner in an open space is a pleasure for humans that is the only reason nowadays open restaurants are seen more everywhere, as people like to have their food in presence of fresh and cool air beneath the sky.
Moreover if you and your family had not visited outside somewhere for a long time you can just go to your lawn and can get a feel like you are on a small picnic trip, also you can build a barbeque set to chill out in winters.
Swimming pool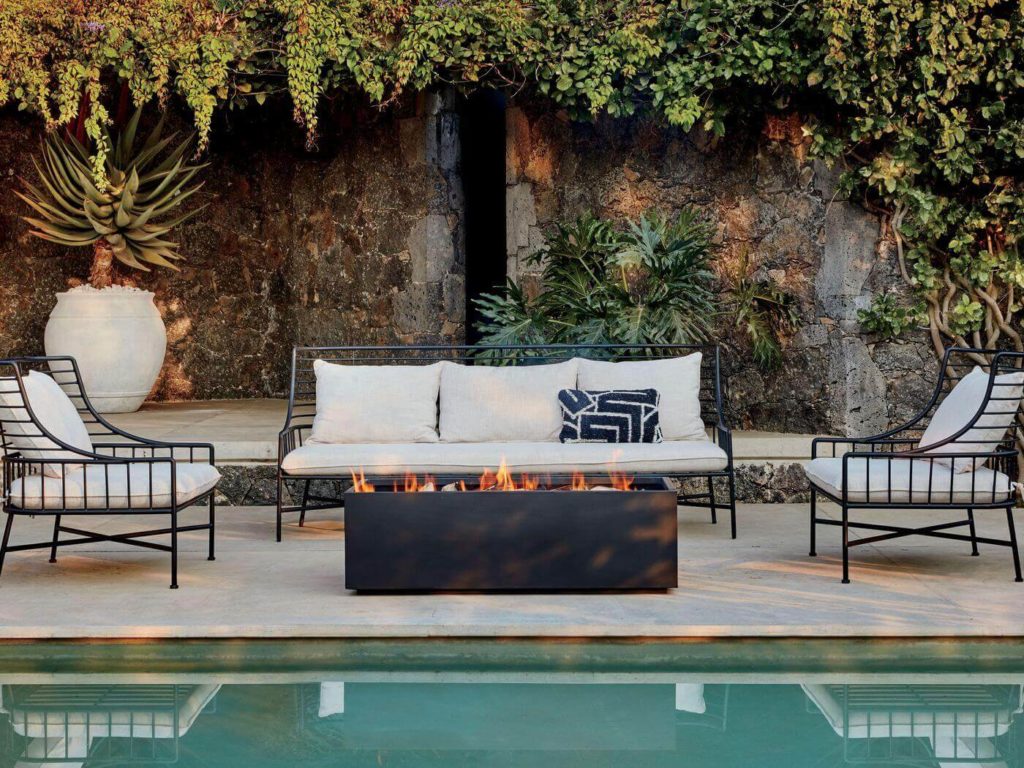 source:curbed.com
If you are way much attracted to swimming, you can even go construct a swimming pool in your lawn, moreover you can furnish out a bench for sitting, a couch to make you feel like you are sitting near a beach and many more.
Furthermore you can design furniture similar to a sofa to relax after you are done with swimming.
Though there are many ways you can design your exterior furniture. Designing the exterior furniture is also a step for home improvement; as we know after a certain time of period our doors, lawns and balconies looks outdated thus to avoid such situations, we can try furnishing those areas with many kind of new materials and equipments, aspect of elegance and style is achieved by doing such. Furnishing is something which is to be done in a very precise manner and keeping every type of situation and conditions in mind. Achieving home improvement along with the elegance can only be done by furnishing your exterior with an appropriate furniture.