Furnishing the home is the priority for everyone, furnishing home adds a good standard of living, along with that it makes our home look luxurious and elegant. To have a good taste of furnishing one must have to look over the trend before furnishing home, the satisfying trend needs a lot of money and time but do not take it seriously because a trend is something which fluctuates as the time passes out while furnishing you have to be choosy about the trend and design so that you can enhance your trend accordingly any time with doing some little changes.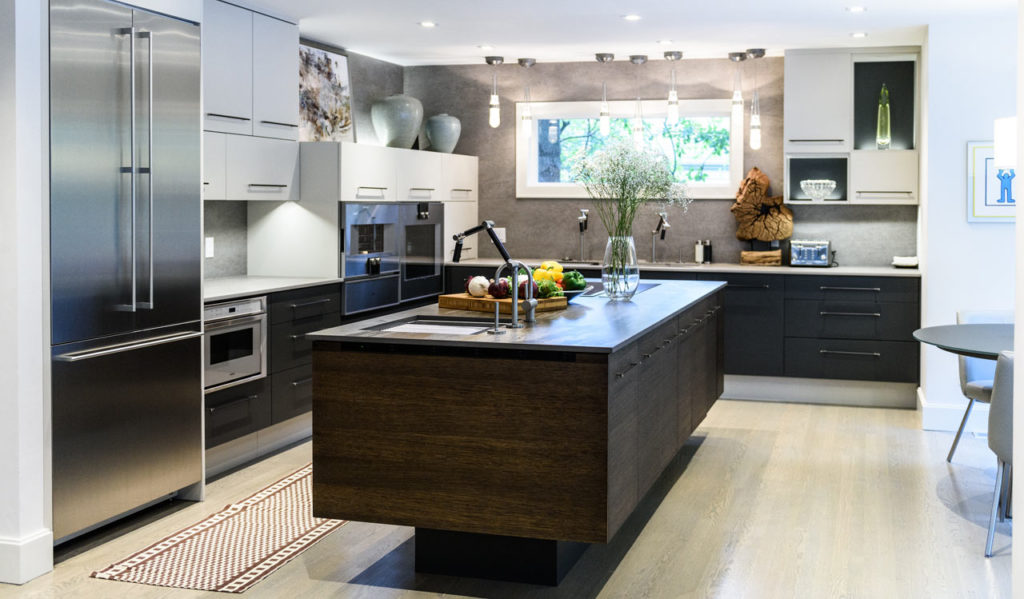 source: designmilk.com
Kitchen is a room used for cooking and food preparation in a dwelling or in a commercial establishment, thus for making the food we need so many cutting and chopping equipment like knife, chopper, mixture, chopping table, and other many more equipment, while you are about to furnish out your kitchen you have to design in such a manner that it gives you easy accessibility whenever using any equipment, also ventilation and circulation must not be boycotted because of the furniture. Precise furnishing of the kitchen is a must and should be at the first priority for everyone. As good the kitchen will be, better will be the food and best will be the living taste.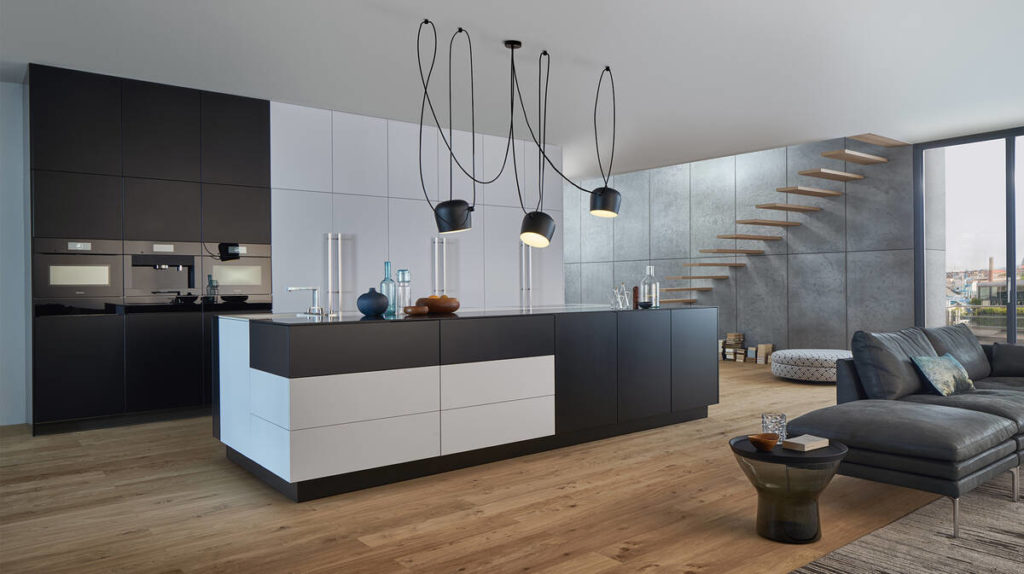 source: hansgrohe.com
To check out the new upcoming kitchen trends, how the trend would be? What type of materials and colors you'll be required to satisfy the trend? And much more about that, then have a look here, in The Architecture Designs, you can find out various designs and can get every trend as per your requirements. Also, the information about do's and don'ts is available for you.
Kitchen color trends
As per the kitchen trends 2020, colors like black, dusty colors, dark colors, dark wood color, and many more are going to be trendy in 2020. Even light colors like pink rose color may also mix with these new upcoming trends. Mainly colors like black, dusty color and rose suit best.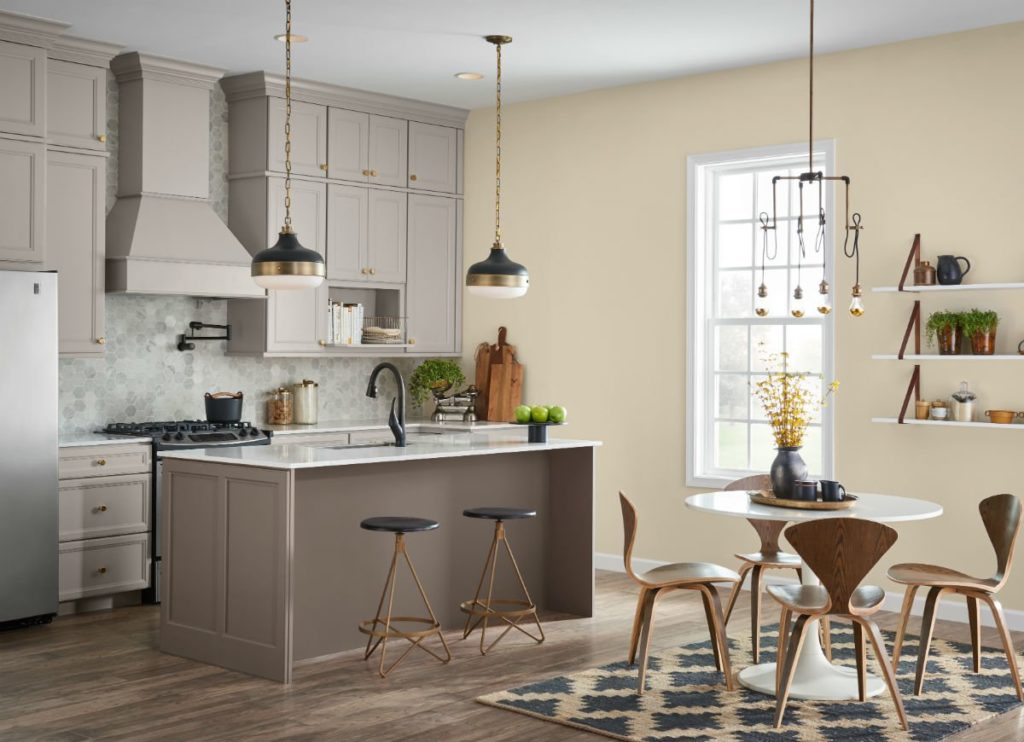 source: production.bobvila.com
Dusty color: the word itself describes how the color would be, it is obvious that color would match with dust overall we can combine it with colors like green, blue, violet, grey, etc. thus it gives a good luminous and decorative effect to the kitchen.
Moreover, the dusty color has a large variant of new creativity and ideas as it can match easily the intensity of colors like brown, gray, sage green, and more. As per the new fashion dusty look for the kitchen is best it creates a good environment and makes the shade look interesting and catchy.
Black: Black kitchens always sustain in fashion, as black is the color that never went out of the trend. Black color can mix with any of the colors available, with adding an extra elegant and stylish look, doing expense on black color, and making it permanent is a good option for you as the black color will never go out of the trend. Combining it with white marble and wood will bring up a classy look for you.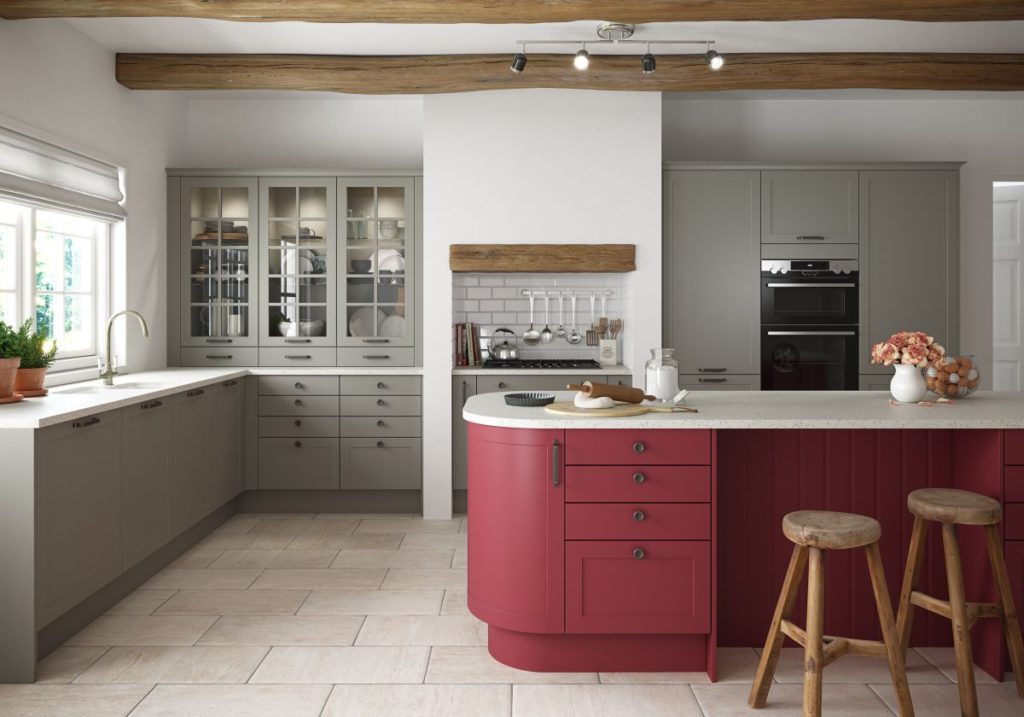 source: realhomes.com
Rose: Looking at the statistics of making food, mostly girls are entering the kitchen for cooking and other purposes; the new pink rose color is the new accent for kitchen trends. This color is combined with the dark and light mixture, you can use a dark color like gray for the outer designing or the border designing and the rest material will be filled with pink rose color.  Moreover, light wood and pink rose can be combined and used as wall paint too. Girls would like to have a pink rose kitchen in their home.
Material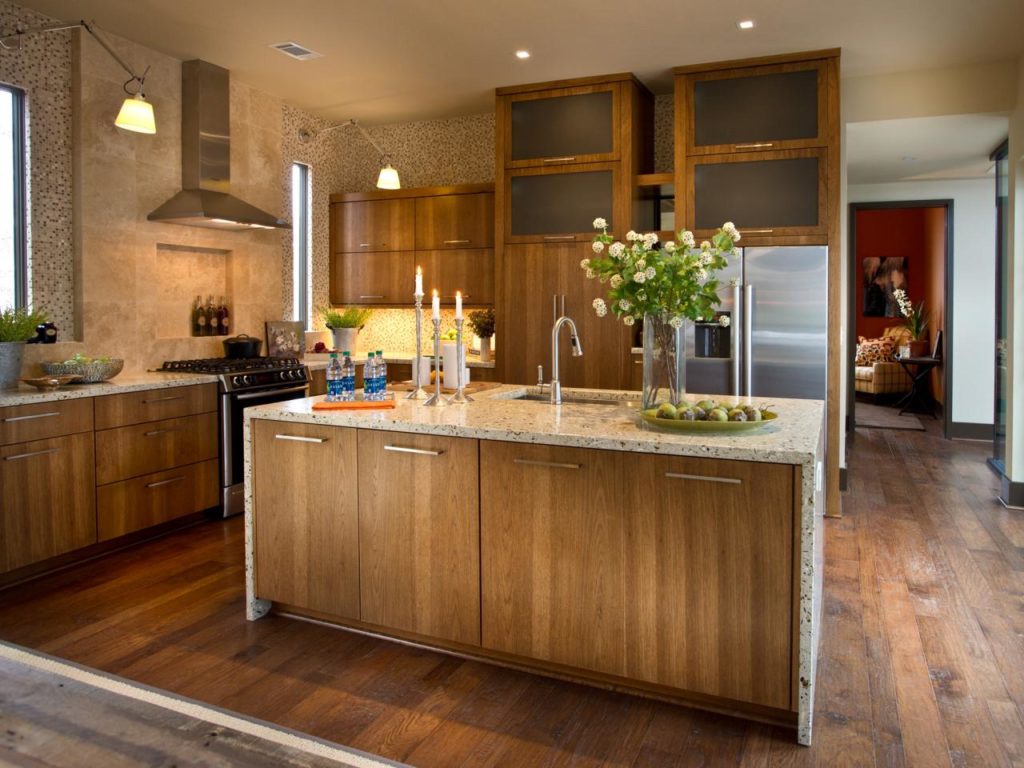 source: hearstapps.com
For the upcoming 2020 materials, materials which have brilliant quality, look luxurious and stylish, and are made of purely natural elements or something like that are must to be used. There are mainly three materials that would be used further for years and years while anyone is constructing or designing the kitchen layout.
Metals: It includes elements like copper and stainless steel as per the new trend, earlier brass was used most often in the kitchens as they add up good look and accessibility to the kitchen, but then it went out of the trend, as new metals like copper and stainless steel came into existence, as they are more lusty and malleable than brass, wide usage of those materials are seen in kitchen furnishing though the durability of these metals is best for 2020. They are used in handles, fittings, and baseboards also. Stainless steel is shimmering and lustrous in look, using it will not only improve the elegance of the kitchen but it will also provide you the best platform for furnishing too.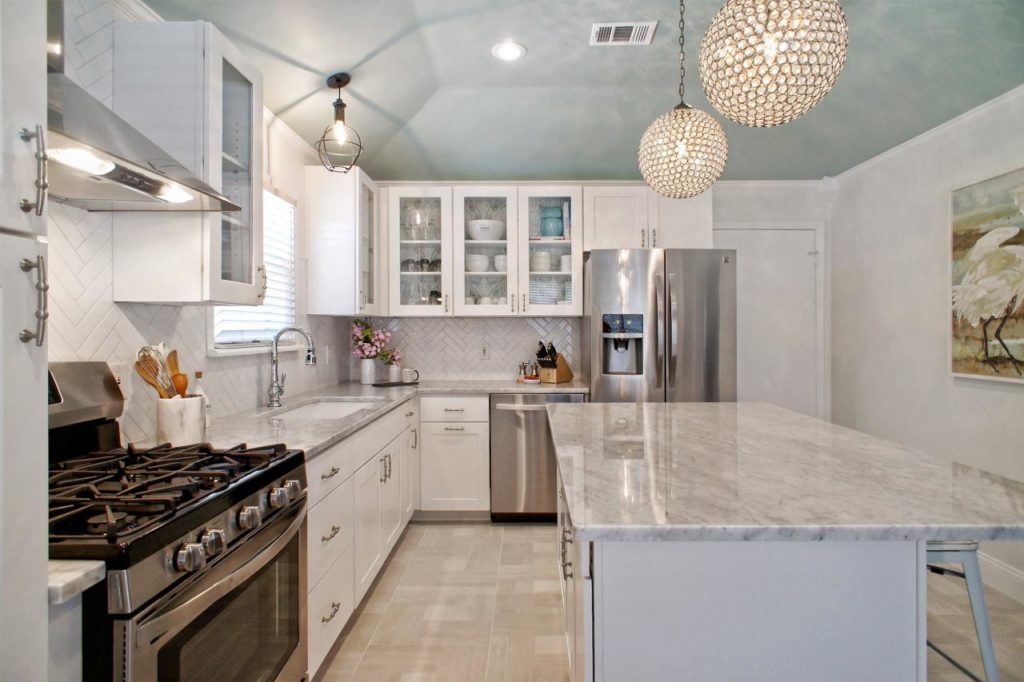 source: pinterest.com
Marbles: Marbles day – by – day are becoming more and more popular in kitchen furnishing and kitchen designs trends. Noble marble finishes in white, gray, and black tones are just amazing; they are adding a great accent to the kitchen. Whenever one enters the kitchen they will see natural marble furnishing which will give them the best feeling for the living environment and circulation of light and wind. If designed in a perfect manner, one can build up a floating kitchen island in their home and everyone would like to enjoy their lunch and dinner on that island. Furnishing with marble is one of the best ideas for the upcoming kitchen trends in 2020.
Wood: Wood furnishing is one of the historical trends and is being used for almost thousands of years, in this modern era people like enhanced wood-like skandic oak or alte Eiche sand wood they are in demand as per the new trend. Blackwood tones are most often used in the kitchen to build up a nature-loving living and make living in the kitchen better, it provides a good taste of new style and elegance too. If you feel grains for being too long in the kitchen, at that instance time you can have a look at the surroundings; it will make you feel whatever you see, in this way wood furnishing comes close to the model of nature. Using wood furnishing is like a pleasure for human beings.
Kitchen trend facilities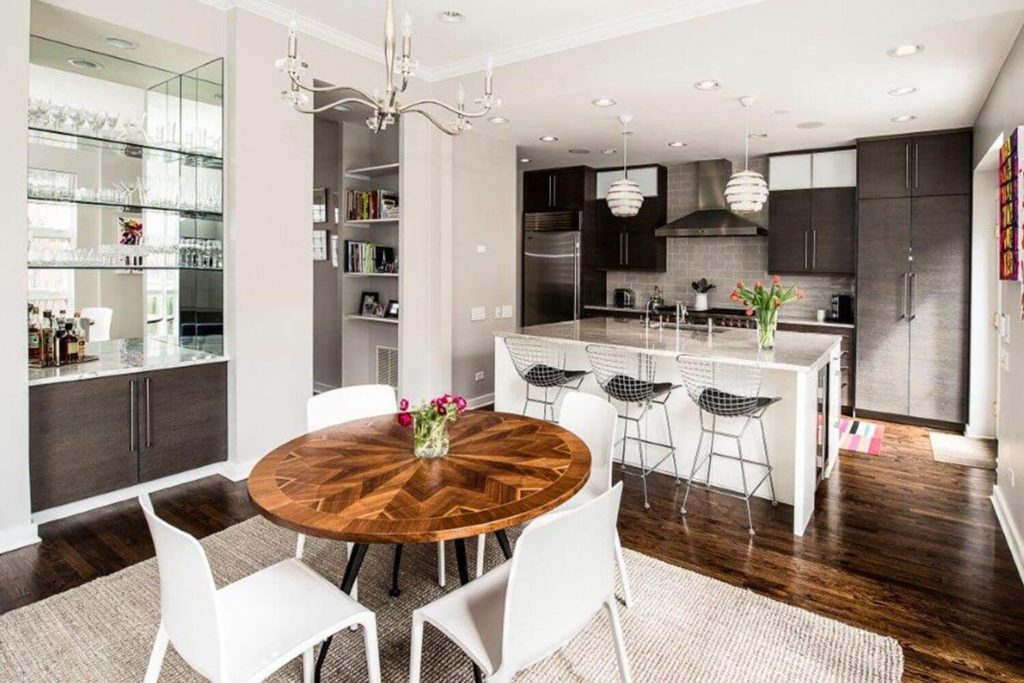 source: underatinroof.com
With the luxurious and elegant furnishing of the kitchen, you have to look over the easy accessibility of equipment and accessories, as they are part of the well planned kitchen. You can use the equipment only when they are available in a comfortable state. We have three ideas to make kitchen life simple, with a beautiful and practical essence.   
Dining table: The latest trend of kitchen design is to provide every possible facility to the owner. For that, the first aspect which hits the mind is the dining table while designing the layout of the kitchen you must take care of the dining area, where a family can sit together and have their food in a joyful and good manner. As there is no limit of planning and designing in this hectic world, we have table racks available in a different size, shapes, and colors, though these racks can be made of steel as well as wood or any other material, one can set their dining table appearance as per their requirements, if you are furnishing your kitchen with stainless steel then you must use dining table made of main steel so that it coherently mixes with the surrounding. If you have made your kitchen a floating island then you can decorate your table in a way that it gives you feeling like you are having your food in the boat. You can try more variations as per your needs.
Utility room: Utility room is used to store cleaning supplies, vacuum cleaner, or food supplies. Only a few have such rooms, these types of rooms are not given much importance according to the trend, with the furnishing of the kitchen you have to look over the utility room too and try to give it a coherent look like a kitchen.  For the accommodation of washing machines, dryers, and cleaning equipment, we can even individually design different desired furniture for them. Functional shelf systems for a laundry basket and cleaning equipment basket, pull-out and pull-in must be done precisely. Also, every element must be well organized in that utility room as per its name function to give mere utility to the user.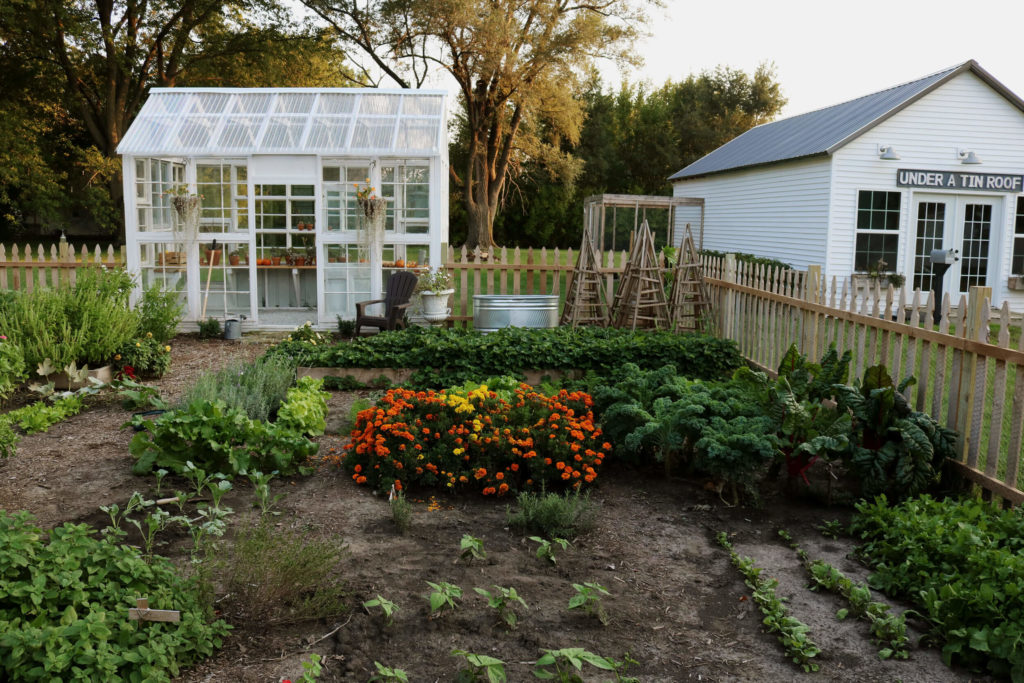 source: pinterest.com
Kitchen garden: Kitchen garden will be the new amazing, naturalistic and beautiful trend for the upcoming 2020. Moreover, people are slowly and gradually trying to get close to nature, thus making a kitchen garden is the best idea and from my point of view, everyone must possess a kitchen garden. So, what is a kitchen garden? It is nothing but filling your empty spaces in the kitchen with herbs when you are keeping a herb make sure that ventilation of air and light should be done properly, even though you can grow some tomato or chili herbs over there you can even grow anything else you like, so whenever you need chilly or tomato or something else you can pluck it from your herbs and may have natural spice in your kitchen. Moreover, you can get a fresh naturalistic feeling.
These are some trends for kitchen furnishing in 2020.