Backslashes are the expanse of materials that fills gaps on a kitchen or can be fixed between cabinets. They help to add brilliant accent to the kitchen. They bring life by their interesting textures and designs. Some of the amazing ideas to get a decorative kitchen backsplash are:
Brick kitchen
source: pinterest.com
Brick tiles are the easiest way to rejuvenate your kitchen. They are used mainly for creating a decorative look. However they have some inherent properties which make them heat and weather resistant. They are very easy to install and are available in a variety of styles and colours. As they are lighter than the traditional bricks, they can be installed on a variety of walls and surfaces. They require less maintenance and can be easily cleaned using warm water and detergent. Exposed brickwork adds a touch of industrial modernity to your kitchen area. They are an excellent way to elevate your kitchen atmosphere. They also adds an exposed brickwork accent to your kitchen design.
Kitchen Windows
source: hgtv.com
Windows are one of the smartest choice for the kitchen backsplash. A window backsplash gives you the glimpse of the outside environment. The glass panels help to create an illusion of space. They make your kitchen appear less claustrophobic. They keep the kitchen airy and provide a good ventilation. They let fresh air in and push out the moist indoor air. If you have kids, you can easily keep an eye on them while they are playing in the backyard making it easier to do multitask. In place where hazards are everywhere, the sunlight through your window pane is an excellent tool to keep your kitchen bright.
Mirror in Kitchen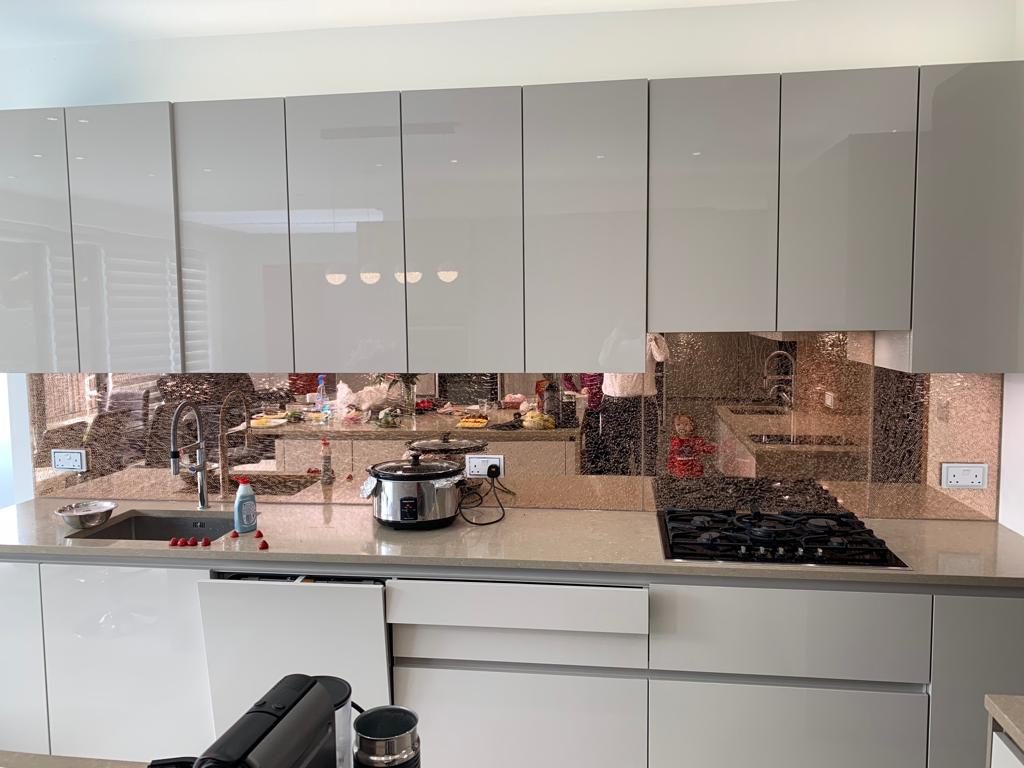 source: pinterest.com
Another popular trend in the interior kitchen decoration is the mirror backsplash. It is the best way to add light and dimension to your space. There are various options in case of mirror backsplashes. You can cover the entire backsplash with mirror tiles. This will add light and illusion. You can go for smoked mirror tiles which due to their finish gives a smoky appearance to the kitchen. Make use of coloured mirror tiles in case you want your kitchen to appear a bit colourful. Mirror tile sheets are the best choice. They come in long narrow strips which are best for kitchen backsplash installation. They give your kitchen decoration a classy look and helps to keep it well lit.
Peel-and-Stick Wallpaper in Kitchen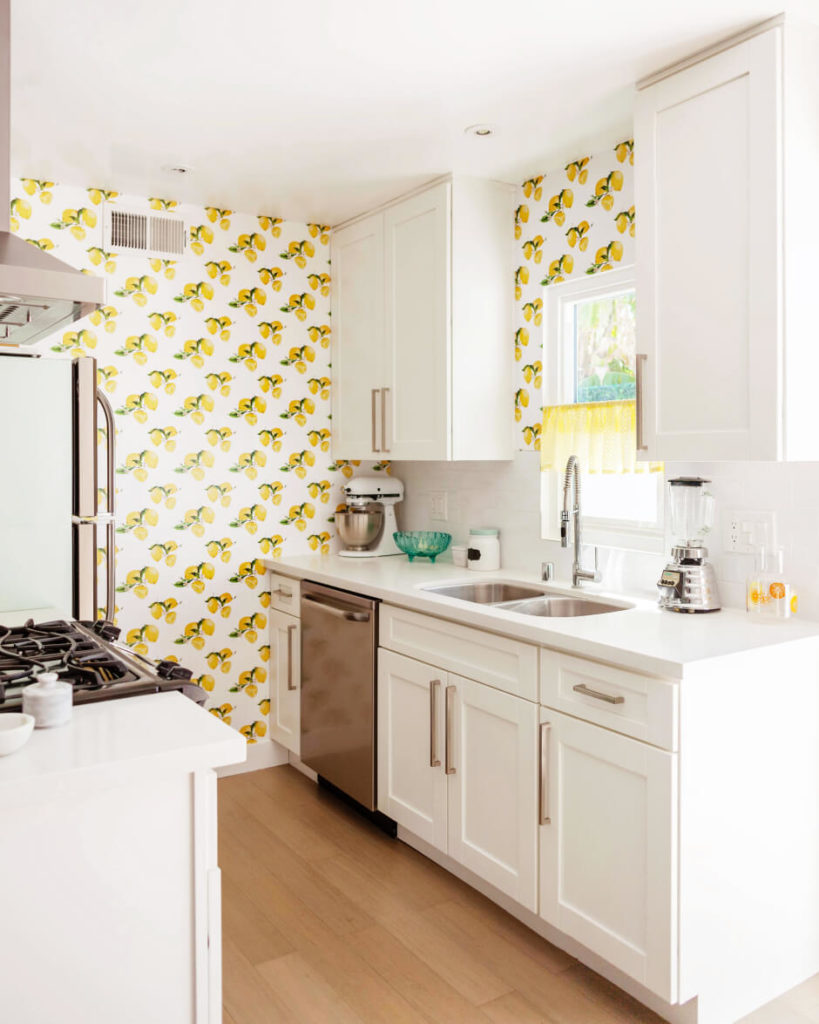 source: melodrama.com
Using peel and stick wallpapers is one of the trending option to create a unique and creative backsplash. If you are bored with a standard subway tile, go for a bold wallpaper design of your choice. These are a great choice as it enables you to constantly change the look of your kitchen. Apart from being affordable, these are very simple to install. Vinyl peel wallpapers are very durable so you can cut then easily in any shape you desire. They are available in different forms of designs and patterns. You can easily choose the one which fits your kitchen décor perfectly. You can also go for peel and stick wallpapers made of glass, stone or metal. The adhesive on the sticky side of these wallpapers are strong enough to keep them in place. These do not turn yellow over time and appears new for several years. So if you want to add a personal touch to your kitchen, these backsplashes are the best for you.
Chalkboard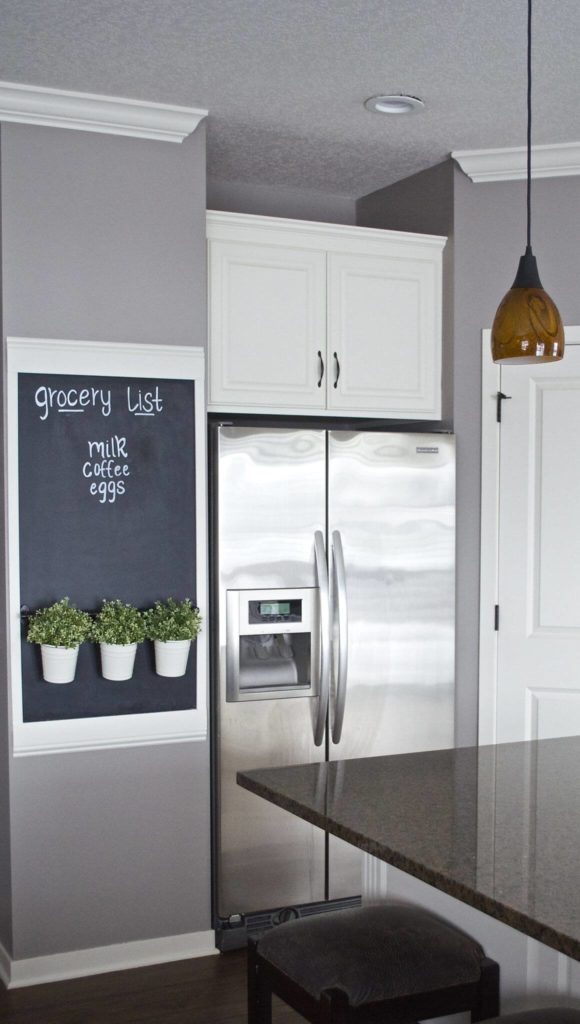 source: pinterest.com
Chalkboard is a popular material which is used for kitchen backsplash. A chalkboard backsplash gives a unique and creative look. They bring texture and depth due to their dark shades. They also stand in contrast to the light coloured cabinets. Hence they are applicable for any colour of the kitchen cabinets. A chalkboard backsplash acts like a canvas where you can create any arts or notes of your choice. You can make a list of groceries which you need to purchase, note down your menu for the day or note down the recipe of your favourite dish. This personalises the space and makes it appear more original. It is one of the best budget friendly choice for your kitchen backsplash. Apart from being interactive, it also adds utmost interest to your kitchen area.
Stainless Steel
source: hgtv.com
Once there was a time when stainless steel was only limited to utensils and cutlery in the kitchen. With time stainless steel appliances became popular. How about making use of it for countertops, tiles and backsplash? It gives a contemporary and classy look. There are also other advantages for using it as the backsplash material. These backsplashes are very hygienic because they are non porous. So they do not allow bacterial growth. They are very durable and do not get discoloured in time. Thus, they do not require repolishing and can last for several years. As they are flexible they can be fixed well in all type of spaces. Stainless steel reflects a large amount of light. This not only makes the kitchen appear larger but also keep it well lit. The major advantage is that these are very easy to care for. Its very easy to clean them. There are certain finishes and patterns which helps to hide dirt and fingerprints. Being heat and water resistant, they do not get damaged easily. They come in a variety of patterns and finishes. Stainless steel backsplashes are very versatile and enhances the interior decoration of your kitchen.
With The Architecture Designs projects, we are trying to curate some of the most popular kitchen backsplash ideas.