Function ability of every object can be done with no trouble if and only if they are well organized and ready to use. Moreover, organizing everything at their respective places and in a well mannered way gives a perfect look to your home; also you don't have to face a messy and choppy environment. Accessibility of your things and equipment will be easy after you organize them in a proper way.   
Now, we are going to discuss some simple tips to help you organize your fridge / refrigerator. As we all know refrigerator is used for the purpose to preserve our food and drinks for a long period, the temperature suitable to preserve food and drinks for households purposes is 3 to 5 °C which is almost equivalent to 37 to 41 °F, looking at the history of the refrigerator the first ever ice creating machine was invented in 1854, further more after enhancing that model and after working a lot on the same project a perfect machine like refrigerator / fridge was invented in 1913.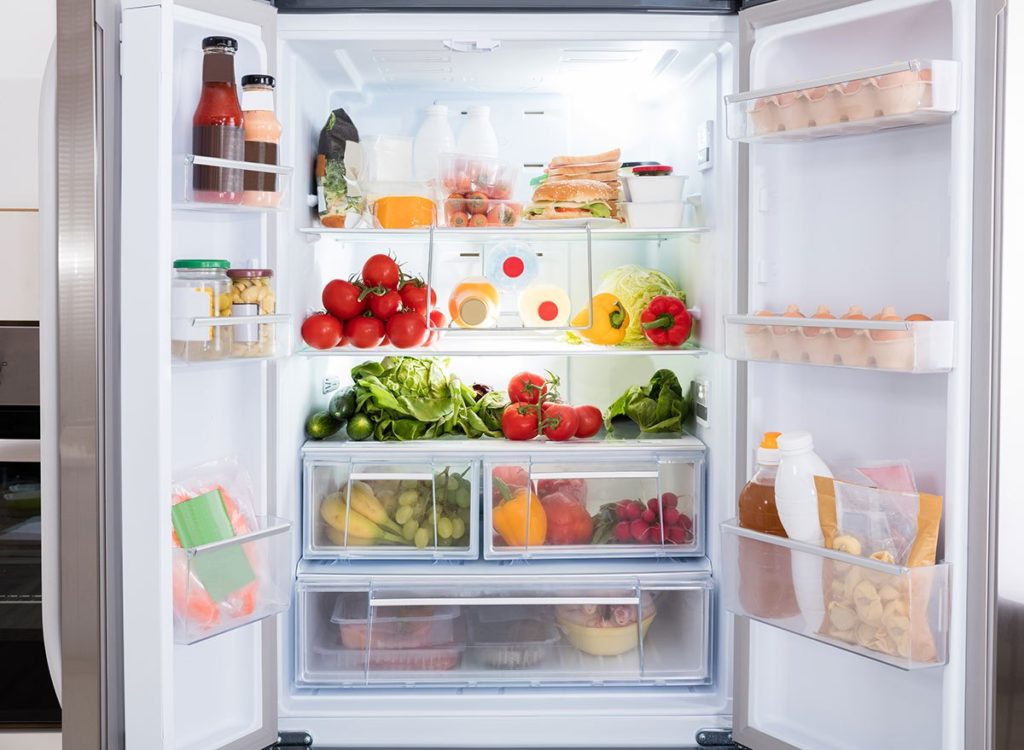 source: eatthis.com
Thus, usages of those machines are done from decades no matter whether it is for office purpose, industrial purpose or household purpose. Slowly and gradually fridges are becoming one of the most basic electrical equipment in human's day to day life. Also nowadays food made in home gets spoiled out rapidly due to the outer pollution present in the surroundings, but the same in case of fridge it holds the food and snoozes the food in the same condition, though we can preserve it for a long period and can eat it later on. Besides this medicine, drinks, some kind of raw materials and many more things are too preserved in the fridge. So, storing so many things will make your refrigerator look messy from inside, also one can't get the thing easily kept in there. It is necessary to organize the fridge well enough so that it won't look messy and one can easily get whatever they want.
For me a disorganized fridge is like a calamity or catastrophe, just for the reason that you can't find out food you want, this condition will spoil the food, wasting money. Also it will lead to spoilage of the grocery products too, but don't worry, fortunately here, in The Architecture Designs, we have the best simple tips about how to organize your fridge? Along with that we have some ideas to make your fridge clean and dazzling.
How to organize your fridge?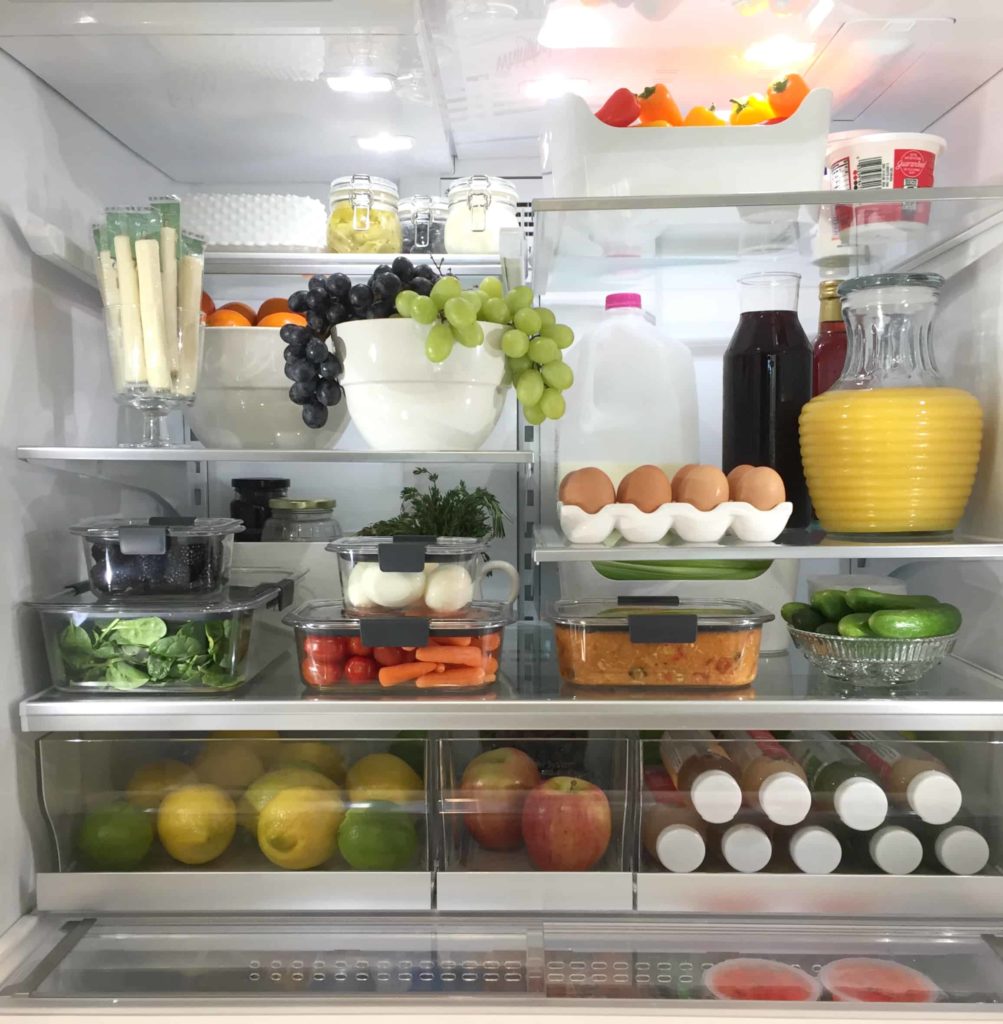 source: trendir.com
–          Proper storing spot for food
–          Shelves
–          Labeling shelves and drawers
–          Bottle racks
–          Use bin
–          "Eat me first" bin
–          Arranging ice trays 
Proper storing spot for food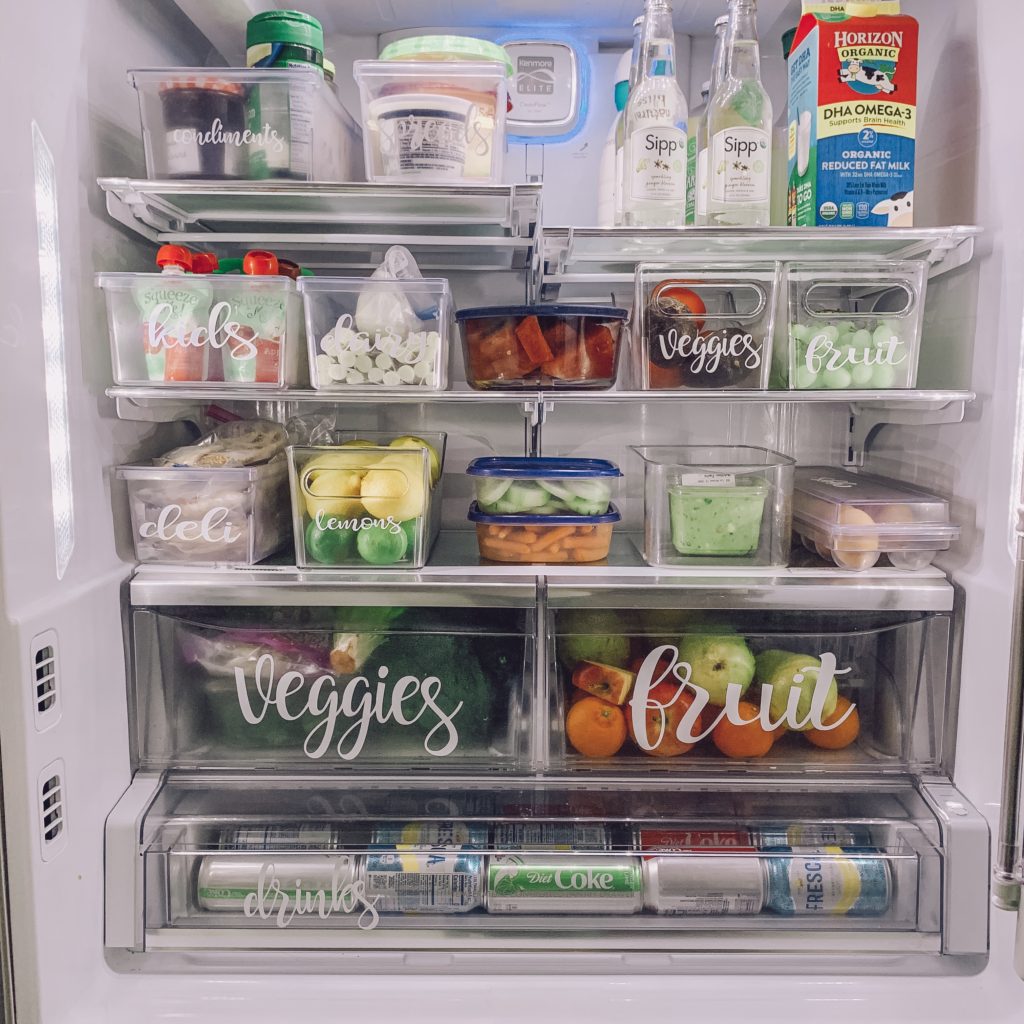 source: lifebyleanna.com
The main component which is used to be organized well is grocery list and food as we don't have it in hand, it can ever exceed a certain amount or also it may decrease from that particular amount, thus we should plan well enough at the tip point before we start organizing our food in the fridge. For that purpose, we have to create proper storing spots, all we need to do is create some spots, which must specify you to store your grocery products and food over there only, and whenever you need those things just have a look at their respective spots you'll get it easily without any hesitation. In case if the items to be stored exceeds, then don't worry just acquire some space around the spots concisely so that it wouldn't mess up with other products or anything else present in the surroundings.
Shelves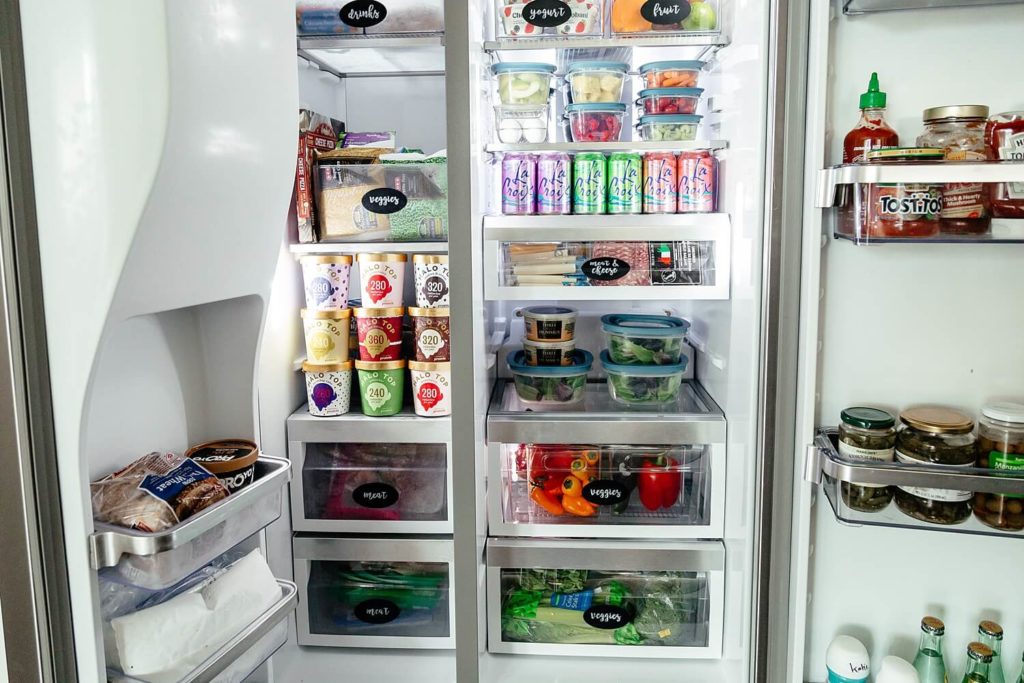 source: brightontheday.com
For achieving an organized fridge you have to be conscious while utilizing the space inside it, for achieving better spacing as per your needs and requirements you have to arrange shelves accordingly and precisely. First of all, separate small and big containers consequently, after that have a look on your items you buy repeatedly, now start arranging shelves, make one shelf for small containers, one for medium sized containers also you can put vessels containing ingredients in that shelf and last one for large containers and large vessels. Moreover you can go on calculating the height of containers, and then arrange the shelf heights accordingly.
Labeling shelves and drawers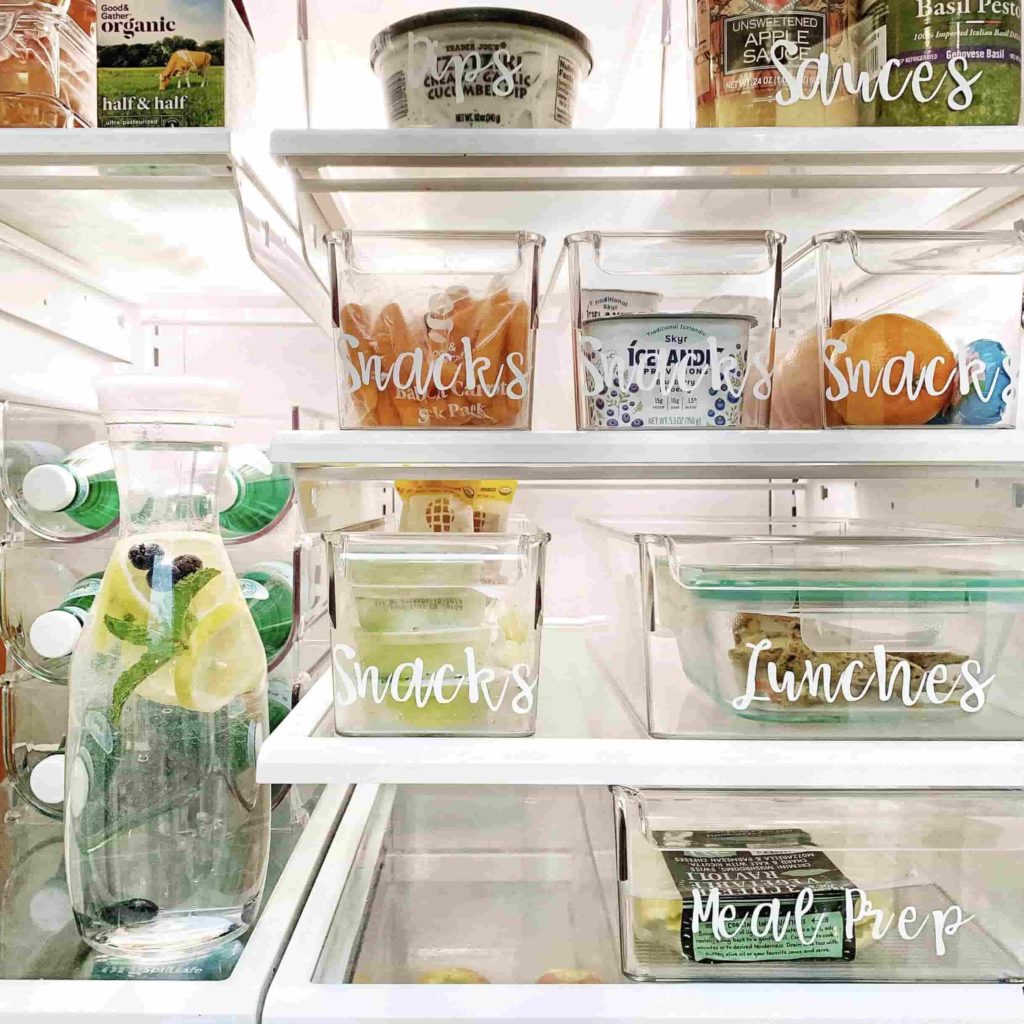 source: pinterest.com
A good refrigerator contains various shelves and drawers for various purposes, but we can't relate their usage consequently, we use it in our own way. Using it in our own way provides a comfortable and satisfied state, for enhancing the same we can try labeling shelves and drawers. Go to the stationary buy some pieces of paper and start writing down different categories on it, likewise egg section, milk section, vegetable section, medicine section, etc. write it down in the language in which you are convenient. After that just stick those labels accordingly, though after labeling even a stranger could easily find out the things he / she wants. Labeling is one of the best ways to organize your fridge.
Bottle racks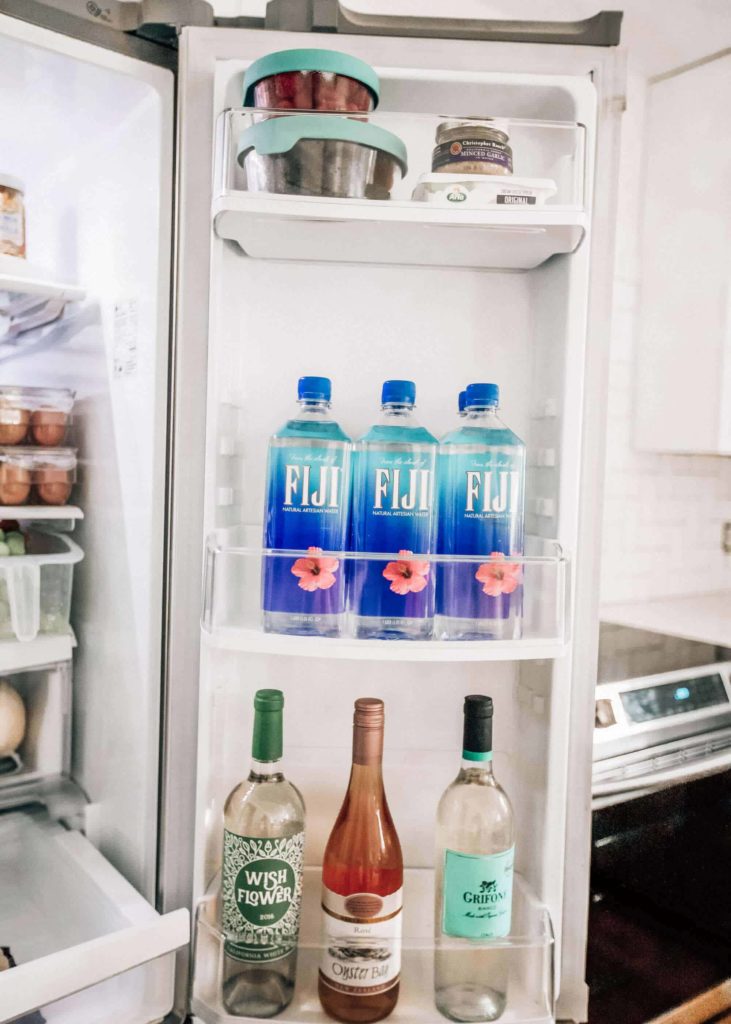 source: prettyinthepines.com
Along with food, groceries and vegetables, water is also stored in the fridge. For storing water we use bottles, bottles may vary size to size thus their racks according to their size must be adjusted, as we know bottles of wine, lemonade juice, and cold drinks have a large variant in their sizes, usually in a fridge there are racks available to keep water bottles like this, adjust it as per your requirements, you can make two types of racks – small water bottles up to 2 liters and big water bottles from 2-10 liters. In this way you can organize your bottle racks to achieve an easy accessibility.
Use bins (optional)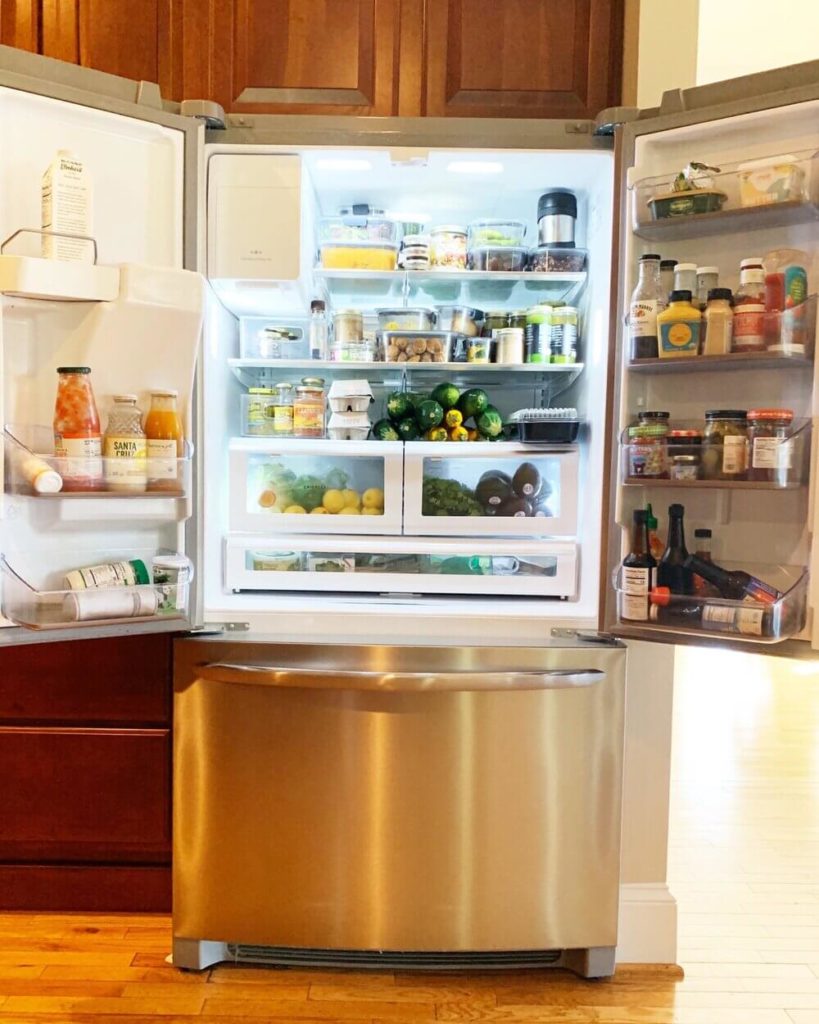 source: pinterest.com
If you don't want shelves and drawers, try bins instead, bins though is a good idea for organizing fridge in a better way as nowadays people love to be stylish and fashionable, thus, they think shelves and drawers may look old and out fashioned, for that instance you can prefer bins, create bins accordingly, and as after creating shelves and drawers we do label them the same we can do with the bins, moreover we can color them and make a color list to avoid label pieces hanging inside the fridge, though it would create a good elegance too inside, creating and using bins inside fridge is the most trendy and usable tip to do while organizing your refrigerator.
"Eat me first" bin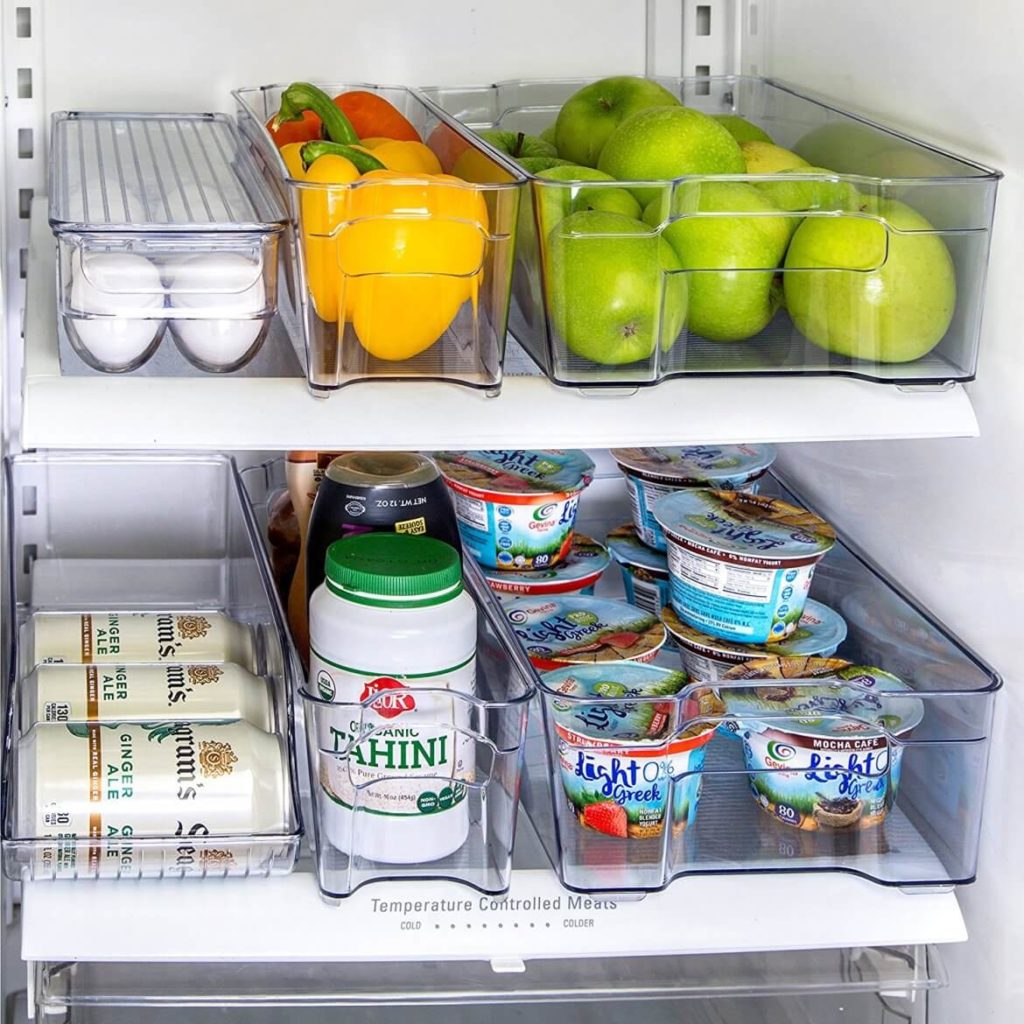 source: chasingfoxes.com
As fridge is used for preserving food and drinks for a long time, but at certain time the food will start spoiling which is not good at all, as it is waste of time, ingredients and money too, thus to prevent such conditions and to utilize those food  we can prefer on "Eat me first" bin. Create a bin label it as eat me first, the food which is kept for long just put it in that bin, thus whenever you'll open your fridge it will rememberize you about that food, though you can re consume it on time before it gets spoiled out.      
Arranging ice trays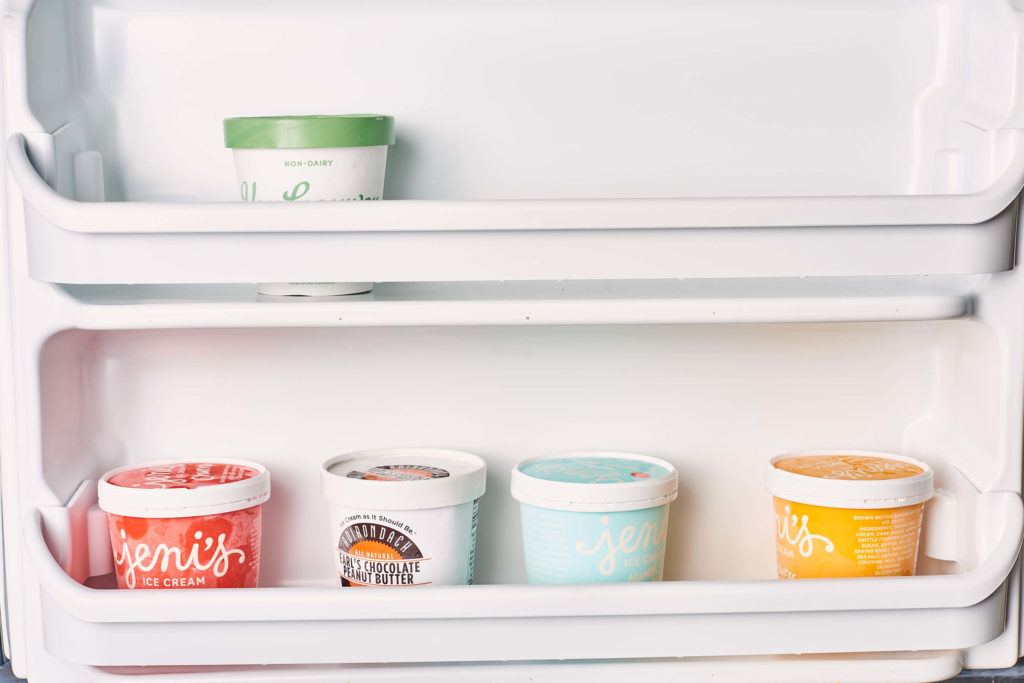 source: apartmenttherapy.info
The part which is most chilled out in the fridge is the freezer, temperature of the freezer is 0° F (-18° C) . We use it to store some ice creams products and to create ice; we put water in ice trays and then put it in the freezer to have ice. Thus, arrangement of ice trays and ice cream products must be done accordingly, for that purpose create two shelves one to store ice cream products and other for ice trays, make sure to label out the date whenever you are making ice in freezer just with the aspect that if ice would be kept in the freezer the amount of refrigerant will increase to a large amount, thus consuming that ice will harm our body and it would create an unsafe environment inside the fridge also. So be aware to label out the date before you are accessing your ice trays in the freezer.
These were some tips to organize your fridge for making accessibility of everything present easier and more comfortable. If not managed properly then there can be a high risk of disease spread because of the bacteria produced due to mixing of unwanted things, spoiled food, and from some other products too. Thus one would not like to make their fridge a reason for health consciousness. Though cleaning the fridge is important too. Here, in The Architecture Designs we have the best tips for cleaning the fridge and many more, have a look now!
Arrange things in the fridge in such a good manner that whenever we are supposed to clean our fridge we can easily remove everything present inside. Following those steps will help you in achieving a well-organized fridge which everyone would like to have in their kitchen. Organizing the kitchen will not just only help you in achieving easy accessibility, it will create a good eating taste with best food kept in, moreover maintenance will become easy and many more.