Every woman wants to elegantly and artistically decorate her kitchen and dining room. Storage units must be incorporated into the design you get to choose these spaces to hold items. The best solutions for enhancing the aesthetics of both your dining area and kitchen are crockery units.
Including examples of storage unit designs and space-saving techniques in home decor is essential. Your distinct sense of style and creative flair can be seen in the clever way you've decorated the space and organized the space as well. To improve the appearance overall, you must add crockery units to your kitchen or dining room.
1. Contemporary Style Of Unit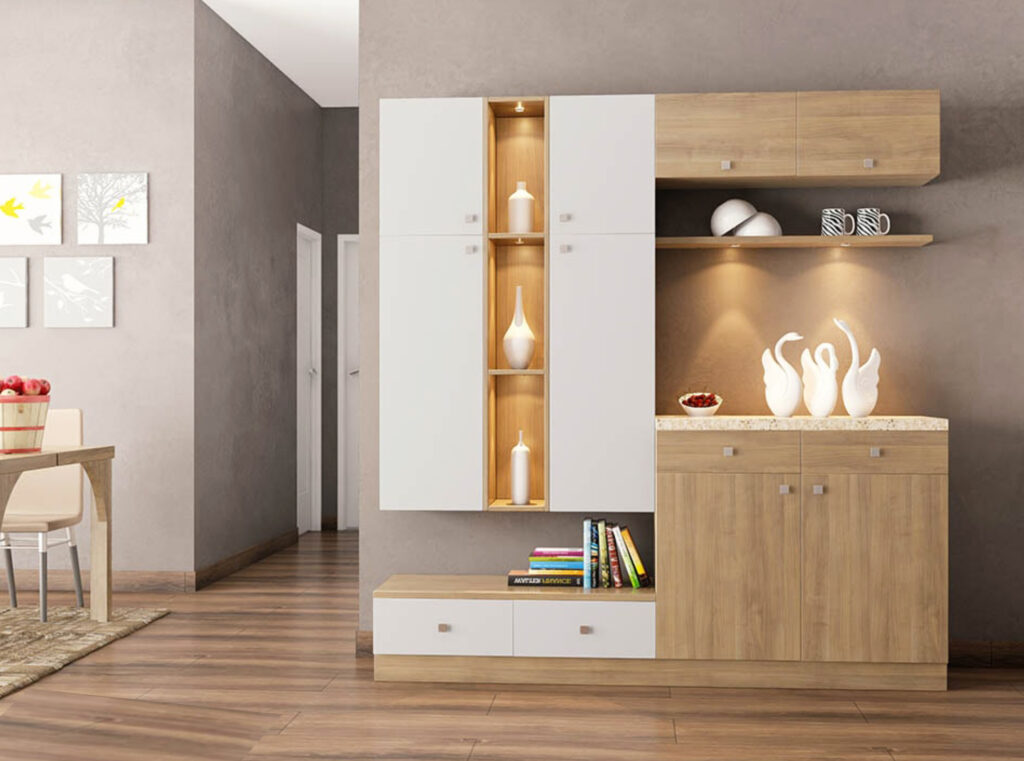 source: pinterest.com
If you want to maximize your space without compromising on beauty and aesthetics, this style of crockery unit is the best for you. Make sure you have utilised every corner with this design. The contemporary style of crockery cabinets is customizable and you can choose the rectangular frame shapes for maximum benefit. 
Additionally, you can place hooks for suspending crockery.
2. Open Shelf Crockery Unit
This type of open-style crockery storage unit design is popular in urban homes. Especially where you have a shortage of space. Open-shelving crockery cabinets are a great example of how far minimalism can take you.
A wood dining table and crockery set create a cohesive design in the dining area. A simple design, like a wood back panel with shelves made of planks that get shorter from top to bottom, can create a fashionable statement.
3. Free-standing Crockery Storage Unit Design
source: pinterest.com
A free-standing design has a versatile look and you can utilize it in different ways. For example, if you design your kitchen crockery storage in a free-standing design, then you can use it as a divider between the dining and living rooms.
A complete unit that may be used for crockery storage in the base and exhibition on the open shelves. The ideal layout combines open and closed shelving with a small sideboard that is integrated into the design.
4. Crisscross Style Design
By simply adding color and pattern to the exterior, a plain crockery unit may be transformed into an eye-catching one. Consider selecting a crockery and bar unit in an eclectic style. Select the color that contrasts. A deep blue color contrasted with white panels is stunning.
For the background, pick a different shape. The back paneling in the diamond-shaped mirrors and crystal knobs give the piece a unique look. Shutters also have a crossing diamond form, which can give the unit a distinctive touch.
5. Built-In Crockery Unit
source: pinterest.com
Almost every home has built-in kitchen crockery storage. It is the ideal fit for nooks or any vacant place in the home. To give the area a special touch, use glass and wooden casings or shutters.
It's a great idea to use the middle area to display showpieces to enhance the appeal of this unit.
6. Customized Kitchen Crockery Storage
An ideal way to integrate storage into an existing design is with a personalized crockery cabinet.
It allows for the selection of the unit's style as well as the quantity and kind of divisions, including shelves, drawers, and casings.
Additionally, it gives designers a wide range of options for the material, finish, handles, and colors used in constructing the outer surface of the unit.
7. Enclosed Crockery Unit Storage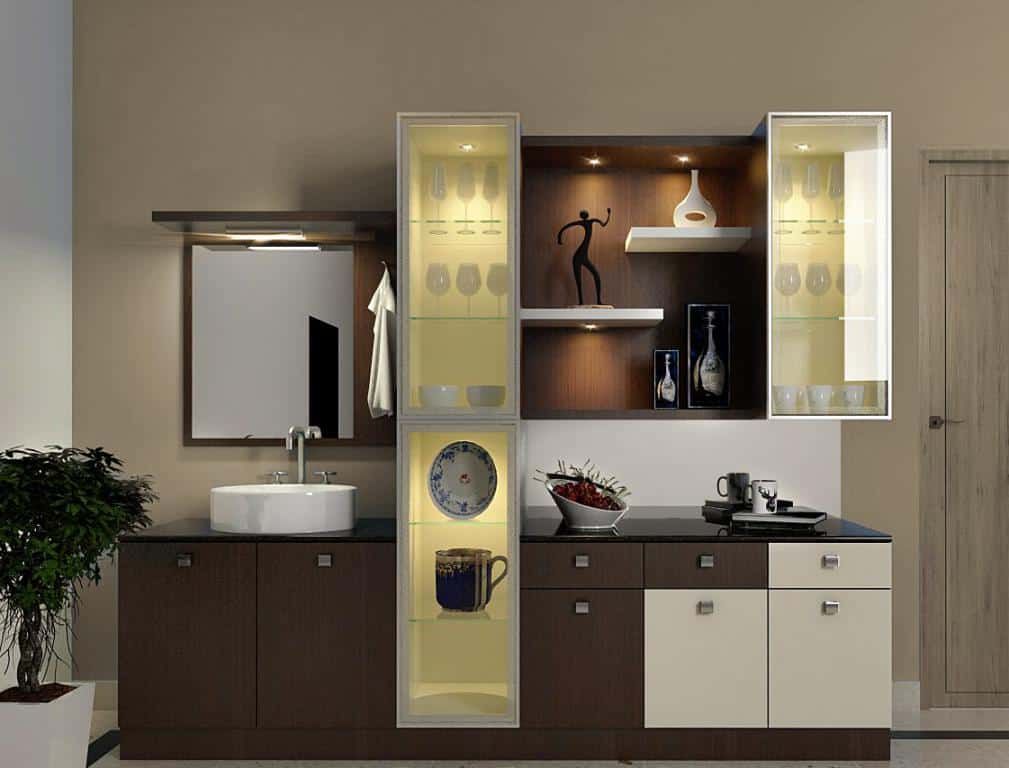 source: pinterest.com
For a dining area that adheres to all things traditional, an enclosed crockery unit is a great choice. A hardwood dining table is the finest accessory for the minimalist unit made up of plain white furniture with molding on the doors. You can enhance the overall look by adding lighting. Additionally, it will act as a great decor piece.
8. Floating Crockery Unit
Not every inch of the wall needs to be taken up by a crockery unit. A floating crockery unit is uncomplicated, unusual, and fuss-free. However, the floating theme of the team has a distinctive shape that makes it perfect for keeping dishes and glasses in modern houses even though it may not conform to the traditional design aesthetic. 
You can do a luxurious makeover of the dining room by adding discreet lighting. 
9. Side-Board Crockery Unit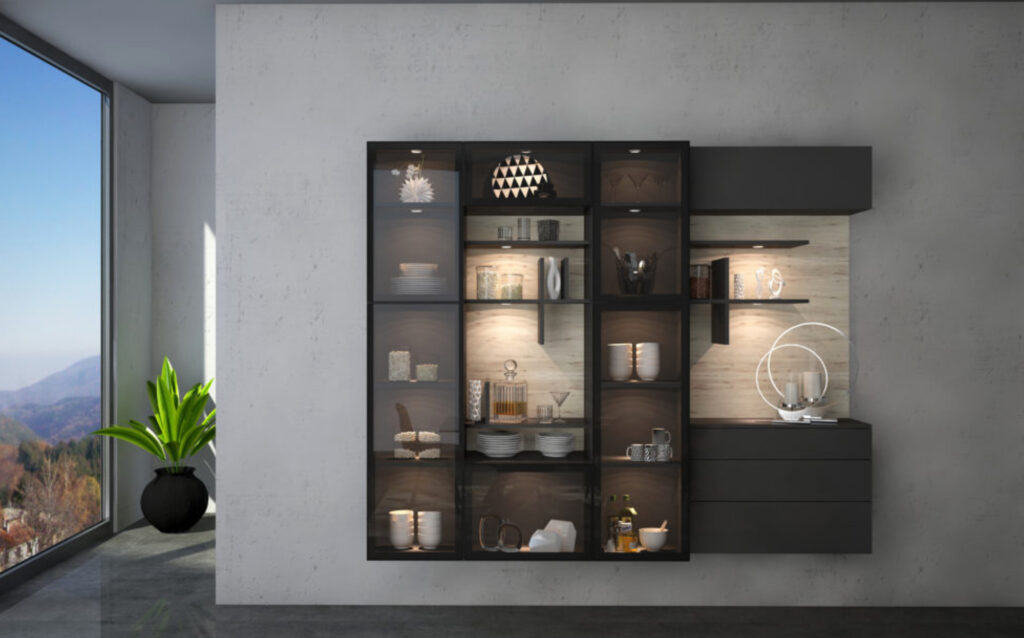 source: pinterest.com
The design of the sideboards deviates from the expected distinctively. The design can take a jagged course with open and closed cabinets giving distinctive character rather than being a single item that fills the full wall.  Moreover, by emphasizing the unit, the wall decorations for the space may further get a luxurious look by enhancing lighting.
10. Disjoint Kitchen Crockery Storage
With the minor addition of closed cabinets set diagonally, this unit uses the open shelf concept. The shutters don't open from left to right; they do it from bottom to top. The understated design has an open side panel to display the crockery collection as well.
Final Lookout
For a fancy kitchen or dining area, a crockery unit is an essential part of the furniture. Contemporary crockery cabinets enhance the curb appeal of your home. In addition to helping in the organization, they provide a storage solution to properly retain your dinnerware and plates. Finally, we can conclude that crockery storage units are very essential. You must design it carefully.
These designs will inspire you to make over your kitchen cabinets. Moreover, they give you ideas on how to maximize your space without compromising aesthetic values.