The season of sunbathing has arrived. While there are numerous opportunities to soak up some vitamin D at the beach or in a park, the best quality vitamin D time is spent by a pool. Even better if the pool is surrounded by a well-planned patio or deck. We're highlighting 17+ beautiful pool deck designs and ideas from landscape designers and architects across the country to get your outdoor space ready to make a big style splash during the warm months ahead. Take inspiration from these stylish hangout spots to find the best decking materials, patio lighting, and other outdoor living solutions.
How To Select Pool Deck Material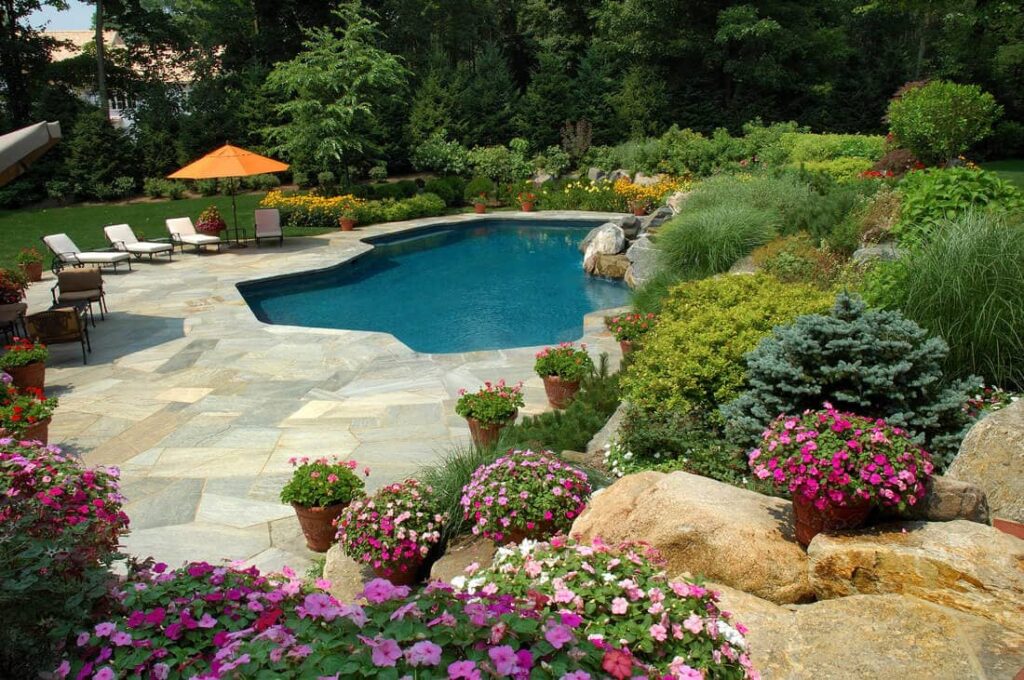 source: lyonfinancial.net
You should not let your personal preferences influence how your pool deck should look. Consider the suggestions below to increase safety and save maintenance costs. 
First and foremost, no one wants to burn their feet by stepping on a hot pool deck. Choose heat-resistant materials such as light-colored tiles and concrete. However, while coming up with deck color schemes, make sure they suit your pool ladder to create a proper design.
Select rough surfaces that do not become slippery when wet. Unpolished stone and unglazed tiles are two examples. However, don't choose materials that are overly tough. Remember that you will most likely be walking on your pool deck in bare feet.
Finally, choose materials that will not decay when exposed to water and pool chemicals, such as chlorine. Stone and concrete pavers are two examples.
Keep in mind that if you reside in a snowy environment, you should consider twice before putting your heart on concrete. The asphalt might break as a result of frequent freezing and thawing.
When it comes to pool deck designs, there are so many alternatives that it's easy to become overwhelmed. To help you narrow down your options, here are some examples of modern pool deck ideas for aboveground and inground pools.
Tropical Paradise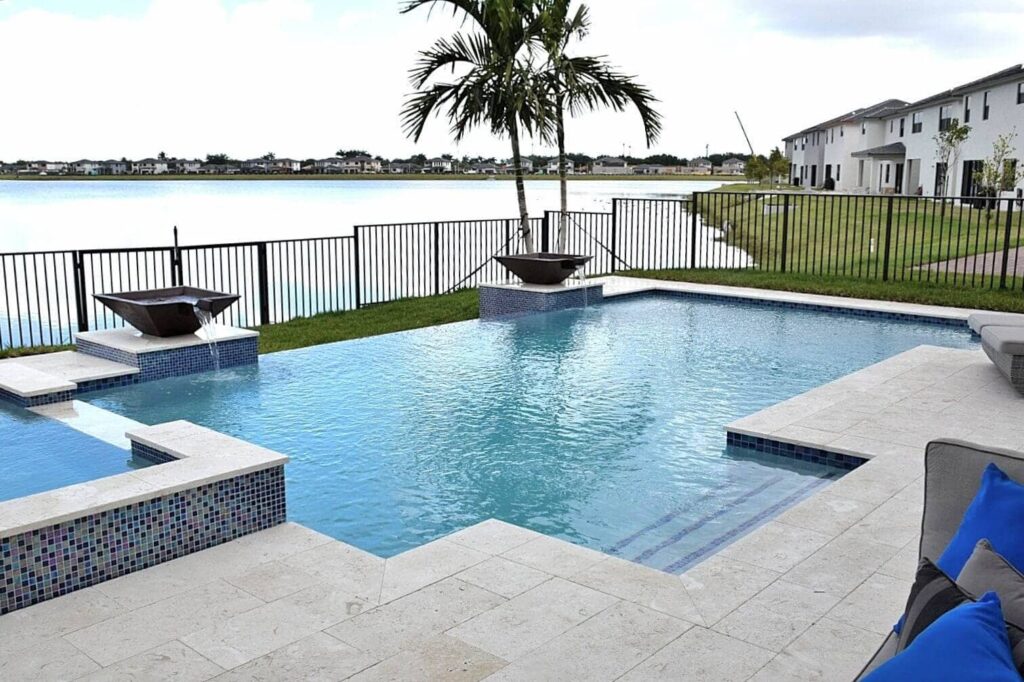 source: dreampoolsfl.com
This Hawaiian home is a modern sanctuary with a sleek swimming pool, manicured lawn, and native palm trees. The little landscaping complements the magnificent views, but the best aspect of this pool area is all of the lush foliage. If you want the tropical vibe, keep the patio and decking materials to the pool's perimeter.
Blend Water & Wood
Timber decking is not only beautiful, but it is also reasonably cheap to construct. However, keep in mind that wood will need to be stained and treated on a regular basis to avoid water damage. When calculating the cost of a wooden pool deck, keep upkeep in mind.
If you want something low-maintenance, have your builder build a deck around your pool out of composite wood. This material has the appearance of real wood but is made of plastic-like synthetics. It will be more expensive than raw wood, but it is a great investment.
Embrace The Unique
I reasoned that I didn't want to fight this house; I just wanted to go with it. It has a fairy whimsy to it—the lovely ivy on the wall, the amazing old windows—that I couldn't get rid of "Leanne Ford, the designer of this Los Angeles home, says Irregular masonry on the terrace hugs an oblong-shaped pool that, because to the lush flora, feels like a lagoon buried in a gorgeous forest.
Create A Circle
This circular pool was designed to complement the show-stopping roof of the pool house, which has wave-like shingles. The mix is whimsical yet refined, creating a softness in the landscape design that rectangular swimming pools can not provide.
Mismatch Rooftop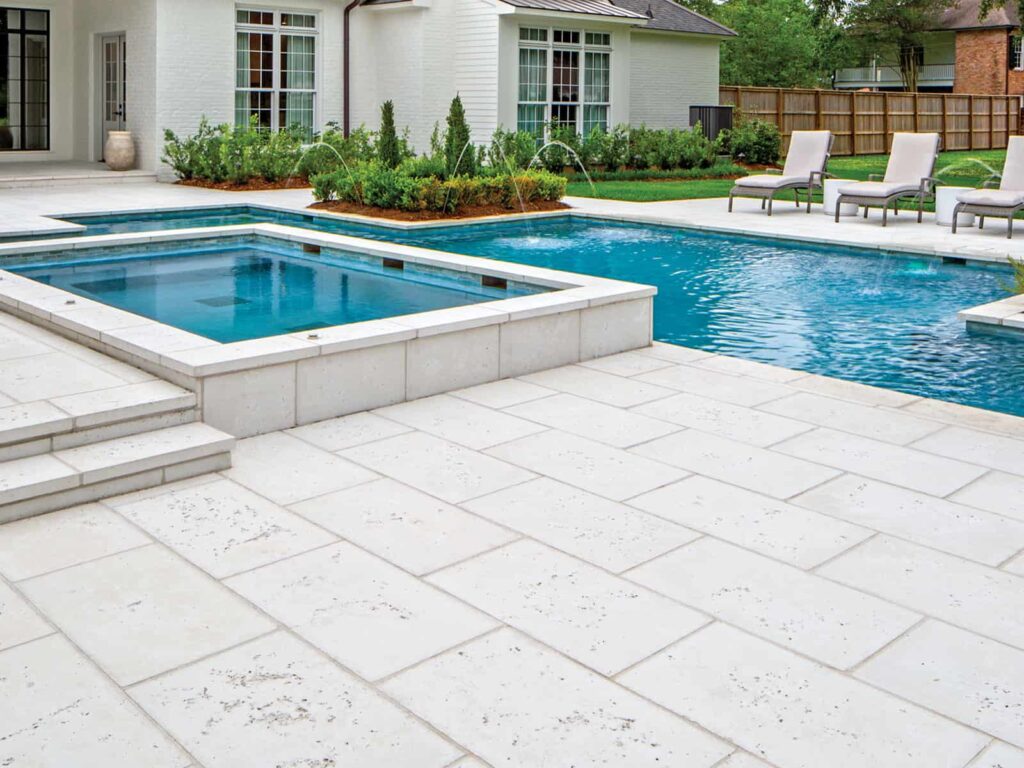 source: peacockpavers.com
While the pool and rippling terra cotta tiles pull us in, it's the climbing vines and canopy of trees that truly make this backyard stand out. The foundation is laid by the symmetry of the brick patio and the clay tiles.
Build Invisible Barriers 
If you have dogs or children, you must have a protective barrier surrounding your pool. Instead of constructing an unattractive iron or chain-link fence, consider adding a translucent screen. This allows you to keep your pool deck's aesthetic appeal while also keeping everyone in the family safe.
This sleek pool deck is ideal for a modern household. The geometry of the house's design is highlighted by a few pieces of contemporary furniture, clean polished concrete flooring, and scarcely glass barriers.
Discover Ingenious Workarounds
A narrow water feature surrounds the outdoor areas in this stunning Sonoma property, eliminating the need for view-obstructing railings. It loops around the terrace and around the curve, eventually flowing into a bigger pool behind the house.
Play With Tiles
From the unique tiles edging the pool to the flowering bougainvillea and quirky umbrella, the backyard of this SoCal house by architects is full of character.
Lay A Firm Foundation
This backyard at a house employs short bushes as a visual separator, separating distinct activity zones but without interfering with the flow. A concrete slab under the pool loungers simplifies maintenance and provides a stable base that complements the pool's surroundings.
Switch Between Zones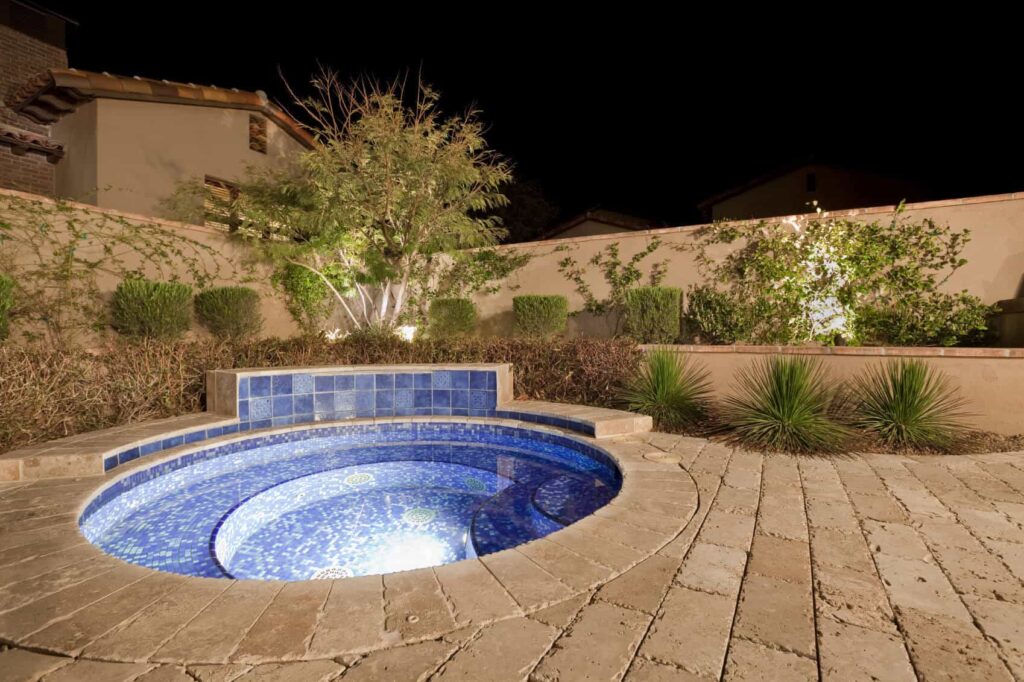 source: homestratosphere.com
Create a walkway that visually pulls the attention to the pool while also providing a clear path for visitors to follow. Architects used an offset stacking bond pattern of stepping stones for this project, which eases the transition between the stone tile patio, lawn, and pool area.
Modify Night Swim
Prepare your pool deck for night swimming by installing adequate mood lighting. Pool lights, of course, are a game changer, and if you go to the far left, you'll notice the garage skylight, which offers you a glance at the cars below and allows for shared light. Add a few spotlights and hurricane candles and you're done.
Unexpectable Stuff
This pool deck has a contemporary, bohemian vibe thanks to its all-white plaster-effect material. Simply add basic white pillows for comfort, and you've created a soothing retreat in your own home. A raffia canopy draping over the terrace is also a great addition.
Lift Up
An elevated patio separates the sitting area from the pool deck. When the pool design matches the home's design, it will appear distinct but also consistent. The open-air structure beyond this property is reflected in the modern, dark pool tiles and clean lines.
Personal Wall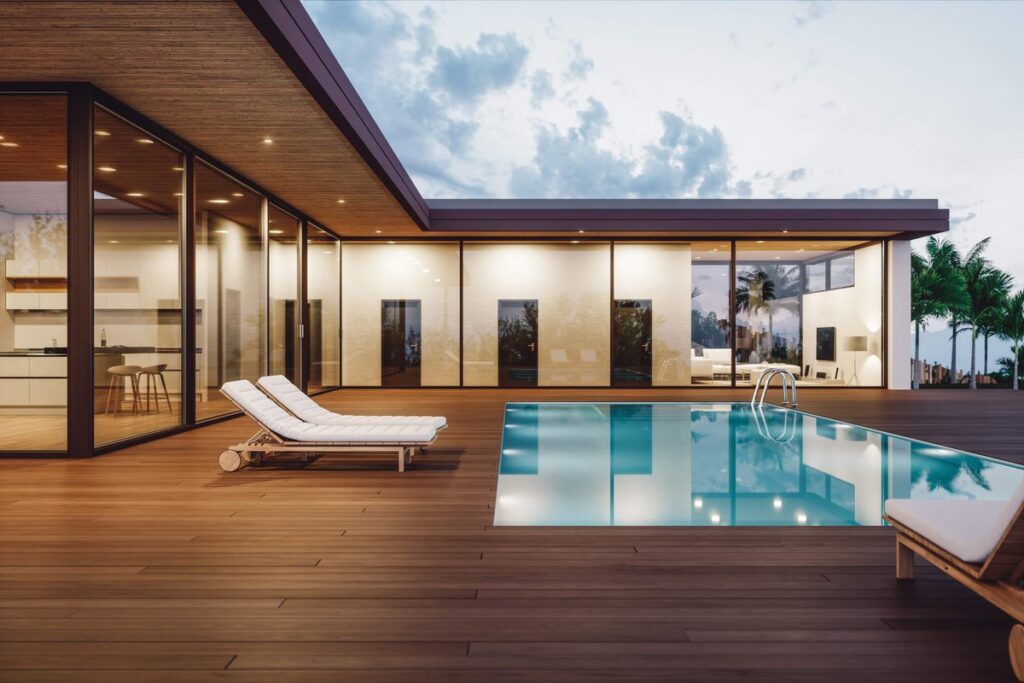 source: twitter.com
From the grassy hillside view to separate sitting and dining areas, as well as a sleek yet classic swimming pool, this pool deck has it all. The stone wall provides privacy by separating the outdoor living area from the house.
Max Your Space
No space for lounge chairs? That's OK. improvised with two meditative couch cushions and just set them straight on the pool deck for a comfy, easy-to-move, and elegant option.
Kid Friendly Pool Deck
A simple, modern swimming pool will grow with your home as your children get older, but why not make it a lot of fun while they're still young? You should build a water slide in the backyard, and a playhouse structure would be a nice addition to your property.
Invest in Right Furniture
If you don't have enough space for two separate hang-out areas, invest in patio furniture that can also serve as sun seating. With the right approach, it can still look elevated and comfortable.
Indoor Pool Deck
An indoor pool might also have a lovely deck. Its role would be equal to an outdoor pool deck, and the materials that may be utilized in its design would be similar. The architect used wood for this indoor lap pool and the surrounding area to create a more friendly and peaceful ambiance.
Last: How To Clean Pool Deck 
If you want your pool deck to appear attractive and last as long as possible, it must be properly maintained, which involves routine cleaning.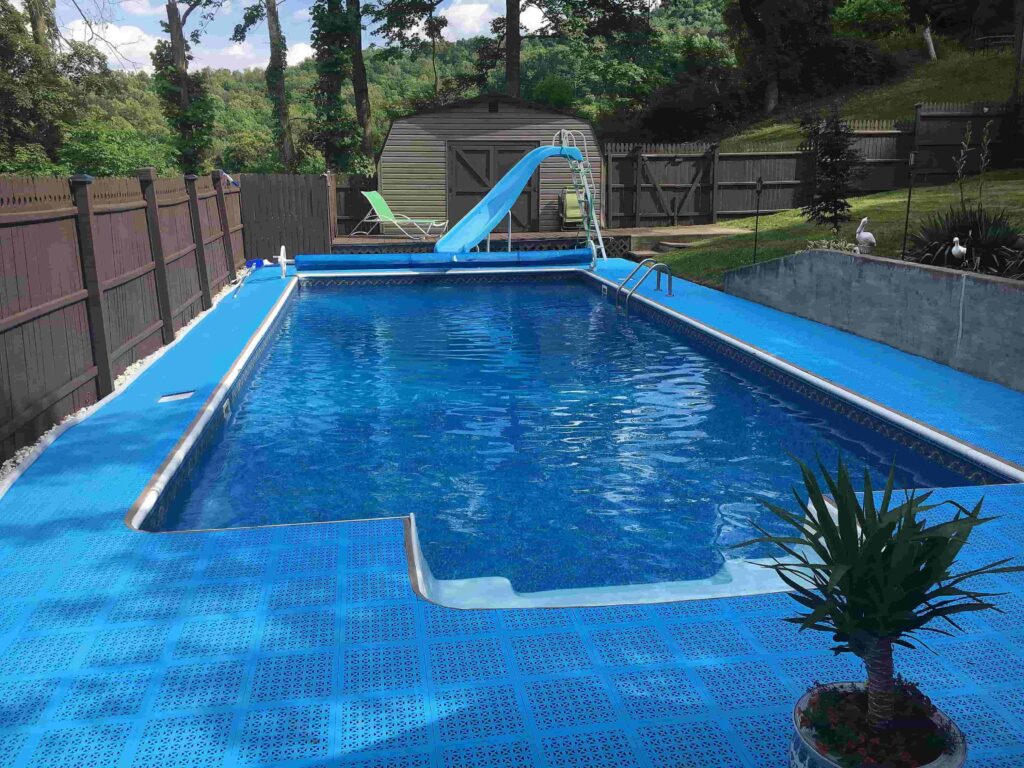 source: greatmats.com
First and foremost, if you're doing it yourself, you'll need some dish soap, a scrub brush, a bucket, and some home bleach. Of course, not all decks are the same or are constructed of the same material, so do some research and make sure you're using the correct cleaning products. Some may end up causing more harm than good to your decks. 
What is the thorough process you should follow?
If the items indicated above are safe to use on your deck, follow these steps to clean it: 
Fill the bucket halfway with water, then add a cup of bleach and some dish soap and stir to combine.
 Apply the solution to the deck and get extra buckets of water ready if necessary. 
Scrub the whole deck with the scrub brush, paying careful attention to the joints, corners, and other areas. The deck should then be rinsed with clean water using a garden hose.
If you find rust spots or stains on your deck, pay careful attention to them. You'll need a different material to clean these: tri-sodium phosphate or muriatic acid. If you keep this material on for too long, it may cause damage.
Pro tip –
 Hire a professional to pressure-wash your pool deck every now and then.
 Also, if at all possible, avoid putting metal furniture on the deck because it may quickly harm the surface. Avoid spilling tea, coffee, or other liquids on the deck, and seal it on a frequent basis.