Having a home office is almost a dream to everyone, but as the COVID 19 pandemic stepped in, everyone had switched there. Moreover, the main thing is not only having a home office, but it is something which has to be looked over as that is the place where you are going to spend your lot of time, just imagine what will happen if it is dull? Not attractive? And out of trend? I'm sure you'll not even like to step in there, and if you are stepping you are stepping just to do work in any conditions, you can't enjoy the environment nor you will feel free and comfortable while working. This will result in less efficient work than you do regularly.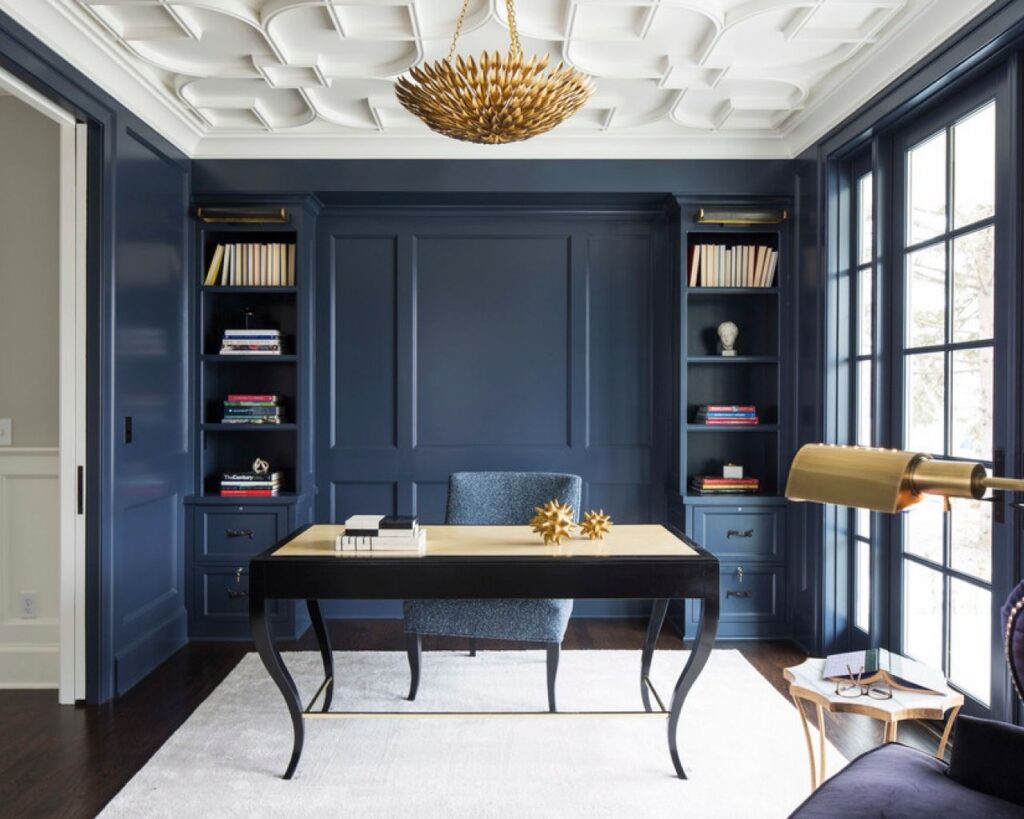 source: pinterest.com
Whenever you are about to create a stylish home office for you, the main aspects you must keep in mind is "Make it attractive", "Be trendy", and "Choose a place where circulation of environmental elements is good". Do maintain some other aspects and prospects like privacy, roominess, circulation, and much more to achieve perfection. Looking for creating such innovative rooms on your own or transforming your home office furniture in loved ones rather than dull and boring. 
Declutter
Decluttering is a process of cleaning up unwanted things, to make the place or room look regular and proper. Before, you start constructing, just follow this process on the room and the deck too. All you need to do is pull out everything from the desk and everywhere select those you want and let the remaining things step out of your house.
While cleaning the workspace you'll notice that dozens of books, random pages, folders, and much more will come out, instead of throwing these things in the garbage whether re – use it or send it to the re – cycler. Decluttering will let you know about the space you have and that place can be then planned by you calmly without any interruption. You'll often achieve a clean base which can be styled instantly. This foremost step is taken to create a home office.
Management and planning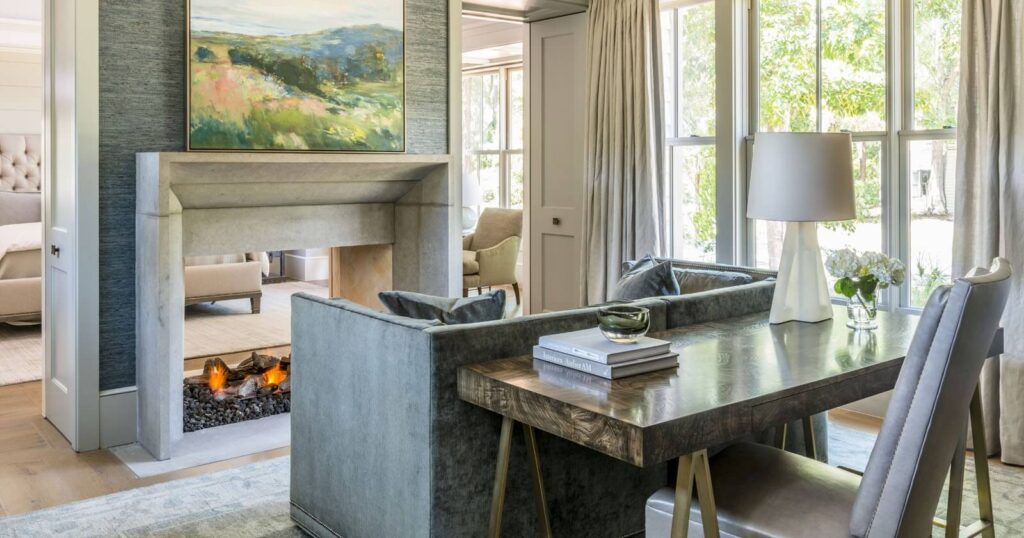 source: palmettobluff.com
After decluttering, the next step is management and planning. Decluttering provides you with nice scrutiny around you, so that you can plan easily. Take a book and pen, start drawing the sketch of the room and desk, now start drawing the things you'll be required to fix their positions. If you didn't manage it properly, then for sure you cannot achieve a stylish home office, furthermore it will get messy and dull again and again. Build up some storing shelves where you can store baskets, magazine boxes, folders, paperwork, etc. Even for maximizing storage you can build a wall shelf too, depending as per your requirements and needs.
Managing new stationeries
You might have the proper equipment for your work at home, but if you don't have you have to buy them. Thus, adding new stationeries if not managed in a proper manner then it will again make the room messy and you have to declutter it again. To avoid decluttering again and again, you have to be concise while managing, so whenever you bring up new stationeries do fix their positions respectively. New stationeries are one of the best ways to style, as if it adds colors and refreshes the workspace for one. If you are choosier about the color, then a mix matching your stationeries, will create a good environment for you, where you would love to enjoy your work.   
Inspiration board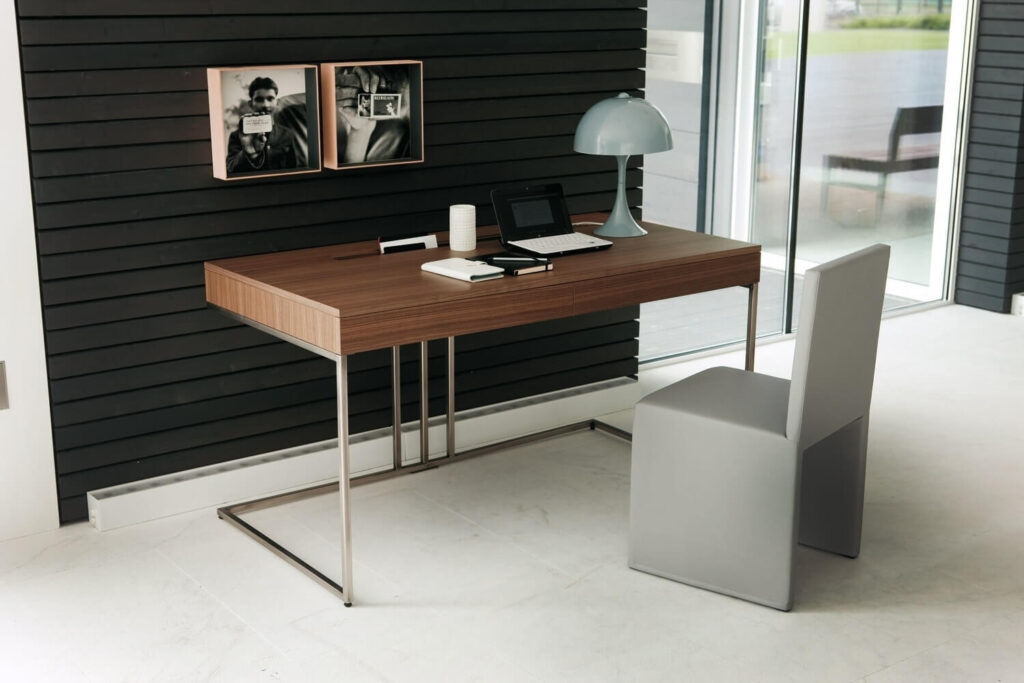 source: minimalistdesks.com
Inspiration board is nothing but a board containing your goals and inspiration in it, thus whenever you'll see it you'll work on your priorities at first which will help you in achieving your goals and achievements. You can even stick some pictures and magazines cut outs which will help in motivating and cheering you throughout the hours you are working in. It will even help you in tracking your goals and achievements, so that you know well what to do at which time?
Indoor plants and pots
Looking for a refreshing and natural environment? Here is the solution, rush on the market and bring some pots for planting purposes, try bringing stylish pots so that it adds up a good glance to your office. Adding plants in there will not only add style over there, but the main purpose of this is to provide a refreshing environment as plants purifies the air and makes it cool and calm, health benefits like reducing stress, blood pressure, etc. can be maintained with this concept.
Explanation: When you are about to start your work out the seeds in pots, take care of it by watering it daily as the days pass on, the height of the plant will decide your experience in that work. From my side it is totally a worthy idea to check one's experience and achievements.
Wall art and lightning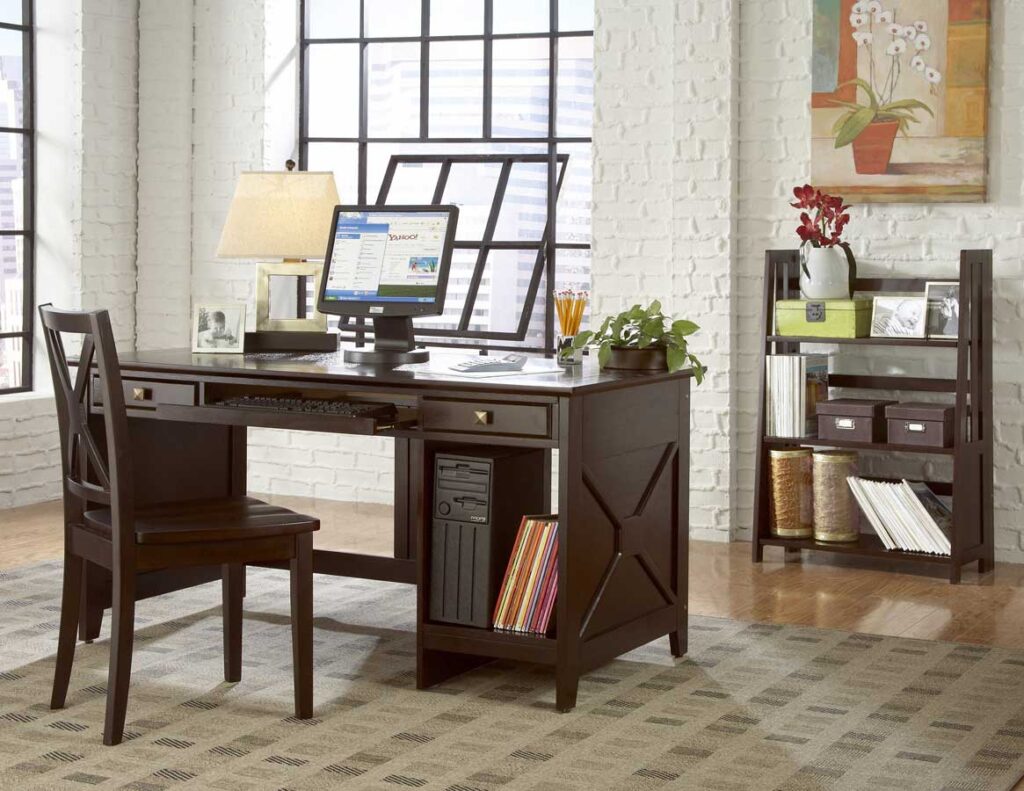 source: crismatec.com
The wall art must be in a way that it relates with your work, as of whenever one will see something related to their work they can create many innovative ideas too. If you want such art that it gives you relief from your work then you can go accordingly. But the main thing which does matter with the wall art is lightning. How? If the lightning and the wall art are in a combination in such a way that it creates a sleepy environment, would you like to work over there? The answer is no, the only reason behind that is the matching up of lightning and wall art is inappropriate. For that, always select the lightning and wall art that keeps you energetic throughout the day. The easiest ways to add up lightning keeping the style in mind are desk lamps.
Furniture
Obviously to add up the style to your office is nothing but furniture, it includes the main workplace desk, chairs, book shelf, etc. To add style the main focus depends upon the type of material used for making the furniture as nowadays many people are used to PVC furniture as they look awesome and have a way good durability and function ability, moreover one can find out varieties of style, designs, and color in it. While making furniture do keep in mind that the desk and chair colors must mix in a way that they look like made for each other. You can combine like black and white, gray and white, and many more as per your choice.  
Framed photos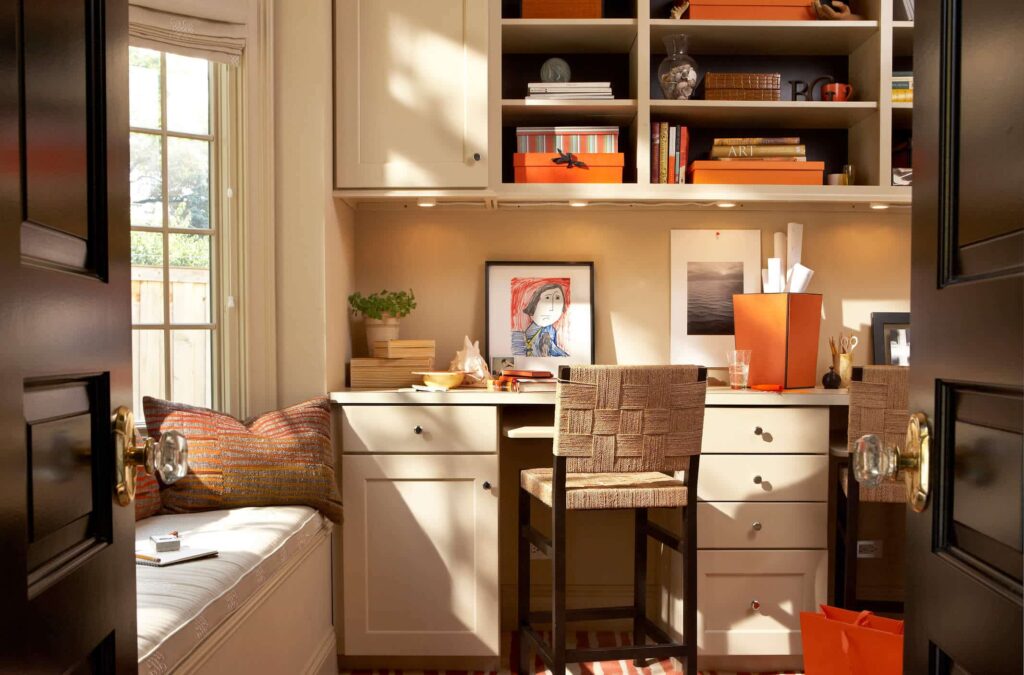 source: freshome.com
Another accessory which makes you feel good and satisfied with the environment is nothing but the framed photos. You can add any kind of framed photos in your room which can make you feel that you are not here alone; you have someone with you which just maintains your confidence level while working and gives pleasure to you. If you are a nature lover you can add the sceneries related to the environment which can make you feel like you exist in such an environment. If you are bored of the work you can just have a look on the walls where frames are hanging out, by which you can remember a new idea for your work and give relaxation to your mind without any frustration.
Fresh flowers
Adding fresh flowers is also a good way for making a stylish office, its natural color and beauty adds the utmost elegance to the room, with the utmost elegance it adds up a fragrance too which keeps your office smelling well and good. Thus, whenever you enter the room the fragrance will win your heart and you would feel like to get stuck over there only. But buying fresh flowers is a difficult task, usually you have to visit a florist daily for that, to avoid such situations what you can do is make your own floral arrangements. To make floral arrangements, you can make a schedule for weekly florist trips. It will help you rather than going daily.  
Crystals / Pebbles / Shells
source: crismatec.com
If you love different types of stones to refresh your mood while working in the home office, what you can do is just place some of them on your desk; these all things can be naturally derived from nature itself. All you need to do is take a trip to a beach or some other natural place to collect whatever you feel can help in decorating your room along with that keep in mind which things can help you in refreshing. After collecting, start decorating your desk with crystals, pebbles, and other stones. You can even mix and match those natural elements with your wall art and lightning due to which one can even make its workplace as a beach or island.   
Indoor garden
Some of the workers may be suffering from many kinds of diseases but as in the office everyone is present there we can't go on building something for one particular person. But in the case of your own home office you can add anything and can even subtract anything. Here we are talking about the indoor garden, ever thought about it? I think you might have not been aware of this. So let me tell you Indoor garden is a carpet on which grass is grown, which makes like a mini garden is present in your room.
Building up an indoor garden is way difficult task, but after constructing it you'll definitely get a huge advantage for it. When one gets tired of work, they can have a walk over there, which will make them feel good and refreshed, moreover having a walk with bare legs on grass activates your nervous system of the body; it will help you to fight against many diseases. Though you can place it on floor, even more you can stick it vertically on your one of the walls too. As plants use to make the air clean in the same way the indoor garden will help you a lot.
Extra accessories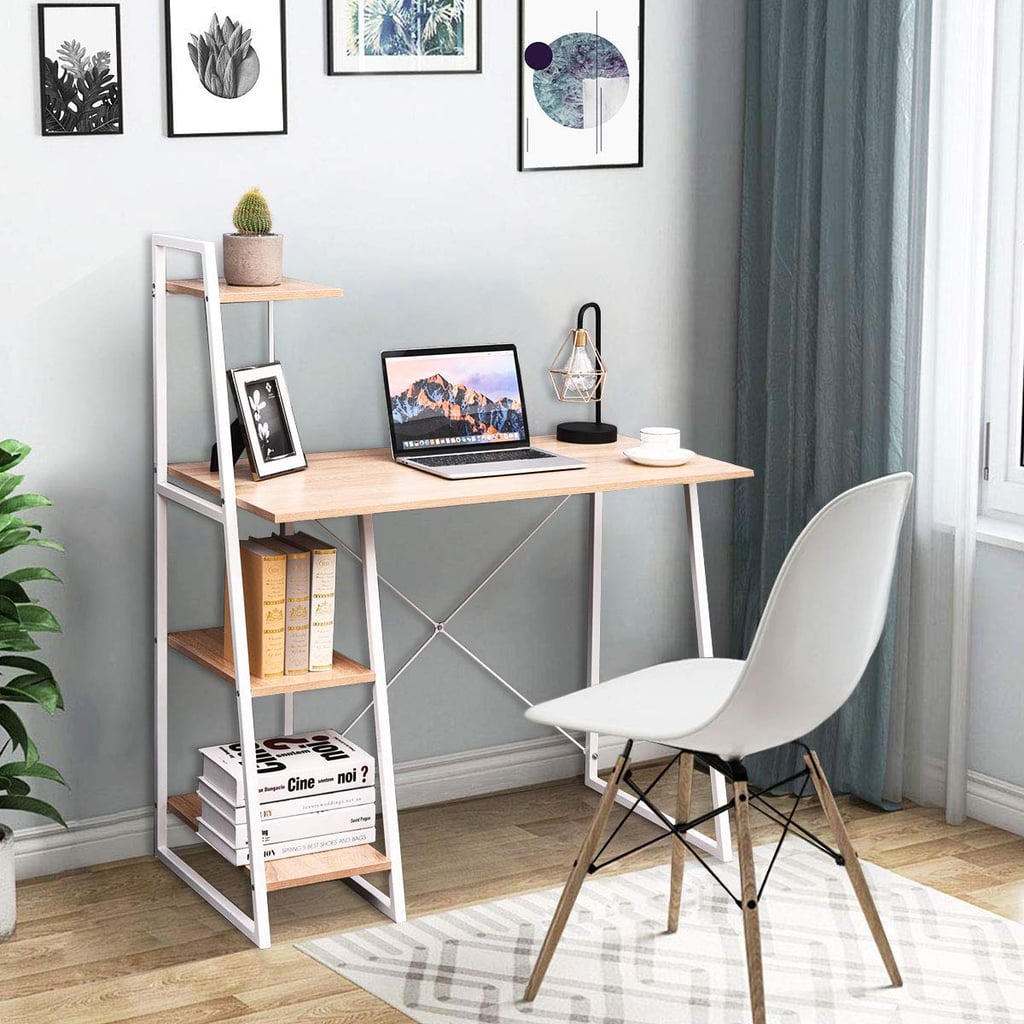 source: popsugar.com.au
This is an additional step it depends on you do you want to add some more things just with the aspect to make it more proper and stylish. Then you can go on adding every favorite thing of yours like mug, extra seating, show case, etc.
For adding a better look to your desk you can add a mug, why especially mug? Because more than 70% of the workers like to have a coffee or tea while working to keep them awake and refreshed, thus keeping a mug works in both ways, make sure the mug you keep on the desk must look decorative and must add style to the desk instead of making it dull.
Extra seating is must, no matter you are at your own office but sometimes you have to meet up with your colleagues and all, just in case if they arrive at your home office then you must have a spare seat where one can sit comfortably.
Keeping a showcase is like developing your self personality, by keeping your rewards and achievements in it, pieces from your travel, or some other thing that shows – off a bit of you.
If one goes on following the steps mentioned above then definitely achieving a stylish home office will become easier. But the main thing to be focused while constructing home offices is decluttering, planning, furnishing, lightning, and some nature elements. Rather than all these things the rest comes in decorating and styling home office ideas. It is not only the step towards home décor only but one can even achieve home improvement by constructing a stylish home office. Enjoy your day! With your newly stylized, decorated, and improved home office.