Eco-style in a modern interior of a house or apartment will help to create a warm and cozy atmosphere. An important advantage of an ecological design is the possibility of finding a solution for all tastes, in a variety of price categories.
Ecology is also a quite trendy topic. All over the world, this is generally a very relevant trend for the last few years. Although, speaking about such a serious issue, it is somehow embarrassing to use such words as: "fashion" or "trend". The awareness of how we should live in order to help the planet goes far beyond these concepts.
Therefore, remember that it is not enough to cover everything with natural materials and say that you lead an eco-lifestyle. Ecology is when you don't throw batteries in a regular trash can, when you limit the use of single-use plastic, when you save water and electricity. In general, this is all for a reason – helping nature live on and giving future generations the possibility to enjoy it's pleasant creations. But since we're here to talk about design and renovation, let's discuss how to set up your home in an eco-style.
Ecology in one's home is not just about the naturalness of the materials (we're talking about materials, the production and extraction of which do not harm the environment). These are by no means rare endangered trees, no natural leather and fur (despite the naturalness, the philosophy of eco-style does not allow to destroy animals and nature for the sake of beauty).
Best environment for an eco-style design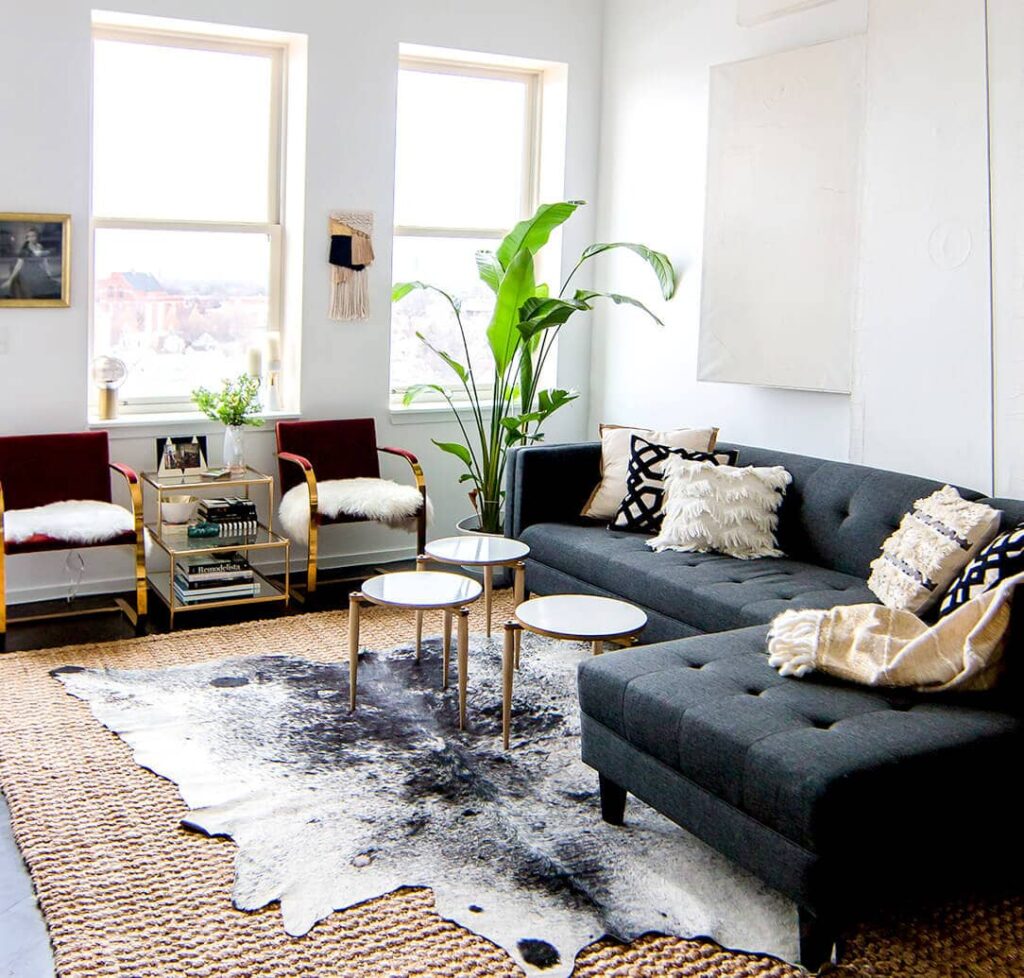 source: bocadolobo.com
It would be ideal to decorate a country house in an eco-style. The natural view from the large windows will organically combine with the naturalness of the interior, emphasizing and enhancing the effect of true harmony. Nevertheless, an apartment can also be a great place for an eco-style design!
Eco-style colors
Natural calm shades: brown and beige tones, ocher, green (from olive to marsh green), warm white – the overall impression of the color scheme should be relaxing and soothing.
Eco-style finishing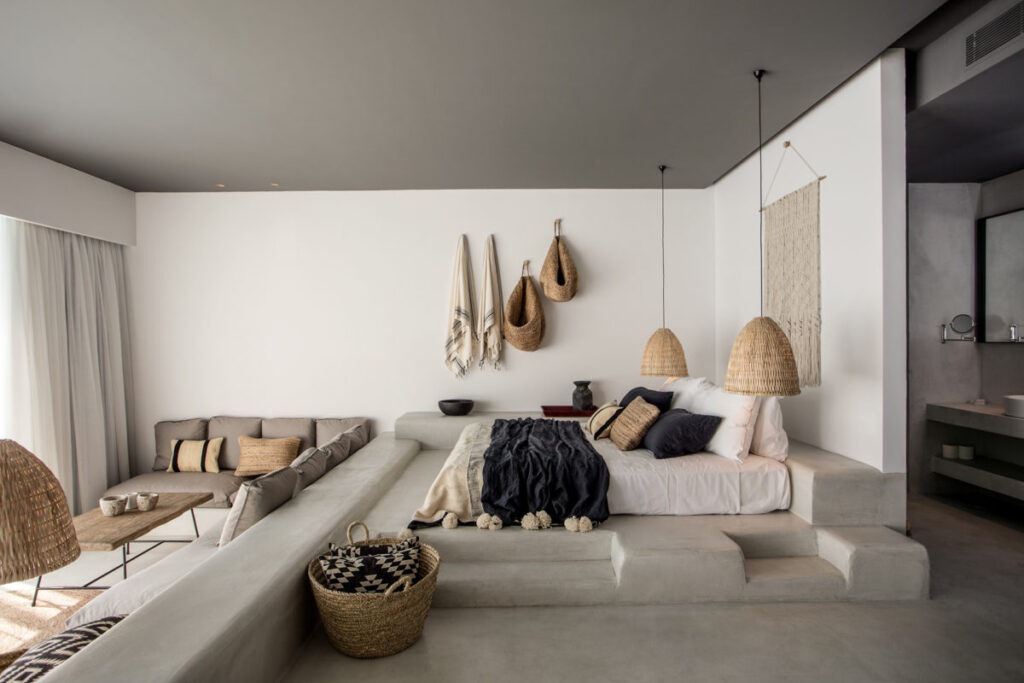 source: italianbark.com
Wallpaper made from natural materials, textile, paper or various wood, natural stone, cork, ecological paint or plaster – this is an approximate list of natural finishing materials for this style. There are two requirements: the materials must be environmentally friendly and produced without harm to the environment. You can also simply paint your walls in a neutral color, as natural shades are never stringent and eye-tiring.
Furniture and interior items for creating eco-style
The eco-style always strives for minimalism, a struggle to save resources. It is characterised by the absence of too much decor and furniture. Simple wood or other plant materials for furniture (reed, rattan), a lot of light and air, natural textiles and simple decor elements that do not clutter up on shelves, cabinets or coffee tables.
Eco-style decor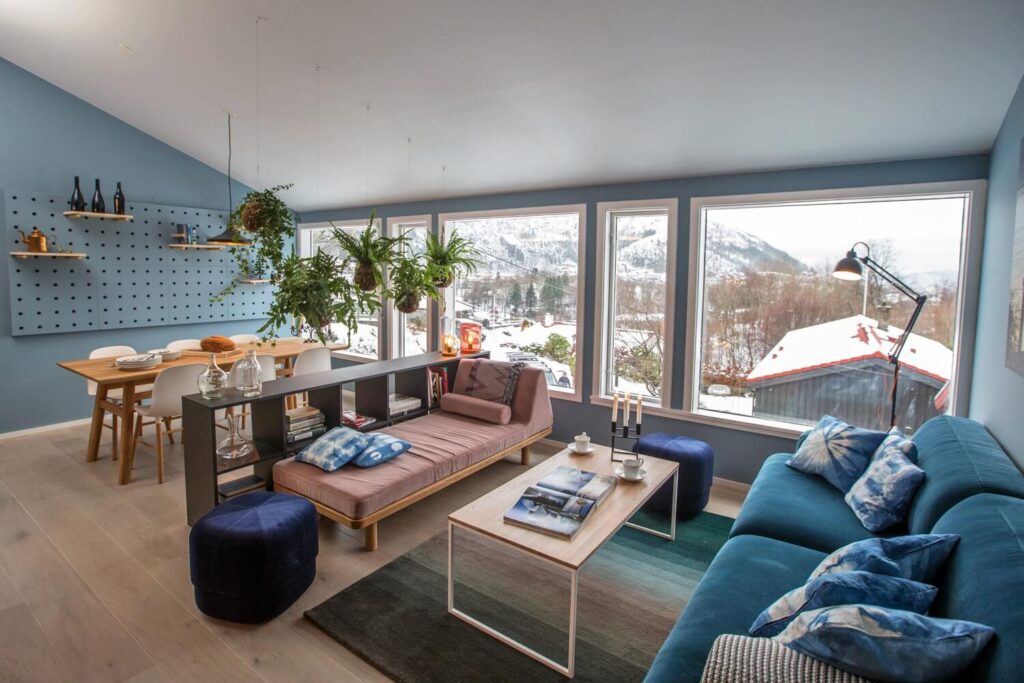 source: elemental.green
How to create an eco-friendly decor? All kinds of weaving, textiles, baskets, pottery and vases. Unlike any rustic style, which also uses a similar decor, there is always little, not a lot of it. All the same minimalism for the sake of preserving planetary resources and not buying wooden pieces just because you think you need to add one more detail to an already crowded bookshelf. 
Eco-style vegetation
A separate topic in the eco-style is plant decor. It is an exception in the minimalistic topic of the concept. You can have a lot of plants, ordinary flowers, trees and even moss in your eco-style home. Especially in a city apartment, where you don't really see vegetation outside your window, you can create a home rainforest by yourself, just don't forget all these plants need to be taken care of and not forgotten in the balcony.
Tips and tricks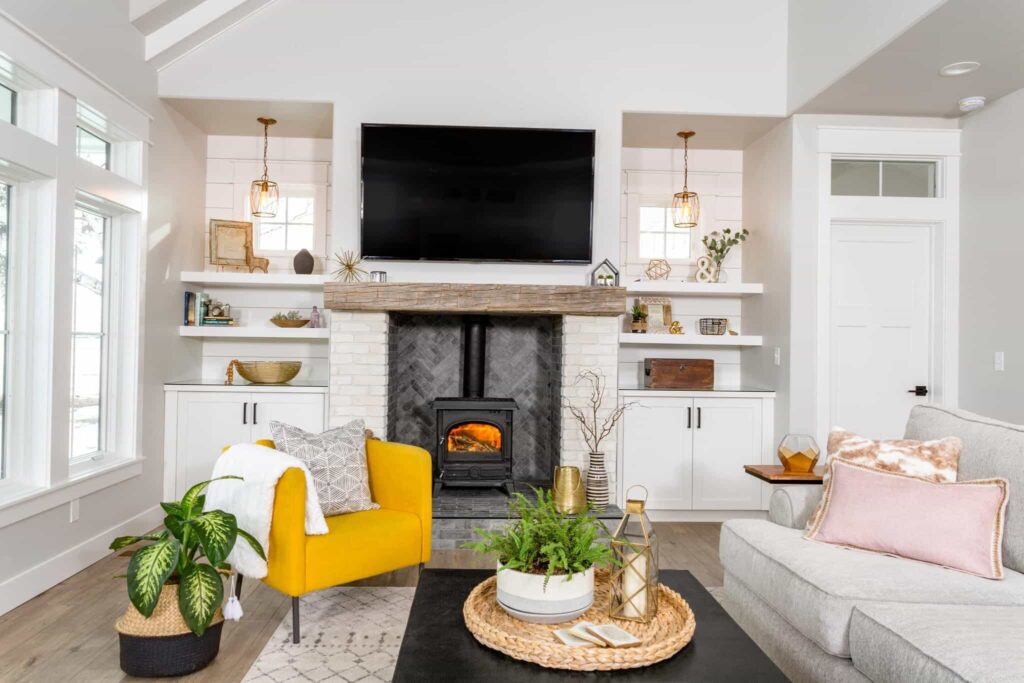 source: moneypit.com
– Since white PVC joinery is not compatible with this style, which can create discrepancies, opt for a classic wooden joinery, or at least for a PVC that imitates wood;
– The advantage of eco-clean wallpapers is that their design can mimic a variety of natural materials: stone, wood, reed and others alike. The atmosphere of the union with nature will then definitely become a part of your home;
– Cane and bamboo can be used as partitioning elements, but also for the ceiling. Cork is another nice material used in this style. Cork panels, along with those made of laminate can be used not only for the floor, but also for walls – the only limit is your imagination;
– Mosaic of glass, stone, bamboo and coconut is a unique blend for this design. With the help of such details, you can decorate your floor, ceiling and walls, both entirely and in areas. The floor covered with terracotta or stone tiles is very popular in this eco-style.
Eco-style allows you to create very harmonious and soothing interiors, where you can feel close to nature, even in a concrete jungle of a large city. And if environmental issues are not just fashionable words for you, if you are sincerely worried about what awaits our planet in the future, perhaps this is the interior style that will suit you perfectly.
But if you're still at the stage of eco decorations and just attempting to reach a natural look, you can start by acquiring some wooden or glass furniture pieces for a nice price, on nfoutlet.com!