Do you have a small house and you wish you had a bigger place? Instead of being sad, try being creative with interior décor and designing to make your home look spacious and leave a welcoming vibe.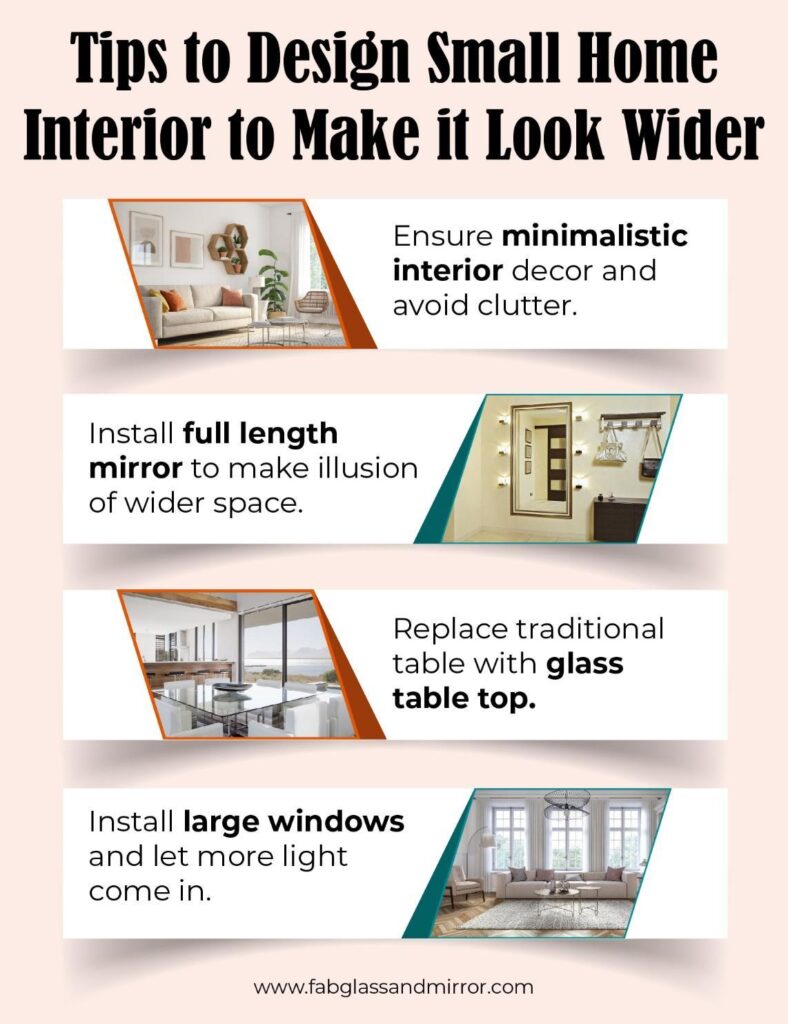 We are sharing some amazing hacks and tricks to optimize space in small rooms and offer an illusion of space. Chin up and go through these tips to discover how you can fool the eyes and make your home look bigger.
Full-Length wall mirror shows enlarged space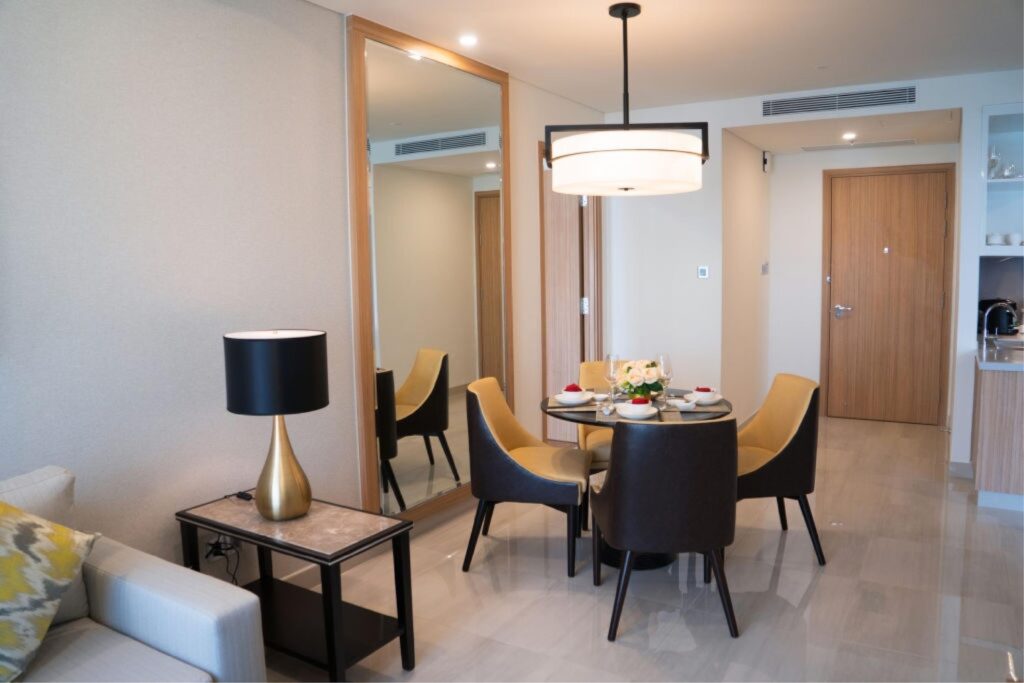 If you wish to create a spacious room, mirrors can be your best friend. Full-length wall mirrors are a great idea to make any space look taller and wider. They are a more versatile option than we could imagine. Apart from being the focus in a small room, it plays an important role in maximizing light throughout the room.
The long shape offers a lighter and bright vibe to the room. You can place a full- length mirror behind a sofa set or across the dining table. The mirror bounces light back to the room making the room appear open and big.
Ensure minimalistic interior décor and avoid clutter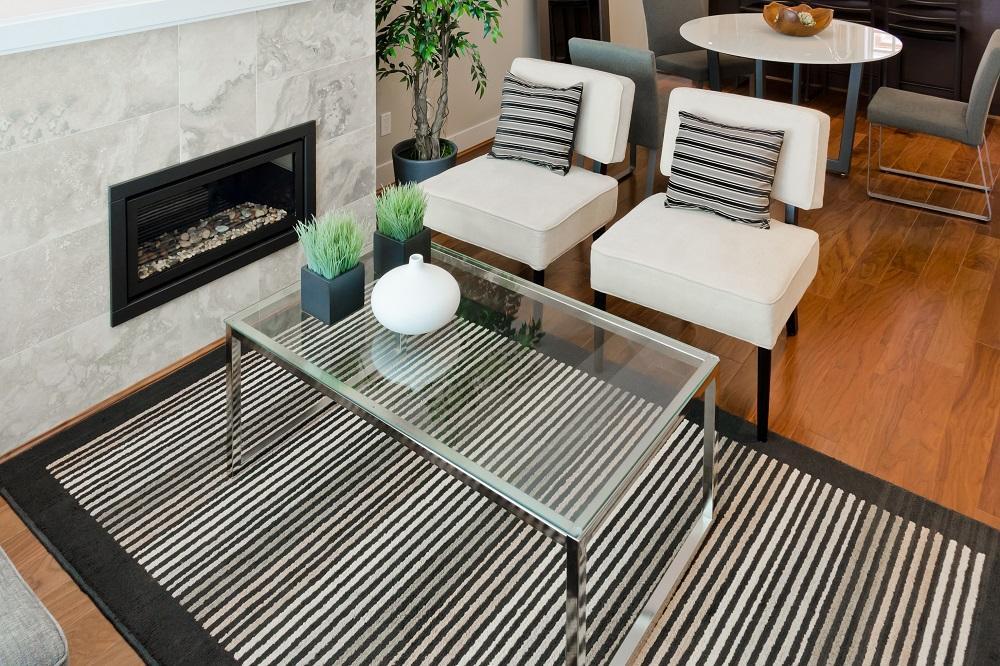 When it comes to home décor in small apartments, less is more. A heavily cluttered room appears messy and gives the impression of a busy and crowded space. Since you have to give a wider appearance, get rid of all the unnecessary items and accessories.
Keeping the space tidy and organized is a secret to achieve a spacious look. When you work with small rooms, create a focal point. For example, the dining room can have a table whereas a bed is a focal point in the bedroom.
Another trick that interior designers swear by is to maximize the floor space. Remove extra rugs and keep the floor clear to give an impression of openness.
Replace your traditional table with Glass Table Top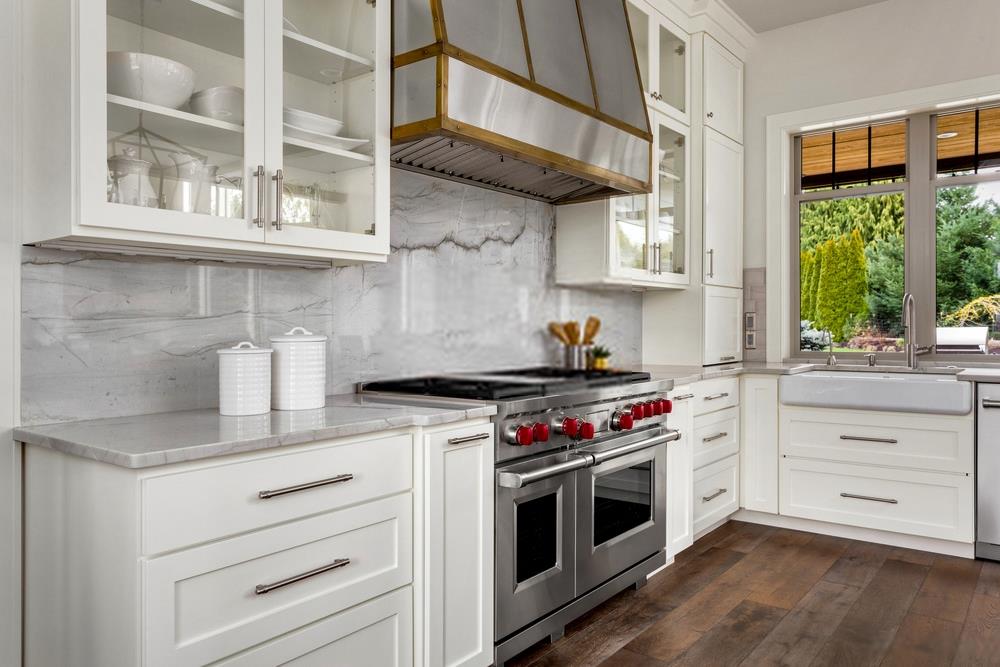 Glass is a material that reflects light and gives a spacious vibe to the room. Well, what do you think about the dining table? It's time to upgrade the traditional setting and replace it with a clear rectangle glass tabletop. However, you may choose other shapes as well. Not only does it look modern, but also it helps with the efforts to make the house seem bigger and wide.
Moreover, the glass tabletop has very less visual weight, so it makes the dining room appear airy and open. If you want some character to the eating space, add a table runner and mats to the table. Mix and match some creative prints for a fun look.
Don't forget to replace wooden cabinets with Cabinet Glass in the kitchen
The kitchen is the most-used space in the home. That's why it is essential to pay attention to the details for offering a spacious vibe. A solid trick to fool the eyes to think that the kitchen is bigger is to replace the wooden cabinets with glass cabinets.
What happens when you use cabinets with glass doors? It does not stop your gaze at the cabinet door, but it goes inside through the glass, which creates an impression of space.
This does not mean that you need to be conscious because of the mismatched cups and plates in your collection. You can use opaque glass in this situation, if you want to hide the stuff inside the cabinets. The opaque glass also reflects light, which brightens the kitchen and helps you achieve your goal.
 Add Backsplash mirror in Kitchen 
A kitchen has so many options to turn into a bright room. As you know, light gives a bigger feeling to any room. A creative idea is to add a backsplash mirror to your little kitchenette.
It will enhance the artificial light under the counter and increase the reflection of natural light throughout the place.
Brightness gives an impression of more space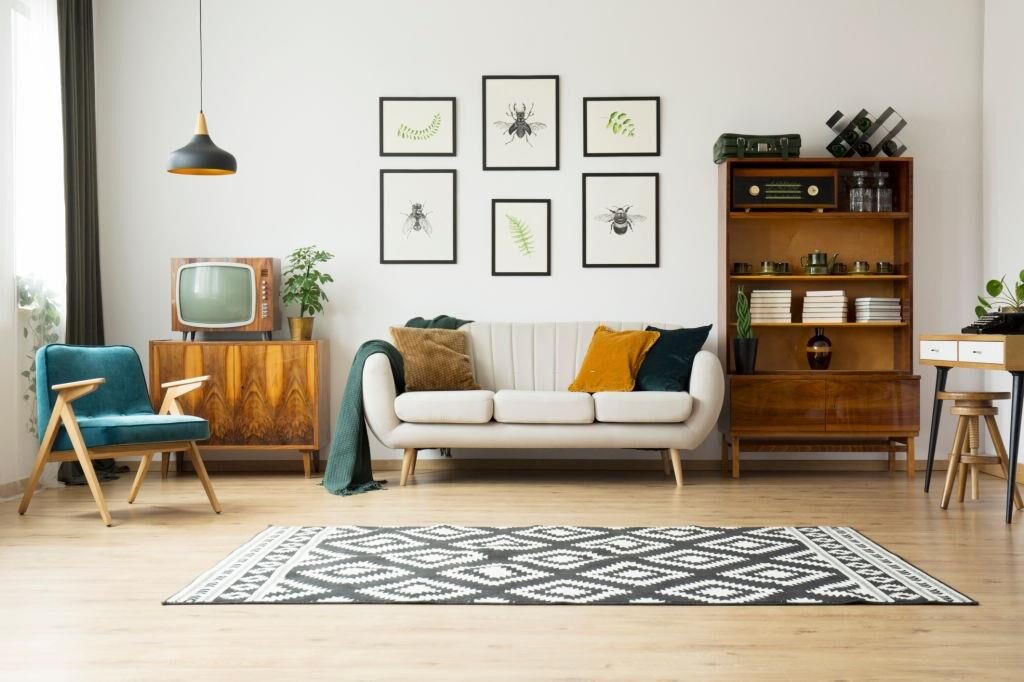 Let in more light! If the room has ample natural light, it fools the eye into thinking that the space is big. To maximize light, keep your windows covered in a light fabric. Choosing a light color and an airy fabric can help you achieve more light. Moreover, if you mount the rod closer to the ceiling, it offers an illusion of height.
Other than this, you can rely on mirrors to reflect the light in any room. Placing a mirror near a window reflects the outdoor area and helps you in achieving more light and brightness in the room.
Make your bathroom elegant to add a shower enclosure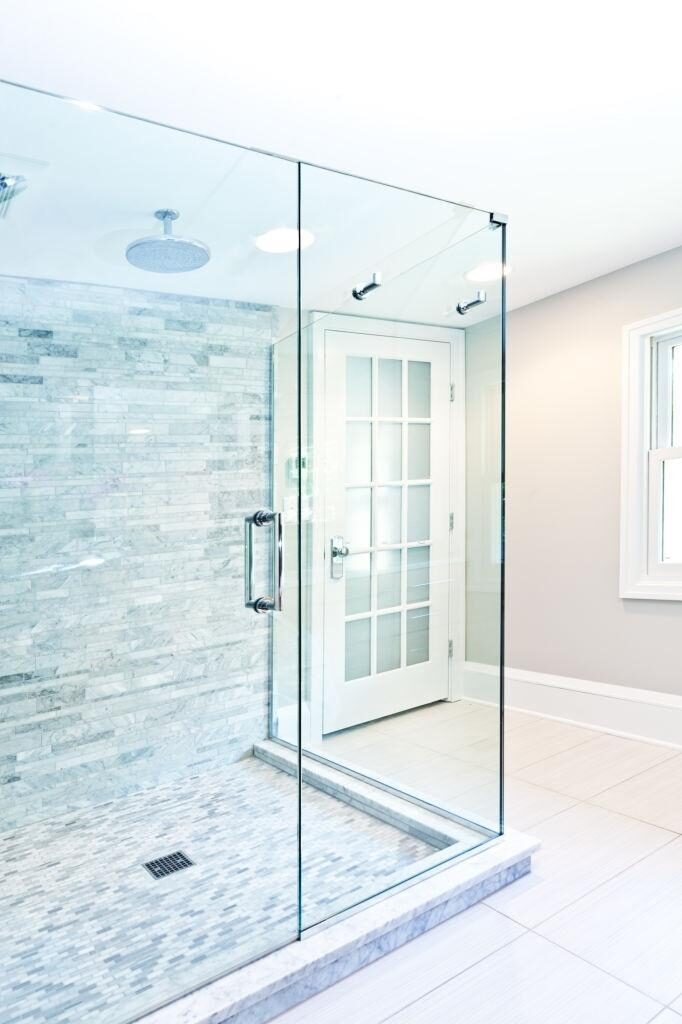 You can upgrade the look of your cozy bathroom for a better shower experience. Ditch the shower curtains and get rid of that old look. Add a glass shower enclosure to bring in some visual space.
It helps in giving a fresh and cool look to the bathroom and adds an element of space. Moreover, a curved or corner shower enclosure saves a lot of space.
Don't miss to install glass shelves on the wall to get extra space and impression of a wider look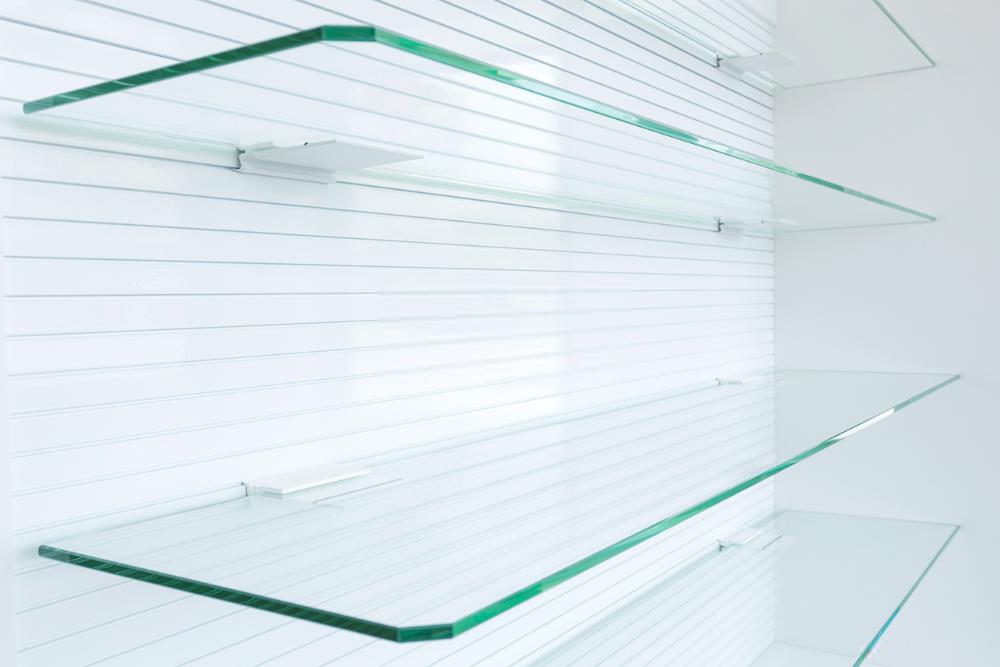 Alright, this is the last one! To be honest, we don't use half the stuff we keep in the small home. So, instead of cluttering up the sink, invest in something chic and functional, a glass shelf can save your life by allowing you to keep small decorative and useful stuff organized and clean.
Keep large baskets for keeping hair dryer, brushes, and other things. While smaller trays are best for holding makeup and skincare products. Install sleek glass shelves on the walls to match the tiny home interior and open up more space (it's a blessing in a small rooms)
The Final Words
We have shared some creative ideas to make your home look bigger than it is. Whether it's your bedroom, kitchen, or the bathroom, some steps can help the space look bigger.
When you try these little tricks, you'll appreciate the efforts that make a magnificent impact on the design of your place. Make sure to keep things minimal, let the light come in, and enjoy the spacious and airy vibe in your sweet home.