Do you occasionally have a guest that needs to stay the night, but you don't have a guest bedroom for them to use? Maybe you've just moved into your first studio apartment, and you have a limited space to work with, so combining your sleeping and living area is a practical solution. Or perhaps you have a guest bedroom and want to offer your visitors a sofa to sit on during the day that transforms into a place for them to sleep once the sun sets. 
Whichever of these scenarios you find yourself in, a small sleeper sofa is the best answer. So, how do you choose the right one? Let's go over several aspects to keep in mind as you look for a small new sleeper.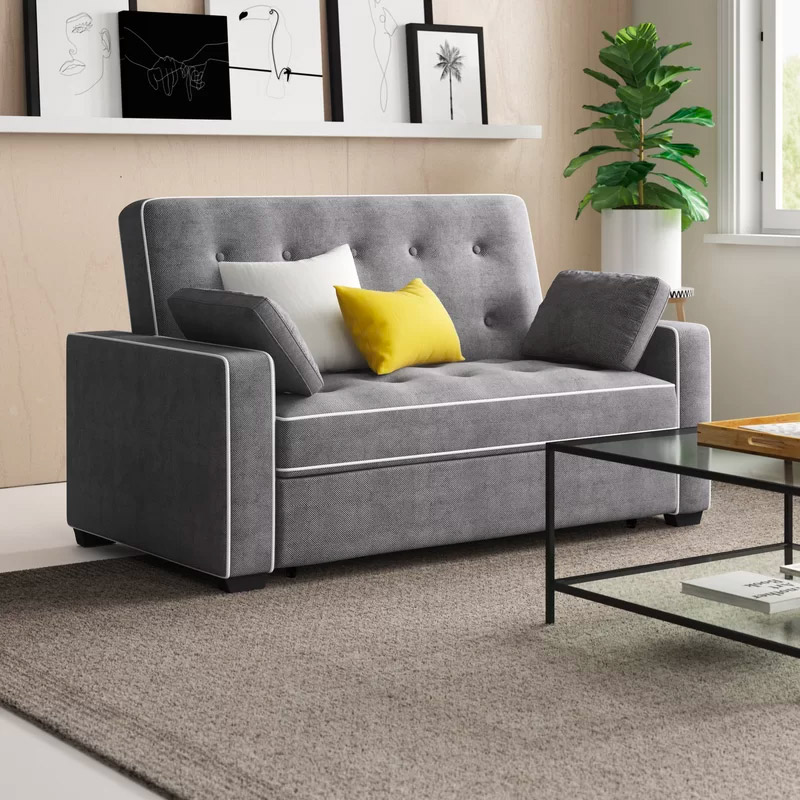 source: pinterest.com
First things first, take measurements twice. You have to determine what kind and what size sleeper can fit once it's fully opened to its bed form. If not, you'll end up with a bed that you won't be able to open or not enough space to easily move around the mattress. 
Once you have the measurements down, it's time to select the right type of sleeper sofa for the space. You'll typically have three options to choose from, a daybed, a sofa bed, and a sleeper sofa. So, what's the difference between the three?
Well, a sleeper sofa is the one that most resembles a standard sofa. The traditional sleeper sofas have a bed hidden beneath the cushions with a mechanism that allows you to pull out the mattress. Once you remove the cushions and pull out the bed, the armrest and back of the sofa serve as your headboard. You usually have a choice as to what kind of mattress you'd like to use, gel memory foam, traditional memory foam, innerspring, or latex. 
The mechanism to pull out the mattress is known to be tricky to operate at times, and the bars meant to support the mattress are often the source of back pain. However, the more modern designs don't use as many support bars, and better materials are used to construct the mechanisms. That makes it easier to set up the bed when it's time to sleep. Just remember to leave enough space to walk around the bed once it's open.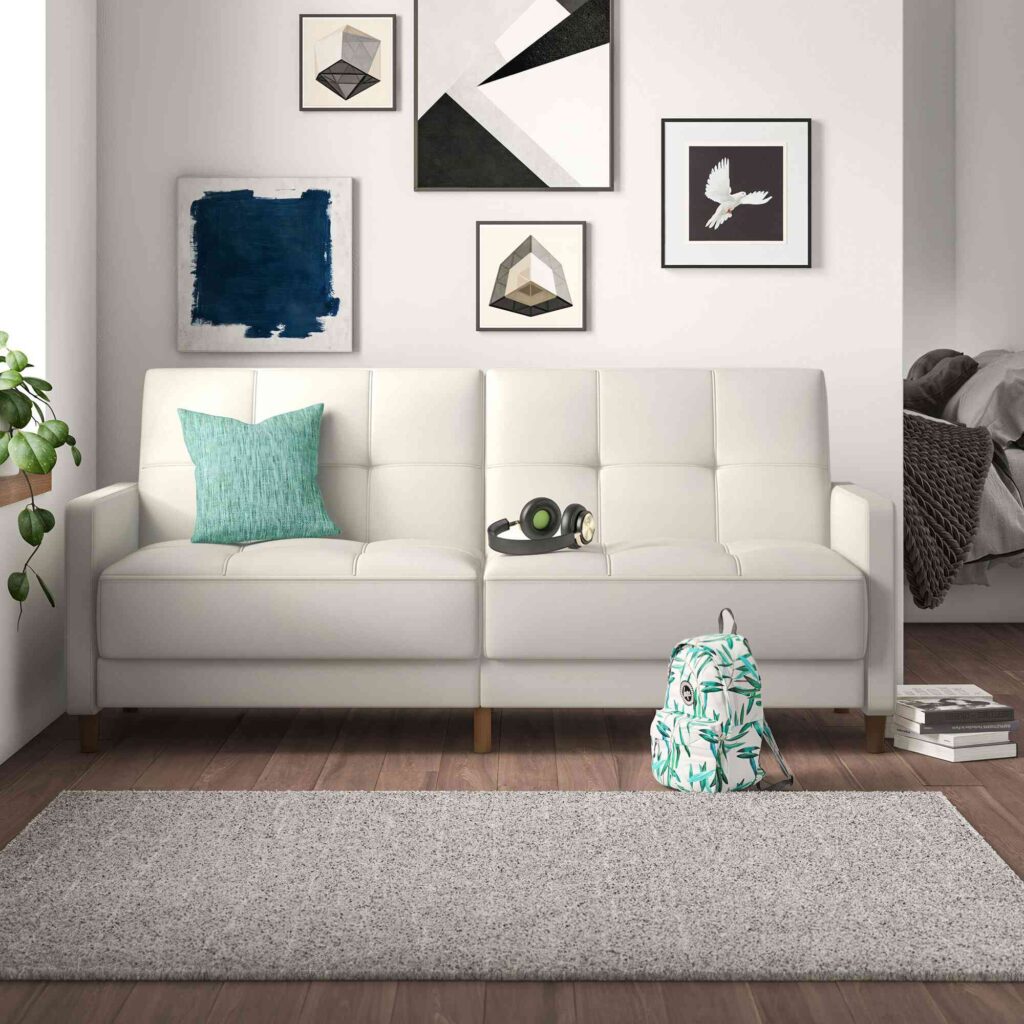 source: mydomaine.com
Small sectional sleeper sofas offer what many consider a better mechanism for transforming the sofa into a bed. Instead of removing the cushions, you leave them right where they are as they are a part of the bed. You only have to pull out the hidden compartment sitting under the sofa section, which will extend the length of the attached chaise, and voila! You have a place to rest. 
Many of the small sleeper sofa sectionals have a chaise that opens and allows you to store bedding. Your guest won't have to go to a hallway closet; they only have to open the chaise and find sheets, pillows, and blankets. 
If your limited space allows the sofa to fit comfortably, but pulling out the bed is just not an option, then a daybed is the way to go. This half-bed, half-sofa option usually has frames on three sides, two armrest-style frames, and a full-frame along with the long edges. It's perfect for lounging throughout the day, napping, and sleeping at night. 
source: pinterest.com
They're great for guestrooms and even your office when you want to take that power nap. You can find them with twin, full, and sometimes queen-sized mattresses. Because there is no bed to pull out, this sofa bed doesn't take up any additional space. 
What you see is what you get. Daybeds come in many shapes, sizes, and materials, so finding one to fit your décor will not be difficult. If you have the space and need an extra mattress, opt for a trundle. It fits snugly under the daybed and easily rolls out when needed.
Sofa beds are an alternative to the sleeper sofa and daybed. They are typically lightweight, and you only need to push the back of the sofa down to convert it to a bed. Perfect for small spaces, their only downside is the beds typically are not standard-sized, so finding bedding that fits just right can be challenging. 
Sofa beds and daybeds tend to be on the lower end of the price scale, while sofa sleepers are a bit pricier than standard sofas. That is something to keep in mind if you're budget-conscious. 
1Stop has a great selection of top-brand sleeper sofas. The Betrillo Black Full Sofa Sleeper is a classy sofa that opens to a full-sized mattress. The memory foam mattress is designed to keep your overnight guests cool as they drift off to sleep.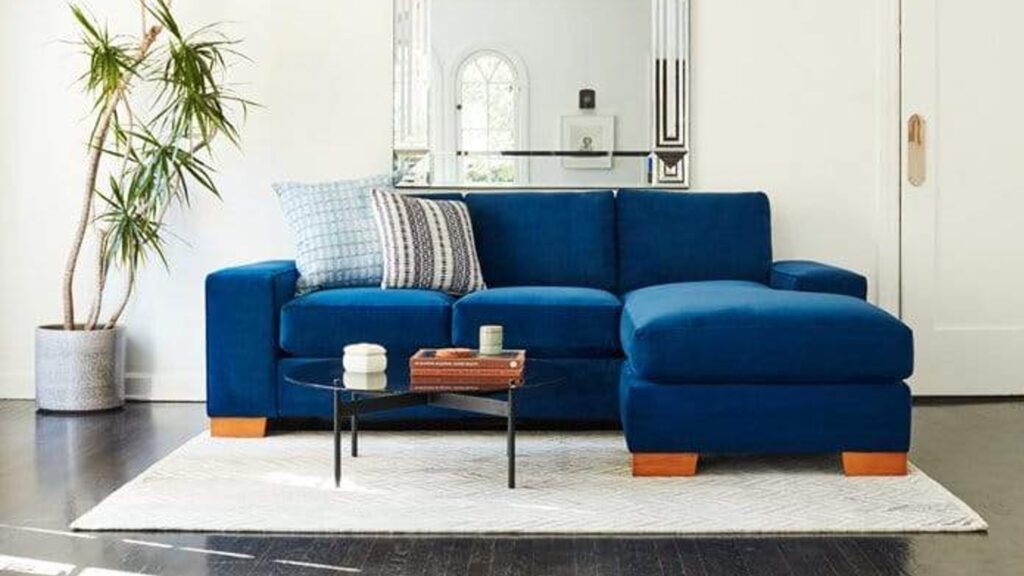 source: pinterest.com
The Soletren Stone Queen Sofa Sleeper is great for couples who may stay overnight. The roomier queen-sized memory foam mattress sits in a beautifully designed contemporary sofa. Although it may be too big for a guest room, it will look great in the living room and offer your guests a restful night. 
The Jarreau Queen Sofa Sleeper is available in blue and gray and was made for small spaces. The soft cushions give you and your guests comfortable seating, and the pullout cushion turns this piece into a lush bed. 
If it's a daybed you need, check out the Camden Daybed in silver, rose, and more. That is a great option for a kid's room, and the trundle will give overnight playmates a spot to sleep. The Twin Bookcase Daybed comes with six drawers and bookcase storage in the headboard if storage is a concern. 
You can purchase sofa beds like the Manchester by Glory Furniture in pink, navy blue, beige, gray, and classic black. The versatile piece has drop-down cupholders and tufted seats to enhance your comfort. 
No matter what style sofa and bed combination you're searching for, you will find it on 1Stop. Choose a financing plan to fit your budget, and don't hesitate to purchase your set today.