Whether you're moving into a brand-new house or it's just time for a refresh, furnishing your home is a great way to give your space a different look. But when it comes to buying furniture, how much does it cost, and what should you expect to budget for each room? This guide has some helpful information about the cost of furnishing a house and includes a general room-by-room breakdown to make your next shopping trip easier.
Living Room
source: pinterest.com
When shopping for living room furniture, start with the most important piece: the sofa (or sectional). Once you choose the seating, you can gradually shop for accents like end and coffee tables, ottomans, and lamps or accessories. Here's the average cost of living room furniture to help you get started.
Sofa: Sofas generally cost anywhere from $700–$3,000. If you're upgrading to a sectional, they tend to cost more, at around $1,500 to $4,000.

Chairs: Accent chairs run between $400 and $1,000, while a loveseat may cost between $600 and $1,500.

Coffee table: Plan to pay between $200 to $2,000 for a new coffee table, depending on the brand, size, and material.

End/side tables: These smaller tables run between $150 to $1,000 and can be sold individually or as a pair.

Lamps: You'll want extra lighting, so budget between $200 to $900 for stylish table and floor lamps.

Area rug: If you want to tie it all together, a nice area rug runs from $200 on the low end to $2,000 on the high end for Persian and hand-knotted options.
Estimated Total Cost
Budget around $3,500 to furnish your living room on the lower end and up to $8,000 or more on the higher end if choosing luxury brands or designer furniture.
Bedroom
source: pinterest.com
The cost to furnish a bedroom is higher if you buy a king or California king-sized bed. Factor in other expenses, including a box spring and mattress, nightstands, and a dresser for storage. You can often save money by purchasing a complete bedroom set that includes all the basics.
Bed (or bed frame): This furniture ranges from $150 for a basic bed frame to $2,500 or more for higher-end designs and larger sizes.

Mattress and box spring: Prices vary wildly, but it's usually around $850 for a queen-sized innerspring mattress and $1,650 for a queen-sized hybrid mattress. Add another $100 to $300 for the box spring.

Nightstands: The cost for nightstands ranges from $100 to $1,000, and you can buy one or two to place them on each side of the bed.

Dresser: Plan to pay anywhere from $300 to $2,000 for a nice dresser or cabinet. Armoires tend to cost more than standard dressers.

Mirrors: Some dressers come with a mirror, while others require you to buy them separately and may cost anywhere from $50 to $500.

Benches: A bench is typically considered an upgrade or accent to a bedroom and usually costs between $200 and $1,000 on average.
Estimated Total Cost
Furnishing an entire bedroom costs anywhere between $2,000 and over $12,000. Consider buying a bedroom set or aim for a minimalist bedroom design to help save money and make the shopping experience easier.
Dining Room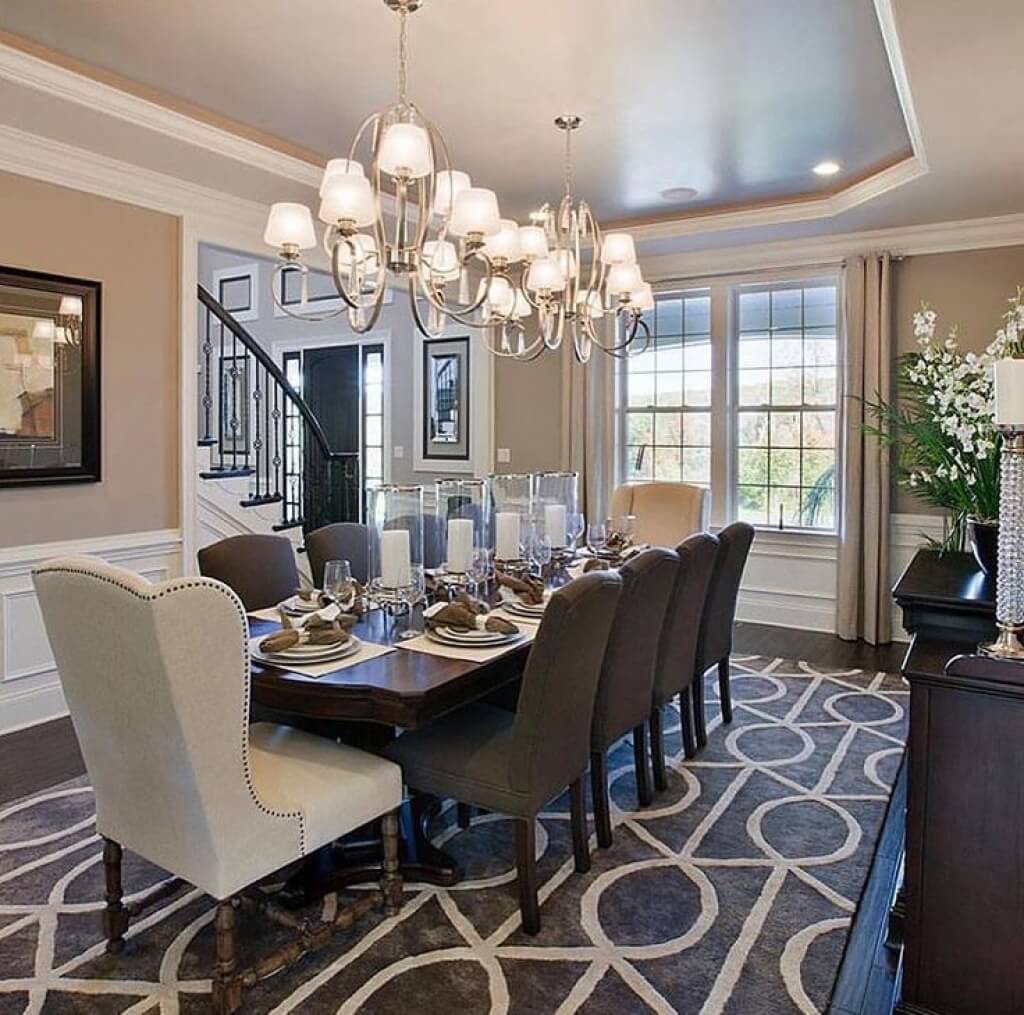 source: pinterest.com
The dining table is the most essential piece of furniture in your dining space, so spending a bit more is worth it. Don't forget to include comfortable, durable chairs and other furniture that will last and be easy to clean. A buffet or cabinet will be an additional cost, but they're worth it for the extra storage they provide.
Dining room table: A quality

dining room table

starts at around $150 on the low end and can go up to $4,000 or more.

Dining chairs

: Plan to pay between $100 and $2,000 per chair, depending on the manufacturer, the style, and where you purchase them.

Buffet, sideboard, or cabinets: This furniture comes in various sizes and styles. Prices can be as low as $100 up to tens of thousands of dollars.

Bar cart: A bar cart is a stylish and affordable alternative to traditional dining cabinets, costing between $50 and approximately $2,000.

Lighting: If you're planning to upgrade your dining room's lighting, prepare to spend between $200 and $1,000. A quality chandelier can be an excellent addition for those aiming to incorporate

Colonial decor

elements into the space.
Estimated Total Cost
The cost to furnish a dining room varies depending on the size of the table, how many chairs you need, and the type of storage furniture you choose to add. Overall, it should cost $1,500 to $10,000 to furnish a dining room.
Home Office
source: pinterest.com
You should consider furnishing a separate workspace even if you don't work from home. Furniture for a home office includes a desk, desk chair, file cabinet, and a bookshelf or other form of storage. Your cost will vary based on the size of your desk, the quality of the chair you choose, and how much storage you need.
Desk: Simple computer or writing desks range from as low as $100 to around $600, while a large executive desk or a desk made from solid hardwood is closer to $500 to $2,000.

Chair: Look for a quality, comfortable chair that will provide adequate support. Basic desk chairs are around $100, while higher-quality options range from $500 to $800.

File cabinet: A locking file cabinet is ideal for keeping paperwork secure, but the average price ranges from $100 to $700 based on the quality and size.

Bookshelf: Choose a stylish bookshelf or cabinet to store your books and office accessories. This furniture ranges from $200 to $1,000 on average.
Estimated Total Cost
You should prepare to budget between $2,000 and $10,000 if you want to furnish a complete home office with the essentials.
Start Furnishing Your House Today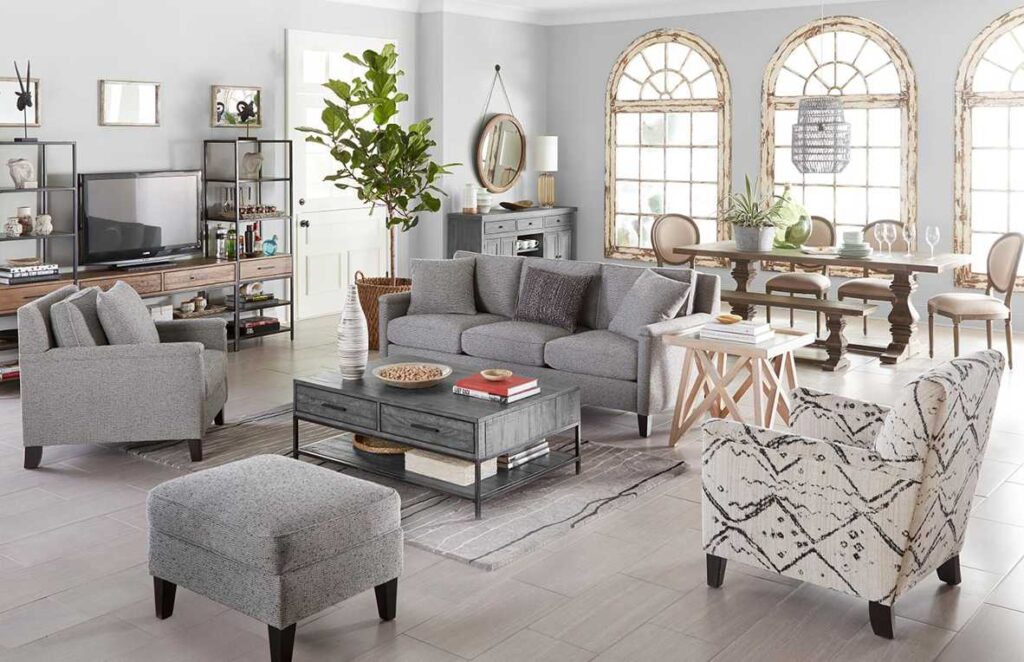 source: pinterest.com
To furnish your entire home, plan on paying between $9,000 and $40,000 for a living room, dining room, one bedroom, and a home office. Remember that you may incur extra costs for things like furniture handling and delivery, white glove service, or custom furniture. You can always budget and pace yourself by furnishing one room at a time or look for seasonal sales and other discounts to help you save.