Outdoor living areas are being used more these days, as people have been forced to stay at home and make the most out of it.
People have taken to online shopping to order new furniture, outdoor decor items, and more items that will help them turn their outdoor living area into the ultimate party place. Some people may have a giant backyard with infinite space, while many have to make the most out of a smaller outdoor area. Regardless, there are tons of opportunities in creating a great outdoor living area that is comfortable, relaxing, and impressive.
To learn about some of the newest trends in the outdoor living space, we talked with designer Nora Mitchell of Household Advice. She offered up some great insight into how anybody can transform their outdoor living area into a place that will impress their future guests.
Outdoor Flooring Options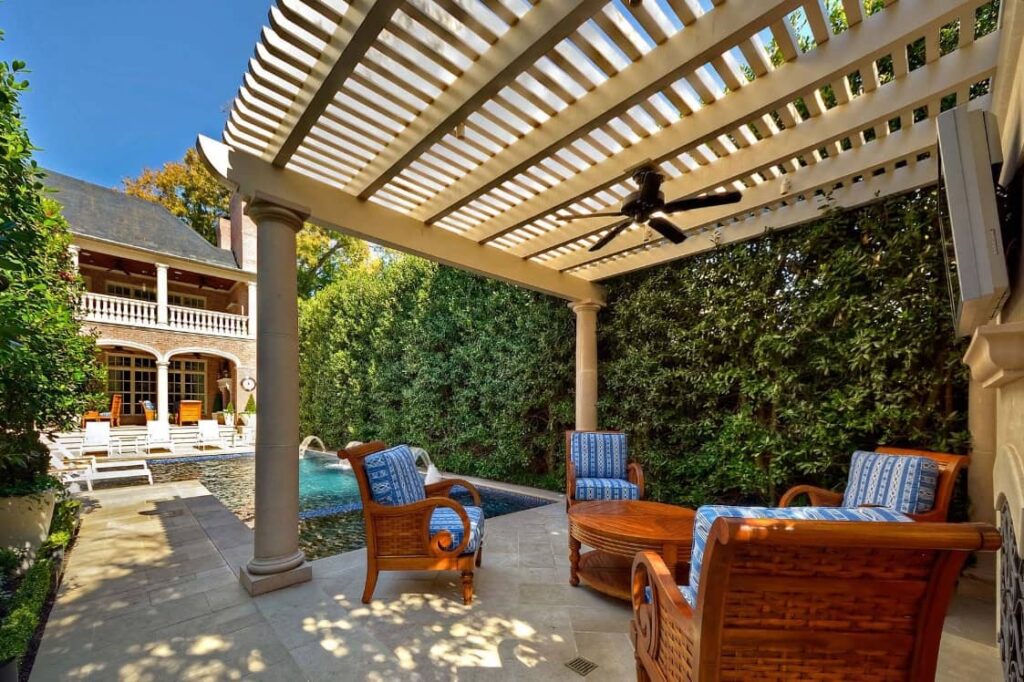 source: home-designing.com
A great outdoor flooring option can turn your backyard area into a more organized, maintainable space that will almost feel like an extension of your home. It will help create an even surface, can cover up weeds, dirt, and stone, and will be much more comfortable for entertaining.
From wood, stone, outdoor vinyl flooring, rubber flooring, and beyond, there's lots of options to choose from. Do your research and find the outdoor flooring option that is right for your backyard.
You can utilize your space by adding a deck with beautiful deck boards. But if a solid wood deck is not to your taste or is outside your budget range, eco-friendly composite deck boards are excellent alternatives. They look like wood and even have that grainy feel you get from natural wood. With deck boards like this, you can maintain the wood aesthetic.
Take Advantage of Nature
You can turn your backyard into an extension of your home, but you'll still want to take advantage of the outdoors and things like nature to really create a magical place. The best way to turn your backyard living area into a natural oasis: bird feeders.
There's tons of backyard equipment for attracting birds that can lure your area's birds to your yard. Hang some bird feeders and fill them with different types of food and, eventually, you'll have a revolving door of birds visiting your backyard. Just sit back and enjoy the beauty.
Various Seating Options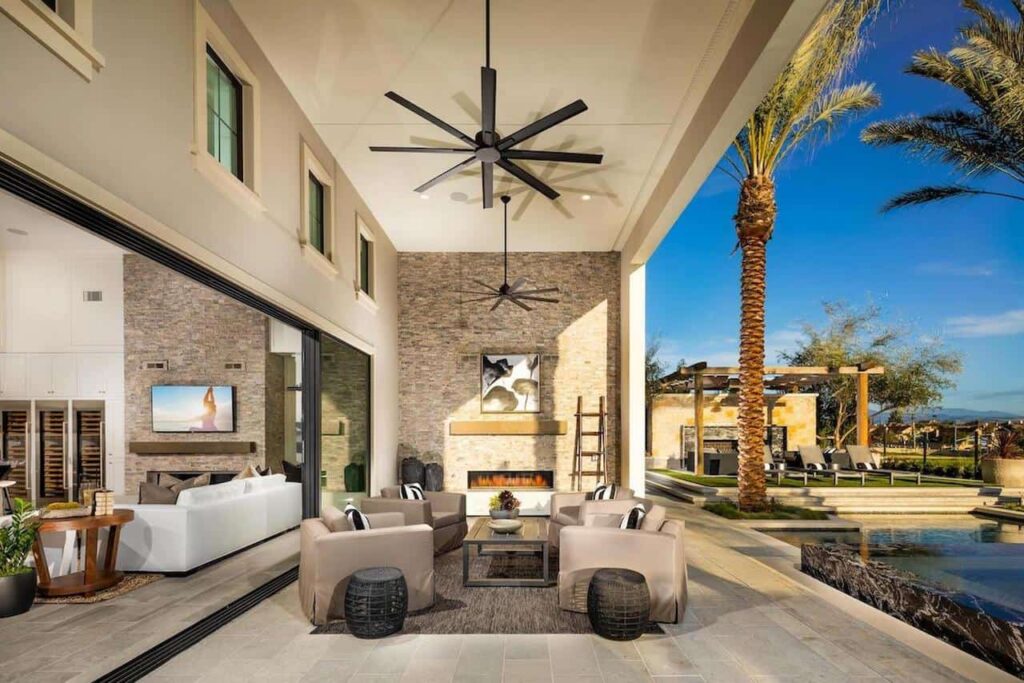 source: luxatic.com
Don't you hate it when you go to someone's home to sit in the backyard and all they have is 10 generic lawn chairs that are uncomfortable and cheap? So do I, so don't do this in your backyard.
Purchase a variety of seats to give yourself and your guests the option of how they want to sit. From basic cushioned chairs to loungers and beyond, there's so much out there for you to create an eclectic seating area with. Take a look at your local resale marketplaces to find some unique chairs to really take things to the next level!
Impress with your Sound System
Hidden speakers might be the biggest outdoor trend in 2021 for obvious reasons. It's great to have some music on in the background and it's trendy to not be able to see the speakers. You can embed your speakers into the deck, purchase lawn ornaments that double as Bluetooth speakers, or you can even attach them to a tree or your house in general.
Nothing impresses like pulling out your phone and instantly starting the party with the touch of a button. Just don't disturb the neighbors, because you don't need that headache to bring you down.
Some Heat!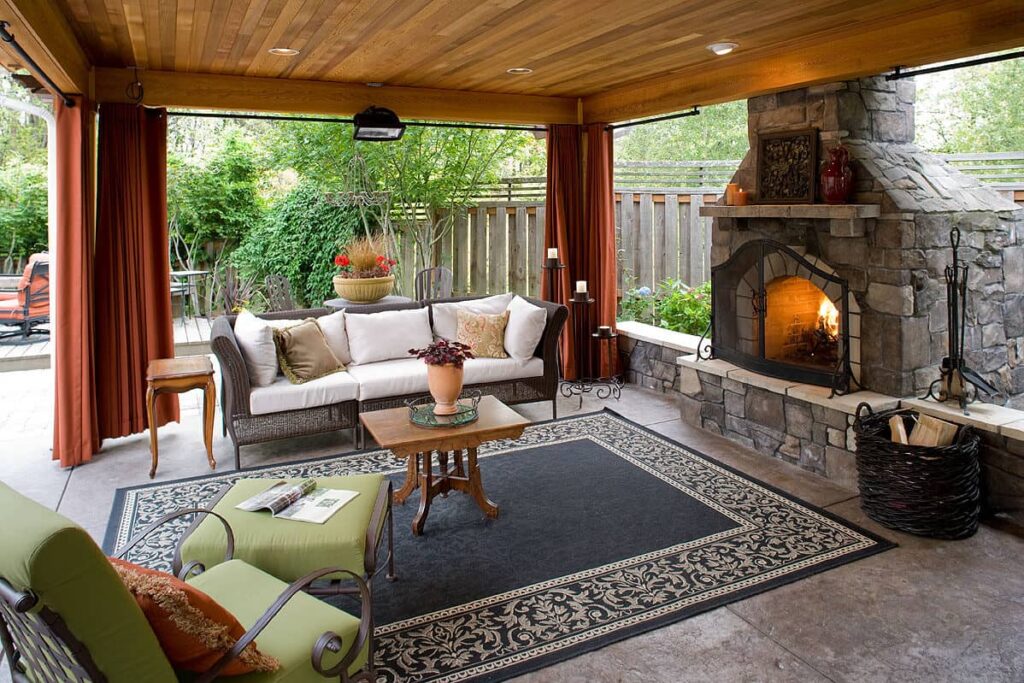 source: mydecorative.com
Outdoor fireplaces are always very trendy right now for backyard spaces. There are tons of new models on the market all the time with a variety of styles, from open flame to propane closed flames with a glass front.
They serve as a great entertainment piece, can provide some excellent heat when you need it, and look excellent! They don't take up much space but do some wonderful things for any outdoor living space.
Have you thought about taking your backyard to the next level?
There are endless options for enhancing your outdoor living area, especially in 2021 when so many new products are being released. It's a great way to increase the value of your home, provides you with extra space to live, and can be the perfect place to entertain guests.
Leveling up your outdoor living area is a home upgrade worth doing! So, what do you have planned for your outdoor living space?