It's hard to overlook the benefits of hardwood floors. From its warmth, elegance, and durability, hardwood flooring remains as one of the most popular flooring options for homes.
If you've chosen to update your home with hardwood flooring, there's another decision to make. Should you go for dark or light flooring? This article will help you finally get to the bottom of the dark vs light hardwood floors debate.

Consider Your Needs & Lifestyle First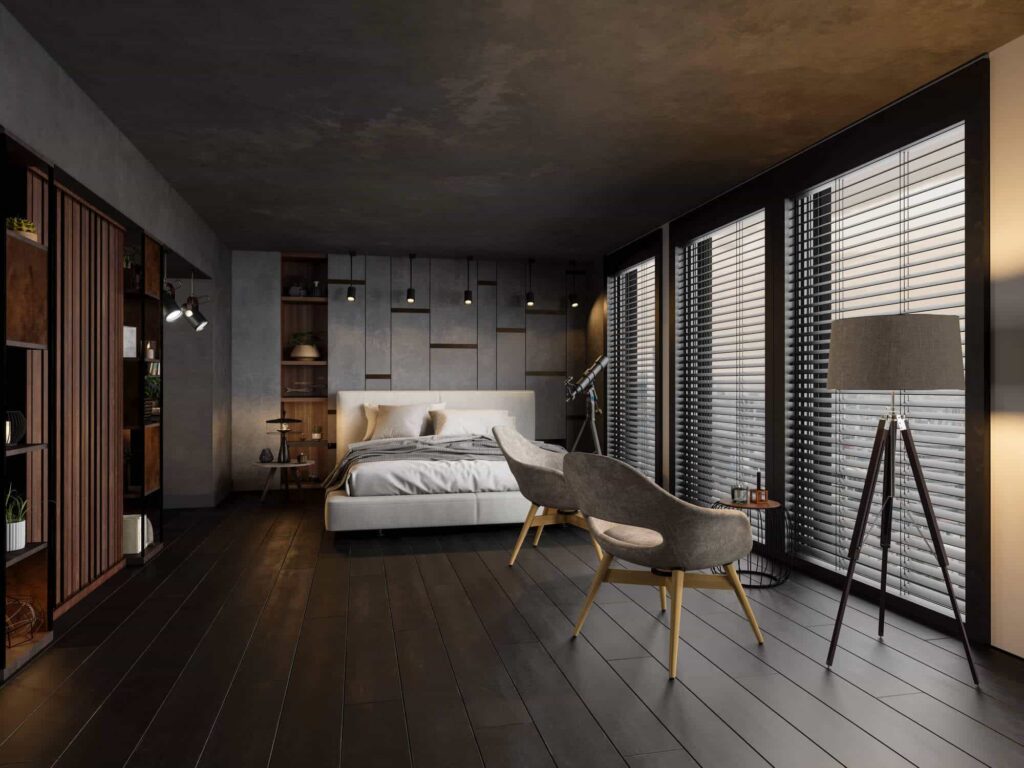 For both new and seasoned homeowners, hardwood stands out as one of the top flooring choices when renovating their homes. But choosing between dark or light hardwood really depends on your own personal style. To help nail your decision, think about these factors below.
The overall style you're trying to capture in your home should help you decide between the colour of flooring. If an airy, Scandinavian-style home is what you're hoping to achieve, then it's best to choose a lighter hardwood. Darker hardwood flooring, such as cherry or walnut, suits a more traditional or rustic design.
The size of your space is another factor to consider. If you're working with less square footage, it's better to opt for lighter floors as they help create the illusion of a larger space, especially if the room lacks windows.
You should also keep in mind how busy your household is. With lots of foot traffic and activity, from young children or pets, there's a greater chance of your flooring getting scratched. Lighter flooring does a much better job concealing any scrapes or scratches.
Dark Hardwood Flooring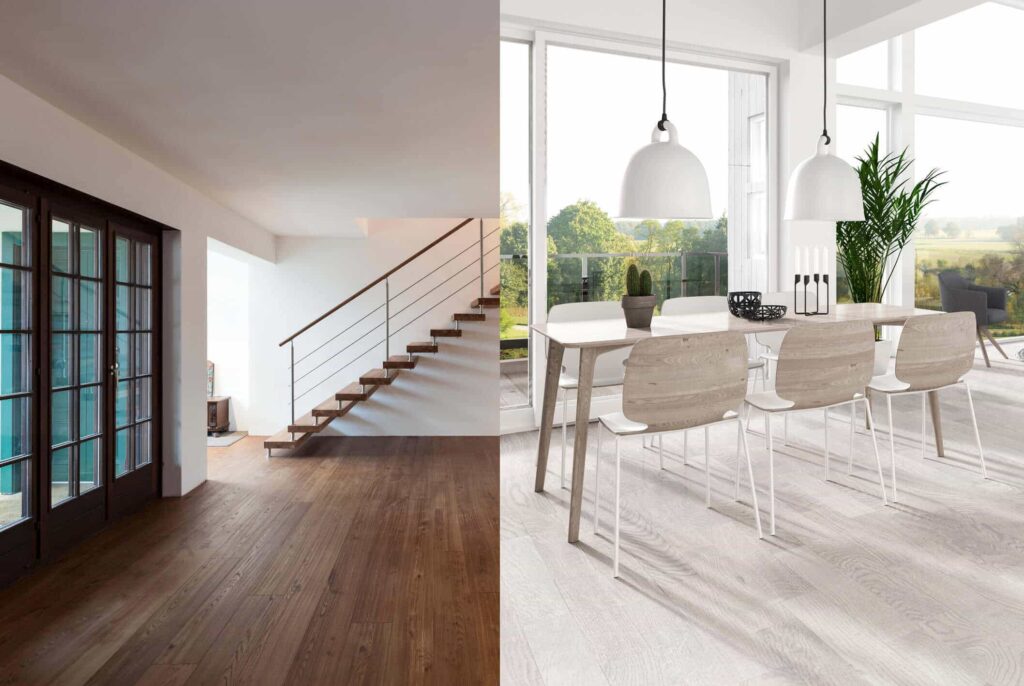 Let's take a closer look at the advantages of darker coloured flooring. As a classic choice, dark floors instantly make a home feel more warm and rich. Your home should always feel inviting for your guests – with a deeper palette, it's easy to create that welcoming feeling within your home.
There are many gorgeous types of naturally dark hardwood options to choose from. Mahogany, walnut, cherry, and hickory are just some of the most appealing options.
If you're looking to add a rustic farmhouse vibe to your home, then you've got to capture a warm and lived-in look. One of the best ways to do that is with darker toned floors, ideally in wide and long planks. As for your finish, a matte option would help tie everything together. Low gloss floors look more natural, which suits a rustic design perfectly. Homes that are designed in traditional or industrial styles would also look stunning with deeper toned flooring. 
Before settling with dark hardwood floors, keep in mind that they require higher maintenance in terms of cleaning and preserving their looks. Regular cleaning – which involves vacuuming, dusting and mopping –should happen on a weekly basis to keep your floors in great shape.
Light Hardwood Flooring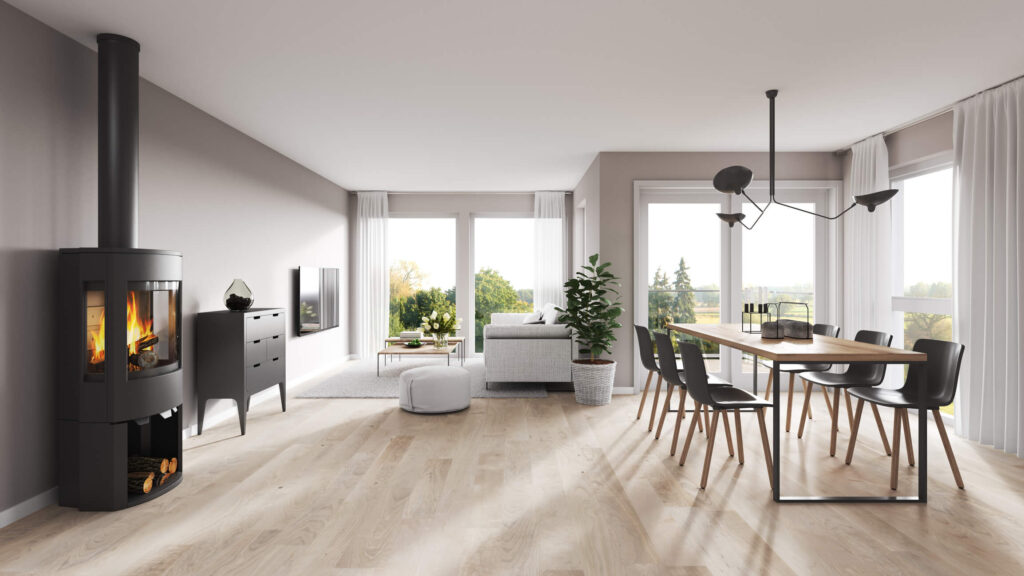 Light hardwood floors are well-loved because they add an airy, modern touch to the home. They instantly brighten up space and offer numerous design opportunities since they act as a neutral backdrop. Oak, birch, and maple are a few beautiful hardwood options that are naturally lighter in colour.
Light hardwood floors would tie into any modern design and decor beautifully. For the lightest flooring, take a look at maple. The grain in maple is very smooth and offers a modern and chic look to the home. Because of its natural lightness, maple is commonly seen in Scandinavian-styled homes. On top of its natural beauty, maple is also incredibly durable and compared to other types of hardwood floors, it's less prone to dents and can withstand heavy traffic.

An added advantage of light hardwood flooring is that scratches, dents, and other marks are usually not as visible when compared to their darker counterparts. However, a combination of dry mopping, sweeping, and vacuuming on a regular basis will keep your floors in good shape, no matter their colour.
Hardwood Flooring is a Timeless Choice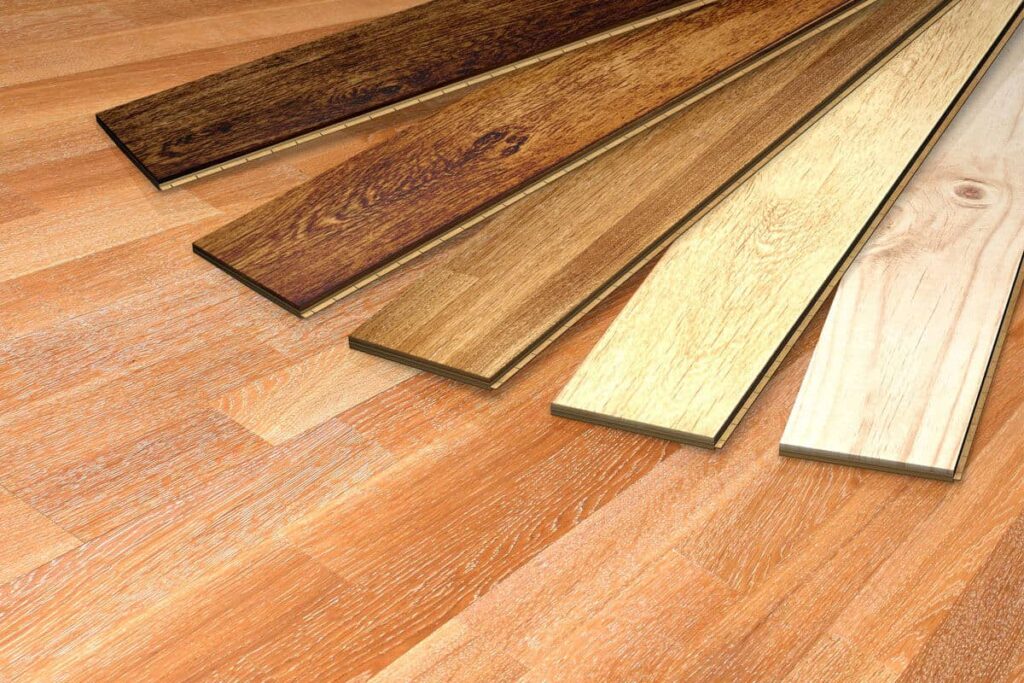 Both dark and light hardwood floors have advantages that you'll have to carefully consider. Depending on your personal preferences and lifestyle, one option might make more sense than the other. But regardless of what you choose, you can be sure that hardwood flooring will elevate your home.
Explore our collection of hardwood flooring options for more inspiration.