The bathroom serves an essential function in your home. It's a place where you'll want to feel as clean and comfortable as possible. And your guests are likely to share this inclination. Since this is also one of the smallest spaces in the home, effective planning is crucial. You don't have to go through the hassle of refurbishing everything: a few tweaks here and there might help to create a space that's visually appealing, and even luxurious.
Alter One Significant Fixture
Your bathroom will inevitably contain a few important appliances. The list will almost always include the toilet, the sink, the bath, and the shower. The good news is that you don't have to replace all of them. Chances are, one of them will be in greater need of attention than the others. You might look into a brand new bathtub, or a new toilet. Wall-hung toilets with built-in cisterns can create a sense of luxury, if the room is built to accommodate them.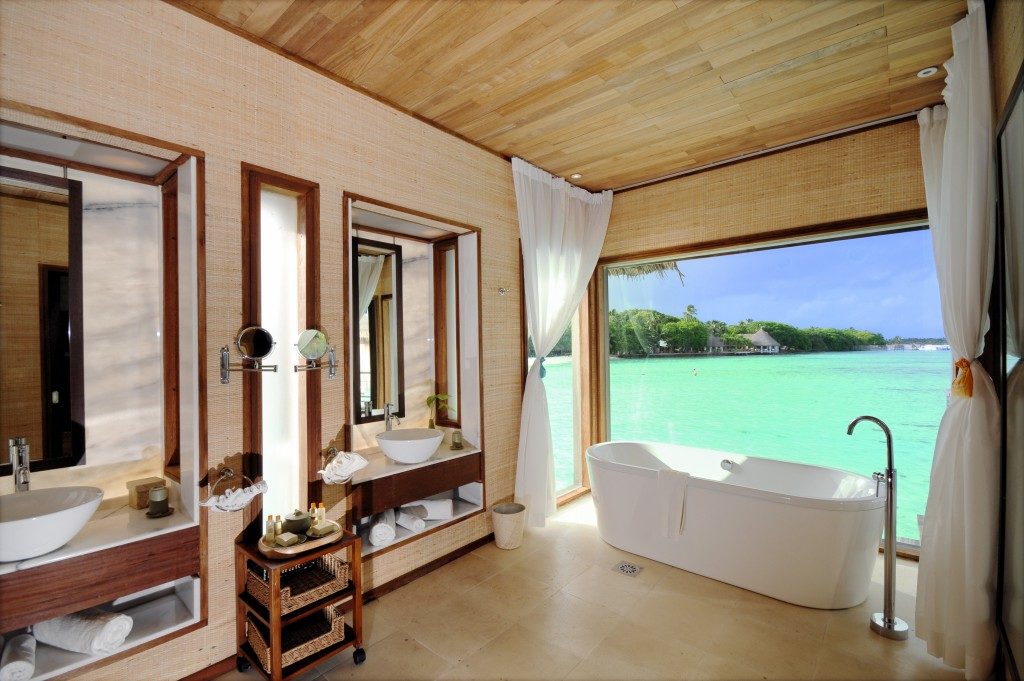 source: pinterest.com
If you'd prefer to keep things more affordable, you might look at replacing the cabinetry, instead. Going for something bespoke might be worthwhile: if you have some skill with woodworking, you can get it done yourself on a modest budget.
Fresh towels
source: pinterest.com
The colour and freshness of your towels might have a big impact on how the space feels. If you're drying yourself with something that's plush and fluffy, you'll end up feeling better about the challenges of the day ahead. Look for colours that set the right mood and complement your existing bathroom decor. 
Include plants
source: pinterest.com
A few choice pieces of greenery can help to create the right mood in your bathroom space. There's some research to indicate that synthetic plants offer the same psychological benefits as the real thing. Plus, you'll create less work for yourself this way.
Emphasis on scents
source: pinterest.com
Looks matter a great deal – but scents do, too. In the bathroom, you're inevitably going to devote attention to controlling unpleasant odours. But it's also worth putting in a few pleasant ones. Aromatic soaps and candles can both make a major difference, especially if you're the sort of person that enjoys relaxing with a good long soak.
All of the modifications we've considered here will make a difference to your life in the bathroom. But it's also worth thinking about your bathroom habits, and what you might do to cultivate new and better ones. Drawing up a cleaning schedule and sticking to it might help to ensure that your bathroom space looks and feels immaculate, and that you avoid problems with the plumbing before they occur.