From a simple room solely used to perform the primary functions in, to one's private sanctuary, the bathroom has undergone considerable changes over the years. With the busy lifestyles that we lead as modern-day people, it's not difficult to see why more and more people are leaning towards making their bathroom a true oasis that oozes serenity.
Much like the rest of the home, be it the living room, bedroom or hallway, the bathroom is used to express the homeowner's personality. This explains the vast array of designer bathroom fittings and accessories available in a variety of styles and materials at most specialized bathroom shop centres and online stores alike.
Consider Your Taste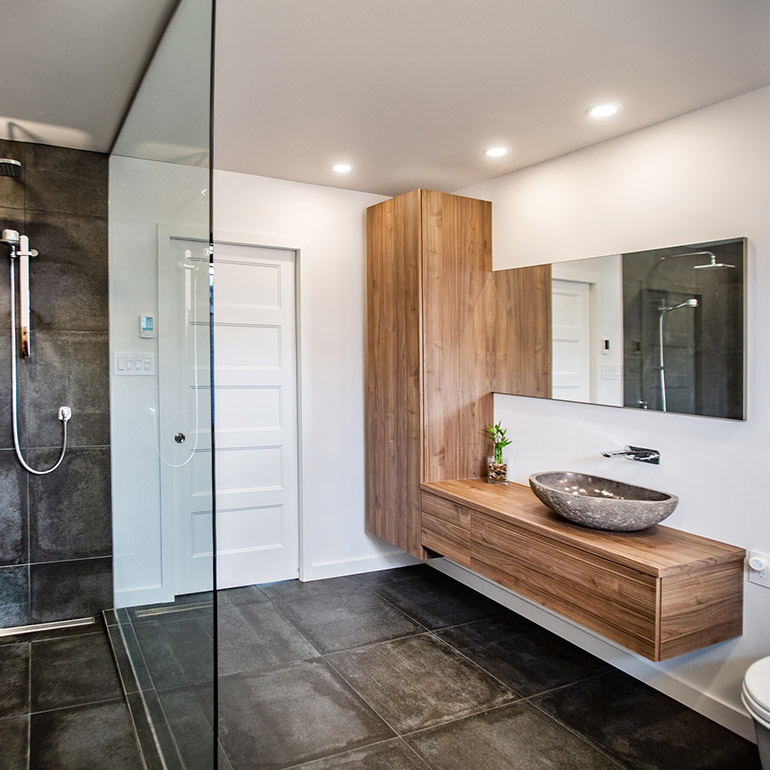 To get the idea of where you should begin with such a project, it's necessary to first determine your preferences so that you get on the right path when choosing from the endless options of trends and bathroom pieces.
For instance, even though black may be a timeless choice as it adds a bit of drama and opulence, you could still go with grey if you're looking for that middle-ground between white and neutral that's not as bold as black.
Tired of white marble for tiles and walls? There are some exquisite blue and pink textured alternatives you could incorporate in your bathroom's design. But, if you're up for a truly unique artsy look, that's what Zebrino marble is for; move over Carrara!
Are you fond of both cool and warm metals alike? Well, you no longer have to choose strictly from one or the other when buying tapware and hardware from your favourite bathroom shop. You can create your own mixes to show off your individuality and reap the aesthetic benefits of both contemporary and vintage statements.
Feel free to mix brass with black matte, chrome with brass, nickel with brass, and copper with steel. You can even choose three options at once, like silver, gold and black by adding the mirror and light fixture finishes in the equation too.
Out with the Mess, in with the Order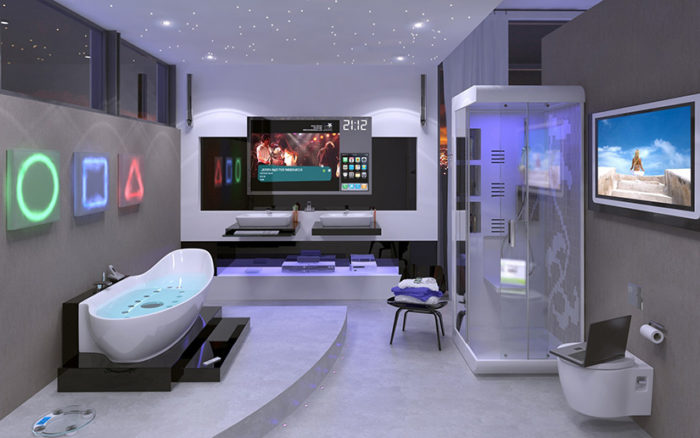 It's meant to be a sanctuary for a reason: it serves as the room where we can unwind and relax after a long day at work, forget about the world for a while and focus on yourself. That being said, other than acquiring all the bits and pieces that would make up your sanctuary (from fluffy towels and a bathtub with hydromassage nozzles to organic shampoos and body washes with essential oils), it's important to take storage seriously and invest in the ideal vanity as the room's focal point.
Sleek and minimal designs without handles are more than welcome as they keep everything meticulously organized in hidden compartments out of sight. There are various sizes of vanities to choose from, created for both small and more spacious bathrooms.
However, if you need more storage than vanities provide, you can opt for other solutions, starting from adding shelving and organizers inside the mirror and vanities. Unless you have room for heated towel rails, try installing multiple towel racks on the walls and door, and consider getting a shower niche too.
Even if you don't have a shower, the recessed shelf in the wall is perfect to be fit above the bathtub as well. A word of advice – put all of this storage to good use so you know where each item is stored. That way, you'll avoid wasting time trying to find what you need in the morning. Also, get rid of those items that you no longer use so you'd steer clear of mess.
Sustainability Is Key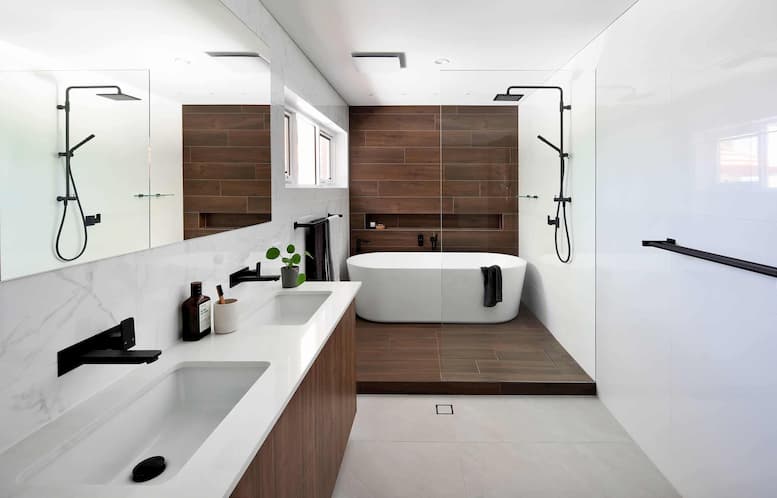 What makes the bathrooms of today so special is the fact that they can be truly sophisticated but not at the expense of sustainability. You will come across a lot of bathroom fittings that are both aesthetically pleasing and environmentally-friendly. Think of eye-catching tapware that complies with the WELS regulations for water conservation.
But this isn't all there is when it comes to reducing your carbon footprint. Apart from buying such tapware, you can take it a step further by opting for a low-flow shower head. Or, if you simply must have a bathtub, buy a smaller one instead, so you can cut down on the water waste and still reap the soaking benefits.
Furthermore, instead of using materials that harm the environment, why not introduce more of the eco-friendly alternatives such as porcelain, glass and metal? They're sure to add more sophistication to your interior and make your space more luxurious. In terms of heating, you can reduce your costs by introducing heated flooring and heated towel rails.
Sure, the flooring might cost you more initially, but it's bound to pay off in the long run. All that while keeping your bathroom cozy, helping you save energy and increasing your home's value – an aspect that would come in handy if you decide to sell in the future.
Speaking of savings, you should give your lighting some thought too. Along with acquiring LEDs, you could also make use of task lighting to illuminate only specific areas, like the toilet, the shower and the sink, for example. To finish off with eco-friendliness, make the most of natural light by strategically placing the mirror so it would reflect sunlight.
A Tech-Savvy Oasis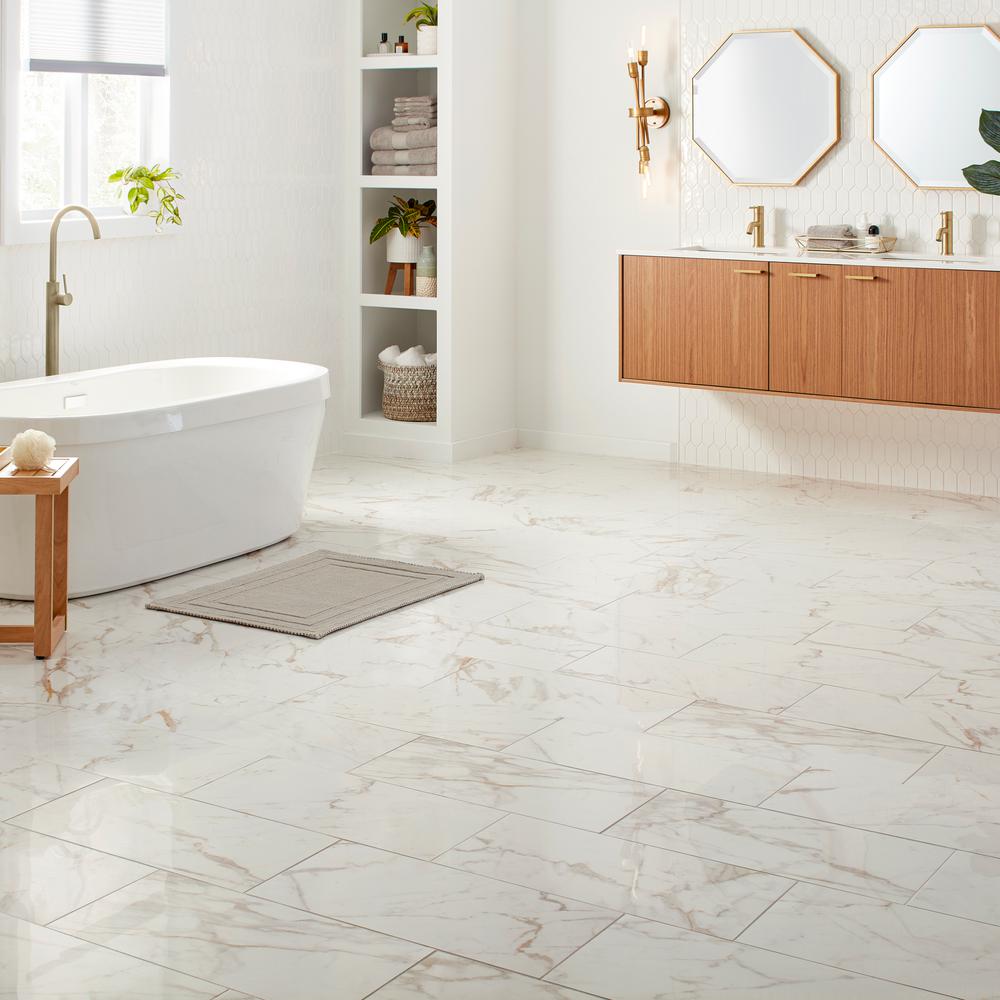 The bathroom of the future is already here thanks to how easily technology made its way in. Depending on how many gadgets you're willing to welcome, you can go as far as applying smart home automation and controlling lighting and appliances with the click of a button on your smartphone. You can even turn to digital faucets for reduced flow as well as smart toilets that are self-cleaning, equipped with temperature-controlled water, and their lids work with motion sensors.
Bathroom refrigerators are the latest trend of bathroom, and you could even make your cabinets refrigerated in case you want to store more than medicine; they can be the perfect spot to keep some drinks at hand. For those of you who can't part from their favourite series and shows, we've got you covered: waterproof TV. That way, you'd no longer have to worry you'd soak your phone or tablet while bathing and can focus on relaxing!