A rustic bathroom can be the perfect blend of traditional and contemporary design. Although interior design trends come and go, rustic bathroom ideas remain eternal and cozy. Specifically, wood mirror frames, elegant wooden wall panels, cute DIY shelves, rough stones, hardwood flooring, antique light fixtures, barn doors, overgrown plants, vintage furniture, and raw materials will make any room appear more welcoming.
If you have a large or small bathroom to construct, renovate, or remodel, adding rustic ideas will transform your bathroom decor from simple to stunning with minimal effort.
Here are some of the best rustic bathroom design ideas to get you started decorating your own bathroom.
Earthy Shades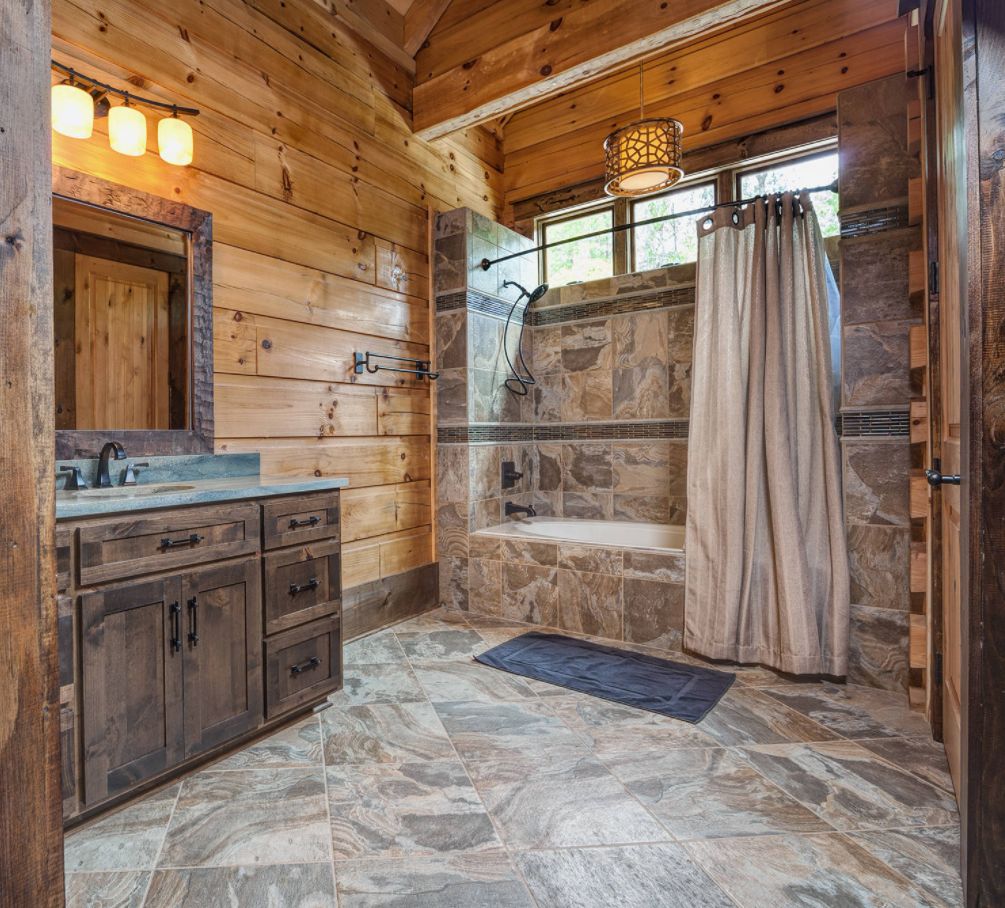 source: homedit.com
The modern rustic color scheme is inspired by the neutral tones of natural materials and features a soft, earthy palette of beige, rust, chocolate brown, orange, and charcoal that can be polished in chalky or matte. Rather than using cold paint colors and light globes, choose warm tones.
Country-Style Bathroom
The main materials of the rustic style are those derived from nature: plenty of wood (especially recycled and distressed), natural stone, and natural fabric. Another unique feature of the modern rustic style is the use of finely textured rustic materials in contemporary statement sinks, vanities, and tubs. The corrugated iron also gives a country feel to this bathroom.
Architectural Style 
If you are constructing or renovating and have the opportunity to reveal some architectural features, take advantage of it! Wooden floorboards, stone walls, and exposed beams all express instant rustic charm and can serve as the focal point of your space. Leave the unfinished wood or paint the bathroom in off-white or earthy colors.
Organic Shapes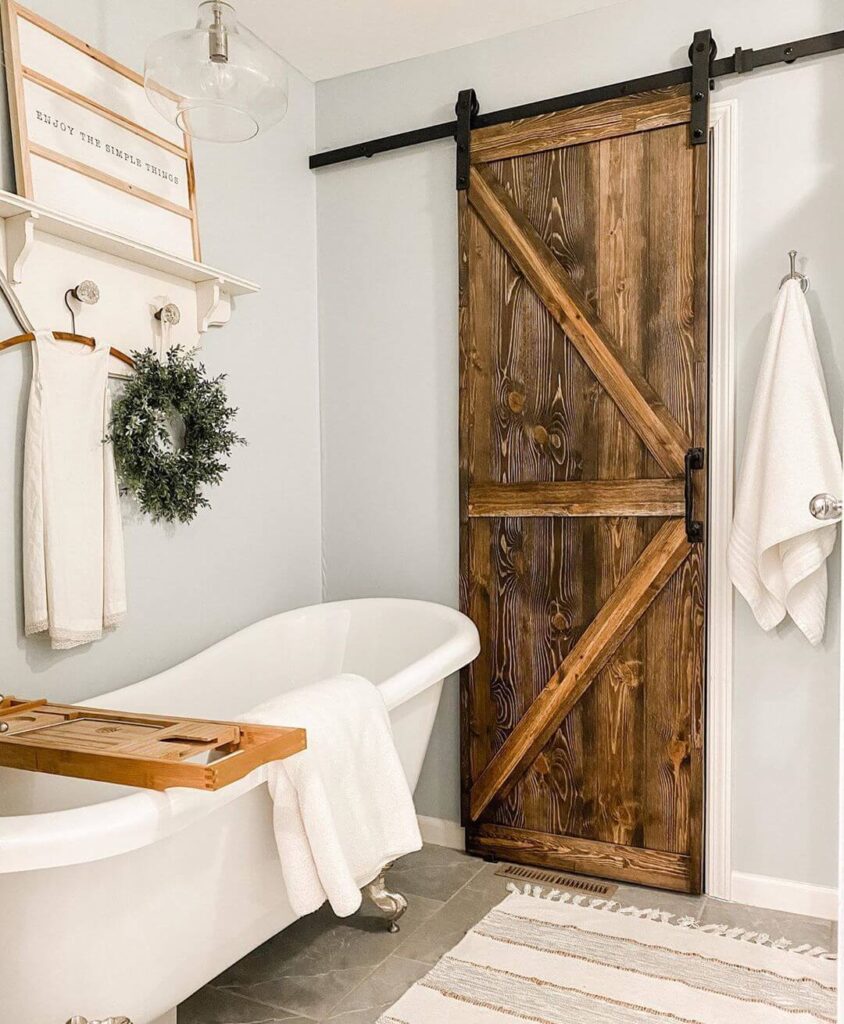 source: thespruce.com
Modern rustic bathrooms prefer to avoid rough edges and lines in favor of smoother, rounded, natural shapes and sizes. The lovely modern ovoid, curved freestanding tubs are ideal for creating a gentle, cocooning effect.
Giant Windows 
Take advantage of any large bathroom windows you might have. Traditional rustic homes aim for connection with nature and the outdoors, while contemporary bathrooms are bright and airy. With that kind of background, it's only reasonable that the modern rustic décor style strives for an array of natural light.
Bulky Furniture 
The vanity or cabinets are essential furniture parts for a modern rustic bathroom, and the rule of thumb is that the rougher and chunkier the better. Knotty or grainy woods are often selected.
A stunning statement vintage piece to contrast with modern elements may be a beautifully crafted custom timber vanity or a stunning statement vintage piece. Rather than anything too complicated, plain, minimal tapware and hardware work best.
Woodsy Ceiling
The combination of natural timber beams, concrete bathtub, and rattan accessories gives this rustic bathroom an earthy, raw vibe. The teardrop-shaped pendant lamp is one of my favorites because it adds another organic style to the room while also making beautiful patterns on the walls.
Rich Fabrics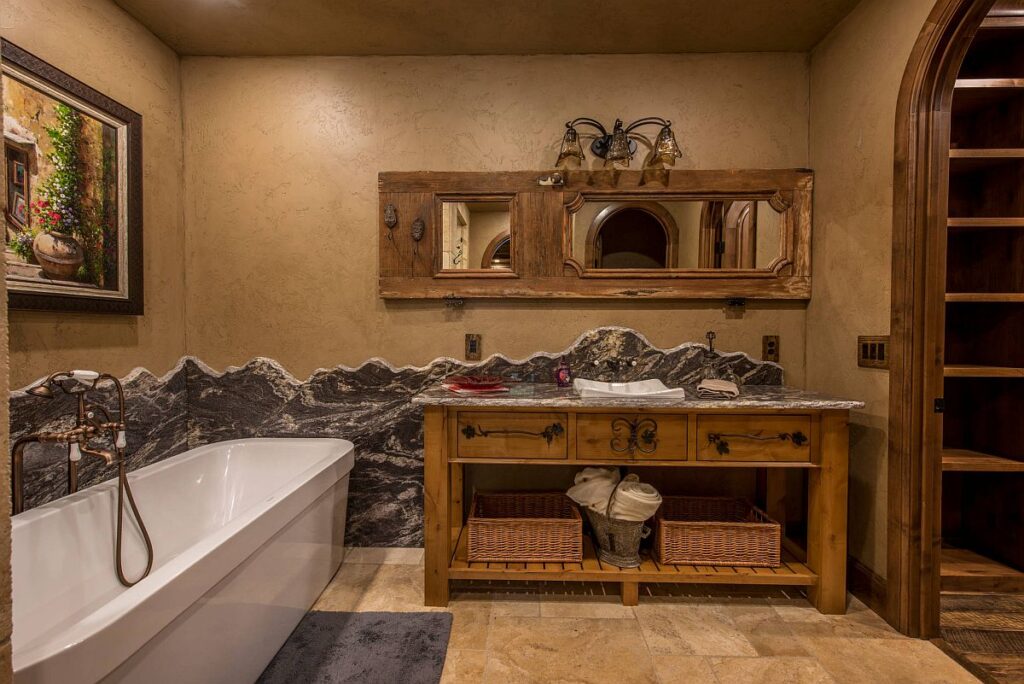 source: decoist.com
Fabrics play a crucial role in the modern rustic bathroom design. A gentle set of tactile, natural fabrics such as wool, cotton, linen, and velvet provide much-needed softness to offset the raw materials' heavy earthiness and generate textural harmony.
Huge Rustic Vanity
Pick giant furniture pieces with a solid, homey appeal made of crafted or aged wood. A very raw and pure rustic vanity made of three slabs of wood serves as the ideal backdrop for a delicate white sink, while the odd rustic wooden frame draws attention to the mirror. 
Wooden Stool 
A basic Japanese-style or antique wooden stool or small bench completes every rustic bathroom. They are aesthetically pleasing in their imperfect little organic shapes, particularly when contrasted with modern bathroom materials like glass or metals. Of course, they're also useful for showing a few things or textiles.
Pendant Lamp 
Adding organic-material pendant lamps is a simple way to bring more natural textiles into your contemporary bathroom to generate a modern rustic vibe. Oversized wicker or rattan lampshades will add flickering ambient light and warmth to the place.
Industrial Style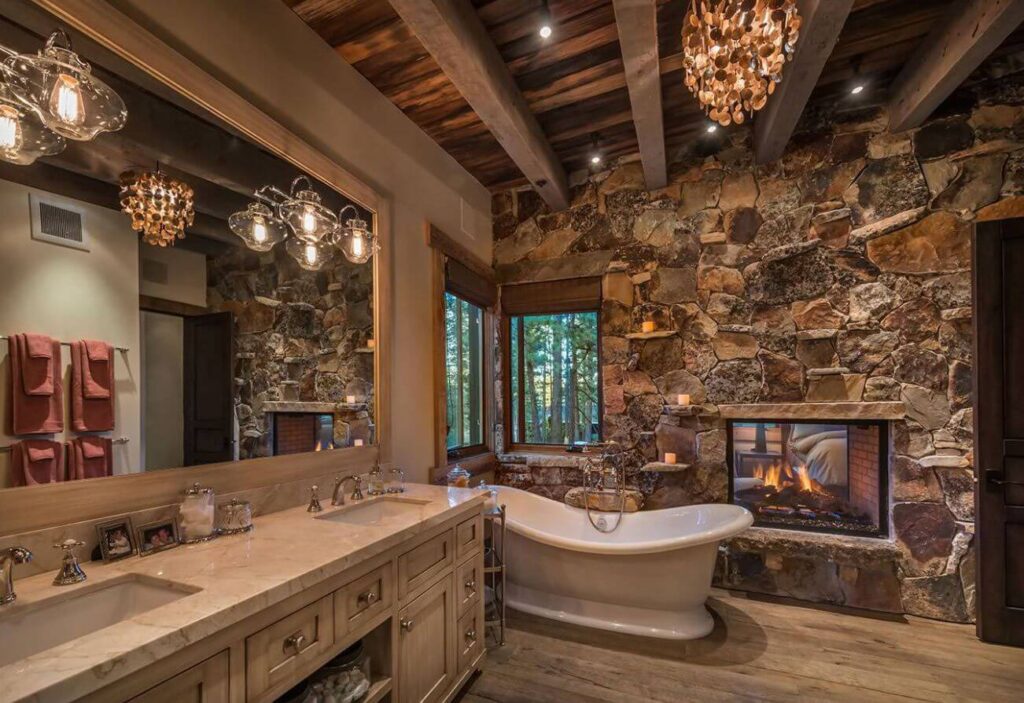 source: nordarchitecture.com
If rustic appeals to you but you want to avoid country styles, industrial rustic style can be for you. This style embraces "old meets new," combining rustic elements from nature with rustic elements from the modern, industrial world, such as metal finishes or raw concrete vanities.
White-Washed Polish
This tiny rustic bathroom has a beachy, natural feel thanks to the richness of natural light and whitewashed timber walls. The black metal and clear glass sconces are contemporary, while the warm-toned tapware and mirror frame are sophisticated.
Classic Simple
A lovely simple small bathroom design is set up here, with a very basic wooden vanity that comfortably holds a farmhouse sink. A wooden mirror box, woven baskets, and a touch of glam from the tiny candelabra sconces.
Wooden Wall With Sink 
In this subtly rustic bathroom, a sleek contemporary cement sink contrasts with natural wood wall paneling. The antique wooden chair wrapped in a tangerine knitted blanket contrasts with the minimalist black tapware and fittings.
Barrel Bathtub 
In this half wine barrel bathtub, bathing becomes a great experience. It's suitable for the countryside.
Rustic Stone Sink 
The use of a vessel sink made of metal or stone is a key component of the rustic bathroom. A stone sink contrasts with the timber vanity, and the shelf is visually stunning. Turkish towels with tassel fringes add a cultural touch and also subtle color and design.
Rustic Sink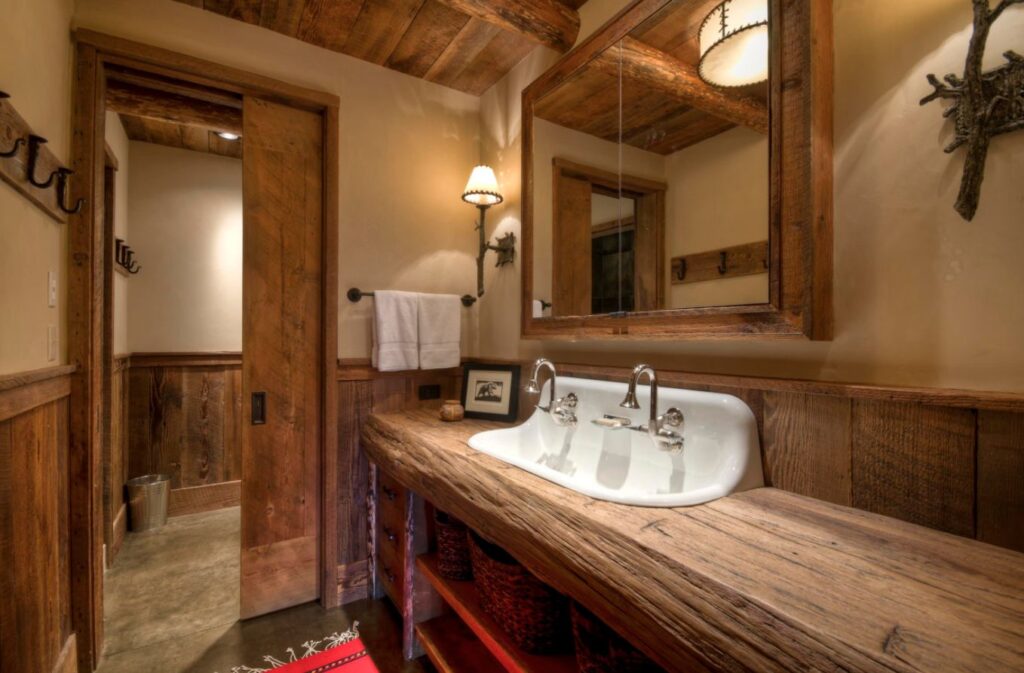 source: homedit.com
A charming little cabinet accented with a rustic blend of fabrics and textures. The rare natural stone sink with its contrasting French gold tapware is the focal point here. And let me just say that the wall sconces in this room are simply stunning!
Old-Wood Ladder 
What is the quintessential rustic bathroom feature? An antique wooden ladder that has been repurposed as a towel stand. It serves a purpose by using all of that unused wall space and instantly sets the tone. In this modern bathroom, you can see how the addition of just a few simple wooden pieces instantly adds rustic charm to space
Wooden Frame Mirror
Another easy way to add rustic glam to your bathroom is to frame a mirror in a rustic wooden frame, transforming the mirror into an artwork. What about a truly one-of-a-kind mirror frame made of tree branches, like these?
Mixup Style
The simplest way to add a rustic touch to your new bathroom is to replace one modern piece of furniture with an antique one. The retro touch of the antique mirrors gives a contemporary, while white and chrome bathroom instant win charisma. Their distressed and damaged appearance contributes to the rustic appeal.
Stainless Steel Bathtub
With a stainless steel barrel bathtub, you can bring the barn inside. The tub is the focal point of this small room and the rest of the decor is overlooked and minimalist.
Cowhide Rug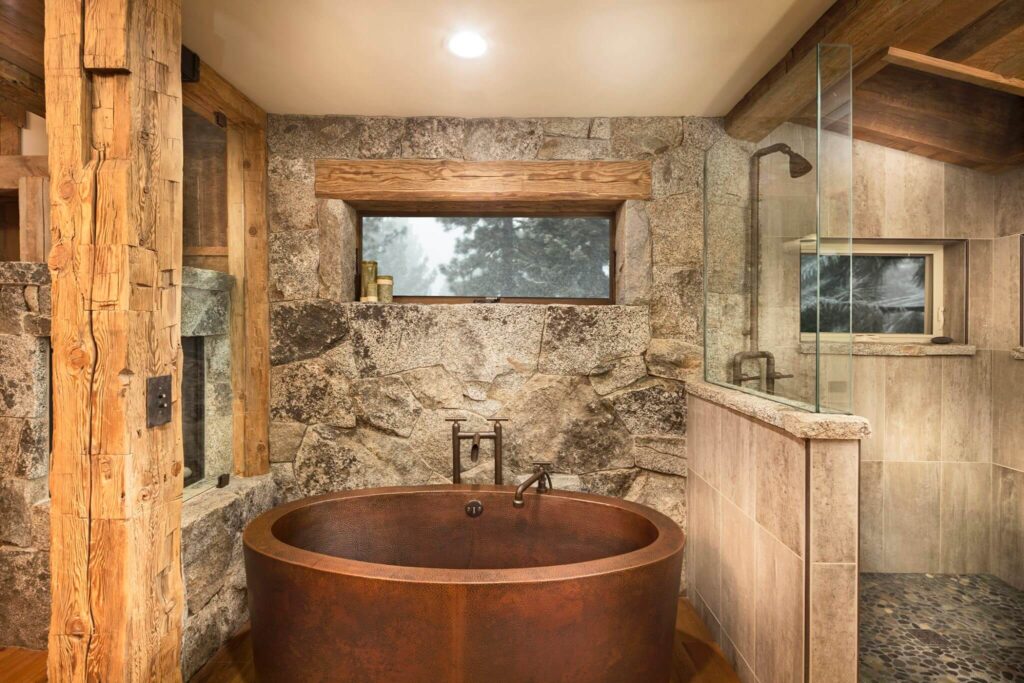 source: cloudfront.net
If you have a modern bathroom, you can turn it into a rustic modern bathroom by installing an antique, standalone clawfoot bathtub. Add some space country flair with fake animal hide rugs and some funky design flair with a distressed metal letter and some hanging Edison bulbs.
Wooden Trim Wall
There are a lot of rustic elements in this bathroom, and I think it can be dialed back. Exposed ceiling joists, a twisty wooden ladder used as a towel rack, marble vanity with a knit basket underneath, a ceramic sink, antique-style wall sconces, and wooden flooring, and timber wall trim are all present. All in a teeny-tiny room. Oh my goodness! Nonetheless, the harmonious neutral color scheme helps to bind it together in some way.
Wabi-Sabi Style
Here's an example of a wabi-sabi-inspired rustic bathroom. The shapes and forms are incomplete, unsteady, and appear to be melded with nature, plus a few artisanal textile elements added for visual appeal.
Rustic Effect
It's all about texture in this elegant contemporary bathroom. Despite the fact that the room only contains a few individual objects (tub, tables, sculpture, and light), the layered textures are so rich that the space appears complex and dramatic.
Ceramic & Tiles
 Ceramics and tiles, which provide vibrant bursts of color and pattern, are more earthy, rustic elements you can integrate into your bathroom. Look for playful shapes, dipped glazes, lots of fine detail, and intricate craftsmanship, whether ceramics are modeled as a series (as is typical in wabi-sabi style interiors) or as a single statement item.
A rustic tile splashback adds country charm to a bland wall, and the combination of antique faucets and a contemporary freestanding sink is traditional rustic meets modern.
Quirky, Playful & Bold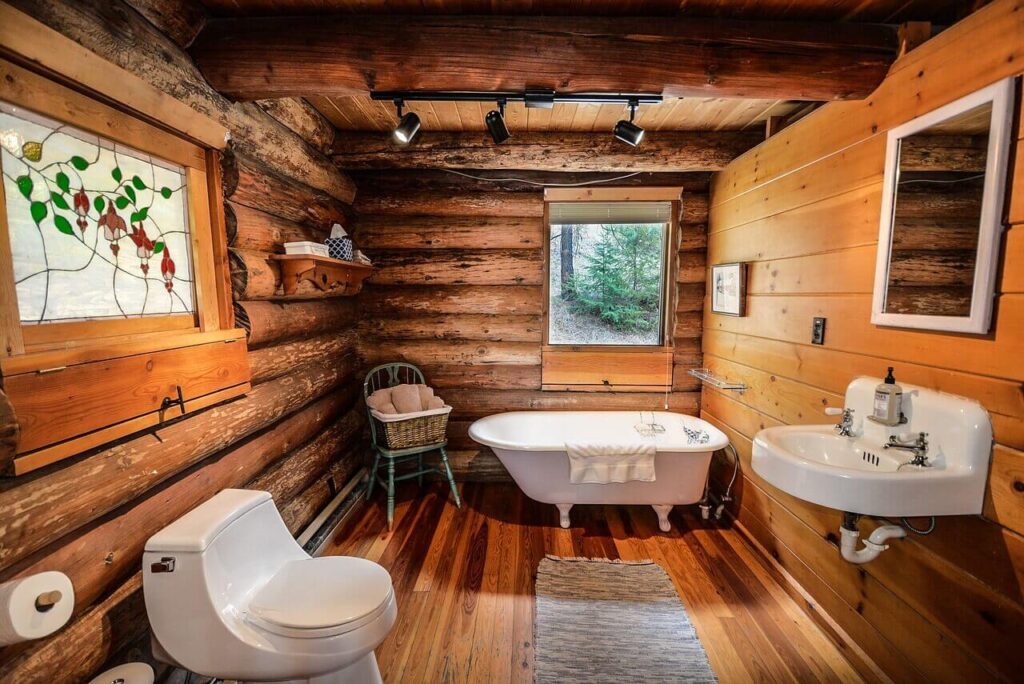 source: donpedrobrooklyn.com
A warped, tortured slab of wood has been fashioned into a vanity with a towel rail beneath. The unique vanity becomes the bathroom's focal point, while the rest of the decor is overlooked and subtle. A relaxing, Scandi style rustic bathroom is created with natural-colored walls and floors, neutral textiles, and a little plant life.
Silent Colors 
While a rustic bathroom usually has a soft, light, natural color palette of warm whites, mauves, and beiges, a darker rustic bathroom is also possible. Choose a subdued, softened color palette in elegant deeper neutrals such as charcoals and chocolate browns. To achieve harmony, stick to a few primary colors, whether you go light or dark.
Kid-friendly Bathroom 
With a trio of adorable prints featuring a couple of your kids' favorite animals, you can transform the kids' bathroom into an extra-special, no-muss, no-fuss animal sanctuary.
Retro Bathroom Wallpaper
It's worthwhile to spend a lot of money on retro wallpaper. It's perfect for a powder bath because a little goes a long way! Even the most simple bathroom can be turned into a country charmer with the addition of some pastoral paintings.
Tropical Rustic Bathroom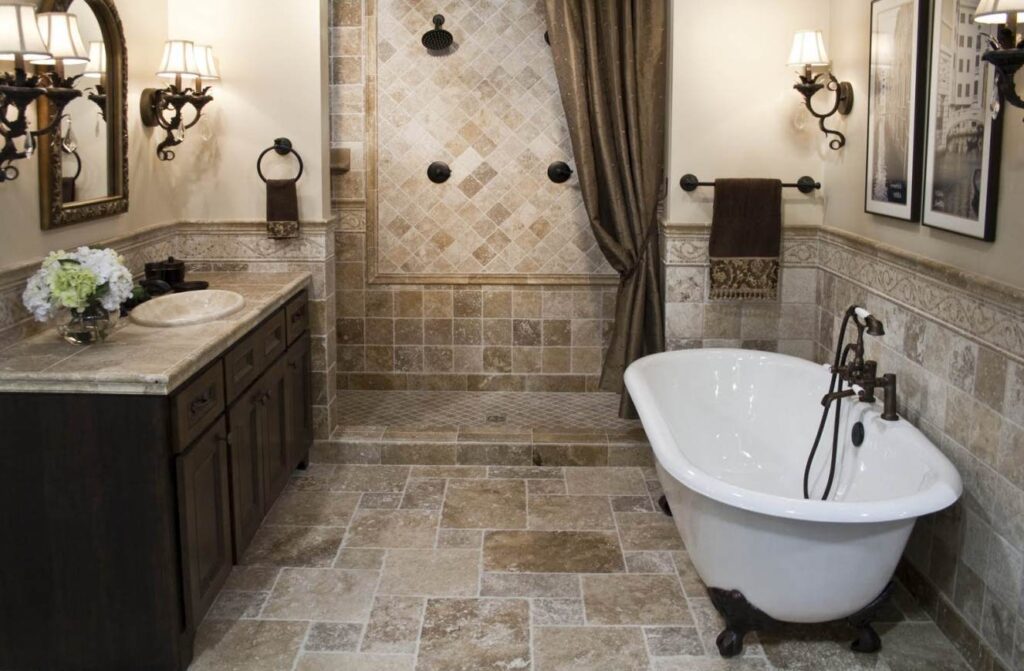 source: godfatherstyle.com
It's too easy to get the outside in. Decorate your planked walls with a pine branch, and you're ready to start singing those Into the Woods songs. Do you lack easy access to a tree? Add stacked logs, dried flowers, live flowers, or even a fiddle leaf fig to the mix.
Bathroom Display Shelf
Make a shelf in your powder room to store your pretty toiletries. Remove the back of a wooden box or an old wine crate. Make shelves to fit inside the case, then dress it up with a gilded frame attached to the front of the panel. Spray paint to achieve an antique finish.
Vivid Blue Theme
The seafaring palette is inverted here: the walls are a bright blue, while the fixtures and shower curtain are white. Since the time spent in the bath is limited, dark wall color is preferable.
Phosphorescent Lights
"The space gets amazing light during the day," the owners claim, adding that the white and soft grey palette makes it even brighter. Natural elements, such as fern wall art and a wood table, were added to enhance the country theme.
DIY Wooden Shelves
Make the most of vertical space in a tiny bathroom. These fascinating hanging shelves add flair to the room while still providing storage. They're ideal for mounting above the sink. There are several similar choices on the market, or you can assemble them yourself. Flowers and candles are often a good option for styling.