A bathroom renovation is a simple and enjoyable way to breathe new life into your house. There is a wide variety of inspiring bathroom designs and ornaments available online and in stores. However, much forethought and preparation must precede any bathroom remodeling. In this guide, we will discuss how you can remodel your bathroom according to the current trends.
The Remodel Plan
source: pinterest.com
In this first step of bathroom remodeling, you will determine the scope and budget. At this point, it's important to choose a modern layout that's within your price range and is doable with your current level of expertise. It is ideal to hire the best bathroom remodeling services in Houston. 
It's important to think about the full scope of your renovation. To what extent does the bathroom renovation extend? The alternative is to remove certain fixtures, such as the sink and toilet, and replace them with newer, more modern versions. When planning a redesign, it's important to establish a clear scope so that you can make educated selections and stick to your budget. It's useful for settling on a consistent style and approach to the design. All the hard work that goes into updating a space is for nothing if the finished product is marred by incompatibilities between the new hardware and fixtures.
Essentials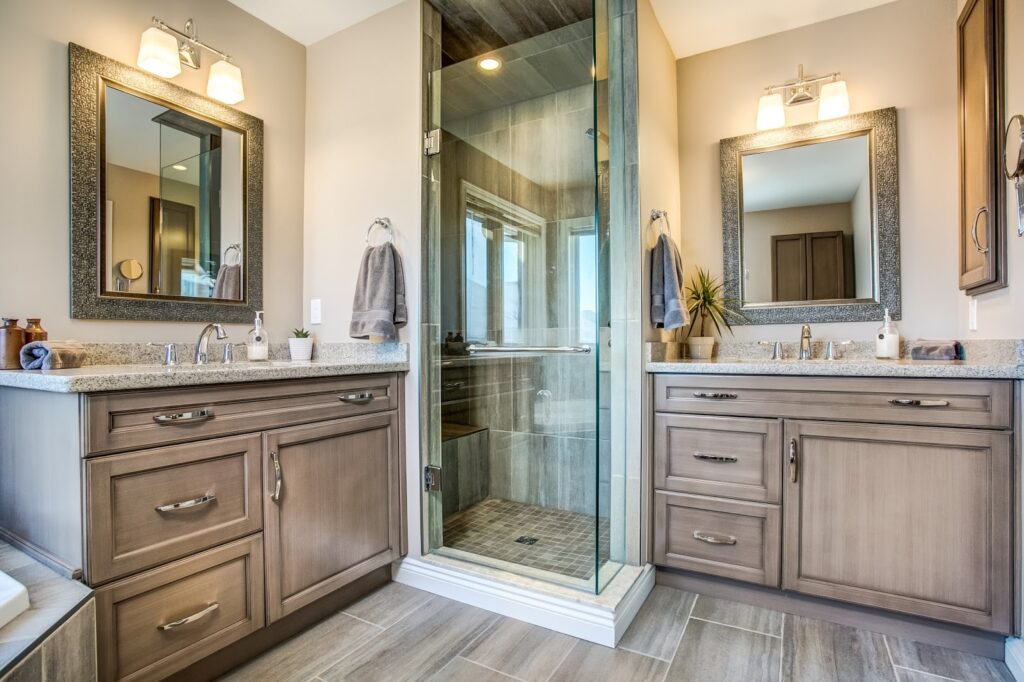 source: pinterest5.com
Tools and hardware. Do you plan on installing brand new plumbing fittings like a tub, shower, and vanity in your bathroom? The time and money required for a makeover increases in direct proportion to the number of new fixtures included in the project.
Color. A crucial component of every renovation project. This is your opportunity to replace the bland default colors with something more to your liking and to express your individuality in the process. It's important to make sure that the colors you choose complement one another.
Utilities. Find out where the water lines are before you start building. In addition, familiarize yourself with the local constructing code and the locations of all the electrical outlets and light switches, or simply hire the experts at Houston Custom Carpets.
Taking use of the available room. The design of your new restroom should be user-friendly and make the most of available storage space. Adding more storage space, such as shelves or cupboards, to your bathroom is a great way to take things to the next level.
The Perfect Layout
Depending on the size of your bathroom and where the plumbing is located, you have some leeway in how you arrange the fixtures. When planning the space's layout, it's important not to lose sight of the spa-like touches that guests will notice immediately. When you walk in, you should already be in the mood to be pampered. Ensure that there is enough breathing room between different elements. Oversized tubs in tiny bathrooms are not as aesthetically pleasing and may make the whole room seem crowded. Measure up suitably.
Functionality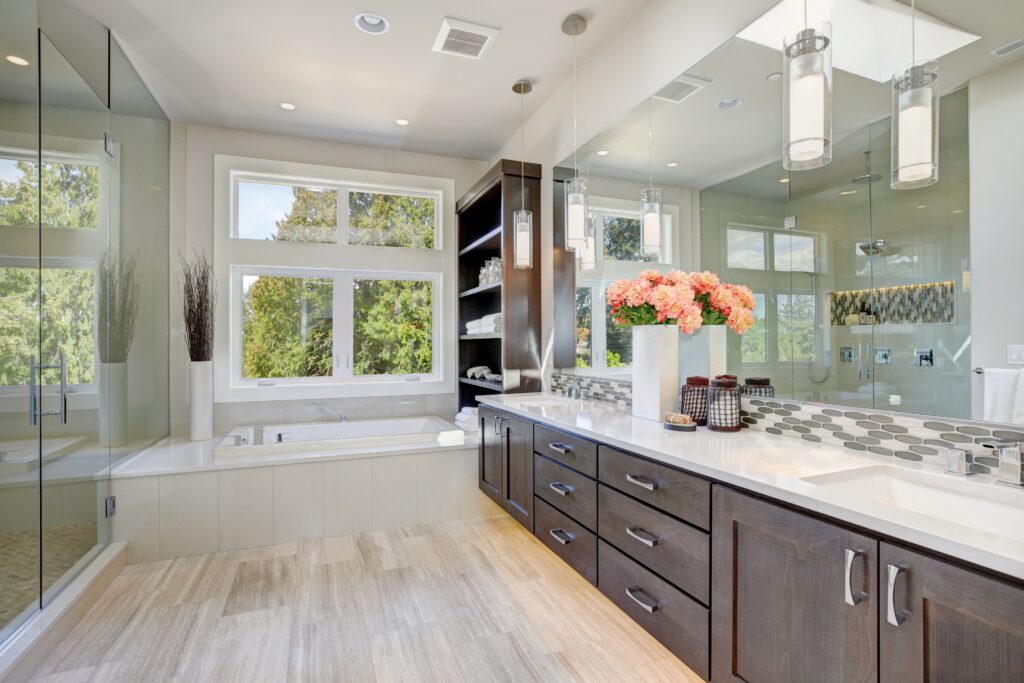 source: pinterest.com
When planning a new bathroom renovation, it's important to remember that many little details often go overlooked despite their potential usefulness. Your choice of countertop and shower design are only two examples. Make sure your showerhead can be detached and used as a handheld. Such a change may be painless in situations when rapid action is required, such as while cleaning the shower. Make sure that the height of your countertop allows you to do things like cleaning your face and brushing your teeth without any discomfort.
Small might be the new big
It's possible that the condition of your bathroom is not very terrible; maybe you're just tired of seeing the same thing every day. Okay, and sating this curiosity won't break the bank, either. It's a good idea to make a list of all the minor items you've brought with you from the previous tenants. Everything from the showerhead and towel rack to the toilet paper holder and door stop. Start looking for new options, but don't get rid of the old items just yet. The finished bathroom is usually more than the sum of its parts when it comes to remodeling projects. It's easy to lose sight of the room's finer details, yet they all serve an important purpose. The handles and knobs on your cabinet doors and drawers are a perfect example of one of these often-overlooked details. Replace the brass fasteners with matte black ones. Replace the round knob with a square bar pull for a more modern appearance. Small changes like this may have a significant effect.
Conclusion
source: pinterest.com
There are several fundamentals of bathroom design that should be kept in mind while giving your old one a facelift. Do the colors you've chosen complement one another, or do they clash? Do the designs you've chosen go well together? How much contrast will be achieved by the items chosen? Are the dimensions right, and does the plan work? Do not forget for a second that this is your bathroom! Therefore it is essential that you like the look, the features, and the way it feels. When you come in, you should have a pleasant mood. Experts at Houston Custom Carpets ensure that the client's preferred aesthetics are feasible while thinking about everything from the big picture to the smallest of details. The devil is in the details, so take your time when selecting things like lighting, tile, stone, mirrors, storage choices, fixtures, and more. You'll be glad you made an effort to create a clean and relaxing environment.
Bio
Houston Custom Carpets Flooring and Remodeling is the premier spot for the Greater Houston area's flooring and remodeling needs. As a family-operated business that genuinely cares about its customers, we offer customer service like no other. We aim to give our customers nothing less than high-quality service and truly care about their needs. Your home or business will feel like royalty!