If you live in the midst of an urban jungle – or even if you've just moved to a rural property, and the garden is a little dishevelled, to say the least – then you're probably keen to create your own lush green oasis. But how do you transform your backyard into a beautiful and relaxing haven if you don't have any professional landscape gardening skills? 
The good news is, it's easy – the only hard part will be deciding what changes you want to make, as there are so many options to choose from that will quickly upgrade your outside space. 
Intrigued? Read on for some tips and inspiration that will help to guide you as you begin carving out your very own little slice of paradise – even if you live in the heart of a loud and bustling metropolis. 
Invest In A Stunning Al Fresco Dining Area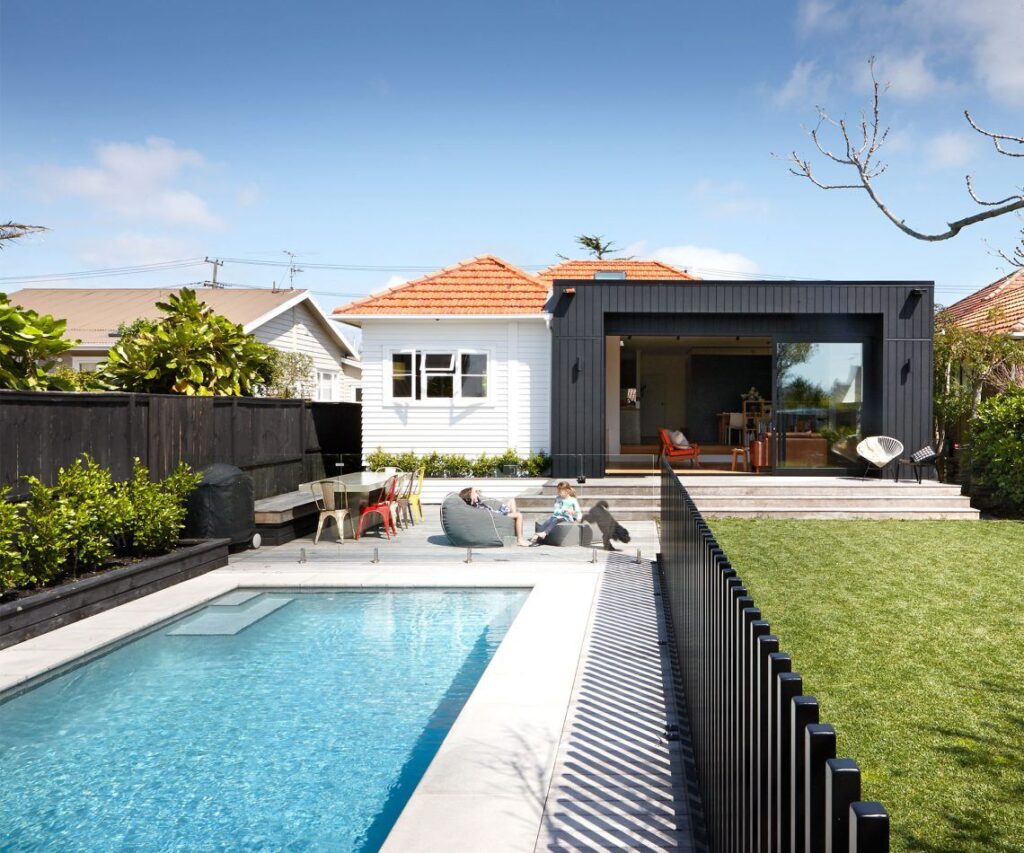 source: pinterest.com
Getting out into the garden, even if it's only for half an hour each day, will do you and your family the world of good. As such, it's a good idea to make one of your first garden alterations the addition of a comfortable seating area where you can enjoy al fresco meals, breathe in the soothing scent of flowers and earth, and soak up those health-boosting rays of sunshine.  
When it comes to what kind of seating area to choose, it's entirely down to your personal preference – and the space your garden affords you. Even if it's rather small and narrow, you can still create a secluded little nook in one corner. Call in the experts to lay a patio, purchase a set of garden furniture, and voila: instant al fresco dining and entertaining, whenever the weather and your mood dictates. 
Not sure who to call to help create your perfect patio? Projects Paving specialise in Insta-worthy luxury patios, expertly constructed using your choice of material – from decking to block paving to slabs to resin bound surfaces. They can even transform your driveway and walls or fencing while they're at it. 
Plant An Urban Country Garden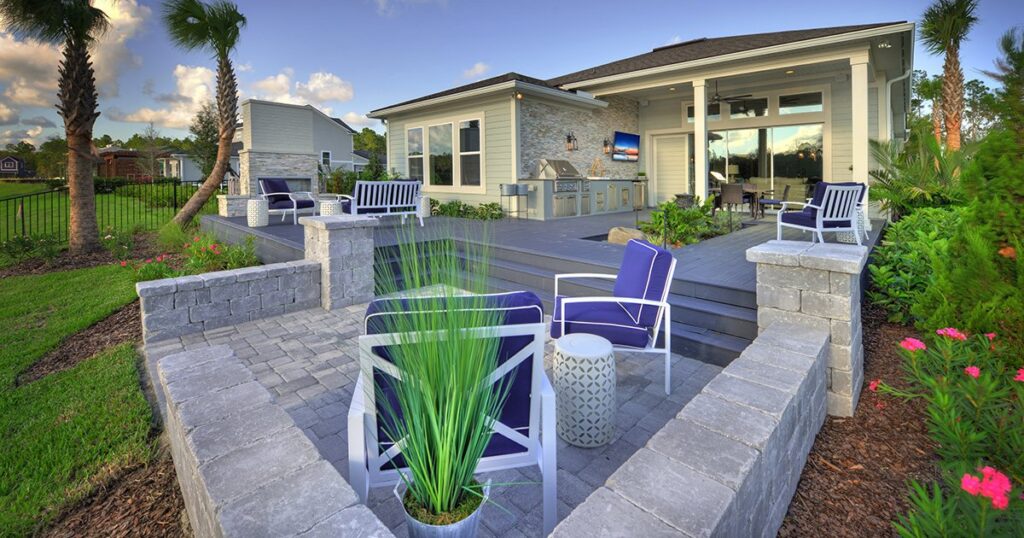 source: pinterest.com
Just because you live in the middle of a busy town or city, it doesn't mean you can't have your very own country cottage garden. All you need to do is take a trip to your local garden centre and purchase an array of pollinator-friendly blooms that you would expect to find in the garden of any traditional country cottage. 
For a truly eye-catching effect, opt for plants of varying heights, forms and colours to create that rambling, rustic effect. For example, you can combine tall and stately hollyhocks, foxgloves, and lupins with peonies, sweet peas, fragrant lavender, sweet Williams, tulips and ground-covering herbs such as thyme, lemon balm, and marjoram. 
Not only will you create a colourful and sweet-scented haven that any farmer's wife would be proud of, but you will also be doing your local wildlife a favour – particularly those vital pollinators. 
Spruce Up Your Garden Shed
A simple and effective way to upgrade your outdoor space is to lavish some TLC on your garden shed, if you have one. This doesn't just mean giving it a fresh coat of paint; in fact, you can transform your humble shed into a pretty and inviting haven where you can unwind with a good book, or pursue a favourite hobby while enjoying the views of your lawn and colourful flowers.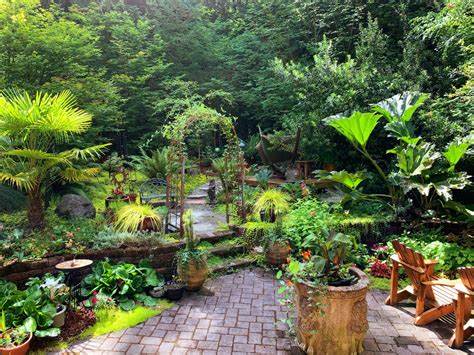 source: pinterest.com
But how do you go about doing up a garden shed? Painting is, of course, the first step, and if your shed is currently filled with various kinds of detritus, then you will have to spend some time cleaning it out. However, once it's empty and all of the dust and cobwebs have been removed, you have the perfect blank canvas to turn your shed into whatever you want it to be – from a writing shed a la Roald Dahl, to a miniature artist's studio or a man cave. 
To prettify the exterior even further, invest in some colourful hanging baskets and decorative plant pots and planters which you can fill with an array of beautiful, low-maintenance plants. Finish off with some fairy lights or perhaps some solar-powered lanterns, and you have a garden shed to be proud of.
Create A Fairy Tale Portal
If your garden is rather overgrown, rambling, and rustically romantic, why not make the most of its shaggy beauty and introduce some fairyland whimsy that's sure to delight your children – and your dinner guests? 
You don't even have to spend any money on your fairy garden if you don't want to; you can use natural materials from your own yard to create a magical dell worthy of any elf – even in the heart of the city. 
For example, you can enlist the help of your children to create a DIY fairy village in the corner of the garden, transforming bits of log into miniature houses using paint, wood glue, and fallen leaves and twigs. You can also collect pebbles and shells from your nearest beach and paint them bright colours, turning them into fairy stepping stones.
 Another cheap but decidedly magical tip you can use is to install a full-size second-hand door in the midst of a hedge, or perhaps fix it to part of your garden wall or fence. Drape it with romantically trailing plants and place a couple of decorative plant pots on either side, and there you have it: your very own portal to the fairy realm. 
Brighten Up 
source: pinterest.com
To create an instantly more relaxing and uplifting outdoor space, sometimes all you need is some strategically placed lighting. 
These days, there are so many attractive outdoor lighting options to choose from, so the only difficulty you will face is choosing which ones are best for your garden. For example, would you prefer the whimsical glow of fairy lights strung along the fence or wound around a tree? Or would you like to use solar-powered ground lights, peppered around your yard for illumination that doesn't require electricity? 
There are so many gardening lighting ideas that have the power to immediately elevate any outdoor space, from wall lights to rechargeable lamps, battery-powered tea lights, and metallic pendants. You can even highlight particularly attractive trees, shrubs or flower beds with some carefully placed ground lighting, or install a couple of miniature lamp posts, powered by electricity or solar power, for a dash of timeless elegance. The only limit is your imagination. 
Enhance Your Tranquillity With A Water Feature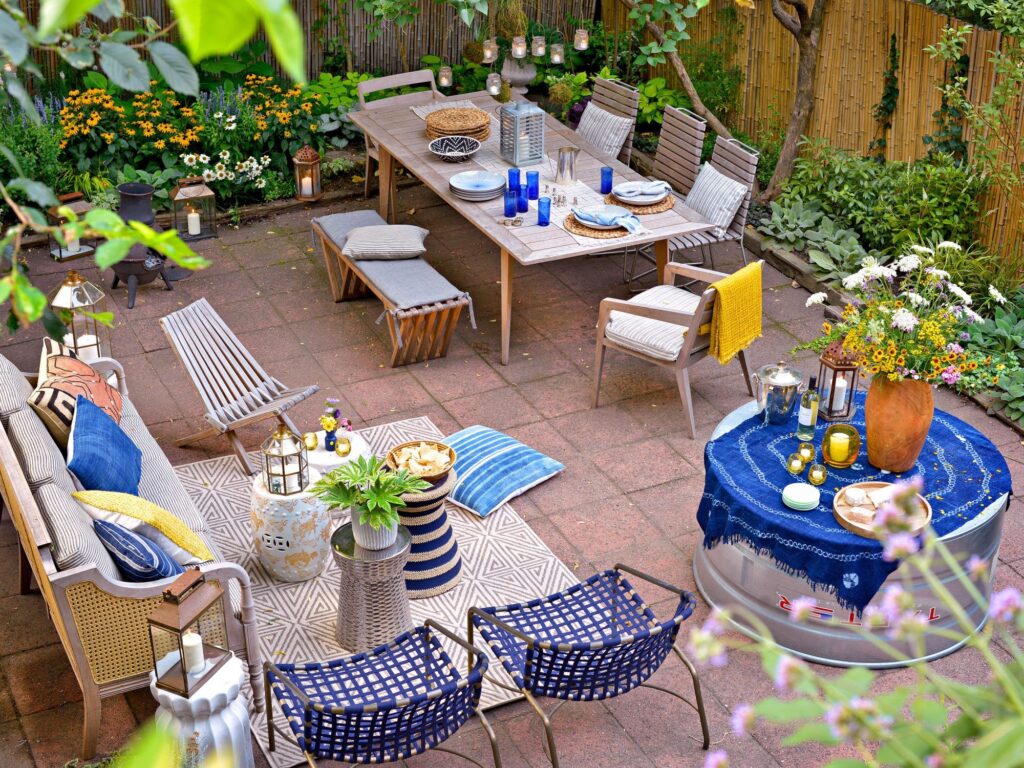 source: pinterest.com
One of the easiest ways to make your garden a soothing oasis is to introduce a water feature of any size. 
Even if your garden is on the smaller side, there's always room for some gently plashing water and perhaps even a small pond, which can become a haven for wildlife as well as a serenity-booster for you and your family. 
When it comes to what kind of water feature to install, it's all down to you, your budget, and the effect you want to create. For instance, if you have the space and the funds to create some flowing rills, a fountain or a miniature waterfall, then go right ahead!
However, if your space or budget is rather restricted, even a small pond of two feet in diameter would make a charming addition to the space. You can excavate and line it yourself, and introduce some hardy water plants and rustic decorations, to create a lush little oasis right in your backyard. Both you and your local fauna are sure to appreciate the new addition.