Geometric forms are necessary for all interior design. Geometric shapes in bathroom interior design, accessories, and furnishings may give you luxurious vibes. There isn't a direct link between geometry and interior design, but when we talk about geometrical shapes in interior design, there are many other things to consider as well as an overall effect.
Interior decoration plans are more relevant, practical, and extremely ergonomic when they use geometry. Every shape has its meaning and functionality. You can use shapes like square, triangle, or hexagon for perfect looks but the effect of shapes on our minds are impactful. Therefore, when home improvement is your next goal, try to keep geometric and minimalistic bathroom designs.
What Are Geometrical Shapes?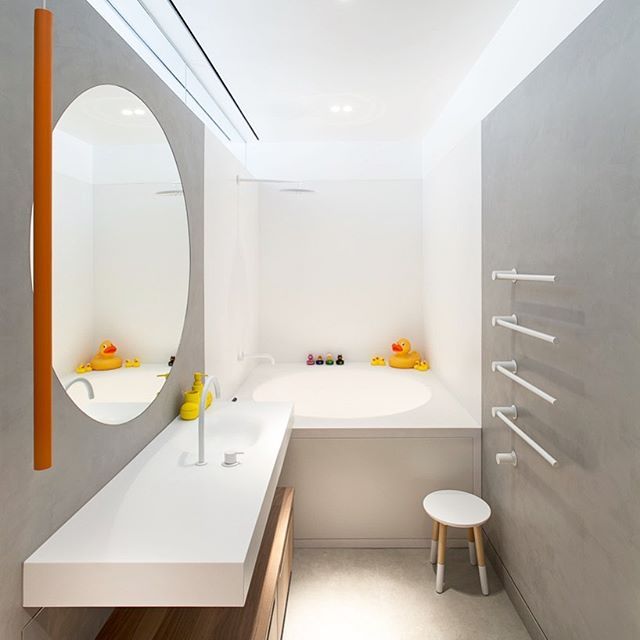 source: pinterest.com
A child's understanding of geometric forms is one of the most important things they learn throughout their lives. Ultimately, all designs are a mix of geometry and aesthetics. An exciting way to experiment with geometric patterns and artistic aesthetics in interior decoration is through geometry. 
Everywhere you look, you can find geometric shapes and patterns. It is possible to have two-dimensional or three-dimensional models. As sharp or smooth as an arc, they may be different Although circles, ovals, and crescents are regarded as geometric shapes in interior design, they are just as strong and static as triangles, squares, and hexagons.
Work On your bathroom designs with these exciting and vibrant geometrical shapes to make them beautiful and relaxing. Using a quatrefoil-pattern cushion cover is not a geometric pattern, but using a triangle-pattern cushion cover is. So, use utilizes these versatile geometrical shapes in your home improvement journey especially in your bathrooms to make them look more luxurious.
Geometrical Shapes In Bathroom Designs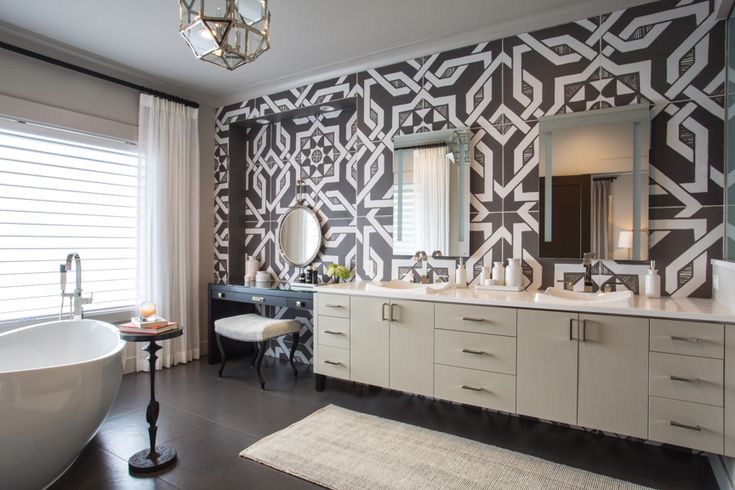 source: pinterest.com
A bathroom is a place where we spend a significant amount of time during the day. It must be relaxing and luxurious. Interestingly, every shape has an effect of its own on our minds. We can say it psychology of shapes. For example, a square shape represents dependability. It makes you feel safe. While a triangle shape is for balance with stability.
Circular shapes are all-inclusive and versatile. They are friendly as they incorporate all other shapes. Bathroom accessories like faucets, soap dispensers, shower holders,s, etc may have different interesting geometrical shapes. You can mix and match them with bathroom furnishings and other interior decorations. Let's have a look at some geometrical shapes in the bathroom. 
Circular Shapes – Symbol Of Minimalism And Calmness
The circle is the shape that denotes continuity. It means the circle of life is never-ending. We can relate philosophies with shapes like this. In other words, we can say that geometrical shapes have much more to show and explain non-verbally. Circular shapes also reflect feminine vibes. Moreover, circular shapes are the favorite choice of women as it is very sensual by nature.
Circular shape scones

Circular vessel sink

Round Shaped Statement Mirror

Suspension Lamps Or Pendant Lights 

Side Table With Circle Shape

Splashback With Round Geometrical Designs
These are some examples of using circular geometrical shapes in your bathroom designs.
Axor is a multinational brand that offers luxury bathroom products. It also has a whole range of circular shape bathroom accessories. Moreover, the accessories we keep in the bathroom like waste-bin, tissue boxes, towel holders, circular mirrors, or shaving mirrors in a circular shapes, will give a sense of calmness. If you have an idea to do a bathroom renovation in near future, opt for circular shapes for a fresh look and elegant style.
Rounded Corners – Looks Classy With a Variety Of Patterns
source: pinterest.com
Rounded corners work well in a variety of scenarios. Whether as solo solutions or in combination, these items add functional and aesthetic accents to bathroom designs, elegantly blending practicality and personal luxury. Mostly, it is preferable on one of the bathroom walls and the other sides should remain plain to highlight the contrast.
Rounded corners look versatile when bathroom walls have vibrant colors. Specially, you have to look out the wall against the shower and the wall beside the bathtub. Tiny tiles with round shapes look awesome on bathroom walls. Especially, mirror work or glossy tiles will be the best use of geometrical shapes in the bathroom.
Rectangle Shapes – Symbol Of Elegance
Rectangular accessories go well with any other pieces that have a cubic or rectangular design language. The idea is for these accessories to give modest and high-quality accents to bathroom décor, rather than to dominate the scene or become the main point of a space. A razor mirror, a soap dispenser, toilet paper holders, and a selection of bath towel racks are among the many items available.
Pedestal Sink In Rectangle shape

Metropolitan Vanity Cabinet

Crochet Vanity Cabinet

Rectangle Vanity Tables

Rectangular Vessel Sinks
These are examples to apply rectangle shapes in your bathroom design. 
Square Shapes – Symbol Of Equality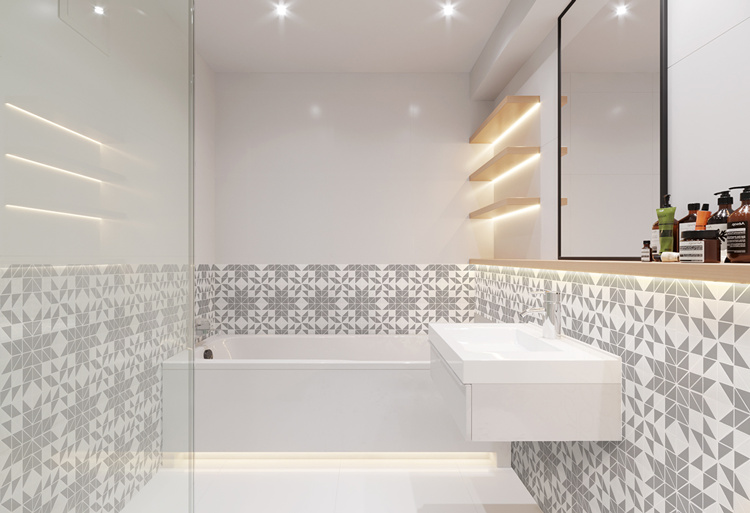 source: pinterest.com
Most of the time, you can use square shapes to define flooring. For example, there are different designs available especially for flooring that have geometrical shapes in it. Floorboards must have planks and herringbone or chevron parquet to add a geometrical angle to bathroom floors.
Square floor tiles

Black and White Combination Square Tiles

Square Overhead Shower

Square Shape Taps And Faucets
These are examples of applying Square Geometrical Shapes in the bathroom.
Conclusion 
A variety of geometric shapes can be expressed in floorplans and facades through volumes, subtractions, and intersections. Also, the shapes might appear as accessories and interior design items. Bathroom improvement is an art that can be facilitated by applying geometrical shapes in bathroom accessories and furnishings.
Geometrical shapes in the bathroom will not only improve the class of the interior but also relaxes your mind in different ways. Apply some of the basic shapes and patterns in your bathroom designs to make it the perfect leisure place.