Exposed ceiling beams are an unusual architectural element that can make a room feel completely new. However, you can wonder if your personal design style would work in a room with ceiling beams. Assume you're looking for a nice apartment and have found a great candidate… but you're not sure whether the ceiling beams would ruin the whole décor vibe. Have you ever been there? Or maybe you want to plan and create your own home but aren't sure where to start with the great room's ceilings. 
Luckily, there is a wide range to explore ceiling beams styles and types of ceiling beams available, so if you like the design, you'll be able to find the perfect match. Here are a few examples of various kinds of ceiling beams and the designs that they have been paired with.
Types Of Ceiling Beams: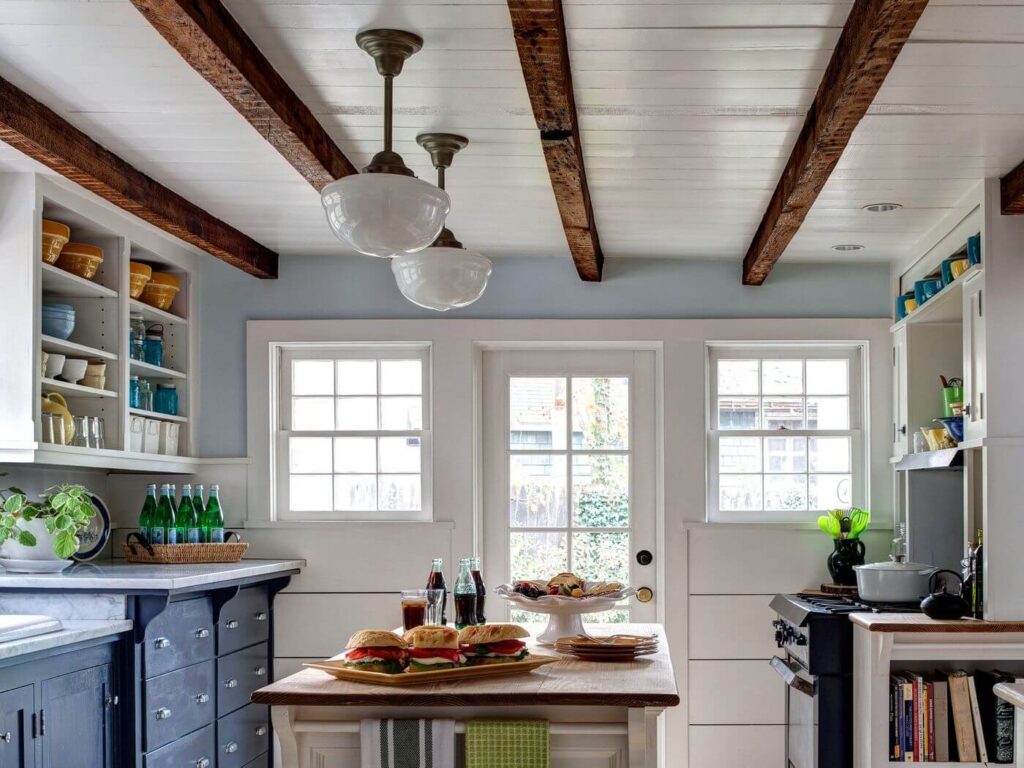 source: thisoldhouse.com
Ceiling beams come in a variety of shapes and sizes, beyond what they seem to be. All of them have identical appearances but vary in some ways. Here are some of the most typical types of ceiling beams used in residential construction and other related projects.
Boxed Beams
Boxed beams are easily identified by the pattern they create while assembled. They have a waffle-like pattern of square or rectangular areas that look like shelves, and they remind us of coffered ceilings. They have a strong appeal.
Hammered Beams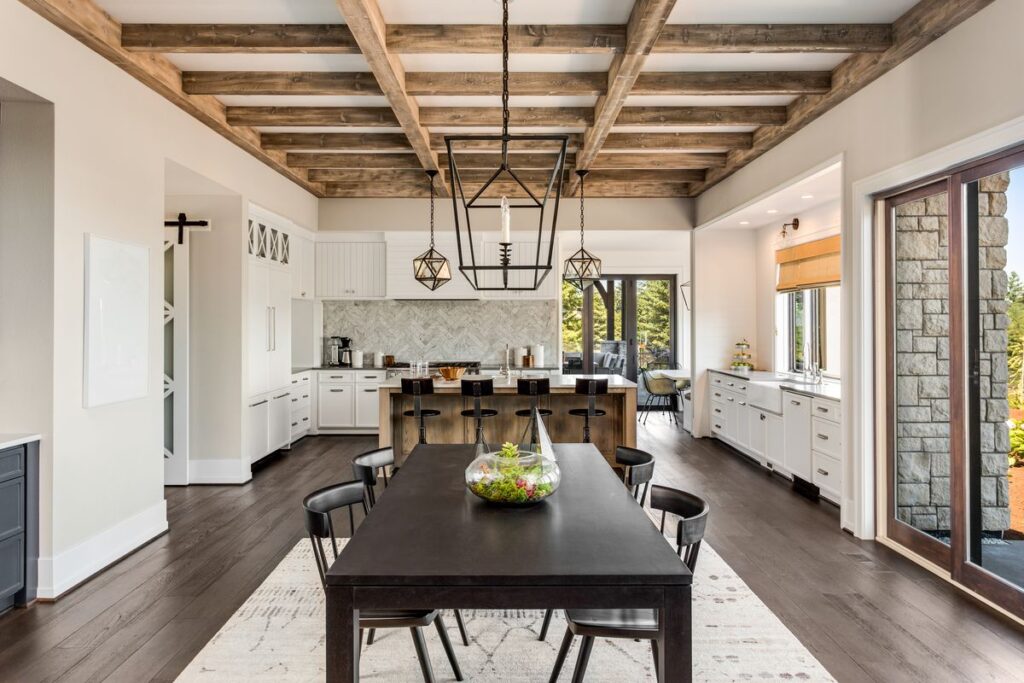 source: thisoldhouse.com
There are small wooden beams that are mostly made of solid wood. They're grouped to the walls and designed to support the roof's weight. These beams can be horizontally or vertically placed.
Faux Wooden Beams
The role of beams in roof support is not the same for all types of beams. Some are designed to be visually appealing. As a result, they don't need to be very strong or sturdy; what they need to do is seem to be so. Faux wooden beams are just three-sided on the inside and hollow. When seen from below, they seem to be normal beams, but they aren't as heavy and don't have the same purpose.
Polyurethane Beams
If solid wood beams aren't your thing, there are some other options to consider. Polyurethane beams are especially appealing because they are lightweight, which is a significant advantage in many situations and makes the whole construction process much simpler. They're even more appropriate for buildings in earthquake-prone areas. Like standard wood beams, they can be painted or stained.
Ceiling Beams Designs & Ideas
Dramatic Effect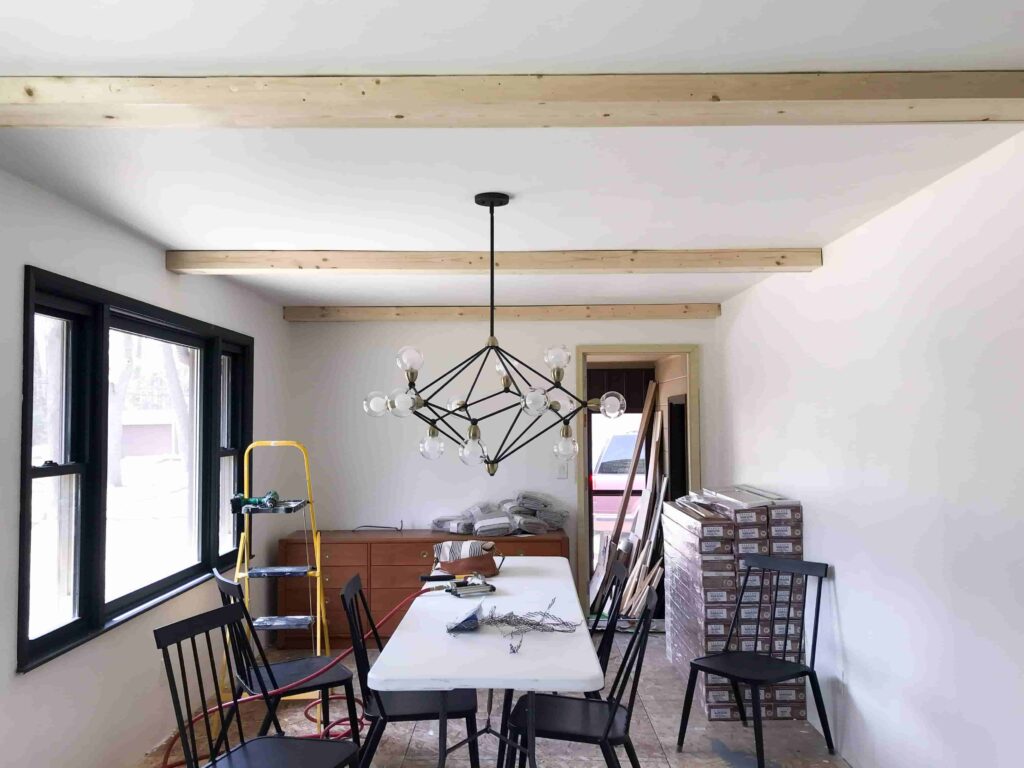 source: brightgreendoor.com
The exposed ceiling beams (high-gloss, black) and the ceiling itself (matte, white) create an immediate and bold visual style that is carried through the traditionally black-and-white room. High contrasts in architecture are often striking, and ceiling beams can be the appropriate method for such contrast.
Rustic Style
Warmth and texture are provided by rough-finished wood ceiling planks with a raw feel and chunky cross beams in a kitchen. The room feels more like a contemporary cottage than a log cabin, thanks to neutral colours, varied textiles and surfaces, so a splash of black.
Natural & Organic
Exposed wood beams (ceilings, walls, corners) are the architectural highlight in this space, making the home's overall style a tribute to nature. Earthy and nature-inspired décor pieces, such as the deer head and wooden dining chairs, complement this design theme.
Simply Cool
source: ornamental.co
A natural feature of simplistic – yet elegant – style is embraced by a heavily beamed wood ceiling, raw concrete walls, a stained concrete floor, and plenty of natural light. In the middle of these straight architectural lines, there is a wonderfully understated sense of harmony and calm.
A heavily beamed ceiling (with dark, chunky wood beams that match the floor's stain) and wooden floors highlight a light and bright space bedecked with a sophisticated selection of warm and inviting pieces. The overall design scheme of the room is complemented by painting the ceiling white while keeping the wood beams natural.
Comfy Cottage
Dropping and exposing some ceiling beams in a vaulted room will actually increase the feeling of warmth and cosiness in the space while preserving the architectural elegance and tranquilly of the high ceiling. This is an excellent design for those who want to create a warm and inviting cottage atmosphere in their home.
Subtle Accents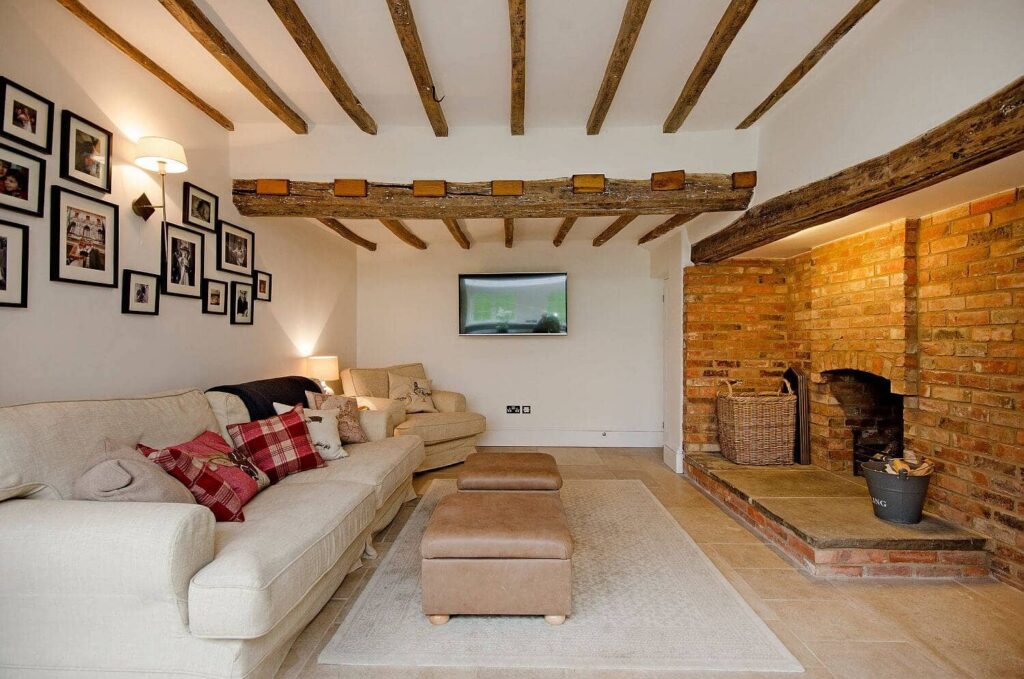 source: decoist.com
The construction of decorative ceiling beams does not have to be dramatic or clear. Not only on the ceiling but also to frame the room's entryway, these beams are a subtle complement to the rest of the room's theme. The colour is also complementary to the wood on the mantel and arched doorways. The numerous woods work together to create a unified look that is rich, warm, and appealing.
Matching Shapes
Decorative beams may be used to add an accent to a space with unusual shapes or a unique slant to the ceiling. These decorative oak beams beautifully frame the ceiling's subtle angle and provide a place for the chandelier to hang.
Is it beneficial for your next home improvement project, and if so, which ceiling styles work best for various parts of the house? Fortunately, you can mix and match styles to create a unique contrast. Incorporating ceiling beams design will make your home even more stylish and unique!