You can run, you can hide, but you cannot escape from the resurgence of the curved sofa in 2023. 
Curved sofas became a massive hit in the 1950s with Vladimir Kagan's Serpentine sofa. These sofas are chic and perfect for creating conversation pools. 
But should you have one? Continue reading and take notes. 
The Pros of the Curved Sofa Trend 
The room appears intimate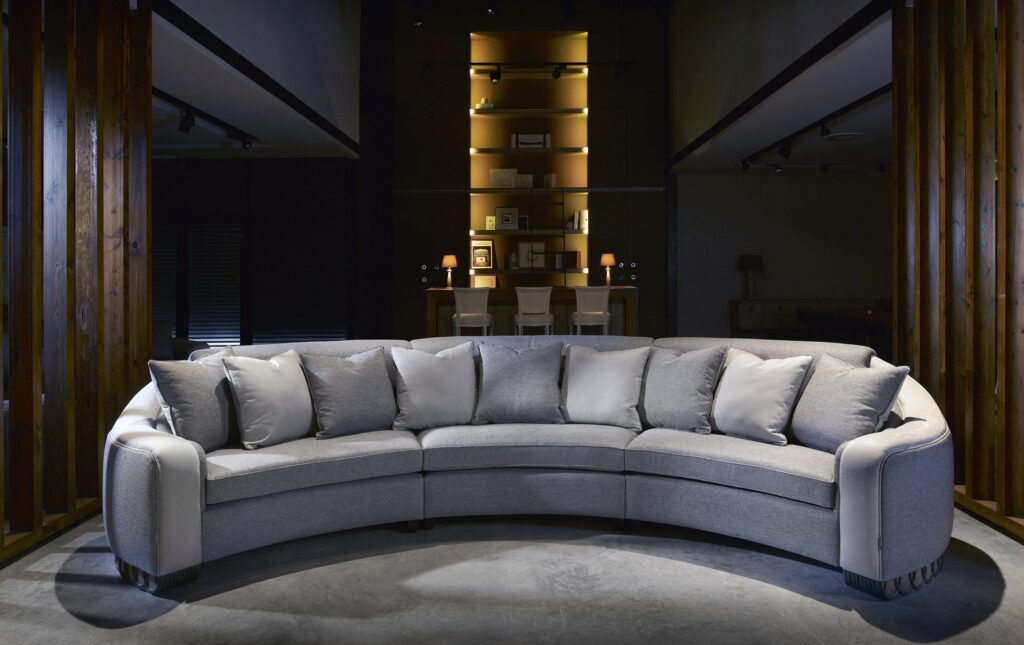 source: pinterest.com
Define the intimate elements of the room with a curved sofa. These sofas create the best areas for intimate gatherings and conversations. So if you entertain and host a lot, this sofa might be a good option. 
There's a real elegance to curved sofas, and they are ideal for making a room feel like a cocoon. It brings the middle into the middle and the design focuses on the center. The sofas have a mid-century, charming vibe, and this links to their original conception. 
Softens the room's appearance
Soften the look and feel of your room by adding curves in the form of curved sofas. The curves of the sofa will help to take the edge off your space and make a great statement for your living room. 
By introducing the curved furniture, you will guarantee to make an impactful statement and achieve a contemporary look. 
You can find curved sofas in a premium sofa store in Kolkata. 
Expands the circulation area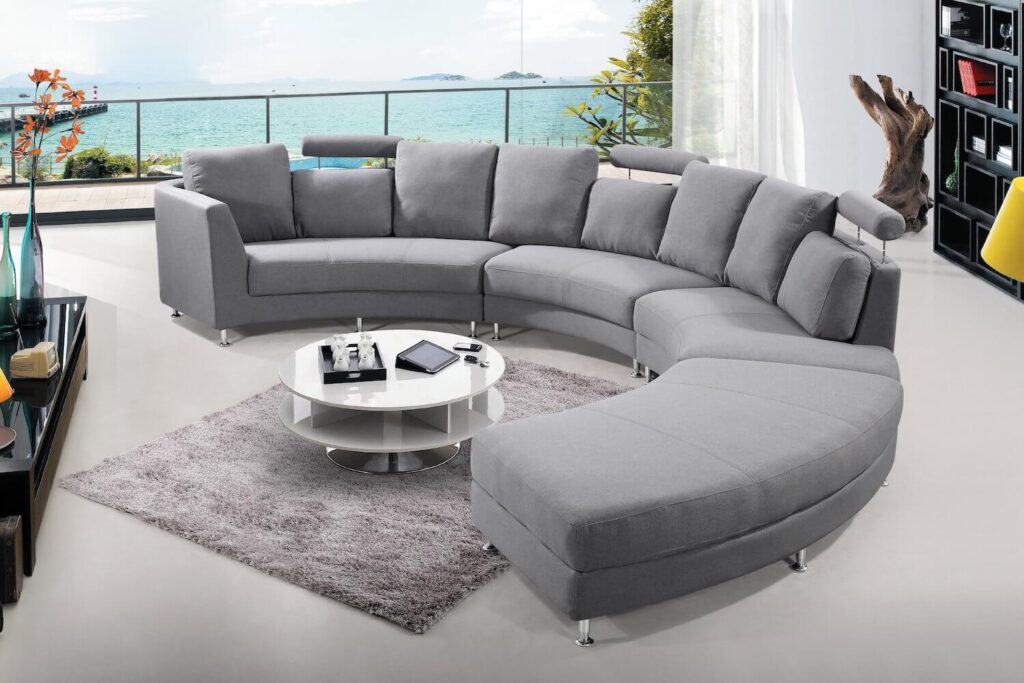 source: pinterest.com
Whether small or big, curved sofas are perfect for your living room. These sofas help to create ample space in front and around them. So the circulation area in the living room is expanded, and guests have more seating. 
Furthermore, the sofas act as an accent or stylish piece that invigorates a space. Curved sofas are known to bring spaces alive much more than modular sofas. 
By mixing up soft furnishings and occasional chairs, you can transform the simplicity of the design. Therefore, the sofa can be used as a timeless, everlasting piece. 
Creates intriguing living room layouts
For creating intriguing-looking living room layouts, add curved sofas to the living room design. The dimensions of the sofa allow the gorgeous curves to be exposed, and this adds an element of playfulness. 
Even if you have a small living room, you can add a curved sofa to soften the edges and create a sense of openness and grandeur. Similarly, they quickly fill large spaces effortlessly and beautifully. 
Winning solution when the scale is essential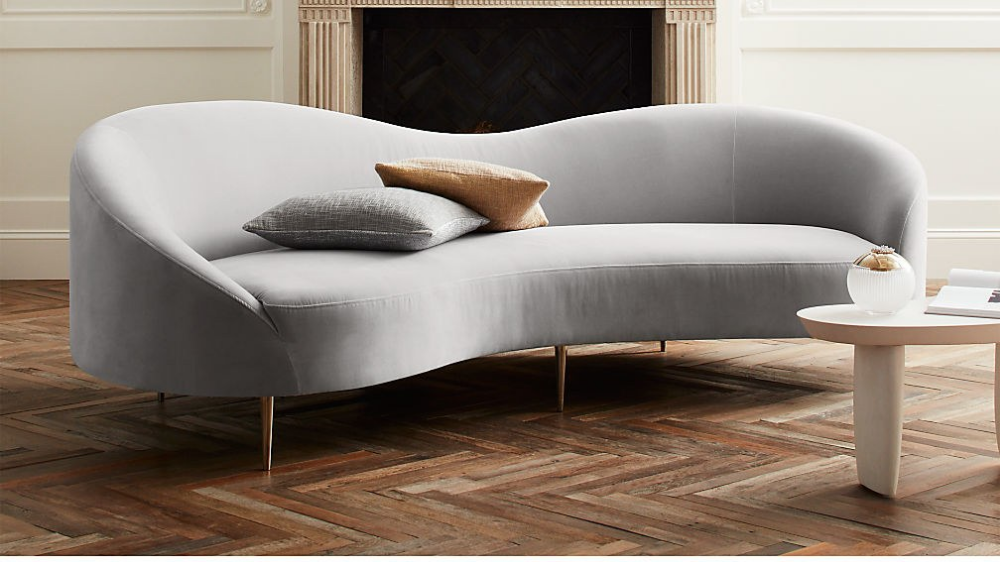 source: pinterest.com
When you want to create multiple seating groups in a large group, you can use a curved sofa. You can place it in front of a large bookcase to easily access it. Also, the curved sofa makes it easier to move around the room, and the scale is just perfect, so it does not take over the entire room. 
Dynamic style pieces
Mid-century, contemporary, modern, and glamorous aesthetic styles are best suited to the curved sofa style. Therefore, it won't be challenging to find the right pieces to mix and match with the curved sofa in your living room. It will allow you to express your personality and become the envy of the neighborhood. Regardless of your style, it is possible to find a way to incorporate this sofa into your living room. 
Although curved sofas seem like the perfect solution for your living room, they do come with some drawbacks. You need to be aware of those before your trip to one of the high end furniture stores in Kolkata. It will help you make an informed decision and be assured that a curved sofa is the best solution. 
The Drawbacks of Curved Sofas 
The sofa can cause blank spaces
source: pinterest.com
Traditional sofas slide into spaces easily, but curved sofas may cause blank spots in the living room. In addition, because of the curved design and shape of the sofa, holes and pockets might be created in the overall design of the room. 
If you place the sofa against a wall, the spacing behind the sofa may appear odd. So you must carefully determine sofa placement before making your decision. 
They take up a lot of room
While curved sofas make rooms appear spacious, they take up a lot of room. So before you invest in this sofa, you must measure your living room. Ensure the sofa fits well with your living room and the existing furniture. 
They become the focal points
Curved sofas are known to demand attention and become the focal point wherever they are placed. So if you want your guests to look at the newly added chandelier in the living room or the wall decor, you might want to stick to the traditional sofa style. The curved sofa is a statement piece, and your guests cannot focus on anything else in the room. 
Is the Curved Sofa Style Right forYou?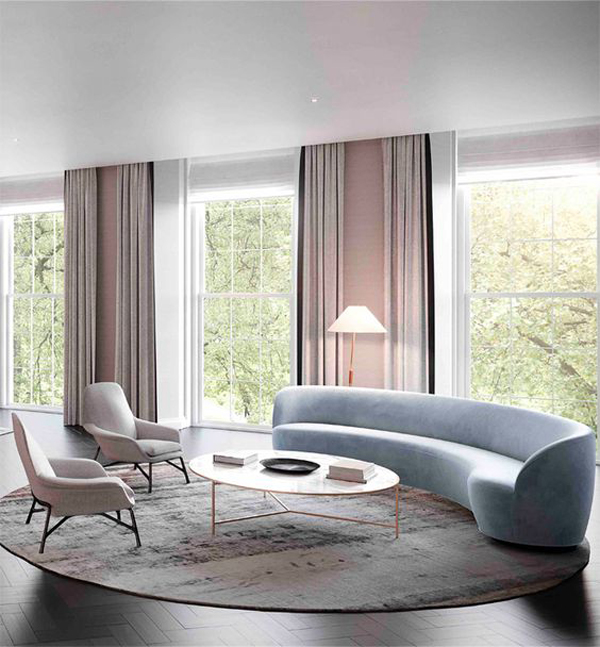 source: pinterest.com
There's no black and white answer to this question because the ultimate decision boils down to your specific requirements and the style you aim for. 
Curved sofas look at home in odd spaces, and they're perfect for large spaces. They can help you create intimate spaces that encourage conversations and are the perfect statement piece to attract attention. However, there's a way to incorporate the curved sofa into the living room decor. If you fail to do so, it may appear out of place and create odd pockets you may find difficult to fill. 
The Solution?
Measure your living room and call your interior designer. Discuss your options and openly talk about the kind of vibe you want your living room to exude and whether you plan to host many informal and formal gatherings in your home. Then, based on your specific requirements, you can conclude. 
However, one thing is clear you cannot run away from this trend. You may have to include this sofa as part of your decor sooner or later. The curved sofa has been a trending topic among interior designers and decorators since its debut. 
You have a tough road ahead. All the best!