Small bathroom can be beautiful too — there's no need to increase the square footage to improve the look and feel. With Easy Renovation you can forget about the hassle of management, buying materials, and doing all the drawing, to focus on truly important things: the aesthetic aspect. 
How to Create a Design for a Small Bathroom Easily
source: hgtv.com
A lot of people are worried about small spaces due to the fact that they lack storage and have very little space for walking around inside them. A small bathroom renovation can be tough for inexperienced DIYers, but with our help, it'll be a breeze. Here is how you can design your own bathroom in a tiny size:
Measure
First, take a tape measure and start measuring things. Measure your walls and floors – they need to be as square as possible without any bulges. You don't want to waste your limited square footage. Measure the length, width and depth of the walls. 
A good renovation platform can help you with the measurement, but it's a step you can accomplish yourself easily — to start planning ahead. 
Planning Your Bathroom Renovation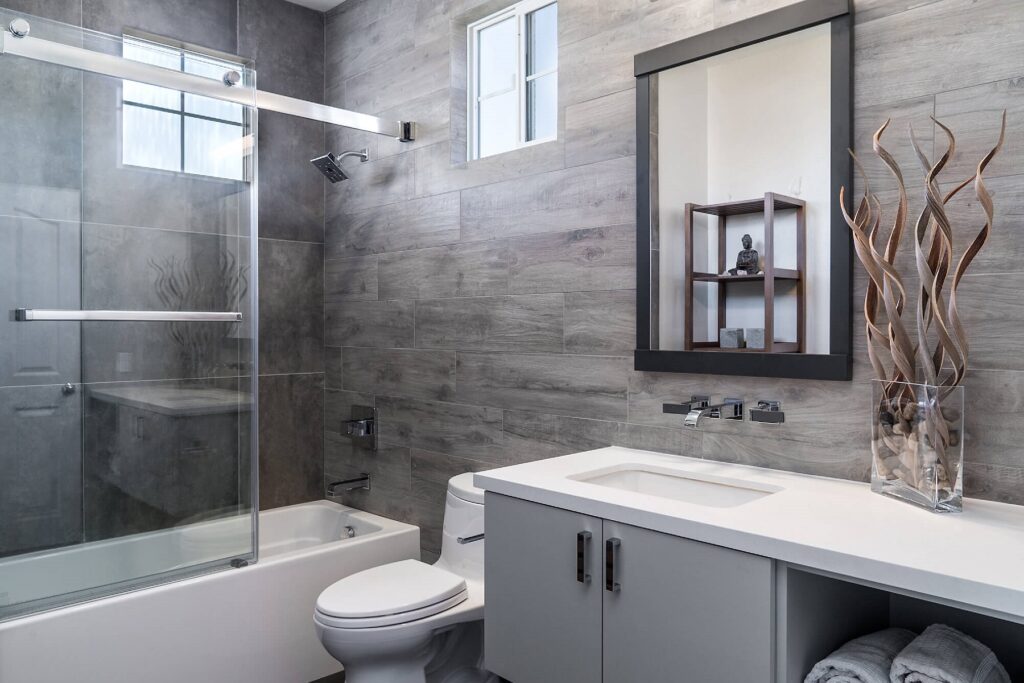 source: megakitchenandbath.com
After you measured everything out, draw it all on paper – as simple as possible – for both the floor plan and for the ceiling plan. The floor plan should include all plumbing fixtures, toilet and sinks along with their locations in your bathroom space. The ceiling plan should show electrical wiring as well as location of ceiling lights. 
You can draw both of them on a single sheet, but it's easier to have a dedicated drawing for each one.
Now take your measurements and draw them on your plans symbolically – draw sketches of the main elements in your bathroom so you get an idea how everything will look like in the end. 
The toilet is usually placed in the corner with a sink next to it and then follow by shower or tub, and then maybe another sink if there is still room for one. Here are some tips to save as much space as possible:
An over-sized sink is placed in the corner and below it a small vanity with a cabinet;

The shower and toilet are located in opposite corners of the floor plan;

The sink is also installed on the opposite side of the toilet.
This way you'll save space, but also make your bathroom both unique and functional. You can follow this layout or draw your own original plans that you feel are best for your own needs and preferences. 
Keep it as simple as it gets, these drawings are merely a sketch — you'll have a full-scale 3D plan when you're done. 
Colouring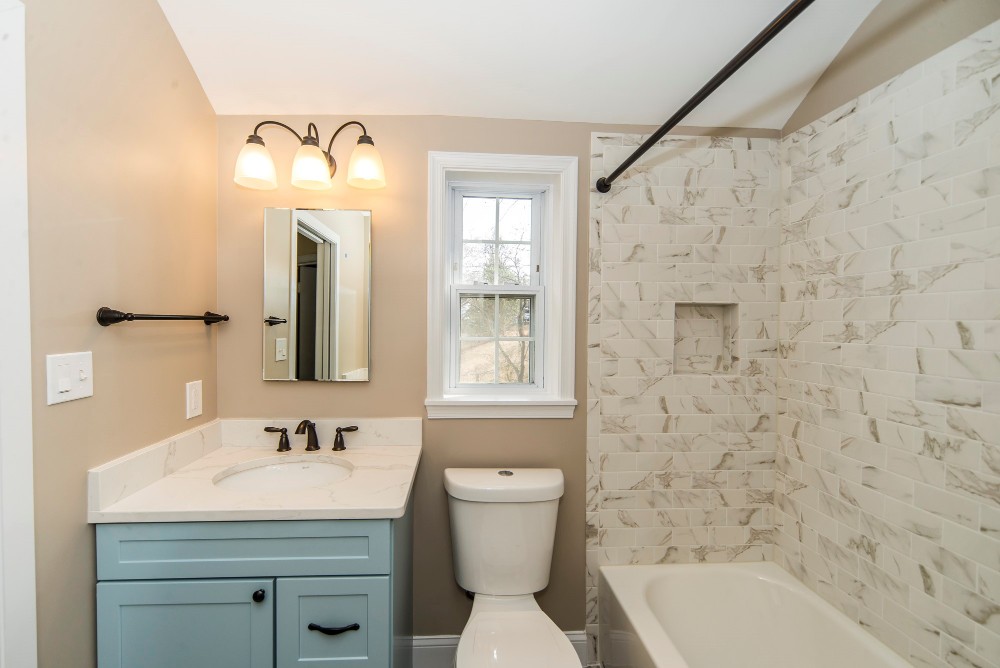 source: megakitchenandbath.com
Start with research. Look for inspiration on the Internet and on social networks. Hashtags are your best tools at this stage. Look at the colors of the cabinets, the sink, the tiles, the curtains — everything. Try to find a combination that will compliment your home's dominating color. 
Going for all-white bathroom is a bit old-fashioned, but it's probably the best option for a cramped space: white color will expand it visually. 
When you're done with research, get back to your sketch and start coloring all the details in. Use a soft pencil and bring it all together by hand – don't worry about it looking professional. 
3D Design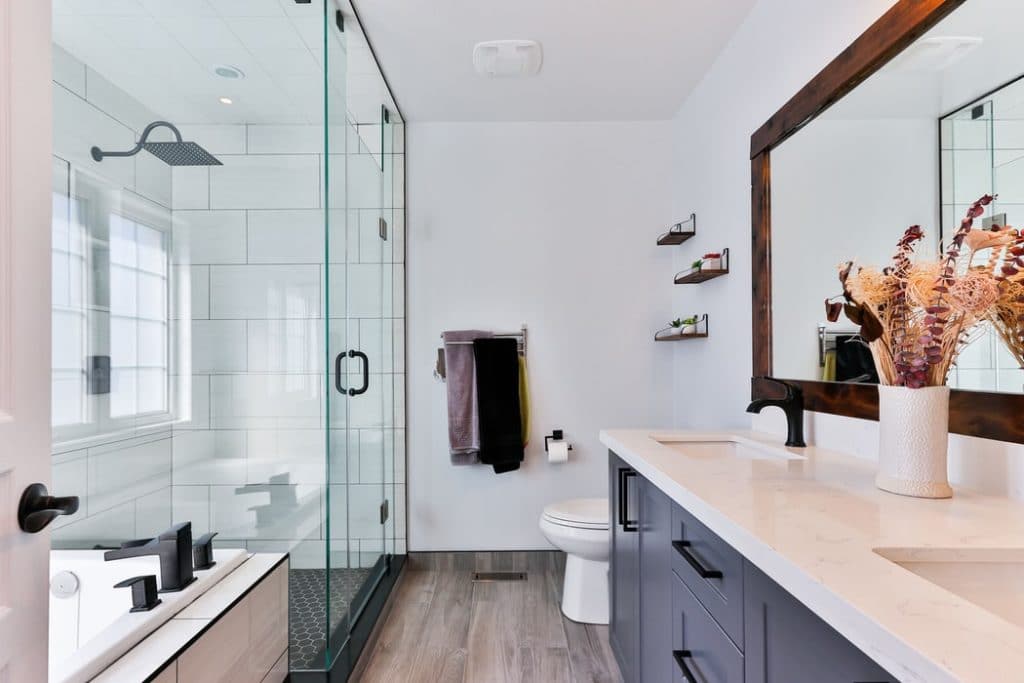 source: virginiakitchenandbath.com
After you decide on the layout and color scheme, you can start working on your 3D design. Not all bathroom renovation platforms offer this option, but Easy Renovation does. Talk to a professional assistant from the company, show them your sketches, and turn them into a three-dimensional plan with the designer. 
They will help you find the pitfalls of the design, if there are any, and maybe will give advice on fitting the colors better or using the right materials. You can ask them, whether you leave enough space — an experienced specialist will always tell you, even at this stage, whether it will be convenient and functional, or not. 
Keep in mind that it's your bathroom, and even if they may not like the design, if you really want it to be that way — they can't say no.
Final Step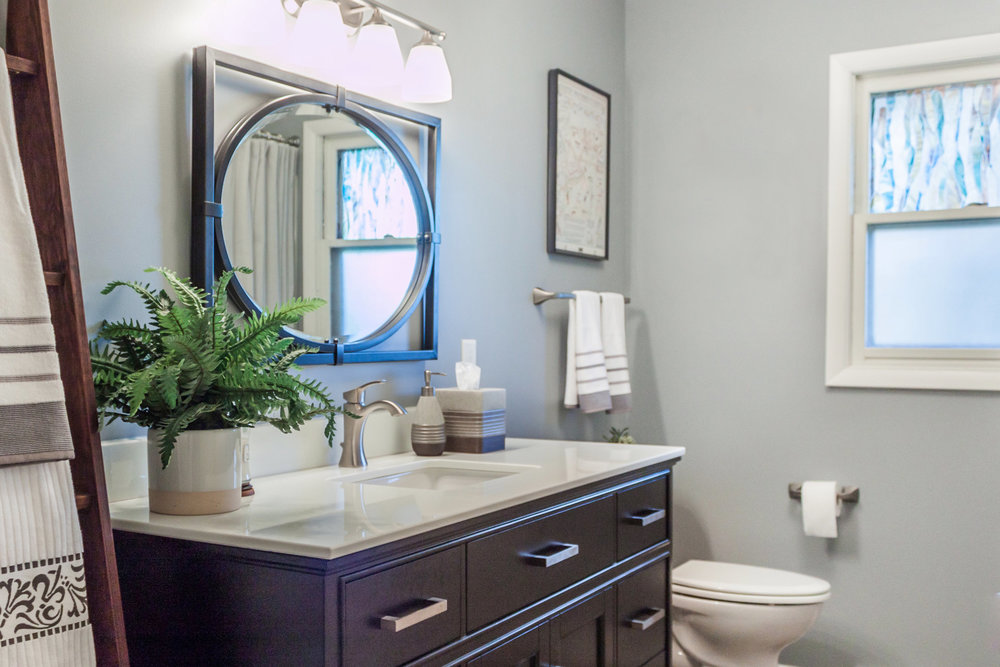 source: pinterest.com
A combination of the professional engineer's technical drawings and your design of the future project will be the basis for the whole project. At the end of the works, you'll get what you want: a beautifully designed, adjusted to your taste, small — but aesthetically pleasing and functional bathroom.