Although front entry doors often receive the most attention, your home's curb appeal can be made or broken by the overhead garage door. Your guests will notice the great expanse of your house first if it faces the street and has an attached garage in it. Although garage doors are crucial components of interior design, house owners frequently overlook them.
If you are not sure what type of garage door to get, you can always consult with garage door experts to be able to discuss your needs and what suits the budget.
Aluminum is a cutting-edge substance. An amazing approach to glam up both indoor and external areas is using aluminum cladding. The architecture sector is experiencing major advancements over time, just like any other industry. The need to produce something remarkable is increasing as the sector expands.
Although there are many various architectural techniques available, aluminum cladding is a material that is frequently employed by architects. Numerous beautiful compositions are possible with aluminum cladding. Especially, house owners demand aluminum cladding for garage doors as it fits in the budget as well looks classy and elegant.
Why should You Opt For Aluminium Cladding For Garage Doors?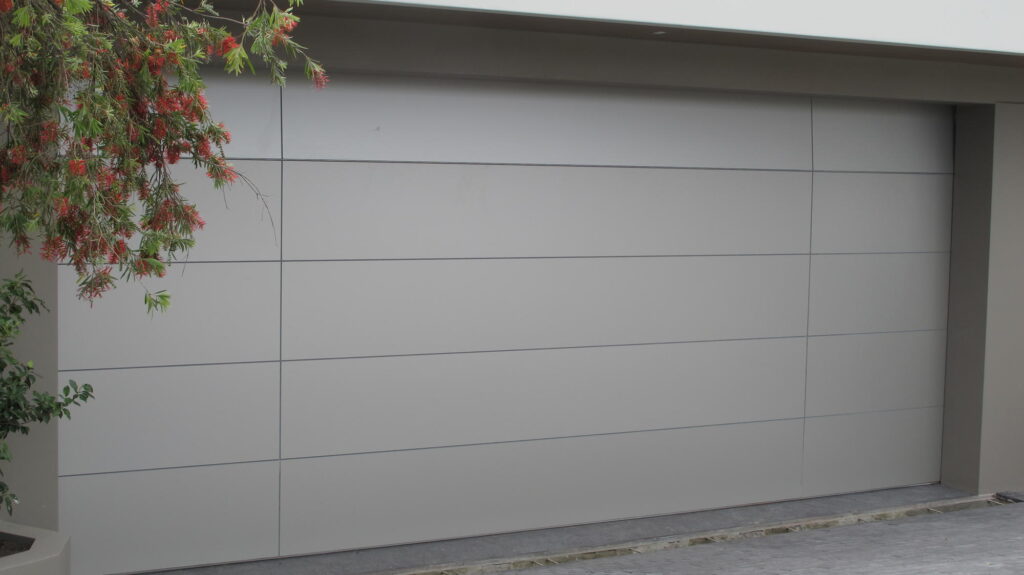 source: pinterest.com
In addition to providing excellent exterior finishing, aluminum cladding also offers a wide range of choices in terms of patterns, colors, and designs. For example, it will give you the exact wood finish. It is easy to maintain and clean as well. There are many benefits of opting for aluminum cladding. Some advantages are as below;
Sustainable Material
Aluminum helps to insulate the structure. It is beneficial to use aluminum to hold energy. This material is sustainable and budget-friendly. Aluminum may be recycled several times to produce the same or different products. The industrial material that is most recyclable is aluminum. The aluminum sector as a whole is currently implementing methods that position it as a pioneer among green metals.
Practical And Safe
Aluminum is not only environmentally friendly but also incredibly useful. It is strong and lightweight. Due to its small weight, the building's structure is not subjected to additional stress. Lightweight does not necessarily imply flimsy, though.
Aluminum has outstanding durability. You are left with a solid, long-lasting solution because of its resilience to wind and other environmental factors. Regarding safety rankings, aluminum is rated as a non-combustible material with a European Fire Class 1 grade.
Offers Variety And versatility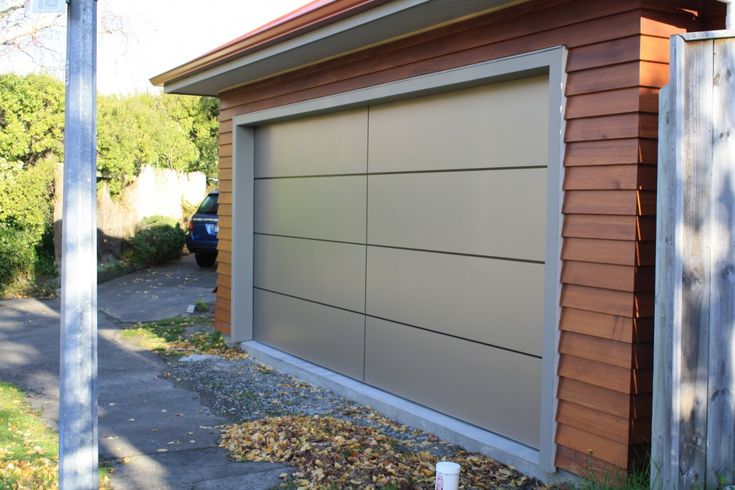 source: pinterest.com
It's crucial to acknowledge aluminum's versatility. With aluminum cladding, you may choose from a variety of patterns, effects, shapes, sizes, and more in addition to colors. It can be customized almost entirely. Corrugated and wavy patterns are just a couple of the effects that can be achieved for greater three-dimensional effects.
Easy To Install
Aluminum cladding is easy to install. You can learn to install it by yourself. Aluminum composite panels and nuts are the requirements. If you measure the sheets and cut them according to your garage door size, you can easily DIY aluminum cladding on garage doors.
Cost-effective
Aluminum composite panels are easily available in the market. They are inexpensive compared to other decor materials. Extreme attention and caution are taken during the production of aluminum composite panels. By doing this, the user avoids incurring any additional maintenance costs. The customer can invest their time and effort in painting, galvanizing, etc.
Less Maintenance
source: pinterest.com
Except for the occasional quick clean to keep the building's aesthetic components in good condition. Since it is environmentally friendly and easy to maintain, aluminum is a good choice. A cost-effective option throughout its lifetime, aluminum is also a result of this. Many homeowners prefer aluminum cladding because it is rust resistant 
It is Easy To Renovate
Depending on their age, old structures may lack the strength to support significant redevelopment. However, due to the lightweight nature of aluminum cladding, it is simple to add to the façade of a building without requiring any structural alterations or strengthening. Naturally, this offers remarkable cost advantages with revamping options.
Things To Consider Before Having Aluminium Cladding On Garage Doors
Material And Product Grade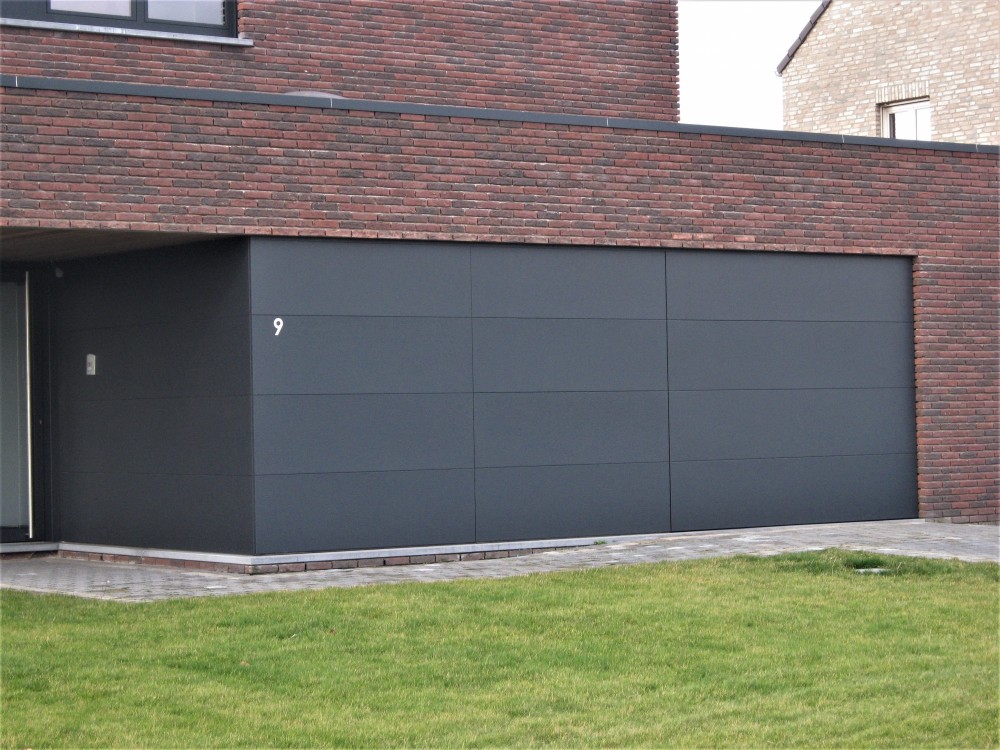 source: pinterest.com
For all types of cladding and applications, aluminum panels come in a range of material grades. ACP sheets are generally available in the following grades: AL-45, AL-43, AL-33, AL-312, AL-33D, AL-32, and AL-63. Panels could be 2440 mm by 1220 mm, 3050 mm x 1220 mm, or 3660 mm x 1220 mm in size.
Textures And Finishes
Matte And Glossy finishes are the most common choice choices among house owners. Other decorative options like timber finish also add aesthetics to your house. Timber design gives a natural wood finish to your garage doors. Sometimes you can create a vintage look by selecting an old-fashion style and patterns of the wood finish of Aluminium sheets. Other textures and finishes include rustic, glass, sand finish, etc. 
Areas Of Application
Since the area of application will decide the thickness of the suitable ACP sheet that you should buy, it is crucial to identify the uses for ACP sheets. Generally there 3 mm, 4 mm, and 6 mm sheets are available among which you can select the appropriate sheet for your garage door. The areas of application vary and the thickness of sheets also varies according to the application and place of use.
Certificates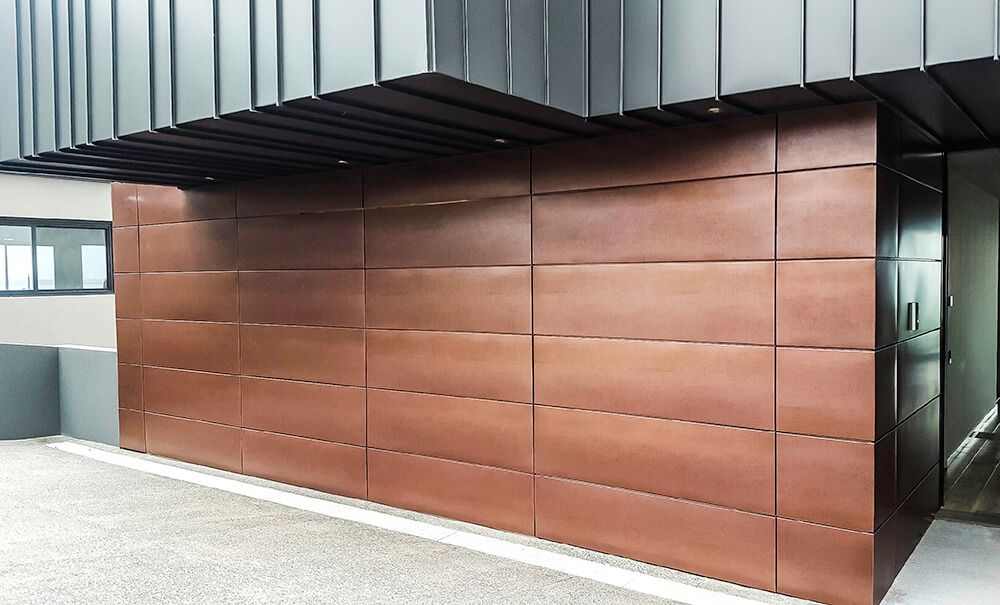 source: pinterest.com
For upholding the quality requirements of a product, a nation or an industry certifies the brands. A brand's certification verifies that it has undergone quality testing and is acceptable for installation as boards at stores along the roadside.
To ensure you are purchasing the proper goods, look for ISO certification. ISO-certified products are of the highest quality. Additionally, look for tests like NFPA285, EN-13501, and ATSM-E119 for FR-grade items. These tests adhere to national and international fire safety regulations.
Final Lookout
Cladding garage doors will not only give curb appeal to your house property but also make it durable and maintenance-free. From varieties of options and designs, you have to choose the right material and design that best suits your garage doors. For quick installation and even finish, you can get help from local decor professionals. Aluminum cladding is the best solution for garage doors. Go for it!