Vinyl and laminate flooring are two common options when it comes to choosing the ideal floor covering for your house or business. Both have many advantages, including longevity, low cost, and simplicity of upkeep. However, their composition, setup, visual appeal, and functionalities vary.
Which One Is The Right Choice For Your Space?
We will compare the features, benefits, and factors of vinyl flooring Vs laminate flooring by vinyl Flooring In Dubai so that you can make an informed choice.
1. Composition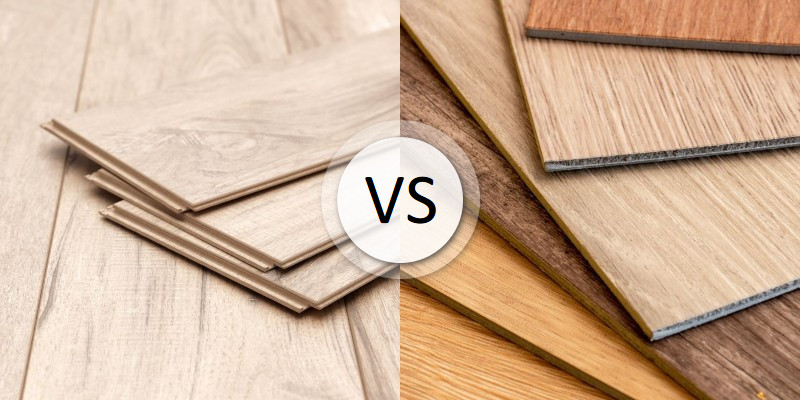 source: pinterest.com
Vinyl Flooring: This flooring has several layers and is largely constructed of polyvinyl chloride. It's major layers are a backing layer, a core layer, a digital design layer, and a wear layer. The wear layer shields the surface from scratches, stains, and everyday wear and tear.
Laminate Flooring: Flooring made of laminate consists of a fireboard core and a layer of photography that mimics the appearance of real materials like wood, stone, or tile. Next, for more durability, a transparent protective layer is applied on top.
2. Durability And Resilience
Vinyl Flooring: It is incredibly resilient to dampness, stains, and scratches. It is a great option for high-traffic areas and locations that are susceptible to dampness, such as kitchens and bathrooms. In addition to being tough, vinyl flooring has qualities that make it comfortable to walk on and reduce noise.
Laminate Flooring: The durability and scratch resistance of this flooring is well-known. It can resist high foot traffic and is less likely to fade when exposed to sunshine. However, it's crucial to remember that this flooring is more prone to moisture damage, which makes it less ideal for locations with a lot of humidity.
3. Installation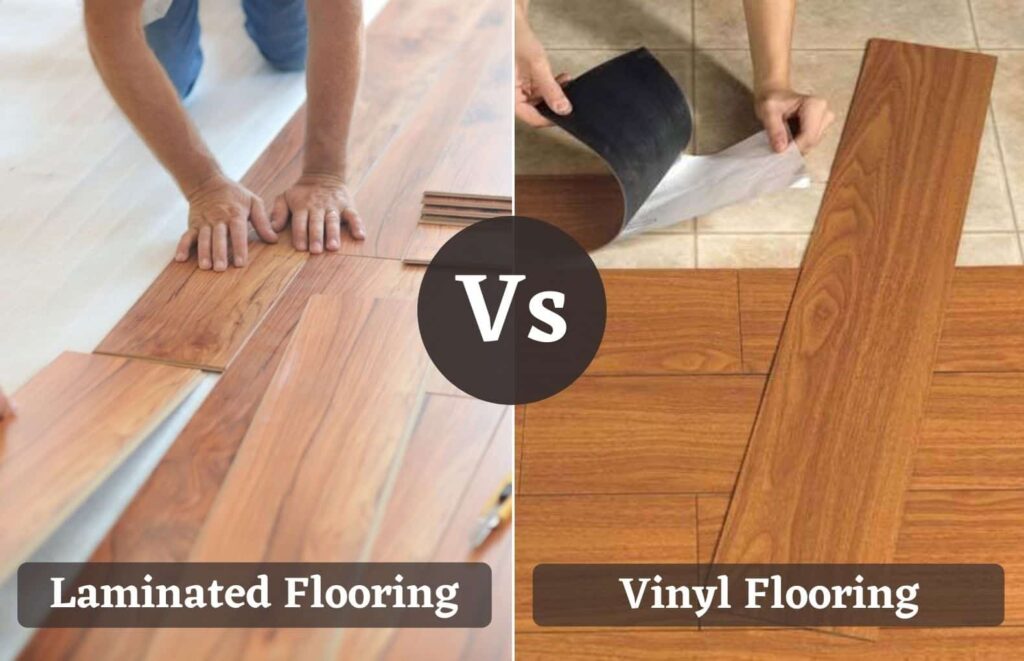 source: pinterest.com
Vinyl Flooring: Options for installing this flooring include glue-down, peel-and-stick, and floating. While adhesive peel-and-stick vinyl is a reasonably simple choice, glue-down application offers a safe and solid floor. 
Laminate Flooring: When installing laminate flooring, the tiles are often interlocked rather than nailed to the subfloor. This process is known as floating. A glue-down installation is another method of fitting laminate floors. This is especially well-liked for do-it-yourself projects because of the easy floating installation technique.
4. Appearance And Design Options
Vinyl Flooring: It provides a variety of designs, such as lifelike wood, stones, and tile looks. The look of natural materials can be accurately imitated by vinyl flooring because of technological advancements. The availability of vinyl flooring in a range of colors, patterns, and textures also makes it versatile in terms of producing diverse interior design aesthetics.
Laminate Flooring: It offers a variety of patterns that imitate the look of hardwood, stone, or tile. The authenticity of natural materials may be higher than that of vinyl flooring, despite the latter's genuine appearance. Laminate floor choices now have a more eye-catching quality because of the manufacturer's innovations.
5. Maintenance And Cleaning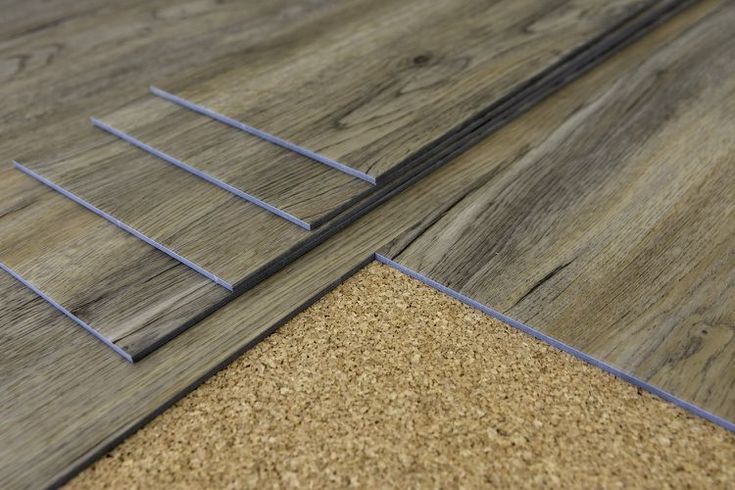 source: pinterest.com
Vinyl Flooring: This flooring is quite simple to clean and maintain. It normally only requires regular sweeping and occasional mopping to maintain its best appearance. This is great for homes with children or pets because its resists stains and spills.
Laminate Flooring: It requires less upkeep. Dust and dirt are easier to eliminate when swept or vacuumed often. However, because laminate flooring is more prone to moisture damage, it is crucial to wipe up spills right away and limit the flooring's exposure to water.
6. Cost
Vinyl Flooring: In general, vinyl is a less expensive flooring option. It provides a reasonable alternative without sacrificing strength and appeal. Its costs can vary depending on the type, thickness, and design.
Laminate Flooring: Compared to vinyl, it is typically a little more expensive. Yet it offers a cost-effective substitute for organic materials like stone or hardwood.
7. Sound Absorption
source: pinterest.com
Vinyl Flooring: This floor naturally absorbs sound, which makes it a great option for spaces where noise reduction is sought. It can contribute to a calmer environment by reducing noise transmission between floors.
Laminate Flooring:  This floor offers some sound absorption but not as much as vinyl flooring. To further improve sound suppressions, underlayment materials should be used.
8. Environmental Considerations
Vinyl Flooring: Becase, it contain PVC, a synthetic material, vinyl flooring might cuase environmental issues. PVC manufacturer necessitates the use of chemical that can have negative various environmental consequences. Furthermore, because vinyl flooring is non-biodegradeable, its disposal can be difficult.
Laminate Flooring:  Laminate is often thought to be more environmentally freindly that vinyl flooring. But for a more environmentally friendly solution, one must pick laminate materials with minimal volatile organic compound emission and sustainable certifications.
Winding Up
You should carefully analyze your individual needs and preferences before deciding between vinyl flooring and laminate flooring. Both choices offer dependability, affordability, and simplicity of upkeep. Vinyl flooring shines in terms of resistance to wetness, toughness, and variety of design options. On the contrary, laminate flooring has a realistic appearance and good scratch resistance. You can make an informed choice by selecting the flooring options that best fit your needs, style and budget by weighing the benefits and factors described above.