Usually, we roam around the house wearing slippers but once you have installed a hydronic floor heating system at your house, you will find comfort altogether at another level. Hydronic heating system involves installation of pipes under your floor to provide a larger surface for heat radiation. The heating system is versatile and can be installed beneath almost all kinds of floors, be it wooden, concrete, or a floor of tiles. These floor heating systems are installed for convenience and comfort.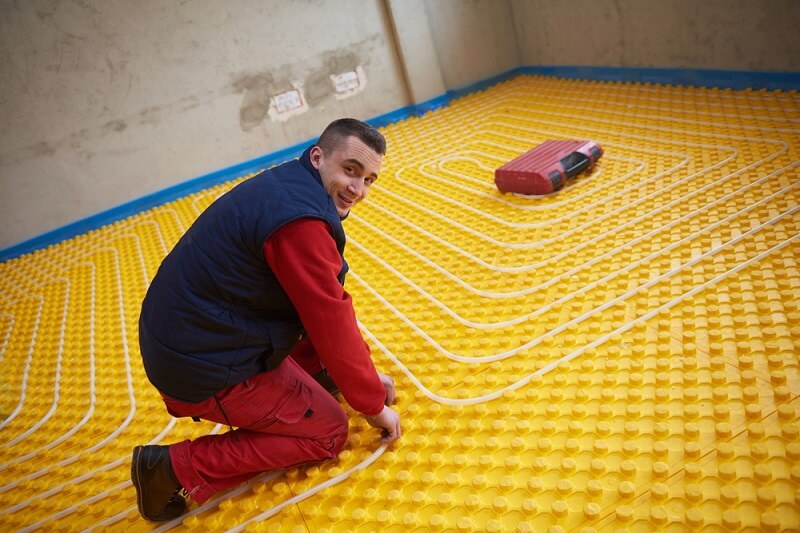 source: https://www.sunboardpanel.com
There Are 2 Kinds of Hydronic Floor Heating Systems
1. Wet Flooring System:
This kind of system is installed for wet floors. These are easy to install and the adequate insulation is ensured. The diameter of the knobs of the pipes are of approximately 16 mm. They need to be pushed to the correct places and fitted. For this system, a slab of concrete is laid between the subfloor and the surface.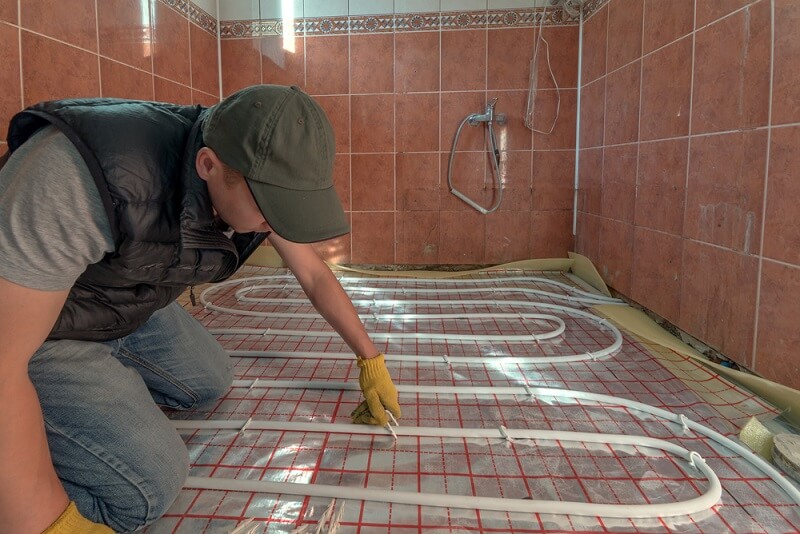 source: heritageheating.com
2. Dry Flooring System:
These are quick and efficient ways of transferring heat. These pipes contain omega shaped channels which make sure that the pipes have firm fitting. Dry flooring does not require installation of a concrete floor. The pipes can be laid directly under the subfloor.
The hydronic floor heating system offers three kinds of sources to heat the water for transmission. They are oil-fired boiler, gas-fired boiler, kerosene, or gas solar water heater. The kind of heater system you require depends on the place of installation. If you are living in a cold place, you might require a boiler system, but if you live in a place with moderate winters, you might need a normal water heater. Thermostat is a heating instrument which informs the heating sensor to send heated water to different places once the air cools down. It maintains the temperature of the place.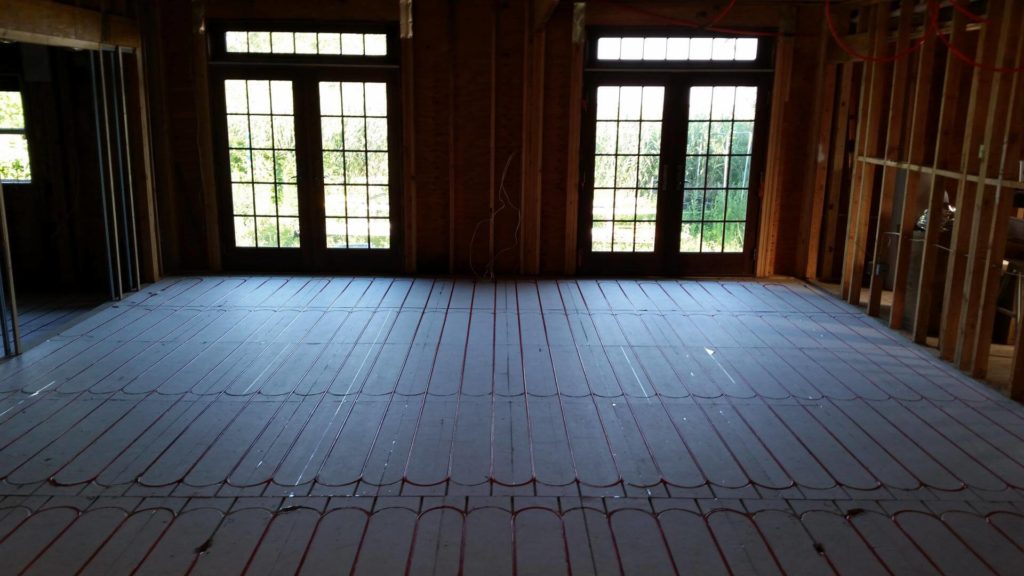 source: https://www.jlconline.com
Do These Floor Heating Systems Limit the Owner's Flooring Options?
Hot water radiant floor systems used to be installed in concrete floors. With the technological advancements and better designs, it is possible to install hydronic floor systems under any kind of floors. Thus, these heating systems does not limit the choice of a person. But there should be proper coordination between the hydronic floor system installer and the flooring personnel. They should both understand each other's work and allow a few changes in their design of work. One thing to keep in mind is the kind of underfloor carpet being used. A thick underfloor carpet is not good for heating purposes because it forms an insulation layer which does not allow adequate heat radiation.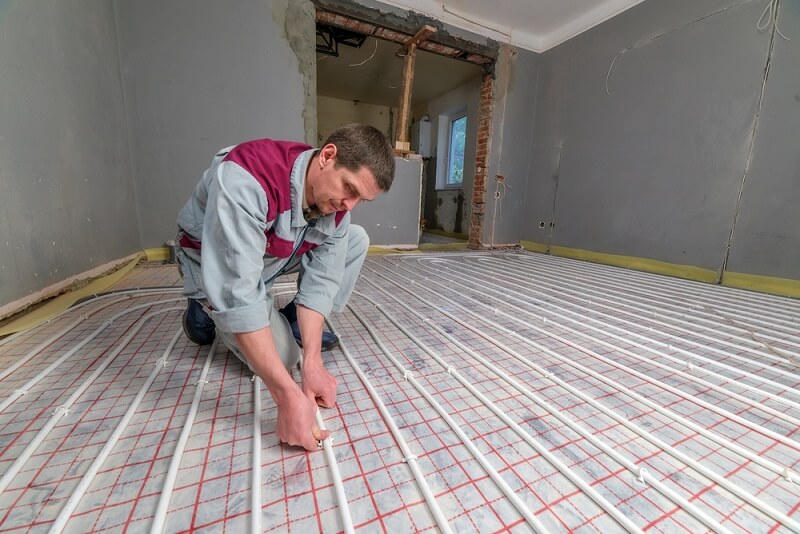 source: https://www.sunboardpanel.com
Pros of a Hydronic Floor Heating System:
Efficient and cost effective:
Hydronic floor heating systems are extremely cost-effective as compared to the electrical ones. They are cheaper and offer better heating throughout the season. When the entire house needs a heated floor, then people prefer hydronic heating system.
Long lasting:
A good hydronic system can last for 40 years or more because of efficient design. This advanced floor heating systems are designed in a way to minimise the wear and tear of the machine parts.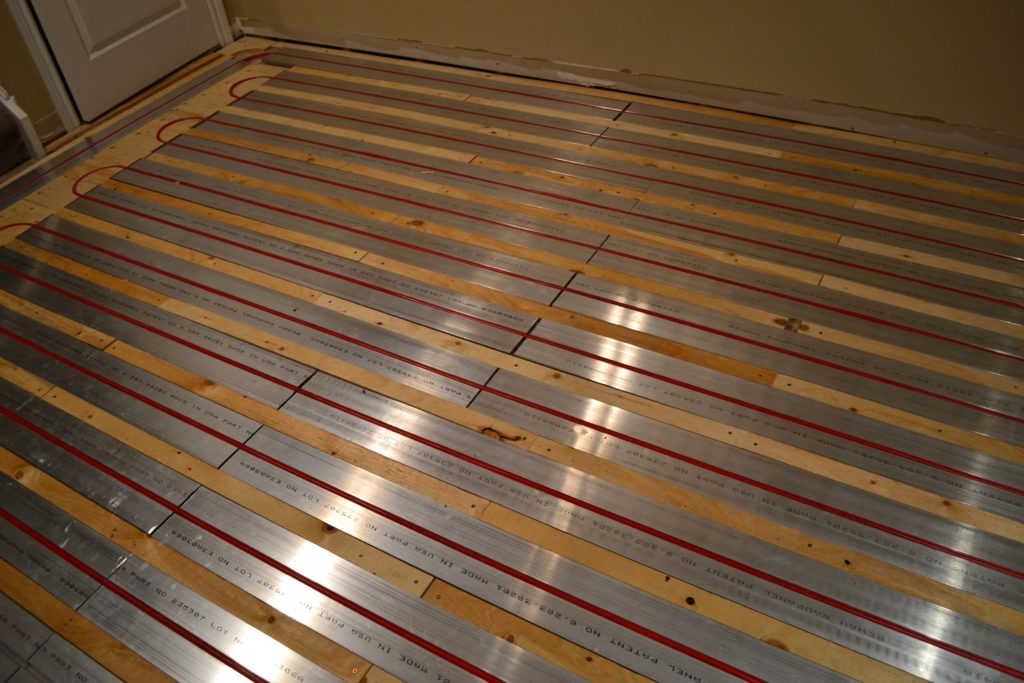 source: https://www.jlconline.com
Cons of a Hydronic Floor Heating System
Difficult to install in old houses:
Floor heating systems are installed underneath the floors of your house. It is easy to install in case of a new house but difficult to install in an old house, as the entire floor needs to be scrapped off.
High Cost: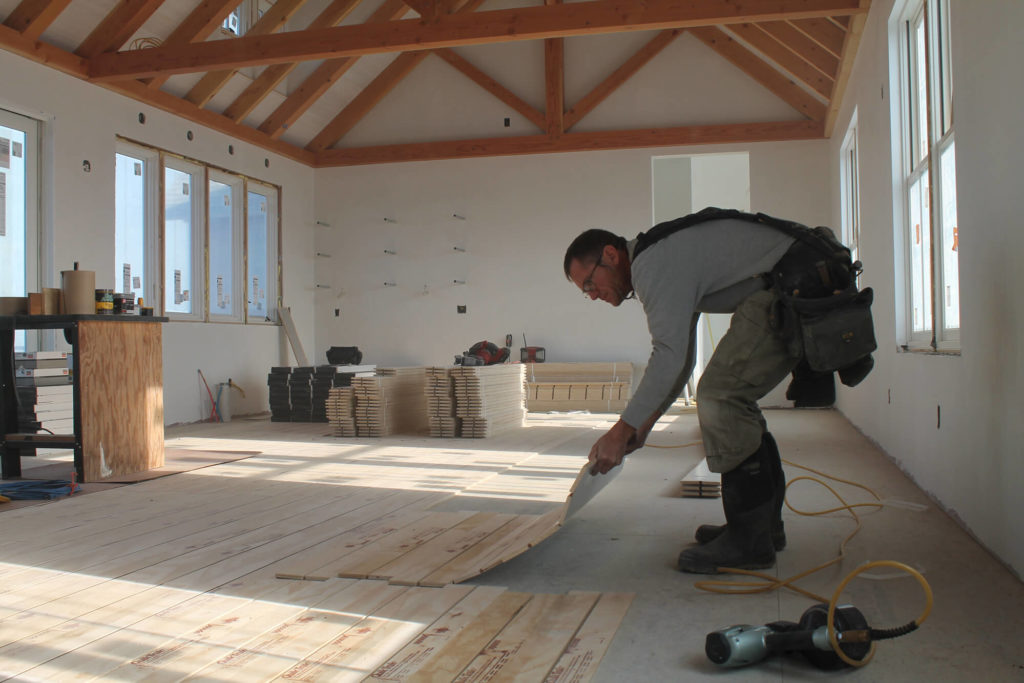 source: heritageheating.com
Hydronic Floor Heating makes it easy to live for people in extremely cold places by allowing them to walk on a warm floor and allow their homes to be warm. One should always take suggestions from an expert before indulging in this kind of a long-term plan at The Architecture Designs.