A bathroom mirror does more than just show how you look in the morning or before you hit the bed. It's also responsible for adding the wow factor to the overall look of your washroom.
 This article will help you arrive at a smart decision by pitching some ideas on how to put awestruck elements in your bathroom mirror. Later, the basic considerations in choosing the best one would be discussed.      
Considerations In Upgrading Your Mirror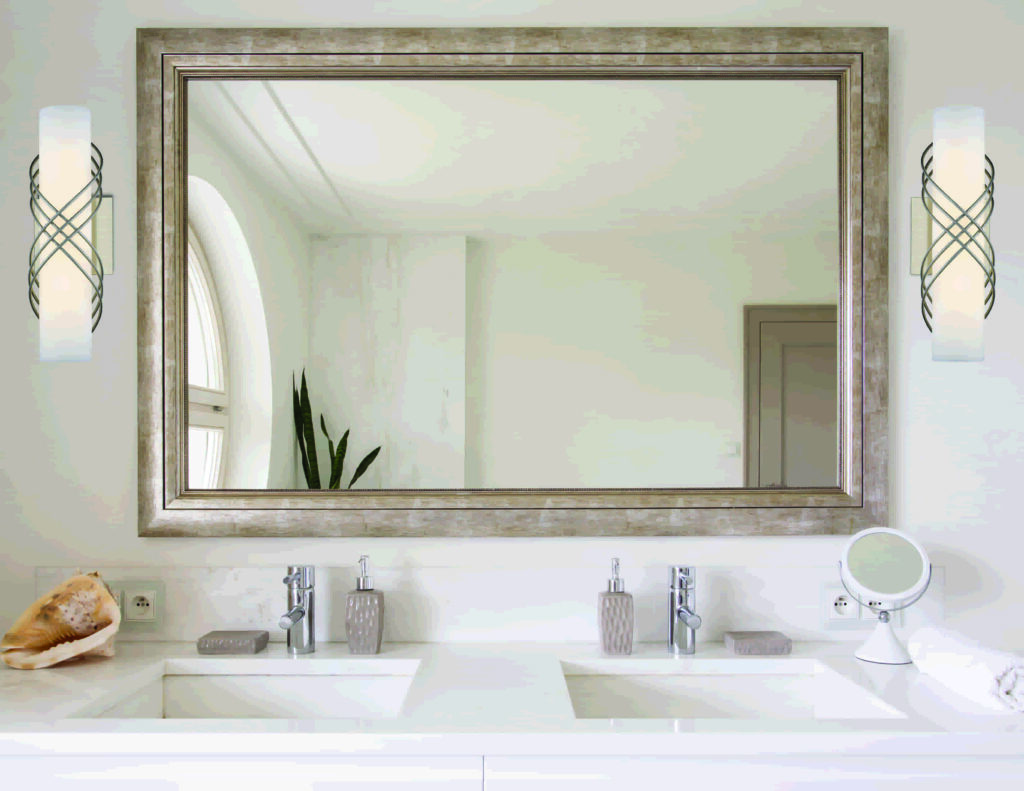 source: furniturelightingdecor.com
Whether you prefer style or function, there's a mirror fitting your wants perfectly. Paired with great lighting, a mirror upgrade such as a bathroom mirror frame can create the appearance of a more stylish space.
Before rolling up your sleeves and searching for any type of mirror, you have to know what you want to achieve. Be clear with your design objectives. For instance, if you want a traditional look, a large rectangular mirror could be a better option. Here are some things you should take note of:
Bathroom Style
Not all mirrors are the same because they come in various shapes, sizes, designs, and materials. From the framed, beveled, plane, spherical, to silver mirrors, it's up to you to choose the best to install on your bathroom walls.
If you're going for a modern and space-saving bathroom design, go for frameless mirrors. Inversely, if you want to have a more traditional look, install a framed mirror. Additionally, for a more unconventional look, how about getting a beveled and frameless bathroom round mirror? For the quirky ones, a decorative mirror with irregular shapes would be perfect.
Have A Wall Of Mirrors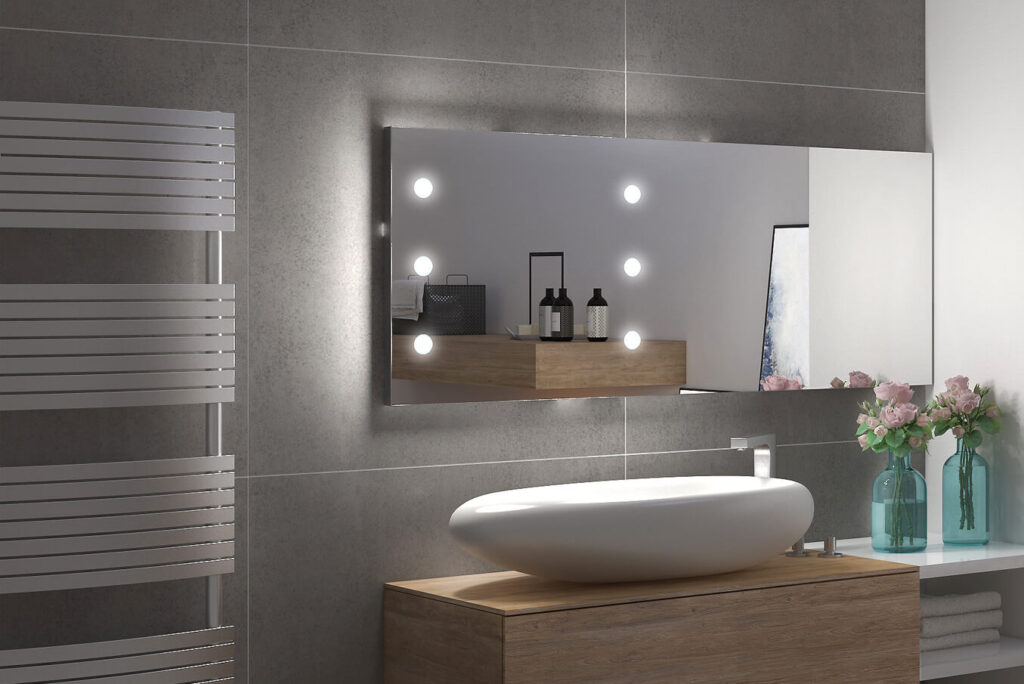 source: lineaunica.com
If you want to achieve the wow factor, why not upgrade your bathroom mirrors to cover all angles? Forget about having one or two above your countertop. Place mirrors in all of your bathroom walls to create a bold statement of being confident and beautiful no matter what.     
Get A Larger Mirror
While the general rule dictates your mirror width should be about 70% of your vanity cabinet, you can sometimes break it for the sake of aesthetics and function. For more natural light and the appearance of a bigger toilet space, have a huge mirror spanning across the bathroom wall. 
Have The Mirror Framed 
A framed bathroom mirror adds an interesting and personal touch to your bathroom. To achieve the look, it's best to create your own and get inspired from do-it-yourself mirror frames. Try it and you'll have your friends envying you for having a highly unique bathroom. 
If You Can't Make It, Fake It
Here's one useful tip: lighting and mirrors work together. Ideally, you should let the natural light in. But if you have challenges with this, you can just upgrade the lighting in your bathroom. You can also take matters into your own hands by getting mirrors installed with light-emitting diodes (LED) to illuminate your space.
Choosing The Right Bathroom Mirror Size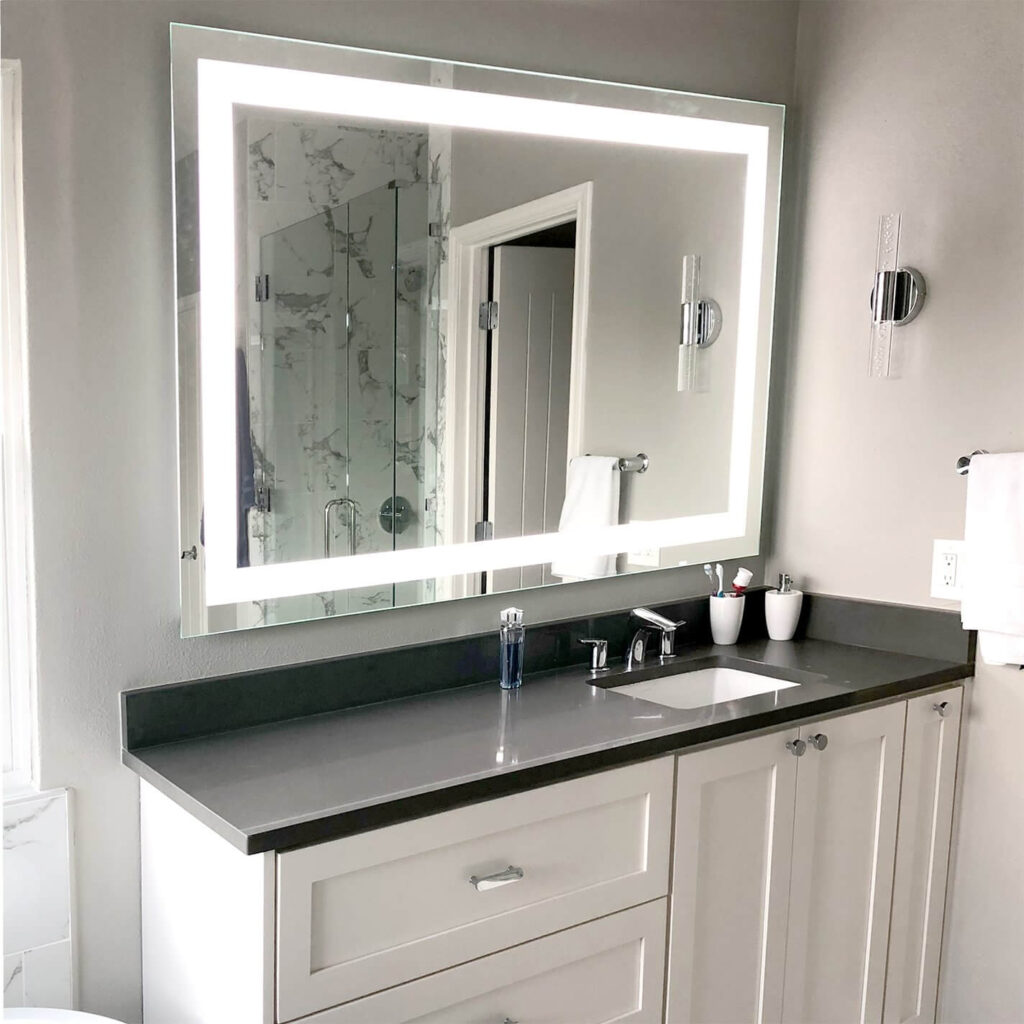 source: shopify.com
After you get familiarized with these mirror upgrade options, it's time to consider the various elements impacting the look your wish to achieve.
The rule of thumb is to measure your vanity countertop and subtract four to six inches on the sides to come up with your ideal bathroom mirror size. Meanwhile, a mirror's length should ideally be at least 30 centimeters above and below the eye length of the majority of adults who'll be using it. Ideally, it's recommended to have a full-length mirror to have better viewing angles.
Also, if you have a small space in your bathroom, large mirrors will give the illusion of a bigger space.
How Mirror Shapes Affect The Look Of Your Bathroom   
The shape of your mirror could affect the bathroom's overall ambiance since it adds to aesthetics. Here are some of the shapes you could try:
Rectangular Mirrors:

A large rectangular frameless mirror can bring out the wow factor in your bathroom because this shape conveys sophistication and classiness. 
Oval-shaped Mirrors:

If you prefer a posh and unconventional look, a beveled and oval-shaped mirror will do the trick. 
Round Mirrors:

Circular mirrors give the look of elegance that's stylish and unconventional.
Arch Mirrors:

An arch mirror, reminiscent of how windows were shaped like in the past, signals timeless style. It also gives the illusion of a wider space.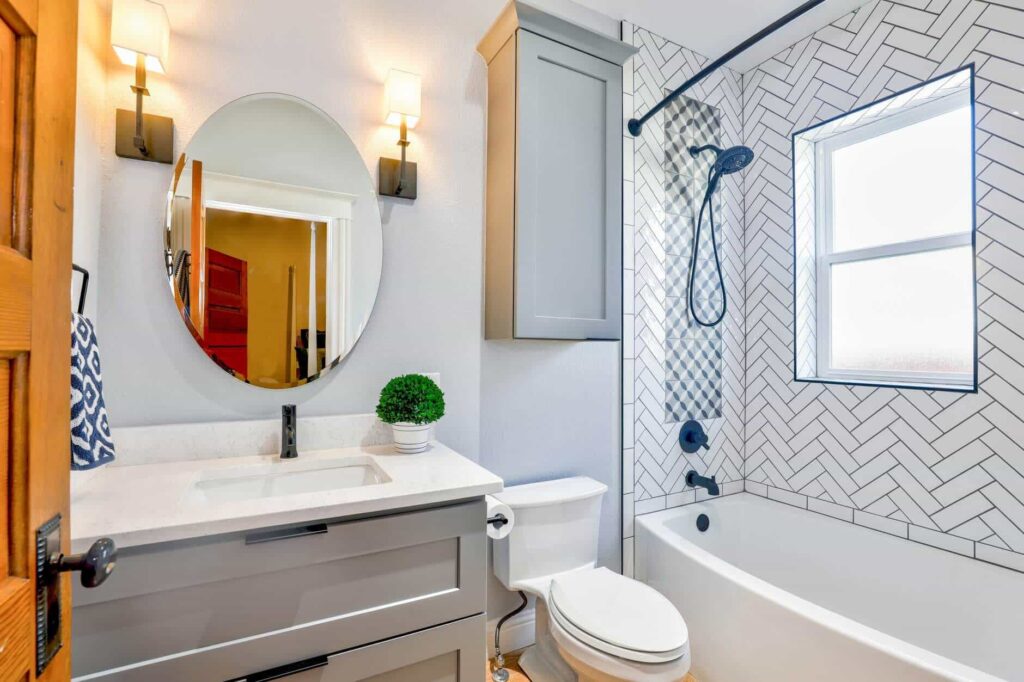 source: pinterest.com
Besides shapes and sizes, you can also choose between having a bathroom mirror frame or a frameless one. There are also decorative mirrors adding artsy and unconventional touches to your bathroom.
Bottomline 
Your bathroom's vibe won't be complete without a mirror. Choose from the several sizes, shapes, and designs to turn your space from drab to fab. Make sure to have a theme and stick to it, so you know how you can upgrade the style of your area.