3D home designs are noted for being stress-free, refined, and in line with new-age standards. Businesses looking to take the next step when it comes to their services should incorporate the use of 3D rendering right away.
The solution is not only cutting-edge but is going to draw in clients that don't enjoy guesswork when it comes to the design phase of a project.
Here are the main perks of 3D home designs and why they work so well over the long-term.
What are 3D Home Designs?
source: homedesigning.com
Before looking at the benefits, it's important to understand what this type of solution encompasses. In essence, 3D home designs create three-dimensional visuals of how a residential project would turn out. This incorporates everything the client is looking for and places it directly into a 3D rendering. It's a straightforward that reduces some of the complications associated with following a client's vision. Solution
Benefits of 3D Home Designs:

1) Visualization of Concepts
source: vertexcad.com
Home designs are beneficial for several reasons but one of the most important ones would be visualization.
Clients can often request specific design elements but don't know how they're going to come together. To make their lives easier, while ensuring their vision comes to life, businesses have started implementing 3D modelling software into their consultation process. Through a  website , it helps them to look for a 3D modelling software to consult about this stunning tool.
This makes it easier than ever before to see what the outcome is going to look like before the work begins.
2) Builds Confidence
source: comparecamp.com
Clients want to see their vision come to life and that may not always mesh with what the specialist sees. By having a visual in front of them, the client will immediately voice their pleasure or concern about certain elements. It removes any doubt about how the process is going to unfold and that's where the charm of 3D home designs comes into action.
3) Easier to Make Adjustments
Adjustments are an essential benefit for those who are trying to see a project come to fruition. By being able to walk through a  project's results of 3D renders, it becomes easier for clients to go through and ask for specific tweaks.
Instead of doing this in the middle of the project, it's easier to do with a 3D model in hand.
Clients can request changes and the 3D rendering can be tweaked for a second assessment. It's the simplicity and cost-efficiency of this process that makes it a must for new-age businesses. Any other solution is just not going to cut it.
Concluding Thoughts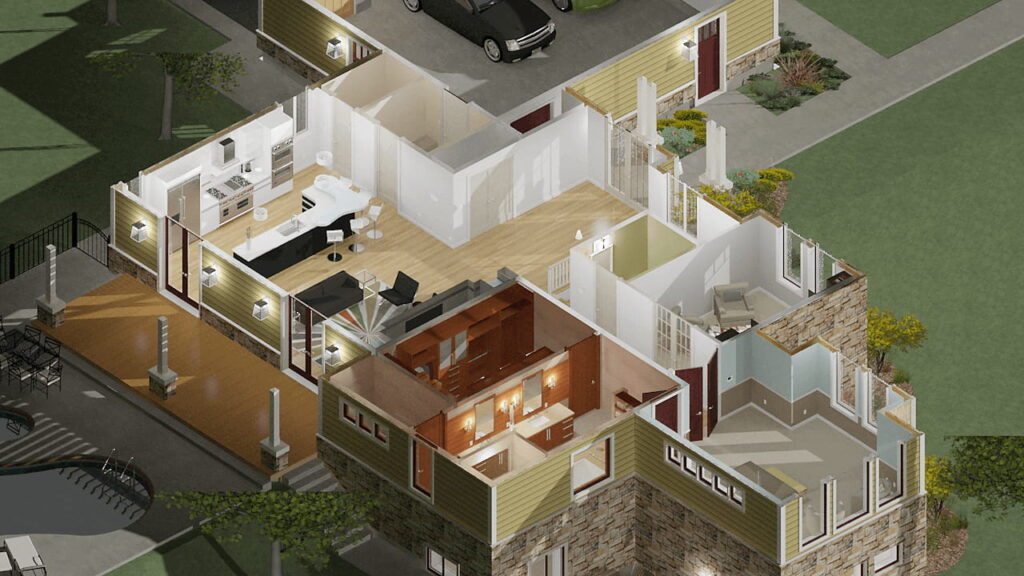 source: michaelhannadesign.com
3D modelling has become all the rage among modern agencies and professionals. Being able to visualize the finer details without having to go through the process is easier, faster, and downright better.
Those who are trying to take things to the next level should emphasize the use of 3D home modelling solutions. The attention to detail and the ability to customize is second to none for those who want the best. The advantages cited here are just the tip of the iceberg when it comes to enjoying the perks of a good solution.