Maybe you've never thought about it, but our days begin and end in the bathroom: taking showers, brushing the teeth, putting on makeup… For that reason, investing in the right bathroom vanity can have a long-term positive impact on your daily routine. Besides functionality, bathroom furniture is designed with style in mind. That being said, let's go through the different styles available.
Bathroom Cabinet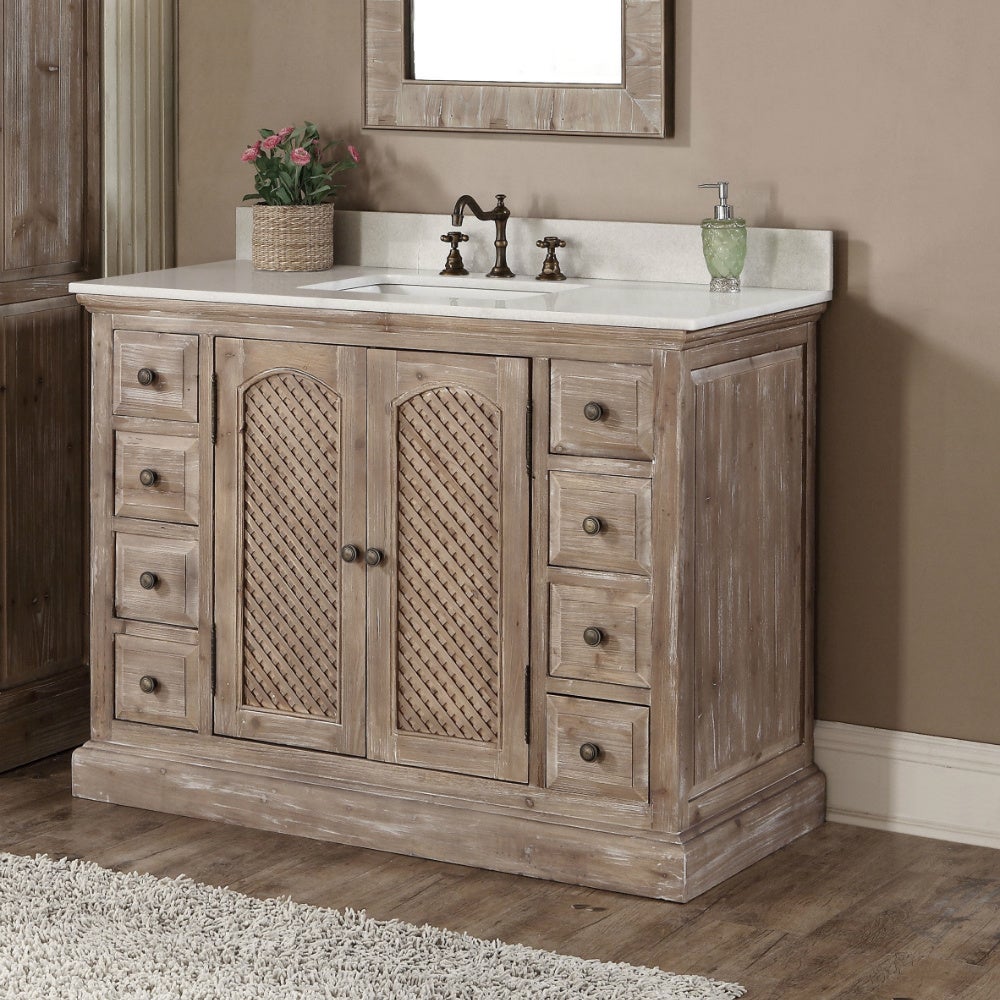 source: overstock.com
Usually compared to a kitchen cabinet, due to the number of pull-out doors, this bathroom vanity is a great choice for those who prefer a more classical design. But even if you're going for something simpler and modern, this vanity would blend in perfectly. Adding a bathroom cabinet can maximize space offering enough storage for your towels, cleaning supplies and other bath accessories. A perfect combination of practicality and good look that never goes out of style.
Under-Mounted Sink Vanity
This type of bathroom sink vanity uses a basin built-in directly into the vanity. That characteristic offers a flatter appearance, which adds to a modern ambiance overall. Sometimes there can be a slight riser at the outside edges that creates a unique look for the basin. Basically, it's the look of this vanity that makes it an attractive choice even though it lacks functionality. The storage space is limited, but if that's not a big deal for you, then you can go for this elegant and contemporary design.
Wall-Mounted or Floating Vanity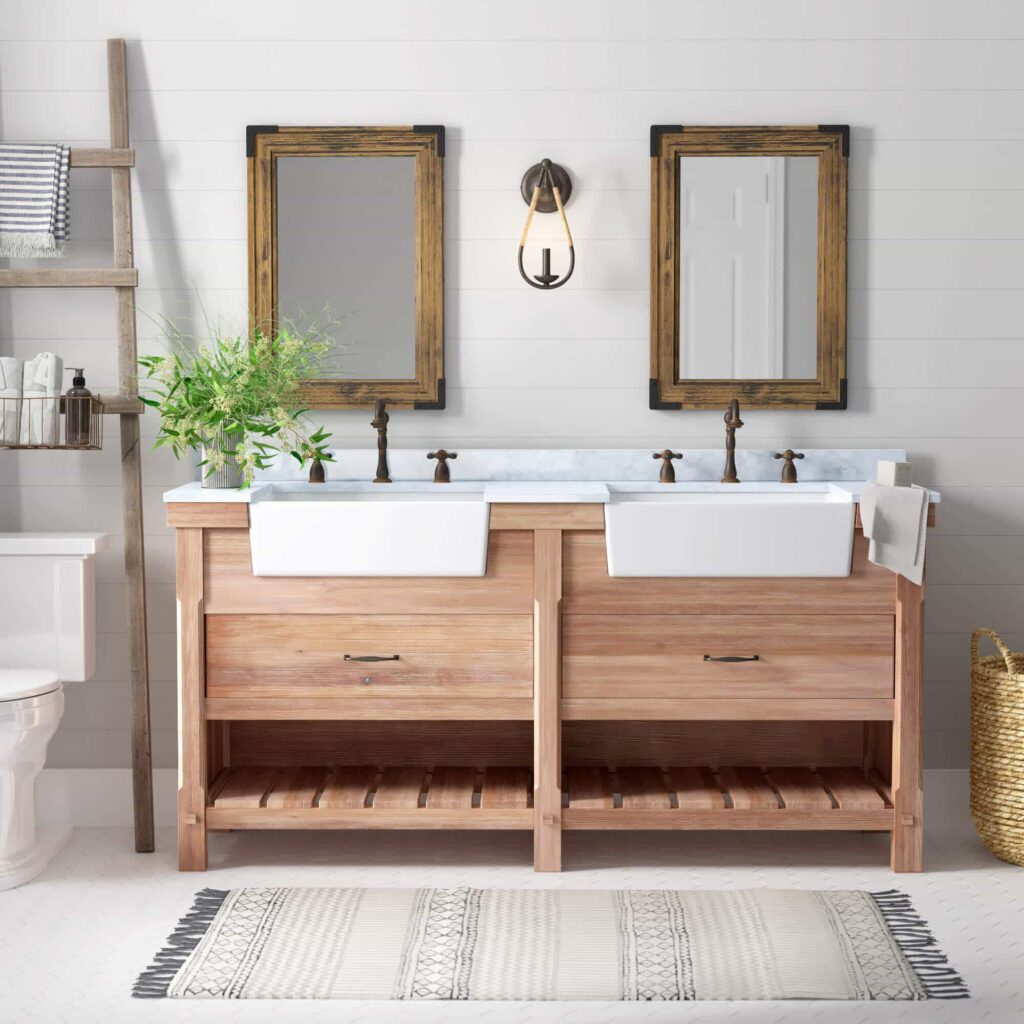 source: birchlane.com
These are attached to the wall, that's why they are also known as "floating" vanities. You can utilize the area underneath it for storage and it's easy to maintain. The best thing about it is the fact that it frees up a lot of space. No doubt it is the most unique bathroom furniture you'll see. In fact, wall-mounted vanities are the most popular type right now. That's due to the modern design being all about sleek and minimalistic features. Finally, a floating vanity is an excellent choice for a small bathroom.
Vessel Vanity
This type has been quite popular in the past years, mostly in fancy places like hotels and restaurants. It's a rising bowl placed around the sink area, where the basin stands out of the vanity's body. The design might look similar to other designs, but once installed, it gives a very modern approach to the bathroom. It does require a bigger space though.
Pedestal Vanity Unit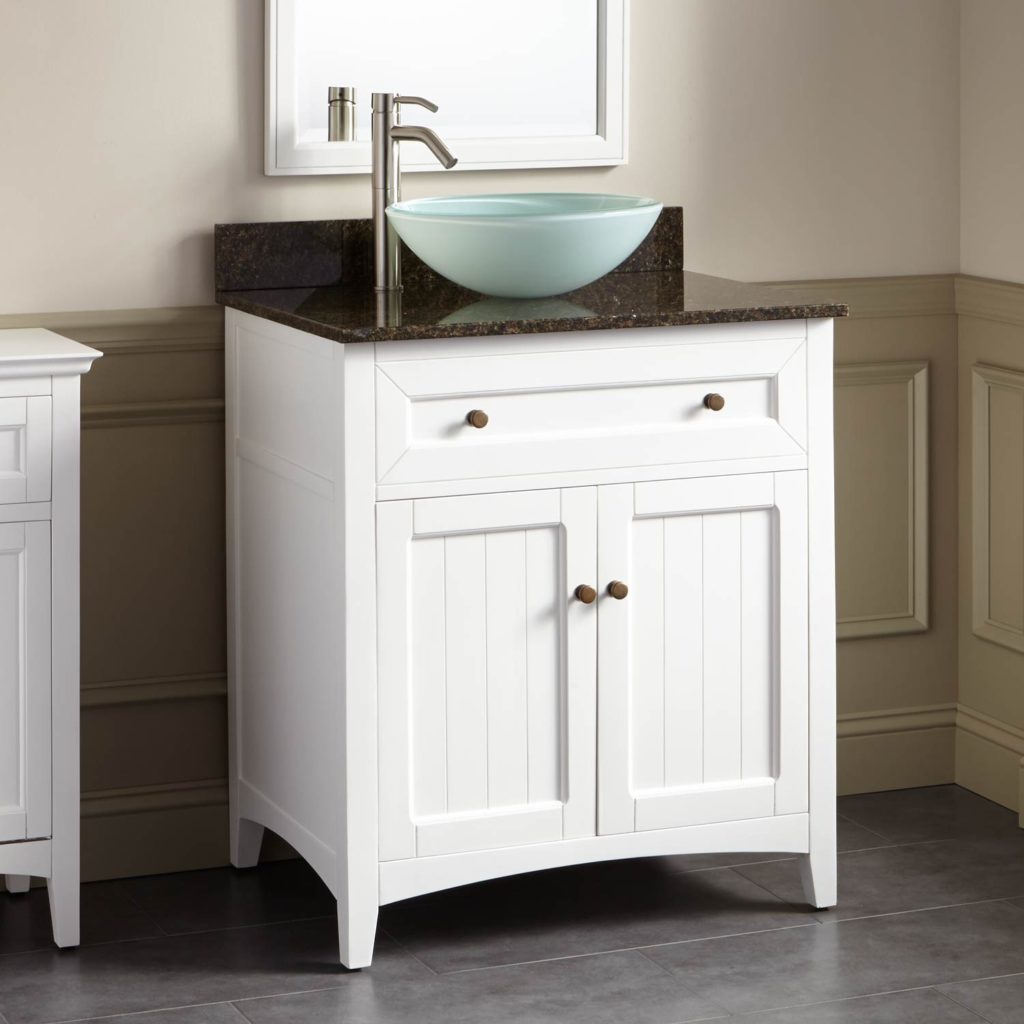 source: anextweb.com
This bathroom sink vanity creates a strong look that gives any bathroom a taste of traditional style and luxury. It can make a smaller bathroom look larger and can fit in easily in almost any previously established surroundings. Since it doesn't offer any storage space, you can always add different types of add-ons, like a shelf or a rack.
Freestanding Vanity
These bathroom vanities are similar to pedestal sinks. The only difference is the body. A rectangular or square body defines the freestanding vanity unit, while the round one is typical for the pedestal vanity. An advantage of purchasing a freestanding unit is that you can have two or more sinks installed next to each other. It's also one of the easiest to customize. It's mounted directly on the floor and takes up very little room. This type of vanity can add sophistication and luxury to your bathroom.
Bathroom Vanities' Materials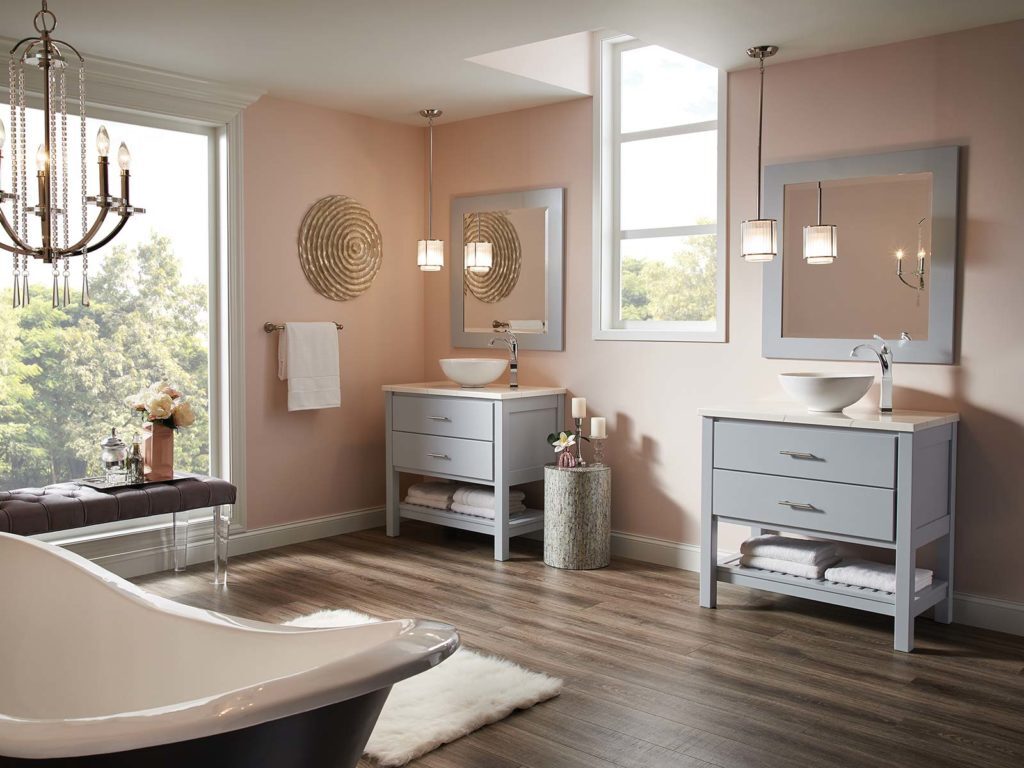 source: buildersupplyoutlet.com
The parts of bathroom vanities are made of different materials. Most of the vanity cabinets and shelves are made of wood. According to your preferences, you can choose from many types of wood, whether you prefer hardwood or softwood. The countertop, on the other hand, can be constructed from various materials. The following options are some of the most common ones:
Marble: Its smooth and cool surface creates a clean, sleek look, making it the most elegant choice. A very strong, long-lasting material. Easy to maintain, marble is considered a top choice for countertop material. It fits right regardless of whether you opt for classical or modern bathroom appearance.
Granite: one of the most common materials used for countertops. This natural stone, available in many colours and patterns can give a dramatic sense to any style. It is durable scratch-resistant, withstands heat and humidity and it's easy to clean.
Quartz: naturally occurring material. One of the most durable materials, resistant to bacteria and stains. Withstands heat and water and requires low maintenance. Gives a modern, sophisticated approach to the bathroom.
Laminate: increasingly popular material that creates fine, smooth look. It can be custom-made and painted in many different colors. Can be used for complementing a vintage look as well as a contemporary one. It's a sturdy material that will last long if properly taken care of.
Porcelain: durable and resistant to heat, and easy to maintain option. A downside is that it can be found mostly in white color, which limits the design sometimes. Used in the bathroom areas for centuries, suits any style, old-fashioned or modern one.
Tile: available in different types, colors and shapes. The grout lines of the tiles get filled with dirt easily, so a lot of maintenance is required. Ceramic tiles are the most commonly used ones. Resistant to heat, stains and scratches. Mainly used in modern designs.
Wood: if sealed properly, it won't absorb water. Mostly used in the rustic style design, with emphasis on rugged, natural beauty.
Glass: resistant to heat and scratches. Not used so often, but certainly gives an exciting, very modern look to the bathroom. Requires high maintenance.
Finally, once you install the vanity of your choice, you can paint the bathroom wall in a way that will define your style and add a mirror that entirely matches the design.