There's nothing that says luxury quite like a personal home theater. You can easily spend over $30,000 fleshing out home theater design ideas with the help of a professional specialist.
Instead of breaking the bank, it's more affordable to DIY. A home theater is a functional room that needs to meet particular design specifications to function properly. These considerations include acoustics, lighting, room dimensions, screen placement, speaker placement, and seating arrangements.
Before you start your project, read more the seven home theater design tips below.
1. The Walls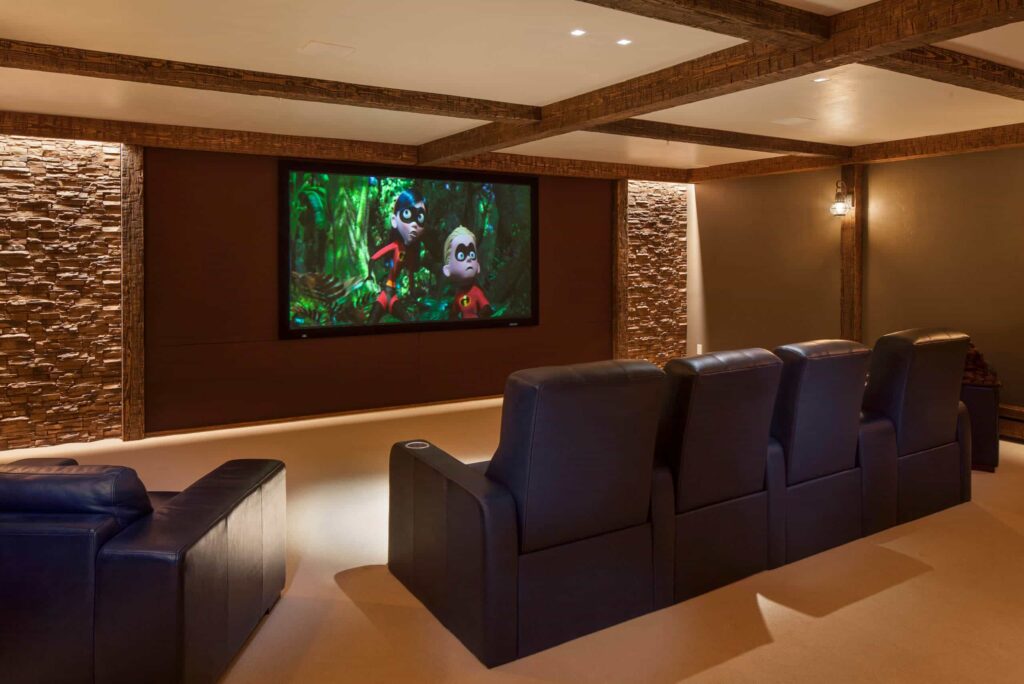 source: kingsystemsllc.com
Before moving in any kind of furniture, consider the wall and ceiling colors of the room. Additionally, are there any windows? Light leakage can easily ruin the ambiance of a home theater.
Windows can be hidden under heavy, high-quality blackout curtains. The wall color, however, should be painted a dark color. Choose a matte color that can absorb the light from the movie screen.
2. The Lighting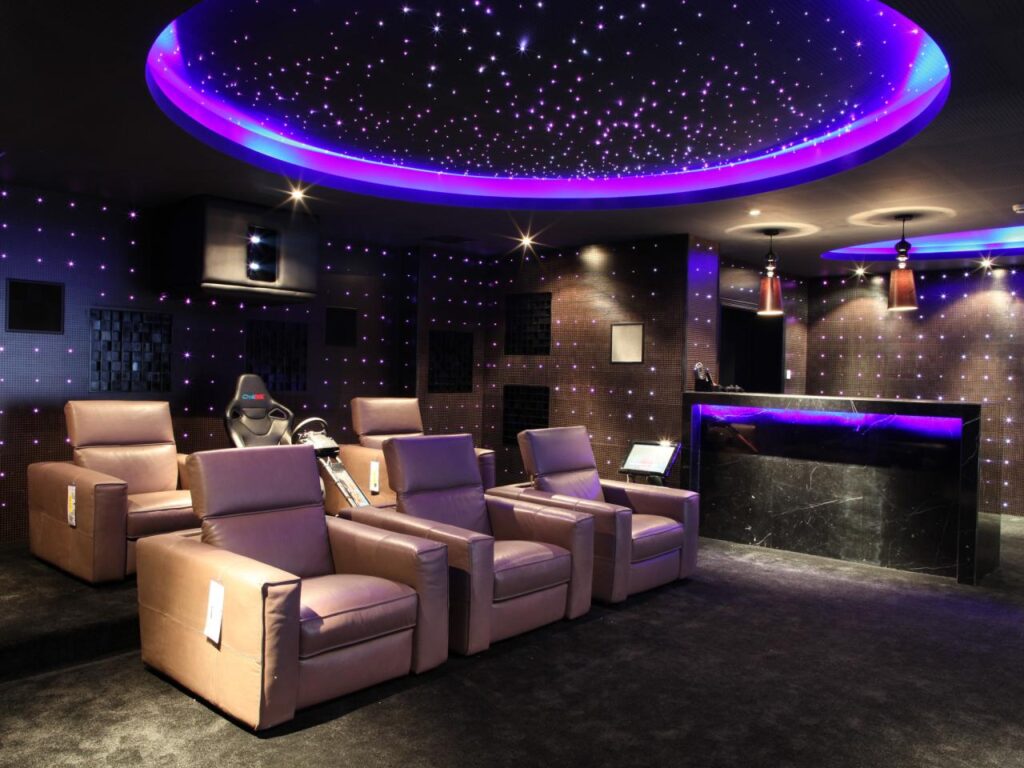 source: hgtv.com
Home theaters need to be dark but still have some carefully placed safety lighting. You may also want some lighting for screening entertainment other than movies, like sports games. Finally, decent lighting is needed to see properly and thoroughly clean the room after events.
Ceiling can lighting is good for both cleaning up and having some lighting without it spilling onto the screen. For safety lights, consider indirect, LED light strips.
3. The Acoustics
The sound is one of the most important factors in a home theater, and it is greatly affected by room dimensions. When considering a room for your theater, avoid one that is too square. A long room with a high ceiling is ideal.
4. Ideal Seating
source: fusionaudiovideo.com
Seating is also hugely important for setting the right ambiance in a home theater. It has to be comfortable, but also work with the surround sound functionality of the room. In this regard, the choice of seating becomes crucial, and one option that perfectly combines comfort and functionality is the Valencia Theater Seating. Not only does it offer exceptional comfort for extended viewing sessions, but its design is also engineered to enhance the surround sound experience in the room.
Consider placing risers if you intend to have more than one row of seating. Otherwise, people in the back may not be able to see.
5. The Sound System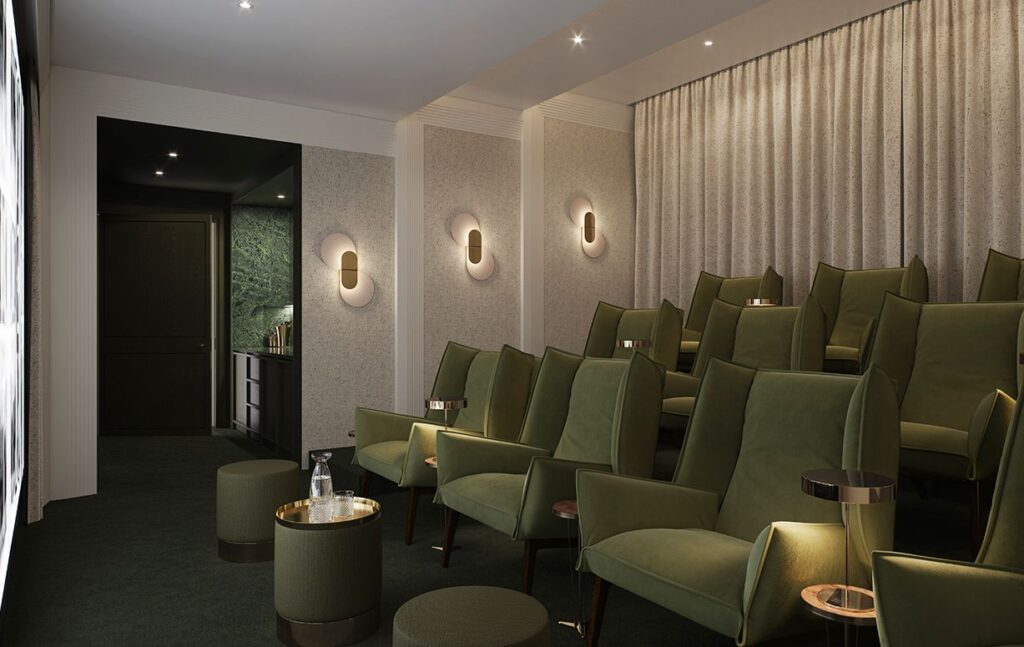 source: hearstapps.com
A surround sound system is one of the most common home theater ideas. The speakers should be placed before furniture as their placement is less flexible. Arranging the speakers is one of the most complicated parts of a home theater, and it's wise to ask the advice of the professionals where you purchase your surround sound system.
You will also need some wall treatments to reduce the sound bouncing off the walls.
6. Screen Placement
Screen placement is relatively straightforward. It needs to be centered in front of the seating area, and speakers need to be symmetrically placed around it. The biggest decision is whether to go with a projector or giant flat screen.
7. Theme Ideas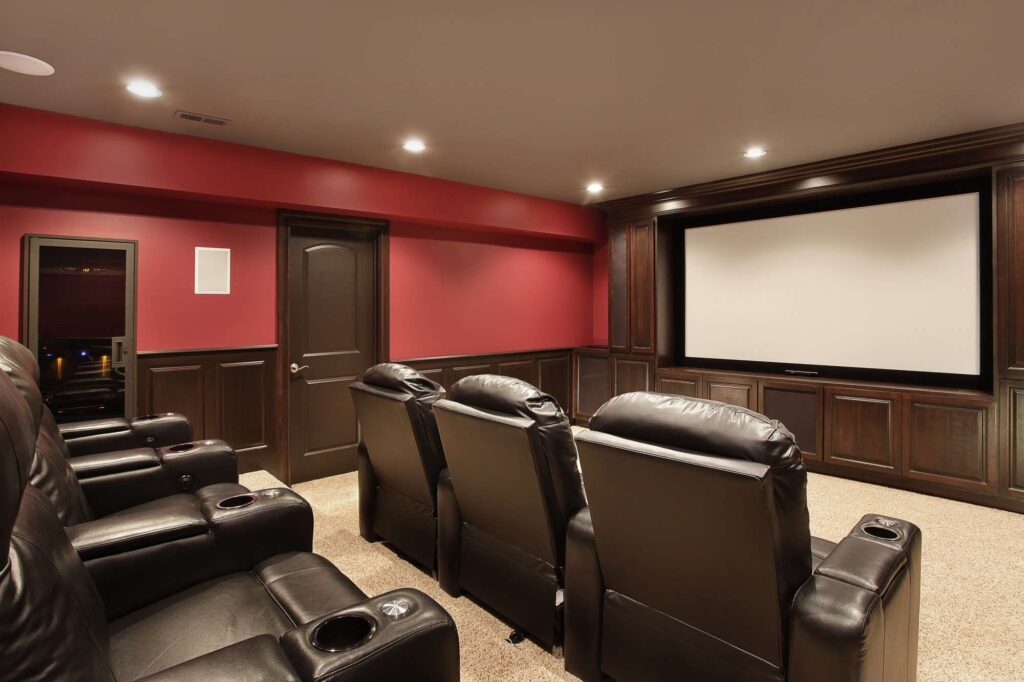 source: bbdlifestyle.com
Now that you are aware of the general components of a home theater, you can consider a theme. Will the theater be a transitional room? Do you like a modern aesthetic, or something more kitschy? Consider your aesthetic when choosing seating and decorations.
Fleshing Out Home Theater Design Ideas
These home theater design ideas need to be met for the theater to function at its highest quality. It may seem like a lot of work, but the end product is worth it. The last thing you want is to host a movie event where poor sound or lighting ruins the ambiance. Incorporating plush Valencia theater seating into your home theater design will provide the ultimate movie-watching experience in the comfort of your own home
For more home design and improvement guides, make sure to check out our page.