It is difficult to get to know about what things your furniture is made up of? Normally, people don't try to know about the quality of the furniture, as they get mesmerized by the beauty of the stuff. Furniture designs usually attract a lot of people and they might face problems after. As you are not aware of the stability, quality, and durability, how long it would be maintained as new! I think it's a big question for all of us. As you don't know about how these sofas are made up of by using what elements. So let me tell you if you want to judge the eminence of your couch, first get to know about its morphology, what it looks like. Eminence is more significant than looks as the two-identical-looking settee can differ so much in prices. What lies inside your sofa decides the worth.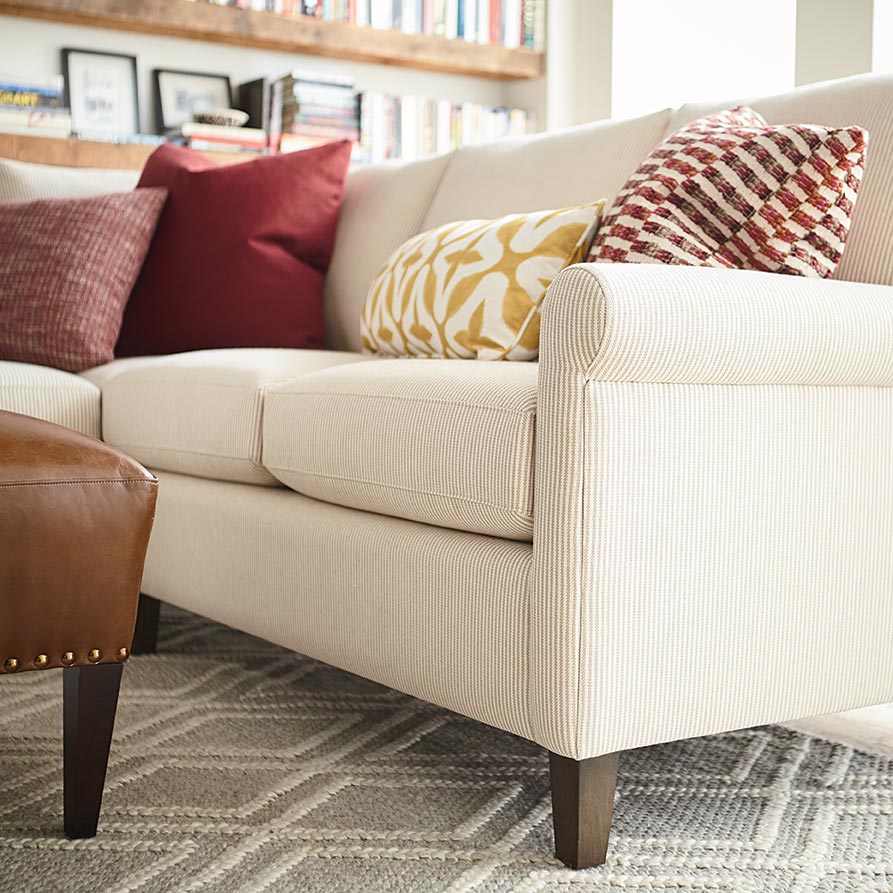 source: bassettfurniture.com
Just to make you aware of how you should judge any kind of fixtures that you buy? We have come up with some of the conclusions which might help you further to make your furnishings work for a long period.
A couch has different parts – that is, the frames, seating support, cushions filling which decides about the shape and structure of your chesterfield that is to be maintained for a long time. Also, the level of comfort is provided by the couch to you. Also get to know about its upholstery and warranties, as a reminder.
The Frame
Everyone would prefer to buy a settee that would work for an extended time. Obviously, which is going to save your money and time both. The frames determine the ability of the furniture to retain its shape and structure and how long your couch will last, and a high-quality settee always had a tough and well-built frame. What you should consider while judging furniture eminence, frame, of sofas:
What if all of a sudden water or any kind of beverage falls on it? You must see the materials used for making your loved seat. The high-quality sofa has a frame made up of kiln-dried hardwoods, which are the best frame ever; this can last for 15 years. Examples of few hardwoods that can be used are birch, oak, maple, and teak. The functions of kiln hardwood are supposed to dry up the moisture that has been entered in the woods to maintain the shape and retain its stability, these frames do not allow to break the couch easily or damage something else. Whereas frames made up with green wood shrink and get cracked when it dries. Softwood purpose as the name says it can bend and get broken easily, while knotted wood is lying on the very front to crack.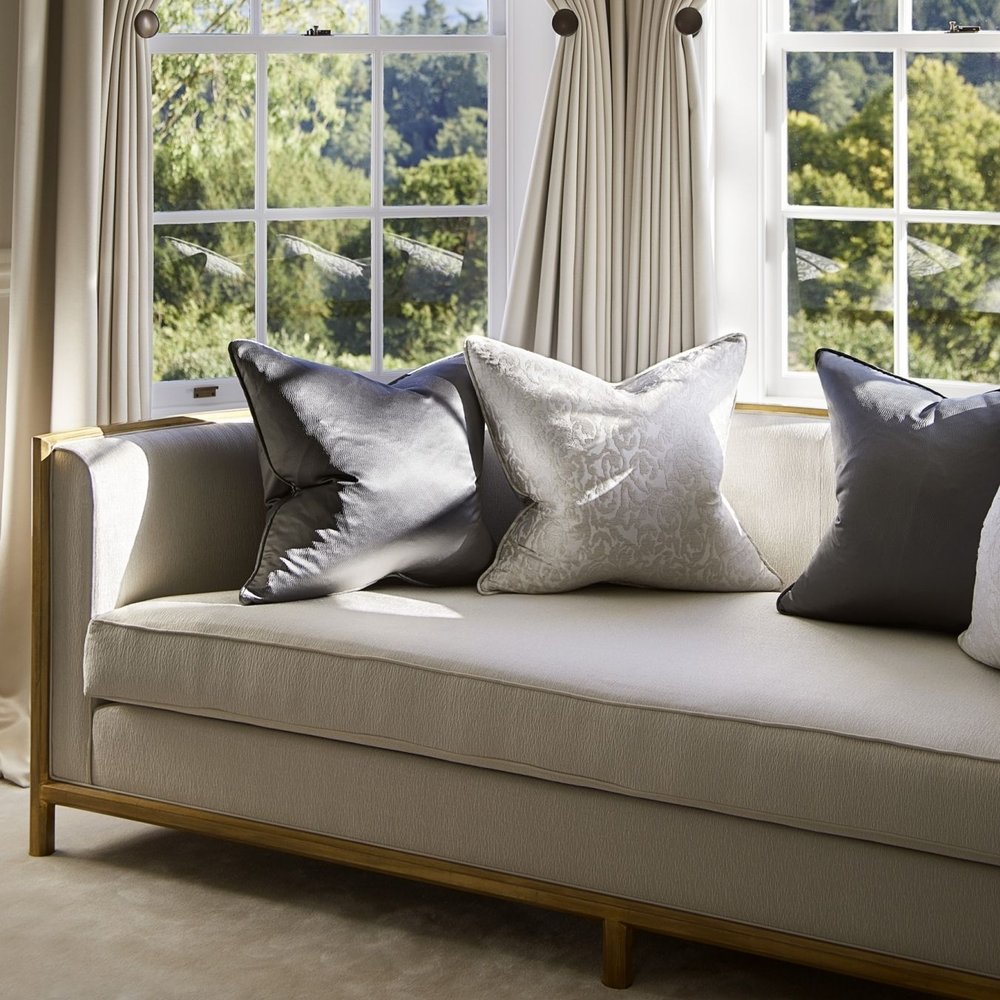 source: hausporta.com
To strengthen the ability of the sofa to hold many seats is fixed up with a good eminence of frames. In this frame, the combined acquire unique interest. These are tightened by glue, dowelled, and bolt. The corners are further strengthened by the addition of extra support blocks to provide better reinforcement and strength to it.
Some manufacturers use plywood which can lead to difficulty for the furniture to last for a minimum of 5 years, but if you add at least 11 to 13 layers of plywood it would be able to stand for a long time, here you can observe that construction of matters is important as much as material. Plywoods are the substitute for hardwood to make it at a cheaper price Commonly talking, particleboard and plywood frames are mediocre, principally if they are in custody together with the help of staple. A supplementary layer of plywood can reinforce the frame, and sustain its strength.
Support for seating
You should always check the seating support. It is necessary to be checked practically before you buy it. That it is giving relief to your seat and your back. Keep noticing that it won't sag, so you won't face any problem in your back. Seems that seating support is also one of the important components to check the furniture's eminence. Its mechanism is a cycle with the frames and the fillings. A robust frame provides a good anchor seating support and filling enhance in it. The most common seating supports are:
The best seating support system is an eight-way hand-tied spring system. In the fixing purpose, the craftsman connects each spring to the adjoining one with one more brawny thread. This is tied with proper directions and measurements; the twine is fixed through frontage to backside, side to side. To secure the spring it is also followed diagonally in both the direction which completely covers the twine and reduces the chances of breaking the backside portion.
Another common method for this is the construction of a lithe spring or else you can sinuous spring. The construction is carried on by giving it an "S" – shape which adventures from the front to the back seat. This requires an additional twist to support and cover the portion cross from face to face, no diagonal connections are made. Though it doesn't mean to be weak, this is how it performs! This is one of the best support systems. It should be mostly preferred when you have got up with a small frame as it entails less space or in a sleeker style.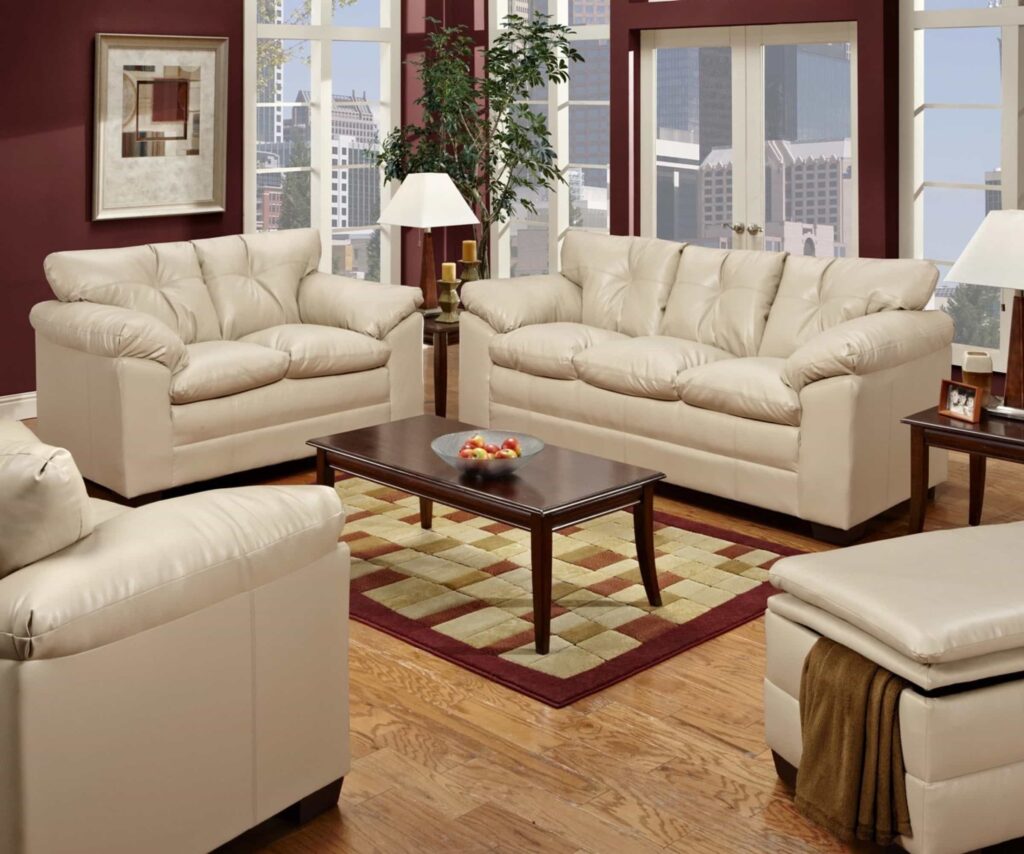 source: apartmenttherapy.info
The last one is web suspension; this covers the area across the front to the back of the seat by webbing the twine. These are attached to the frames to give support and comfortable space for cushions. Web suspensions are made up of either natural or man-made fibers', and if used alone it might not carry out very sturdy support. Web suspension is the least preferable of the seat hold system option.  In a better-quality couch, it is used up with a pensioner that fastens up the webbing steadily to the frame.
Upholstery materials (fabric/leather)
Upholstery is also uniformly significant to determine the eminence of the chesterfield, there are various types of upholstery used to prepare the furniture. Fabrics like cotton and linen are used when there is a tropical atmosphere with high humidity, so these are set because they don't absorb much heat. But these fabrics cannot absorb the moisture around them. These fabrics can hitch and wear quickly off with no appropriate continuance. So, a better alternate idea is polyester, which performs not that good but better, as it stays for a long period even in an unconditioned climate, and easily maintained.
If you want a leather one, then the atmosphere should be dry, not humid, if the area is with high humidity then you must forget about having synthetic leather, these will flee after a few months. If you are genuinely looking for it then the cost is ridiculous, about 60 to 80% increment as compared to the sofas made up of fabrics.
It makes up the soft corners of the settee, modern upholstered equipment is used to increase durability. Choosing high-quality inner layers will help it make secure for years; the fabrics can be changed accordingly. If it is about looks, the best upholster for many is silk velvet, which is very beautiful and attractive in looks but the feature is not trustable because it can be easily destroyed, if you have kids or pets in the house, as the frame and seating support cannot be fixed tightly which cannot hold the silk. Fabrics appear to have more advantages as they can hold up for a long period, with frames and seating support, which maintain interior durability.
If you want a perfect love seat with looks and durability where kids and pets are no more responsible to affect your settee, the upholster used for the couch is faux suede or the sunbrella indoor-outdoor fabric along with robustness. Lastly, upholstery is significant to determine worth also with frames and support, does it properly hold by the anatomy of the couch.
Filling cushions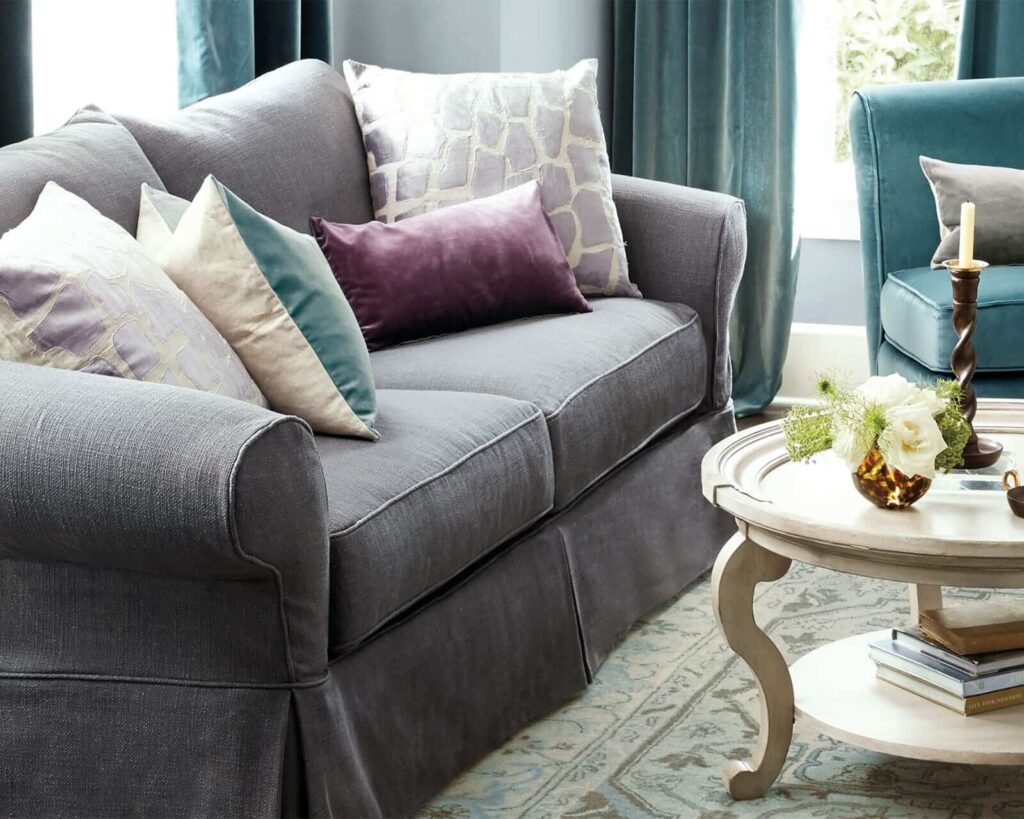 source: ballarddesigns.com
Now after having look at the frames, support system, and upholstery, it's time to see what is used for filling cushions. Filling in cushions shows how firm and soft it is, comfort pillow must be given after stodgy the cushions. Once you take out some time for relaxing and what if the cushions you have are way sturdy and hard on you? Obviously you will not like to relax in such places at such instances several points are a must to be noted in the quality of cushions:
Polyurethane or polyester batting is the most common filling which is being used for several decades. The most important thing is the higher the density, the cushion will be more firm. Cotton is a better option to make it softer or foam can be draped into a softer material, but it is way harder while maintaining. Dacron-draped foam is the cheapest one, but it is not the same for long. Though, you must get with a material that can be plushy and soft for a long time.
Make sure that the foam is present in higher density so that lesser quality foam present in it, start breaking off pretty quickly, causing slumps, it directly affects the fabrics, makes it stiff when all this happens. So, always pull out or opt for the higher density one, if you are looking for the utmost benefits.
If you want soft and plushy cushions, the cushion is made up of 100% goose-down feather, which is exorbitant. A goose down is a coating of well feather initiate under the tougher external feathers. If you need a full feather cushion than it needs daily attention and high maintenance. It is considered to be a premium choice, therefore it is the price. Many furniture designer companies usually manufacture soft and plushy cushion with the help of a mixture of two components, foam, and feather. These are fixed together inside a cushion which can maintain itself for a long time and do not require daily attention, also it is not pricey.
Warranties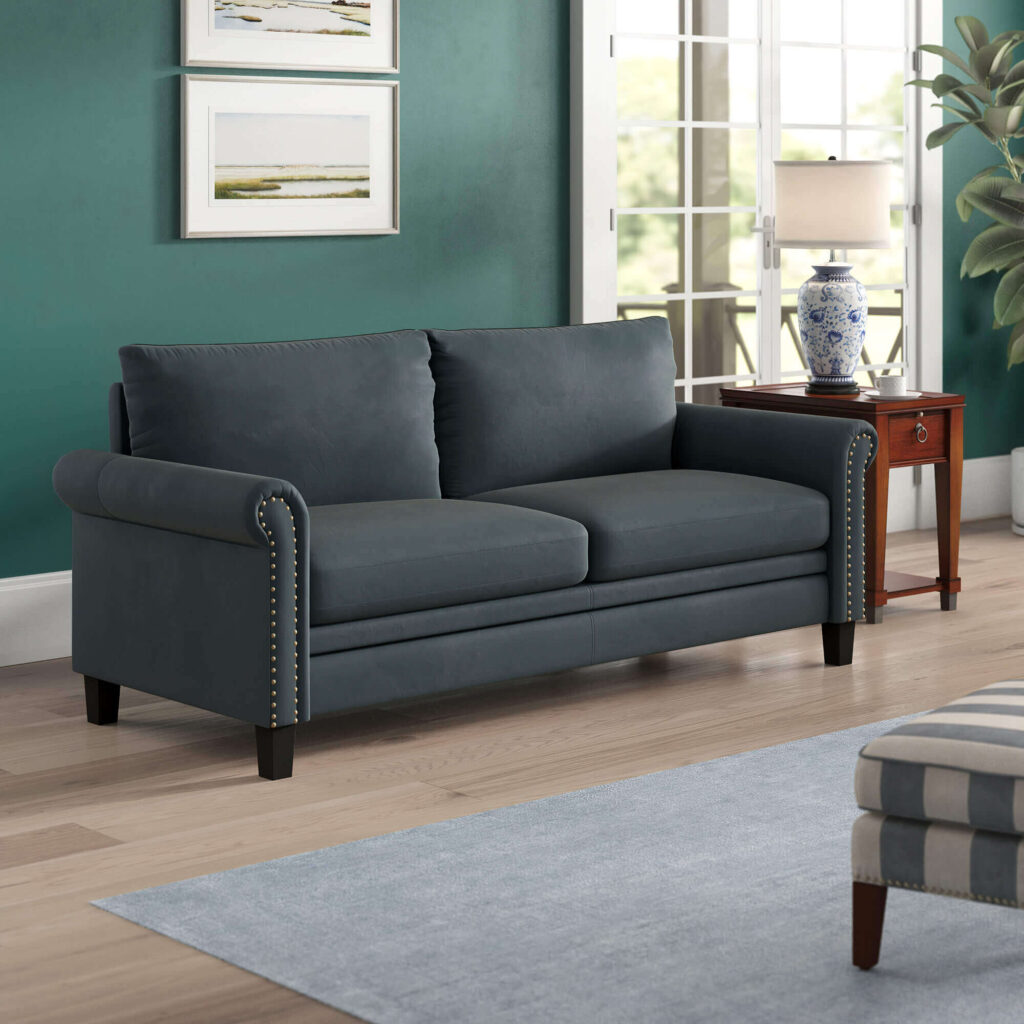 source: wayfair.com
Would you like to invest in furniture which retains a good quality furniture only for a shorter period? The answer most probably would be 'No'. Why? Because whenever one looks forward to investing a good amount, then usually they will opt for a sofa which gives them the assurance in form of a warranty. Furthermore, if a retailer provides a long term warranty to their clients, it makes prominent that the retailer is using the best material while manufacturing. Whereas some companies provide the warranty of span life of 1 – 5 years, though it doesn't mean that they use poor materials. They subject those conditions in front of their clients to give them the idea that the product they are conveying is of normal wear.
In a survey, it has been noted that, if the warranty period is below 5 years then it raises many concerns to clients, while in case of warranties aging between 5 – 15 years provides better satisfaction to your clients. Not only has that it built up a good partnership between the customer and the retailer. Try not to match up companies with fluffy marketing gimmicks, as they might easily lower down their rate which makes the client comfortable with the payment and investment while it makes them uncomfortable with the products. Some of the time, it is preferable to go with the warranty rather than going with the look in the catalog.   
These were the best tips on which one can rely on while opting for the best sofa or furniture similar to that. Along with the best selection of sofa, you are moving your step forward to your home improvement. The one who follows and gets prepared by referring to the tips mentioned above will be well-informed, and then they know where we have to implement hard-selling tactics and where we have to be shoddy against.