Are you looking for some inspiration for bedroom curtains? Given the importance of a good night's sleep, it makes sense to give full attention to window coverings when designing your bedroom. Our favorite bedroom window treatment? curtains. The softness simply works best in bed rooms. 
There is a window treatment to fit your style, from breezy sheer linen to elegant draping velvet. So here is the collection of master bedroom curtains that will transform your space into a stylish and inviting retreat.
Greenery Garden
This curtain's green colour and pattern of flowers and plants reminds us of a garden. As a result, it is ideal for those of you who want to be reminded of the importance of living a healthier lifestyle. Furthermore, Bedroom Curtain Ideas like this one provide good light protection.
Shades of Blue
There are plenty of different shades of blue that you can use in your bedroom curtain. It's appealing because it complements the nearby brick wall. If you want a cover for your small windows, this is a great option. Below are some inspiring examples. 
Blue Space: Do you want to feel the silence that astronauts felt when they travelled across space? Take a look at this dark blue bedroom curtain. You can sense the quiet as you close the curtain and switch off the main light. Now you can really unwind and get a good night's sleep every night.
Retro Blue: It has a definite retro/classic vibe. In this place, you might imagine having a relaxing afternoon tea. It would be ideal if your tea set's design matched the blue flower pattern on your bedroom curtain. With its blue flower Bedroom Curtain Ideas, this room also feels like a good place to read.
Snake Skin 
Actually, it's not a snakeskin pattern. However, if you look closely, you can see that it has a snakeskin-like design. That's a good thing, in my opinion. The snakeskin pattern adds an air of elegance and luxe to the space.
Zebra Skin 
The zebra stripes are cool curtains for bedrooms that can easily change the look of the room. It normalizes the bright type minimalist style bedroom, as you can see here. As a result, the scenery will become more balanced, and it will be a pleasant place to spend your time.
Bold Red 
source: home-designing.com
Red is considered to be a lucky color in Asian culture. So, why not apply it to your bedroom curtain? Take a look at the picture for a perfect example. The red color is ideal for the space. Furthermore, the pattern on it creates a strong oriental style that will look great in your room.
Summer Vibe 
Summer has already arrived. So, don't let the long-awaited sunlight enter your bedroom. This is possibly the main idea behind this bedroom curtain style. Transparent fibre is used to welcome the summer sunlight. You might need to use Bedroom Curtain Ideas with this concept too.
Subtle Marble 
If you adore the beauty of marble. Marble pattern curtains can enhance a room more than an accessory tray or a bedroom decoration. They're sheer enough to let light in while still being subtle enough to be a key element in your home.
Luxe Backdrop 
Belgian linen panels work as a backdrop for a four-poster bed while covering a large window. The rich cream fabric contrasted with the black furniture is an ideal statement for those who appreciate simplicity.
Blackout Curtain 
source: decoist.com
A dark room is desirable for many people in order to get a good night's sleep (or to take their children's afternoon naps). Great bedroom blackout curtains can block 99 percent of the light that comes in through a sunny window, creating ideal sleeping conditions and also helping in insulation on hot or cold days.
The best blackout curtains will have at least one layer of densely woven fabric. That prevents light from passing through the fibers. Additional layers of blackout curtains are frequently used for thermal insulation and light reflection. There are countless blackout curtains available in a variety of styles and colors.
Girly Floral 
You can use these cute curtains for bedroom when your daughter is getting older. It is an excellent design for your daughter's transition from child to young teen. Using a simple floral bedroom curtain, this bedroom design exudes a beautiful and girly vibe.
Calm Neutral 
Neutrals create a lovely atmosphere in the bedroom, while soft pinks, off whites, and taupes create a calming atmosphere. So why not add that to your bedroom windows? It will be simple to select a fabric that compliments these colors. To add a finishing touch to your bedroom, turn on your bedside lamps at night and create a majestic look. 
Earthy Grey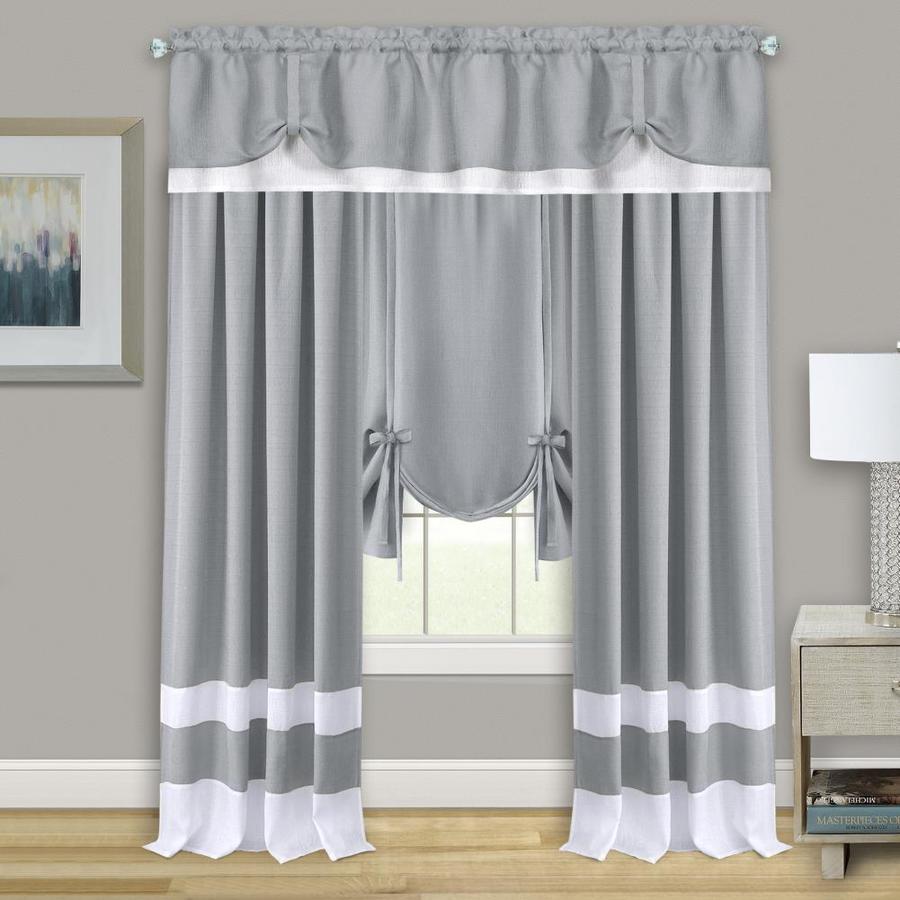 source: lowes.com
Using curtains to completely cover your bedroom is a fresh and challenging idea. If you have dark grey curtains for bedrooms, you won't have to worry about the paint on your walls because they won't be visible.
If you're not sure what color will go well with your room's decor, we recommend going with grey. light grey bedroom curtains can go with almost everything!
Chocolate 
Chocolate has been said to stimulate the calming mood hormone. That concept can be seen in this bedroom curtain. The use of a dark brown chocolate paint in the bedroom creates a cosier atmosphere. Furthermore, it absolutely blocks light from the outside. As a result, you can protect your privacy by using Bedroom Curtain Ideas like this.
Pure White 
The effect of the white farmhouse bedroom curtains is truly incredible. The bedroom curtain reflects the sun from outside. It will provide additional lighting in the bedroom. As a result, you won't need to use as much lighting or electricity in your room and that's a benefit. 
Woven Curtains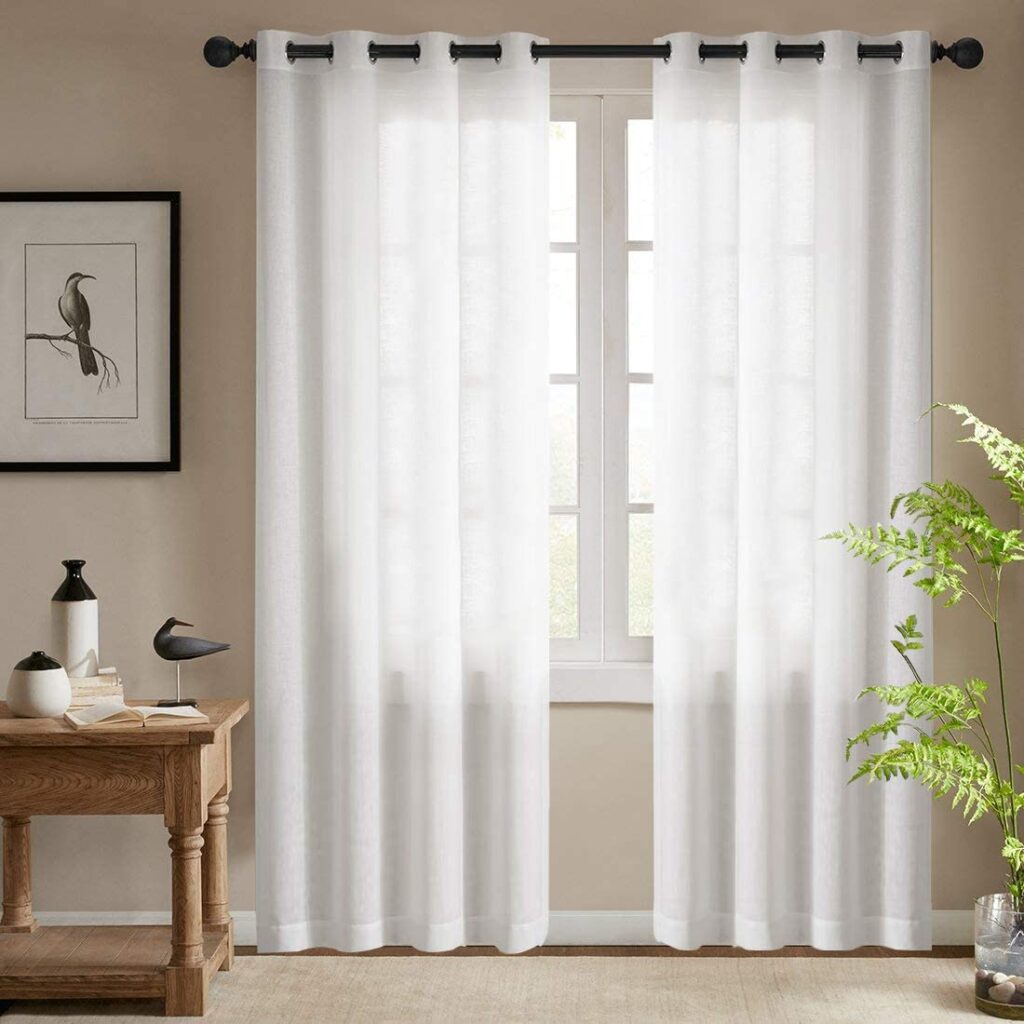 source: amazon.com
This geometric macrame curtain panel will appeal to anyone who enjoys the look of tapestries and hand-woven fabrics. Rather than buying two, spread one over a single rod to cover the entire window and highlight the style.
Which Fabric Is Great For Bedroom Curtains? 
When it comes to bedroom curtain ideas, fabric selection is crucial. Light and airy options are attractive and may provide privacy, but they are ineffective if you prefer total darkness while sleeping. In that scenario, blackout curtains for the bedroom might be a better option. Heavier fabrics like rich velvets, thick Cotton, stubby linens and blackout fabric will keep lights & draughts out. 
How To Select Right Color Bedroom Curtains? 
Choosing the best color curtains is one of the most difficult tasks! Curtains should complement the colors of your walls and furniture. Often, make sure they match the rest of your home's decor.
How To Choose Ideal Curtains Size? 
In order to select the appropriate curtains for your bedroom, you must first consider the size you want. Before buying or ordering custom-made curtains, you should make precise measurements of the drop and width.