The Dinning room, is one of the main attraction of the house. At the end of the day, a whole family seat back at their dinning room and cherish their family moments. This room plays an important role in front of the guests invited over for an occasion. So, the dining room wall decor must be decorated accordingly with different artistic or aristocratic ideas, to uphold some good expression on the moments that a family shares, or in sight of the visitors, relatives or invitees. Let us, discuss about the designs by which one might get enchanted by the beauty of your dinning room.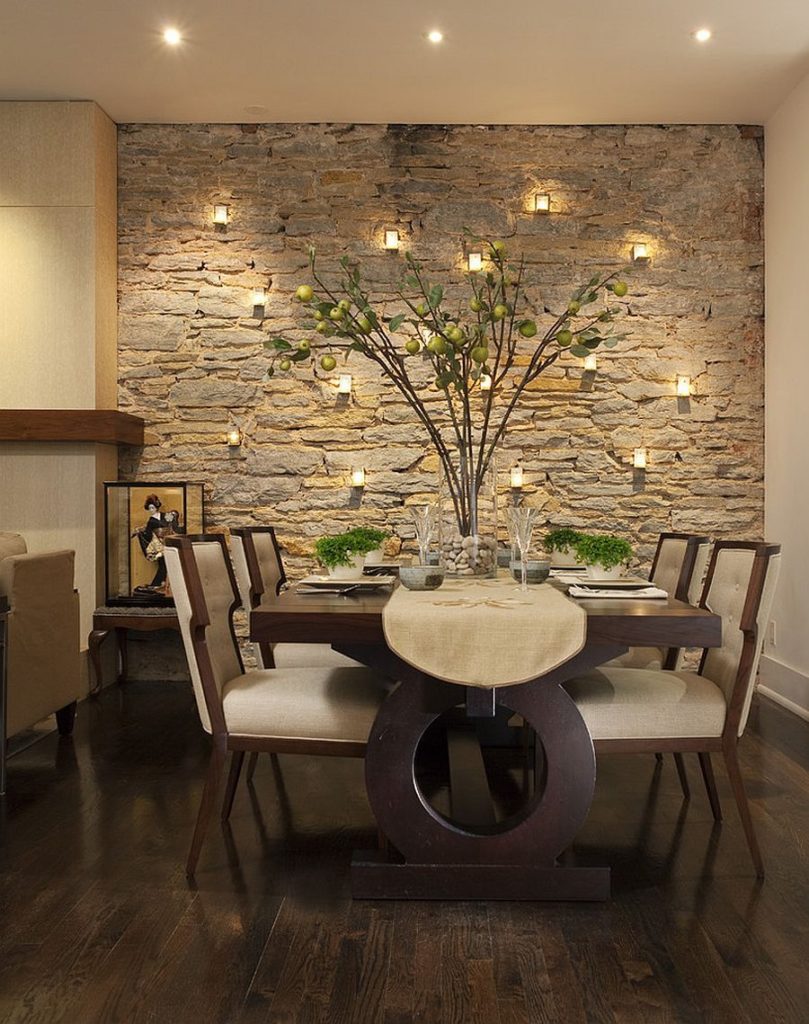 source: pinterest.com
Blend of artistic decor with lamps and plants :-
If, you are looking for some real blend on artistic decoration with  nature , one can try out the amazing design with some crumbled yellow tiles, with several mini-lamp hanging on it, as the back wall of the dinning table. One can just put some sort of money plants at the corner which are properly maintained at a pot, which is amazing for a dinning room decor idea.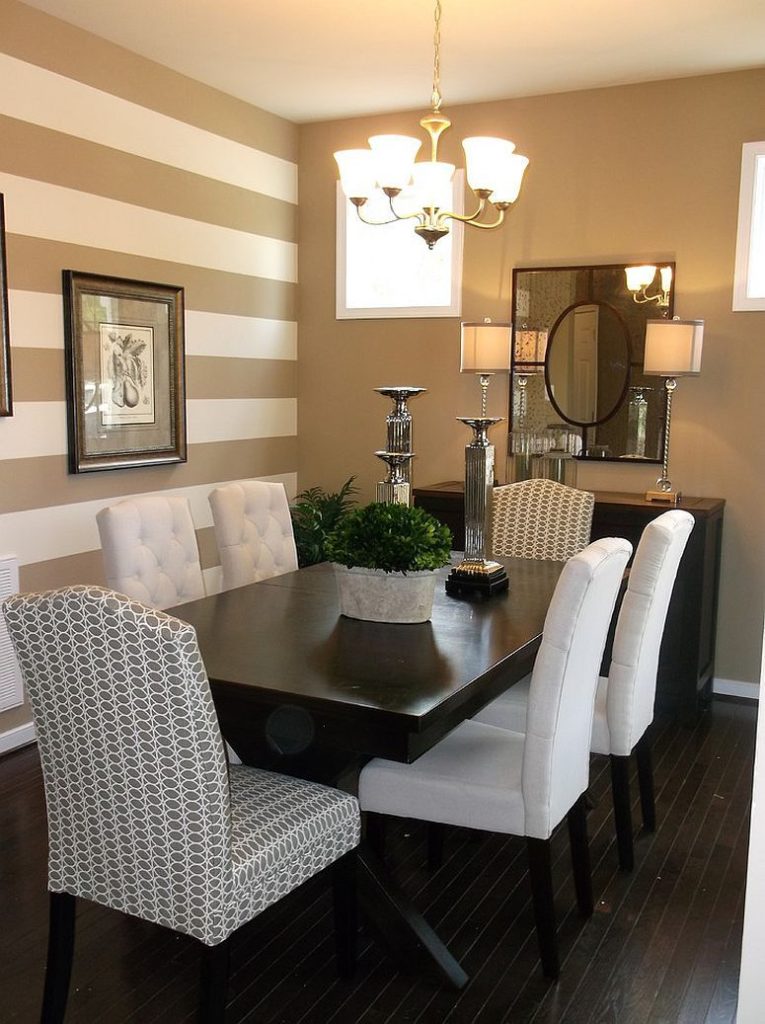 source: pinterest.com
A combo of Strips with photo frames:-
The one who always wanted to be a little choosy about the colors and highlights may use these techniques to pick up two colors with a strip format for painting the walls and may do the dining room decoration with some photo frames, which may suit their tastes. It could be paintings or family photos.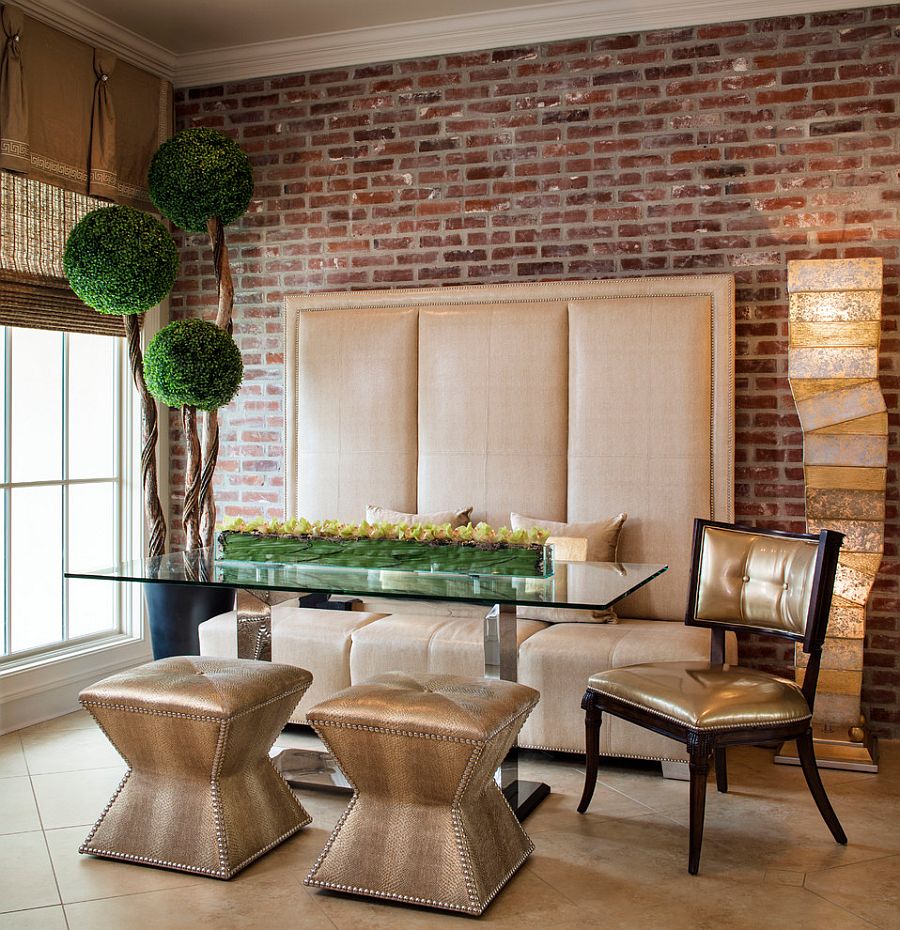 source: decoist.com
Decorating incompleteness with its beauty :-
One can decorate the walls with the incomplete brick structures while adding some plants at the corner. They may arrange the seats with white large sofas, which are much comfy and friendly. It gives an imperfectly perfect look to the dining room, with the excellence of ideas it carries.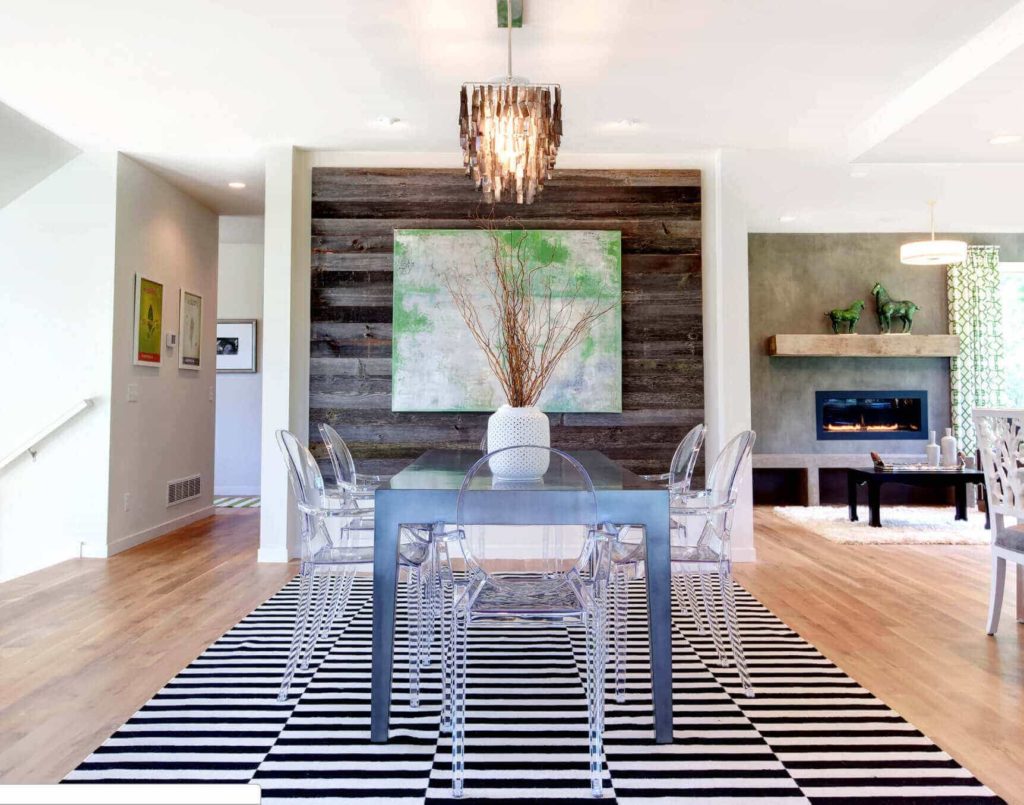 source: freshome.com
A blend of wooden shades with a large painting:-
If someone, is enough art-possessed and is willing to decorate their dining room interior decore with some art, then they can simply have some good wooden walls, with some black or brown shades blending together, twining with a large abstract painting hanging on it.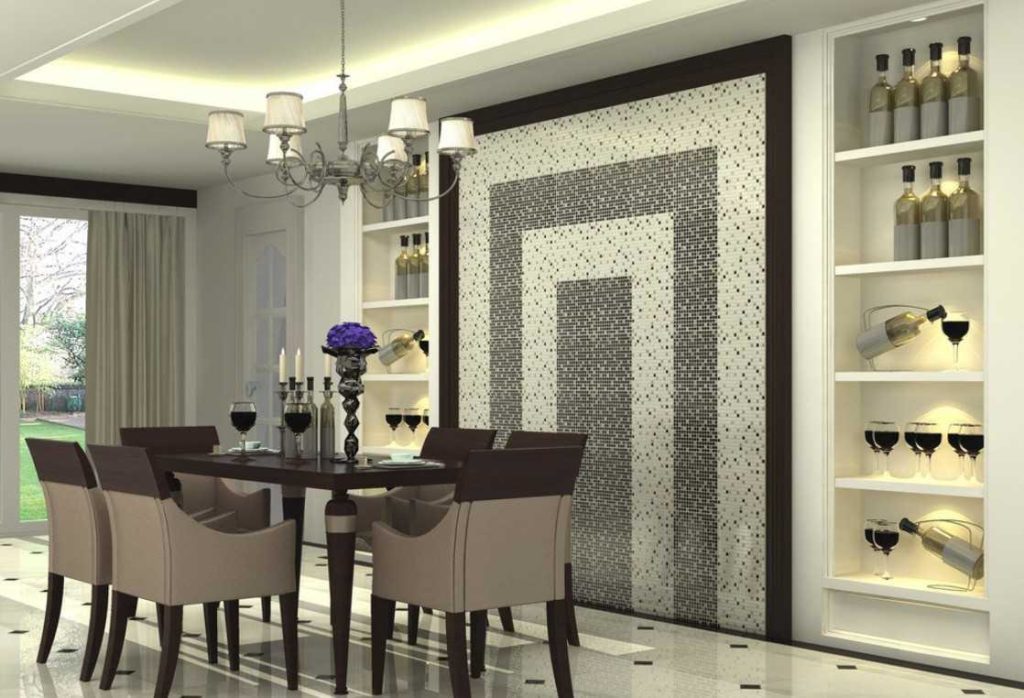 source: flutternyc.com
The blending of Aristocracy and selves:-
The individual planning the dining room wall decore as for maintaining a prestigious status may try this idea out. They can set up the wall with some attractive texture of tiles, with some doodling on it. The tiles should be followed up by it's left and right with the selves, to keep the container or wine bottles or glasses, which would uphold the aristocracy.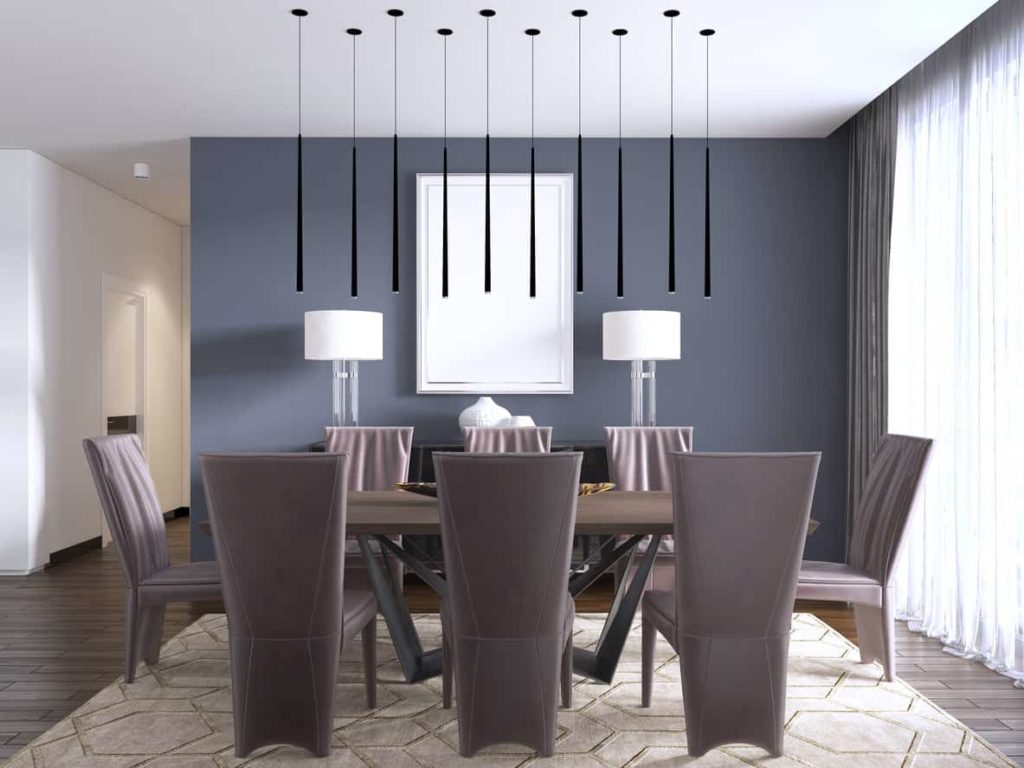 source: homestratosphere.com
Simple yet attractive:-
There are people who want to keep the dining room decoration as simple as an old-school lifestyle. They may choose a single color of their choice to paint the wall and may decore it with some simple, lampshades and furniture. They may also use some selective wall hanging, and would finely decore the room, keeping it simple yet attractive.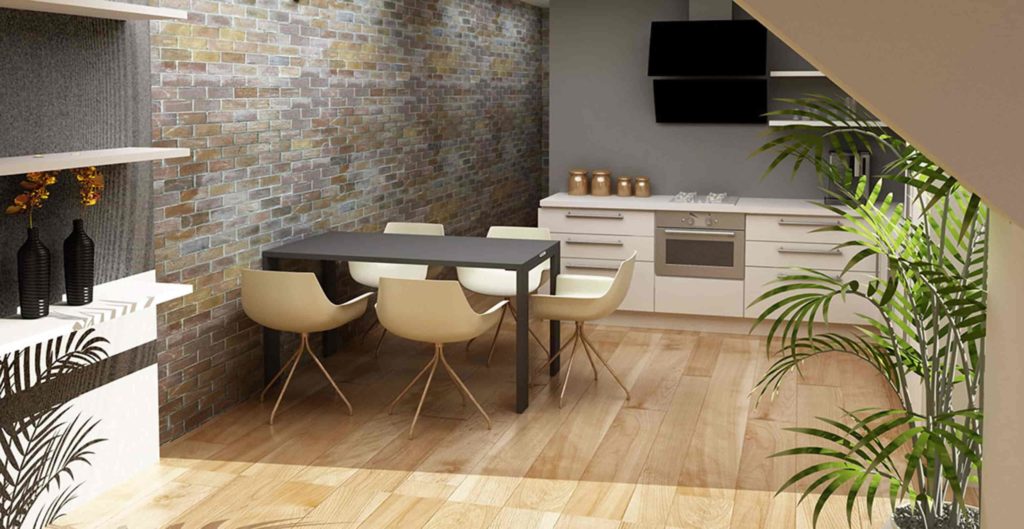 source: ivydesign-furniture.com
Mixed colored brick texture attached with the kitchen:-
There are people who find it easy, to set up the dining space beside the kitchen for serving the food easily. In that case, one may set up the dining room interior design with some textured brick structured tiles, which would end up looking little extraordinary types, with having a kitchen at one corner and dining at the other.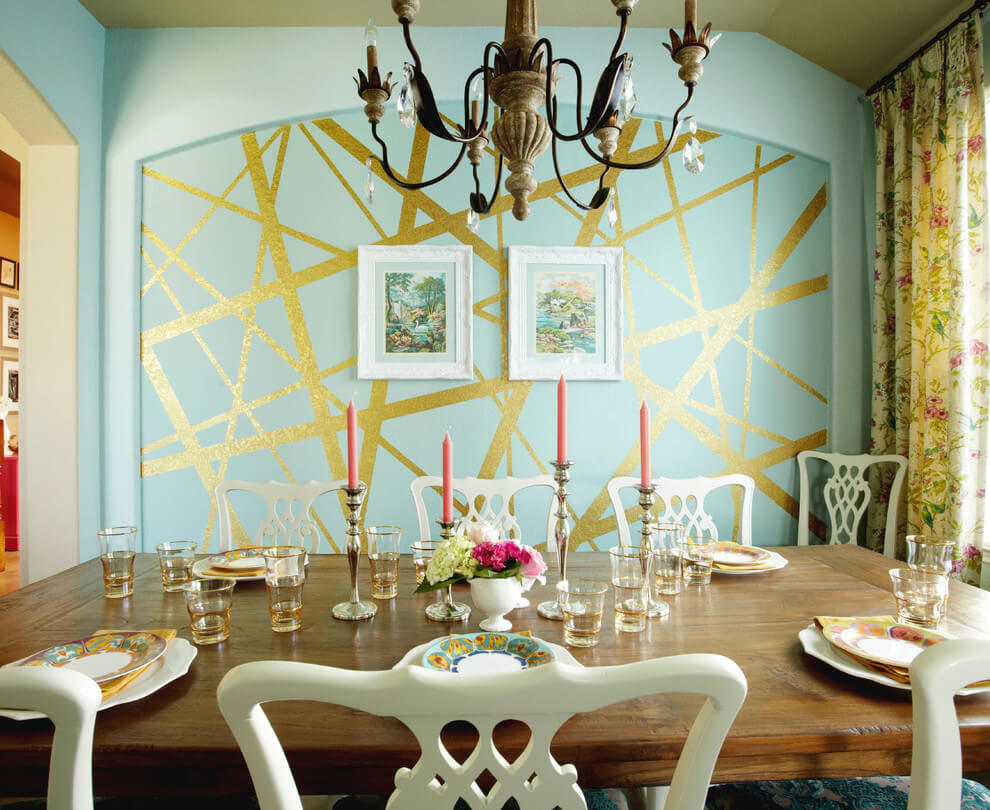 source: hzcdn.com
Abstract wall paintings with hanging frames:-
The people who have interests in unique shapes and colors may try to design their dining room wall decors with something abstract and unique. They might paint the wall with some abstract paintings or colors for maintaining uniqueness. To make it lively they may leave some family photo hanging on the wall.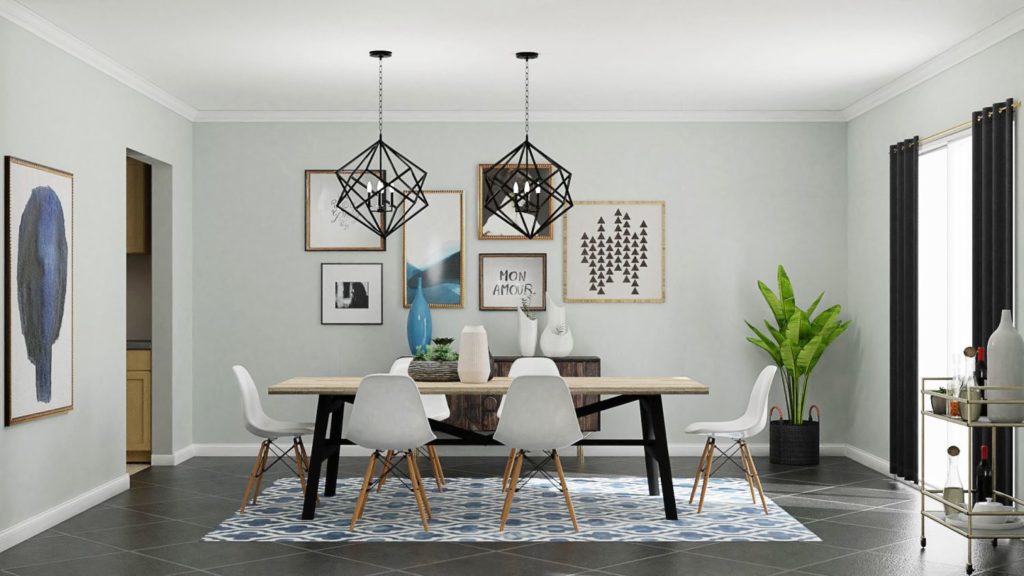 source: cloudinary.com
Blending simplicity with poetic thoughts:- 
The one who might love writing from different authors or is a quoter might keep the wall simple, while hanging some quotes and designs, photo framing them to decor the single-colored walls. This way, the simple words look poetic enough and become too attractive.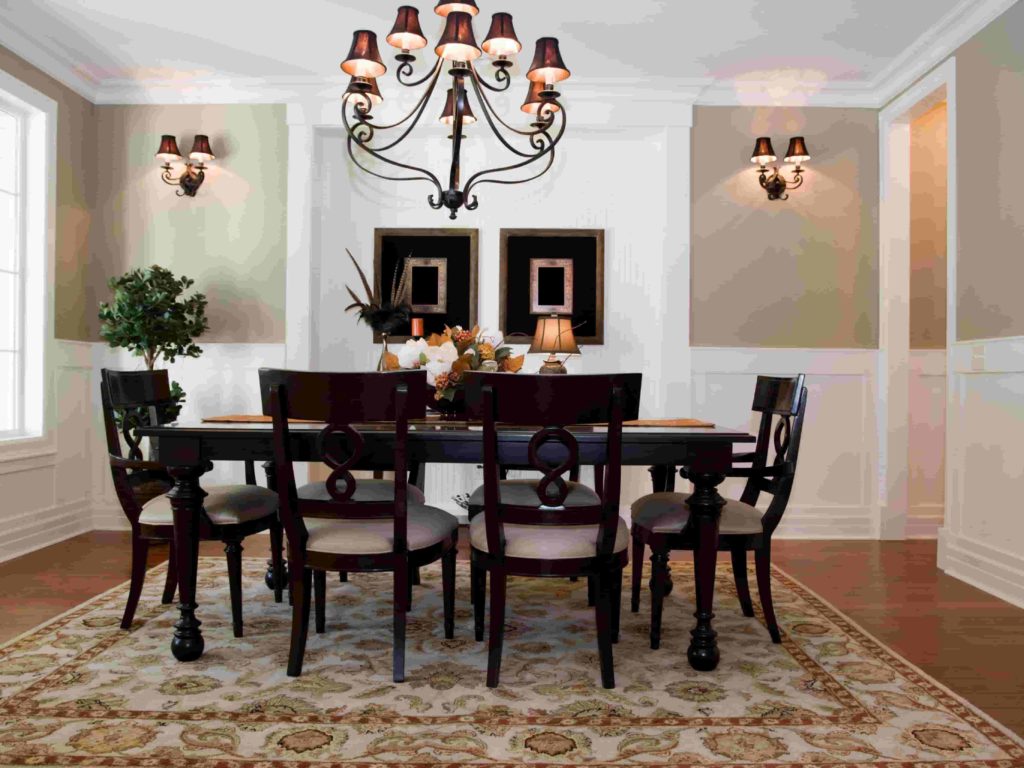 source: thespruce.com
Using huge regular blocks:

– 
The one who loves a strict standard of decor and has a likeness towards geometric patterns may end up loving the wall decor. They can paint the wall, with large square-shaped and may end up hanging frames with some shapes similar to the blocks.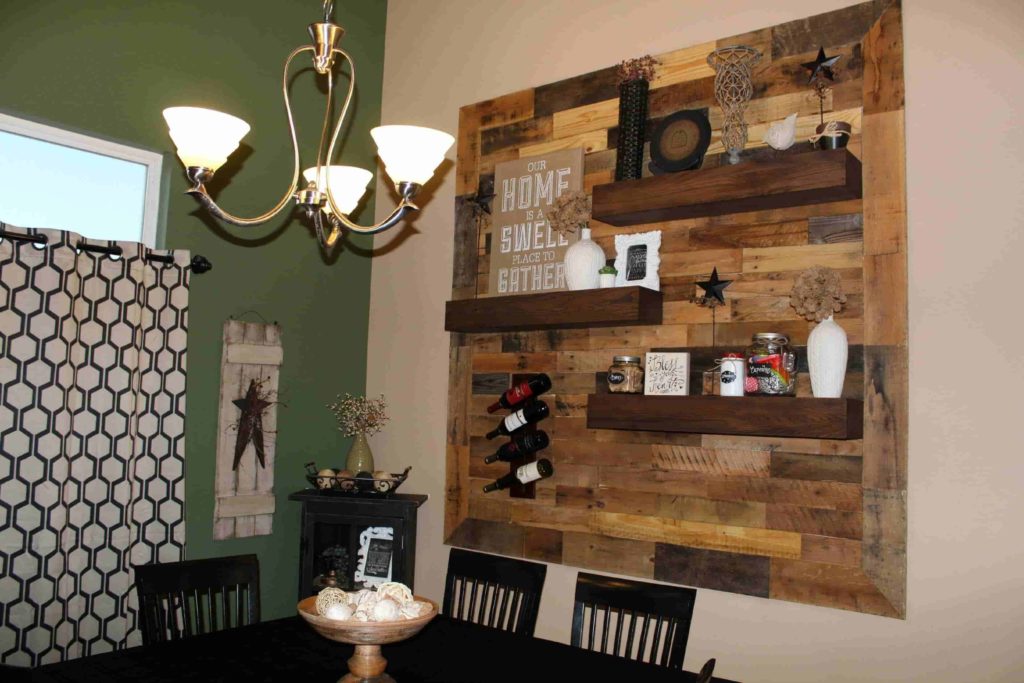 source: ellerydesigns.com
A blend of wooden selves with one colored wall:-
The one looking for some real wooden essence with some old fashioned wall decors should try this decor out. The wall should be painted with a single color and the middle part should be engraved by the wooden selves which looks extremely unique. The one, having a taste of blending simplicities may give this dining room wall decor a try.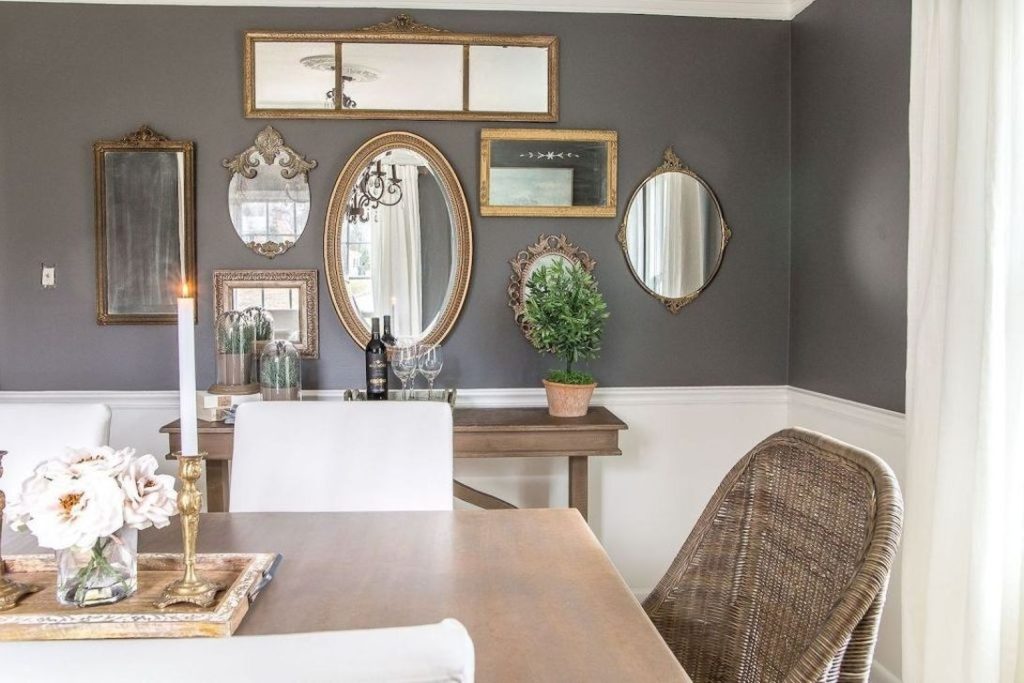 source: homebyx.com
Hanging mirrors with a simple background:-
The one looking for some unique decoration with some antique mirrors with different shapes may use it as the dining room wall decor with some simple wall colors. It looks attractive and magnificent at the same time, impressing the invitees too.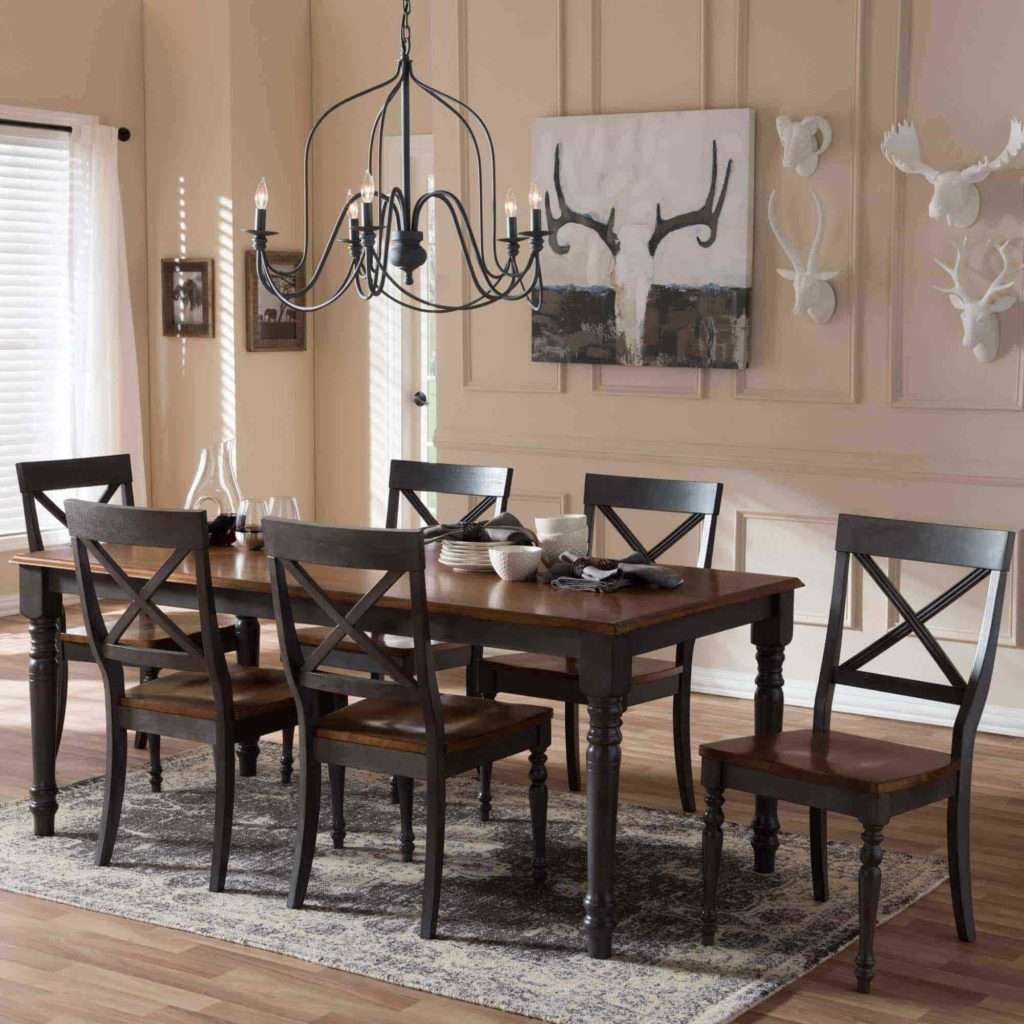 source: goedekers.com
Using different wall sculptures:-
The individuals obsessed with the anatomy or structure form of art may love this wall decor. They must design their wall with the sculptures of horns, deers head, and other expensive structures. It provides a unique idea of presenting the dining room walls.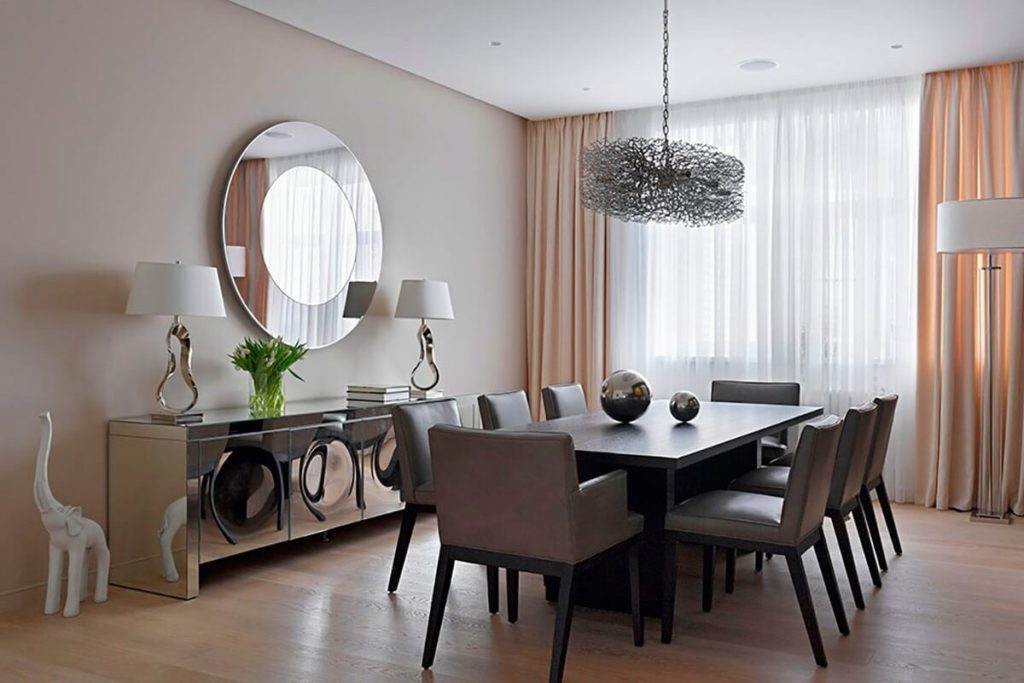 source: midcityeast.com
Blending simple furniture with the curtains:-
The one who is more likely to enjoy peace during eating may have the dining room decoration with some simple curtains over the long window lanes leading to the balcony while on the other side a simple light color wall might be decorated with some simple furniture and flower vases.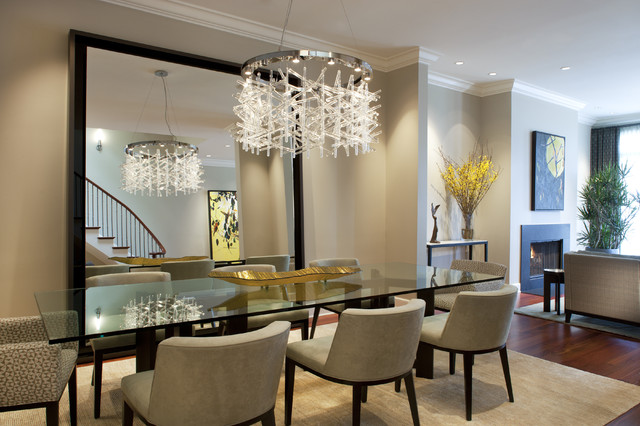 source: hzcdn.com
Keeping the wall simple with placing a large mirror:-
Some want their dining room wall decor to be simple and beautiful enough to get attention. In that case, one can just put a large mirror to enhance the beauty of the wall. By, this way the dining room looks simple yet different to gain enough attention.
Wrapping up:- 
So, there are several ideas one can implement to make their dining room wall decor attractive enough to leave impressive attention at The Architecture Designs.