Many people are already looking forward to yard projects in 2023. Whether you already have an existing deck and are looking to revamp it or you want to extend your current deck, there are many inspiring deck projects that you can work on in the coming year. 
If you are looking for exciting ideas to transform your backyard and want ideas to develop your vision, there are many ways that you can enhance your outdoor living spaces this year. Enjoy your backyard more with these six design ideas.
1. Pergola Deck Combo
source: pinterest.com
Create a pergola deck combo to add visual appeal and create an intimate space for relaxing in your backyard. A pergola makes your deck more usable by breaking up direct sunlight while letting you enjoy its warmth and light.
Even if you already have a deck or patio, you can add a beautiful pergola to make it more usable. You can choose from various materials to match the appearance of your home's exterior, including wood, cedar, vinyl, or aluminum. Schedule a consultation with professional deck builders or visit a showroom to see the endless possibilities you can create.
2. A Backyard Entertainment Paradise
You'll be the talk of the neighborhood with an entertainment paradise in your backyard. You can transform an existing deck or build a brand-new one that will give you the space to entertain large groups of people.
When you're entertaining large groups, you want various seating choices. Create a couple of large group seating areas, and add a few intimate spaces for couples who want a moment alone. Add a bar and a firepit, and create interest by adding different levels.
3. Your Family's Dream Deck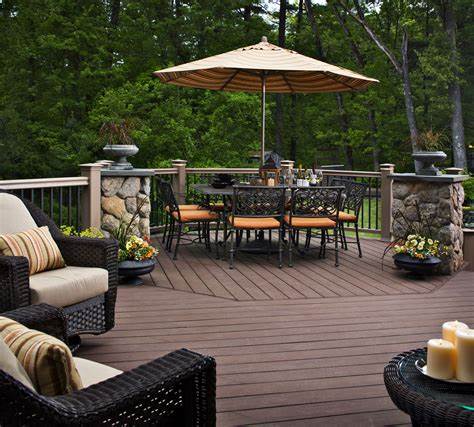 source: pinterest.com
When you plan your deck, decide what you want to accomplish. Do you want to bring your family closer? Create a space where you can spend time together doing everything you love. 
You can build an outdoor living room right outside your indoor living room. Amenities like televisions, fireplaces, ceiling fans, and comfortable furniture can all be included in an outdoor living space, and there's no need to sacrifice comfort. 
Not only will you enjoy being outdoors, but it will make your entire home feel larger and less confined. And with outdoor heating, you can use this space all year round.
4. A Deck for Privacy 
The days when people sat out on their front porches and waved to passers-by are a thing of the past. These days, many people desire privacy more than ever, and you don't need to apologize for that. Instead, if you want privacy, you're more likely to use your deck if it provides that.
No matter your backyard size, you can build a private deck with a wood-slat privacy screen that provides a secluded area to relax, read a book, or have a cocktail. Add a small firepit and create an intimate outdoor entertainment area. 
There are many creative ways to add privacy to a deck and still give you the feeling of being outdoors. For example, you can add living hedges, curtains, or a series of container gardens to your deck design to achieve the privacy that you want.
5. A Waterproof Area Under Your Existing Deck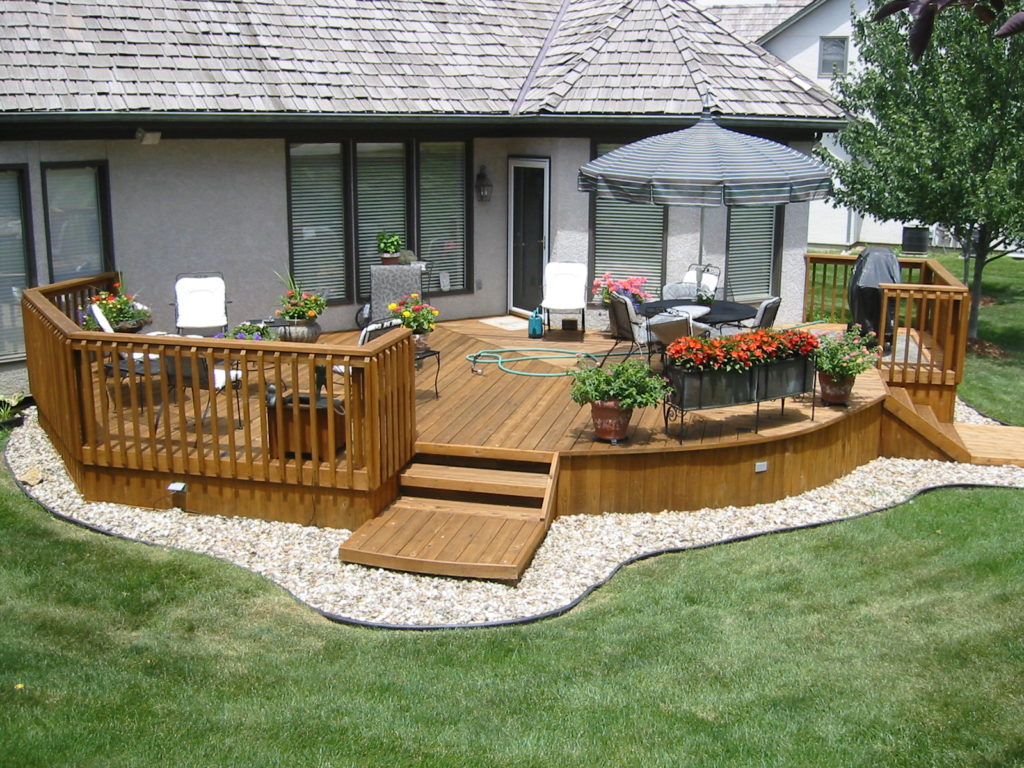 source: pinterest.com
Do you already have a high deck and want to use the space underneath it? Often, the area underneath an elevated deck needs to be fixed. It's difficult to get plants to grow there because there isn't enough light, yet it's too wet to use for seating or recreation.
You can add a drainage system and transform the space under your deck. A system of troughs and gutters can divert water away and create a dry space under your deck, allowing you to add seating, lights, ceiling fans, and entertainment centers.
6. Outdoor Kitchen
Outdoor kitchens have been popular for the last few years, and if you still don't have one, it's not too late. Outdoor kitchens aren't going out of style any time soon. 
An outdoor kitchen can bring your family together and keep your house cool during the summer. Families are more likely to cook together in an outdoor kitchen, especially when it's adequately equipped with a grill, refrigerator, and counter space. Outdoor kitchens are also excellent for entertaining.
Add a counter or bar to your outdoor kitchen, and your family can join you while you cook. Don't be afraid to dream big and make the space what you want. Add a television to watch sports while you cook and eat dinner. You can also equip your outdoor kitchen with a state-of-the-art speaker system. 
Dream Big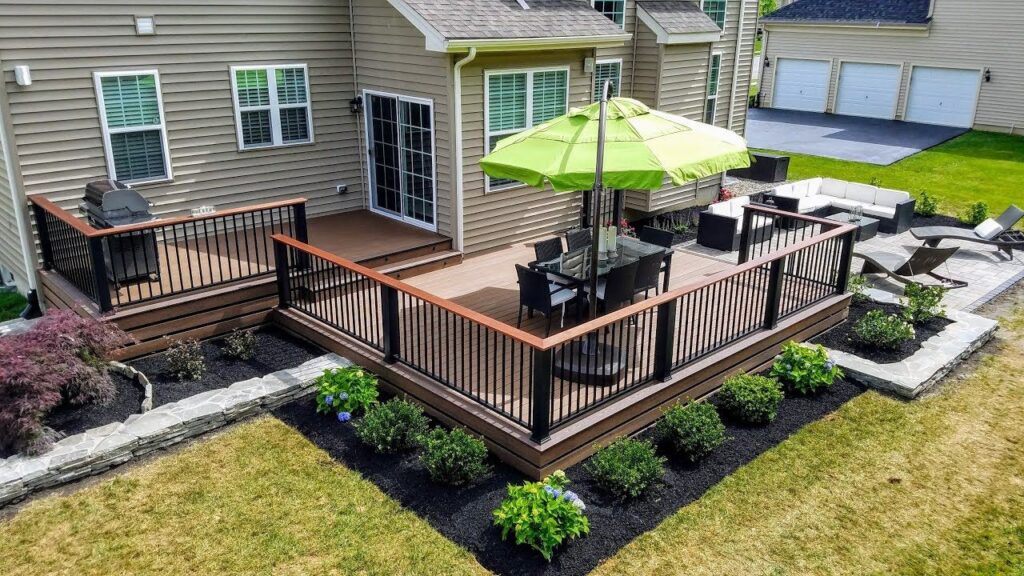 source: pinterest.com
Now is the time to dream about your next deck project, and you shouldn't be afraid to dream big. A beautiful deck can do more than transform your home. It can also change your lifestyle and bring your family closer.