Some years back, only a few types of fake grass were available in the market. However, thanks to technology, things have now changed. Various brands are developing different types of turf for different purposes. Nevertheless, it can be challenging to choose one with many turfs that come with different features. Luckily, this article is here to help you choose the most durable and most fitting fake grass that will enhance and increase your property's value while serving its intended purpose.
When choosing the best fake grass for your yard, it's essential to ask yourself this question: How will you be using the yard? You can begin your journey of finding the best turf based on the answer.
After determining how you'll use your lawn, the next step is determining the type of fake grass that suits your requirement. You also need to understand precisely what to look out for when comparing different grasses. Remember, while the cost is among the factors to consider, your choice shouldn't be made solely depending on it. As the saying goes, you get what you pay for; meaning, if you choose the cheapest grass, you might get a low-quality type that isn't durable and most probably won't serve the purpose. It's crucial to consider other factors that will be discussed below to ensure you get the best turf quality.
What's The Purpose Of Your Yard?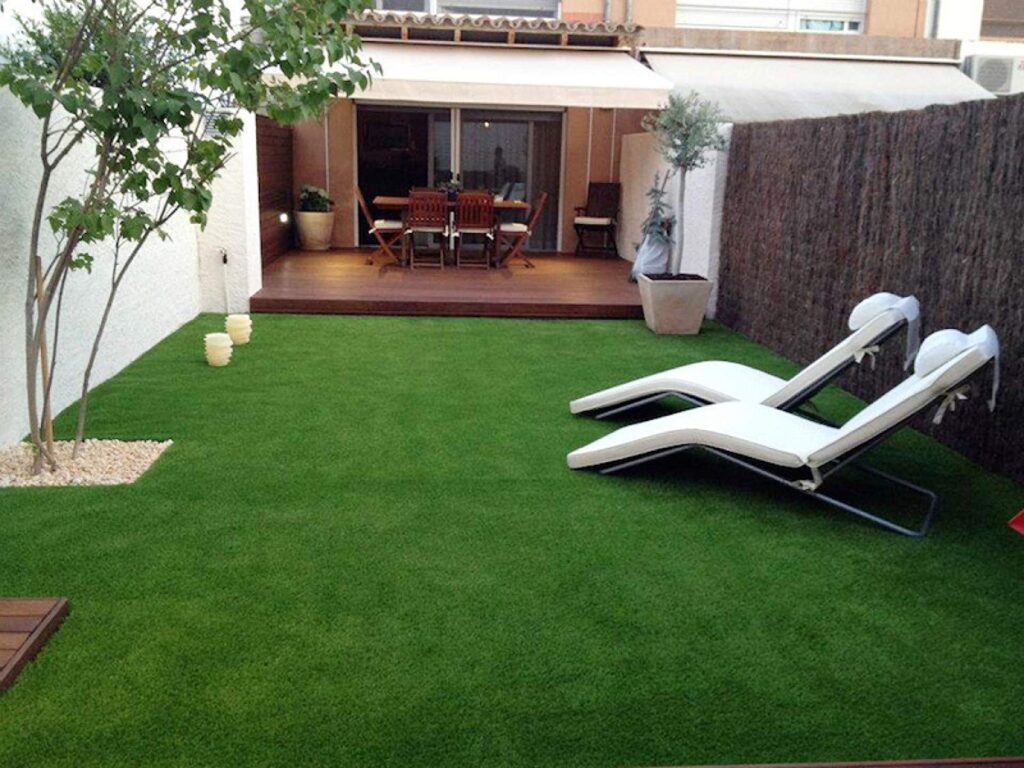 source: pinterest.com
As mentioned earlier, this question is the stepping stone when choosing the best turf. It's vital to understand that fake grass comes in various types, each created to serve a specific purpose. Besides, each type of grass has its strengths and weaknesses. The following are the different materials used to create various fake grass:
Polyethylene: Polyethylene is the most common material used to create fake grass. It comes in various shades, is durable, and has a realistic look. Polyethylene fabric is softer than nylon.
Nylon: Fake grass made from nylon is the most expensive. As with polyethylene, nylon is also soft and has the most realistic look. This fabric can absorb up to 200°C and is suitable for preventing UV magnifying issues. Fake grass made of nylon fibers is ideal for families that spend the most time on the lawn.
Polypropylene: This fabric is suitable for putting greens and as a thatch layer for landscaping grass.
As far as the purpose of your yard is concerned, there are several uses of artificial yards, including:
All-Rounder: This type of yard can be used for playing, as an ornamental piece, and for pet-playing areas, among other activities
Family Yard Or Play Area: This is a yard suitable for those with heavy traffic and a high usage level for the entire year.
Ornamental Or Show Yard: This type of yard suits low-traffic areas to increase the property value aesthetically.
Garden Parties Or Entertainment Yard: Entertainment artificial yards receive high traffic occasionally and can withstand stains and spillage.
Pet-Friendly Lawn: This type of lawn is also for high-traffic areas that should withstand excrement and urine.
Once you've understood the different materials used to create artificial grass and various uses of artificial yards, you most likely already know what you want to do with your lawn. Now, let's move to the next step.
Factors To Consider When Choosing The Best Fake Grass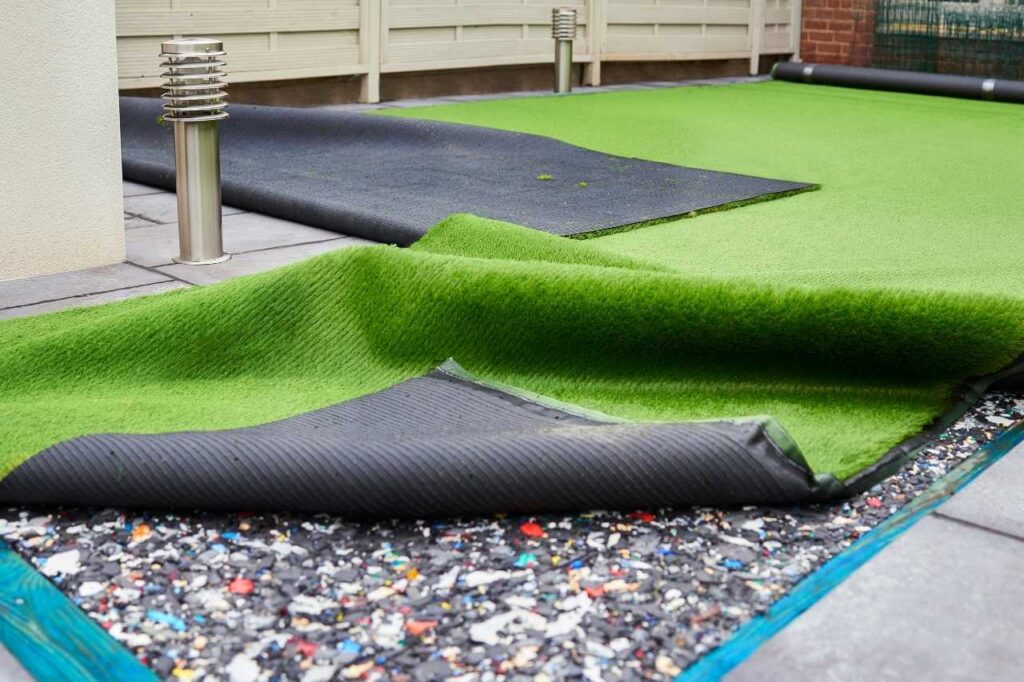 source: evergreenseeds.com
Besides the material used for the fake grass, you should also know the best fake grass for yards by considering the following:
Density
If you're looking forward to having a yard that looks full, realistic, and lush, then you should concentrate on the turf's density. Density is the number of grass blades per square meter. Fake grass rich in density is of high quality and guaranteed to last long.
Pile Height
Pile height is another vital feature to look out for when selecting fake grass. Low pile height means low-quality turf. However, if you settle for a too-high pile turf, you'll need to brush the lawn more often to prevent the blades from lying flat.
It's advisable to choose a pile height of 30 to 35 mm for family, pet-friendly, and preschool yards because the shorter leaf blades can remain upright regardless of the heavy traffic. On the other hand, if your yard will be used for sports, it's recommended to choose a turf with 40 to 60 mm pile height. Still, if you want a more realistic-looking lawn, you might need to settle for 40 to 50 mm. Artificial grass with such height offers a bouncier and softer feel, ideal for sports.
Color
Like pile height, the artificial grass color depends on the buyer's taste. Every color can be enticing, as most manufacturers give out free samples for their clients to choose from. Taking advantage of the free sample before selecting the right one for your lawn is advisable because you can't entirely depend on what you see online when choosing the perfect color.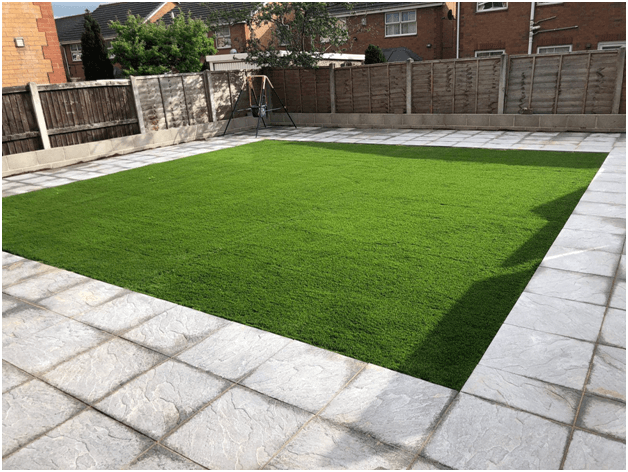 source: artificialgrassgb.co.uk
When selecting the perfect color, place the sample exactly where you're installing the fake grass. It's vital to note that the turf is likely to appear slightly different in color under different pathway lighting conditions. For instance, some colors tend to appear darker indoors for lack of enough natural light.
For a perfect comparison, place the samples side-by-side and compare them with the natural grass on your lawn. Most buyers prefer fake grass similar to their current lawn for a natural look. 
Thatch
Thatch is an essential feature for a more realistic artificial yard. It refers to an additional fiber incorporated in the lawn that comes with a different hue and texture from the general fake grass fibers. Adding thatch to the fake grass results in a realistic appearance as natural grass has lots of dead and withered leaves amid the fresh grass.
Artificial grass with additional thatch looks more natural than a turf without one.
Infill Material
While most buyers don't notice this feature, it plays a vital role in fake grass installation. The infill material ensures that the grass remains upright and prevents it from becoming matted. Additionally, it adds weight to the carpet, minimizing the ripples on the grass. The infill material comes in various types, such as crumb rubber, silica sand, cork, and coconut shells.
Backing
A high-quality artificial grass comes with two backings—the first backing where the grass yearns is stitched, and the second backing coats the first backing, giving it a shock-absorbent and springier feel. It's essential to choose artificial grass with good backing for your turf to provide better cushioning.
Characteristics Of Fake Grass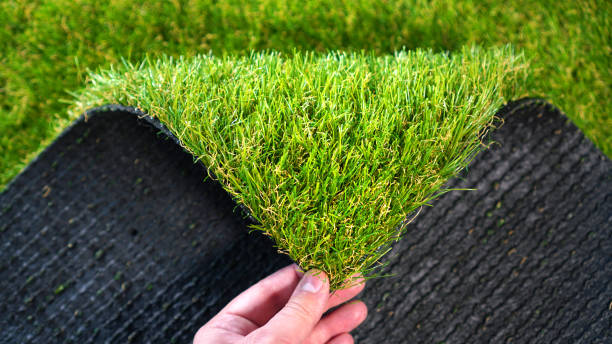 source: pinterest.com
Now that we've enlightened you on the factors to look out for in a good artificial turf, it's time to check out the characteristics of fake grass. However, it's essential to note that every turf can be a better option if installed professionally and serves the intended purpose. Nonetheless, the following characteristics are generally looked for:
Withstands Heavy Traffic
An excellent artificial turf should be capable of withstanding heavy traffic. Regardless of how you intend to use your yard, the turf should withstand anything that comes its way. Investing in a turf that might experience wear and tear in a few years would mean more purchases in the future. Thus, it's best to choose nice than buy twice.
Durability
Because the turf is always prone to external elements such as rain, cold, heat, and dust, ensure you settle for a product that can endure such elements without experiencing frequent damage.
Springy And Resilient
The best fake grass should resist flattening and matting. Its fibers should remain standing even after walking on them due to the infill material and the fiber structure. Hence, it's essential to use the correct infill material when installing artificial turf.
Drainage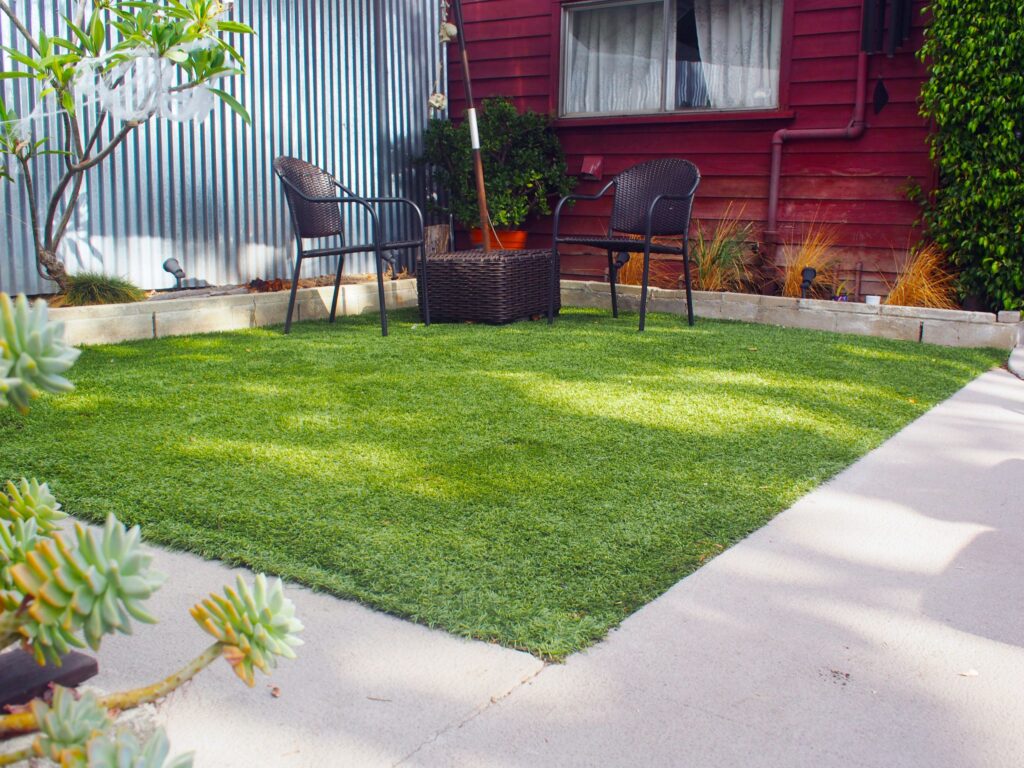 source: hearstapps.com
Most buyers forget about this factor when choosing an artificial turf. However, it's a critical factor that shouldn't be overlooked at all costs. As the turf will be installed outdoors, pet urine and rain must be able to penetrate through it into the ground below.  
You may choose between two drainage options: complete permeable and hole-punched drainage. Liquids can penetrate the turf at any point with complete permeable drainage. This type of drainage is perfect for wet areas and lawns with frequent pets.
Meanwhile, hole-punched backing is installed with holes every few inches to allow liquid penetration. This type of drainage is suitable for dry areas or lawns with occasional pets.
Antimicrobial Properties
For family and pet-friendly lawns, consider fake grass with antimicrobial properties. These properties are often added during manufacturing. Antimicrobial properties eradicate odor buildup from pets' urine while keeping germs and bacteria at bay. Generally, these properties ensure a neat, hygienic, and healthy lawn.
Conclusion
Choosing the best fake grass for your yard isn't a decision you can make haphazardly. There are factors to consider and features to look out for to get the best value for your money. You also need to understand how you'll use your yard to select the perfect artificial turf that fits your needs. Therefore, it's vital to compare different types of fake grass before choosing one. Only then can you be sure you're making the right decision.