We all enjoy our own space, but it may become a little congested at some point. A space-saving door is one of the most effective solutions to conserve space in your room. These doors have been intended to leave a bigger portion of the room open, giving you extra space. They're a terrific method to expand square footage to your area without gobbling up any more space. You can find space-saving doors in a range of designs and styles; read on to learn about the best doors for small spaces.
Barn Doors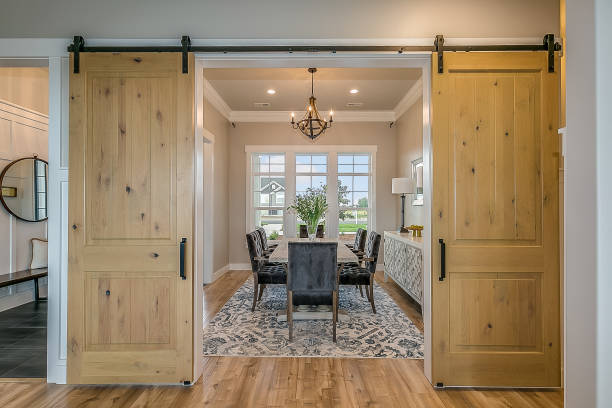 source: istockphoto.com
Sliding barn doors are a terrific space-saving solution that gives your house a rustic vibe. They are quite basic, yet they are becoming increasingly popular. A traditional wooden door is simply attached to a bar that rests above the entryway and allows the door to effortlessly glide back and forth. All of this is accomplished with no need of complicated sliding door gear.
Sliding barn doors could also be used throughout the home, from bedroom windows to doorways to closets to kitchen cabinets and pantry doors.
Internal Bi-Fold Door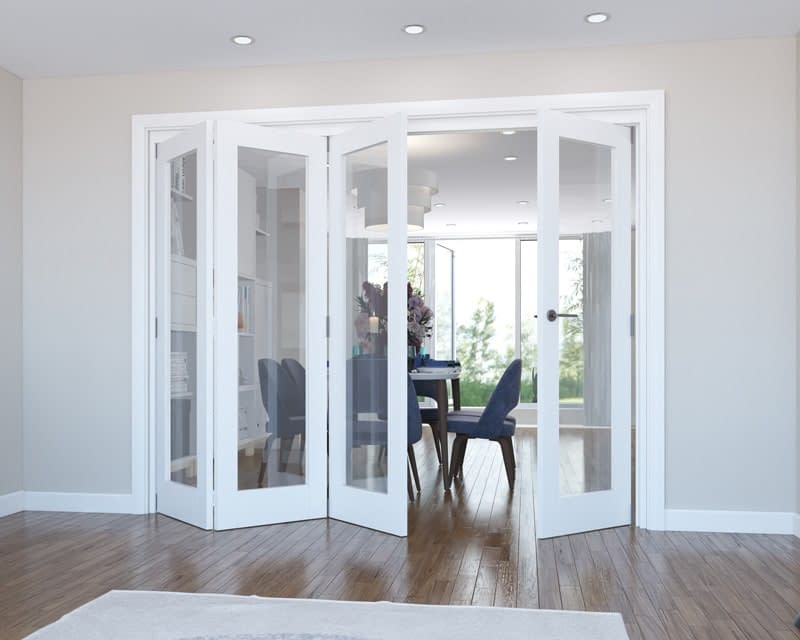 source: pinterest.com
Internal bi-fold doors are among the most renowned space-saving doors in the marketplace. Bi-fold doors are made comprised of two door panels or parts that move to one side and fold it up against each other while opened. Because of its one-of-a-kind folding movement, the door demands half the opening area of a typical single-leaf door.
Bi-fold doors are very handy in tiny rooms or storage areas, such as restrooms and en-suites, closets, and kitchen cabinets. Another advantage of bi-fold doors is that they really are often miniaturized to fit into conventional doorways. This means that they are an excellent choice for changing doors as part of a restoration or renovating project to create more space to your house.
Concertina Doors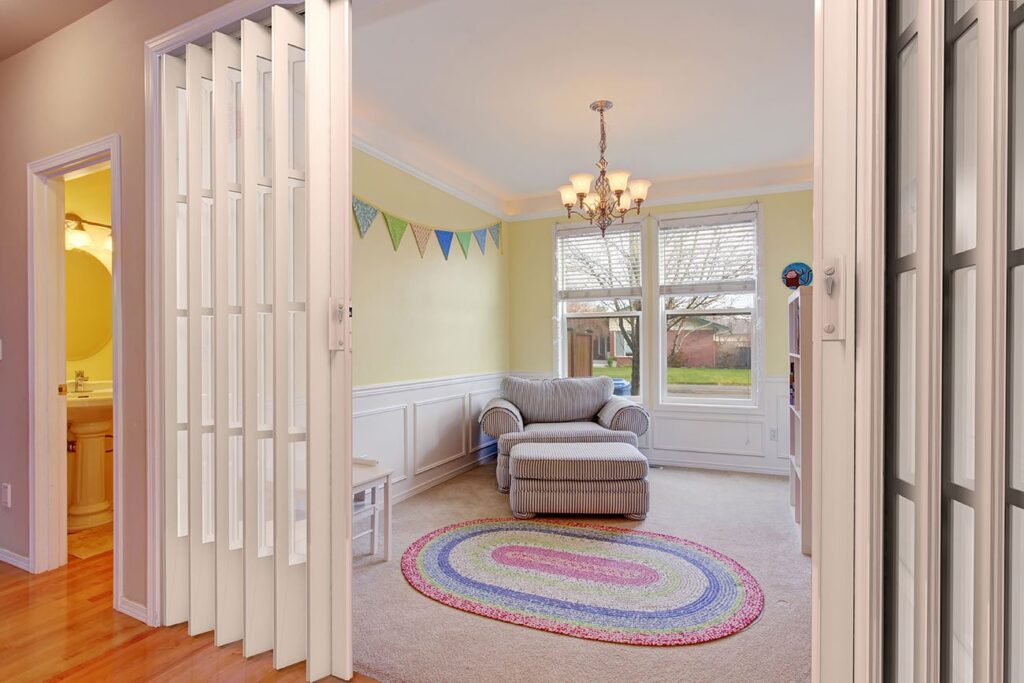 source: concertinadoorsonline.com.au
Concertina doors function similarly to bi-fold doors, but instead of two leaves, they feature multiple panels, usually Six or Nine. They fold back like a concertina, for each concertina door panel collapsing in on itself. This allows the entryway to be opened without taking up valuable space surrounding it. Concertina doors have thinner panels than bi-fold doors as they have more panels. This implies that a concertina door occupies up less space when collapsed than a bi-fold door.
Concertina doors can also be set in pairs to be utilized in larger entrances or as room separators, dividing up a room or providing privacy without abandoning space.
Pocket Doors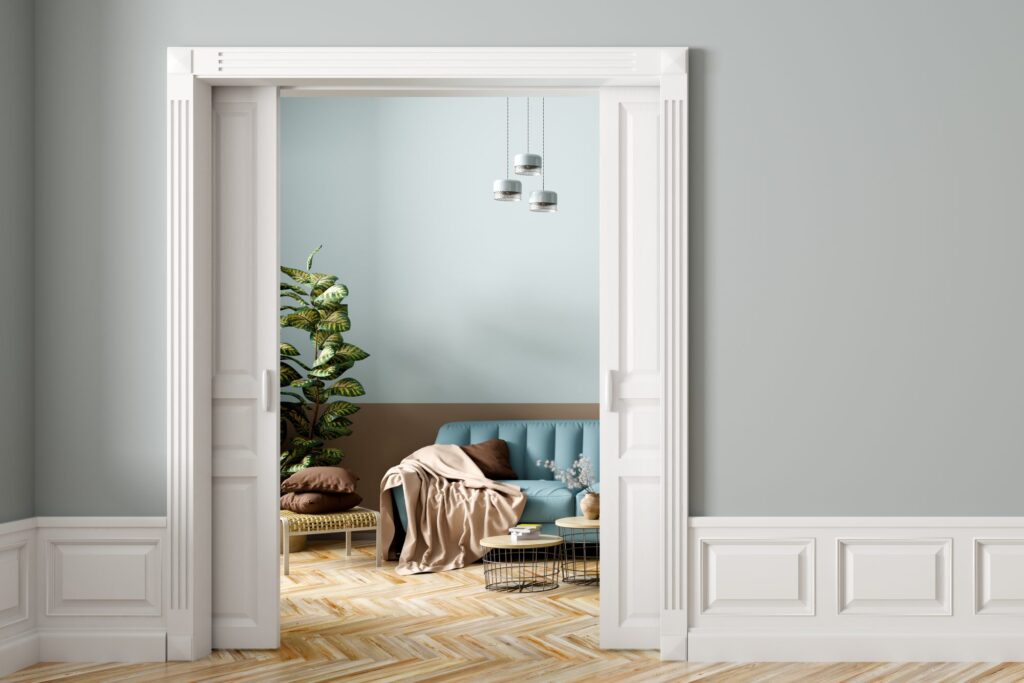 source: meredithcorp.io
Pocket doors were also sliding doors that slide into a recess built into the neighboring wall when opened. They are quite beneficial in areas with little space since they disappear when opened, allowing the entire space all around the entryway to be used. They're also ideal for minimalist homes because the door is totally concealed from view while it's open.
Pocket doors, on the other hand, are harder to configure in remodeling or refurbishment projects. This is due to the fact that the hollow must be formed within the next wall.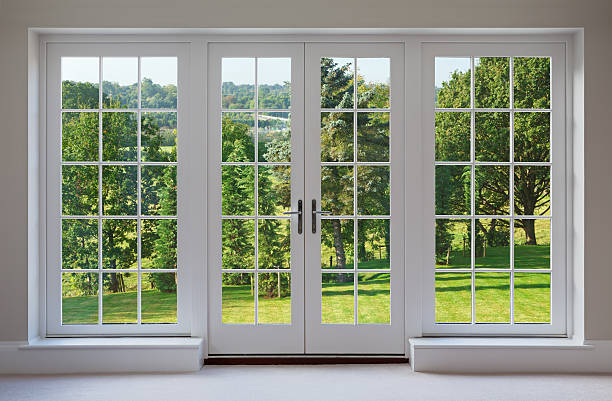 source: istockphoto.com
Another option for getting direct sunlight into your area to make a small room appear larger is to use French doors for small rooms. Internal French doors come in a number of styles, including inside sliding French doors, folding French doors, French sliding barn doors, and pivot French doors.
French doors have traditionally been used as a substitute for sliding doors for accessing to outdoor environments. Using them as inside doors, on the other hand, may help your tiny area be spacious while also complementing your overall design.
They may be utilized in almost every room of your house. When considering bedroom door ideas, explore French closet doors, which may make your small master suite look even bigger while also adding a touch of elegance.
Dutch Doors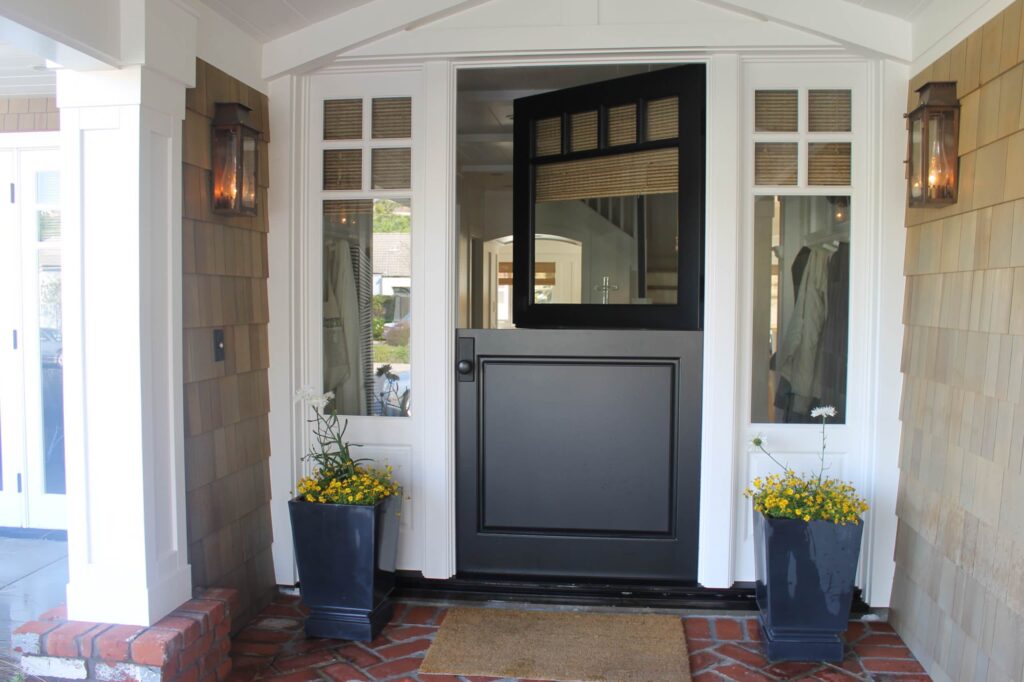 source: homedit.com
Consider leveraging a Dutch door if you want to fill your area with natural light but aren't sold on a typical glass foldable door.
Dutch doors are divided horizontally in half, enabling the top half to be open. Folding the top part of the door functions as windows, allowing natural light in and visually extending your little room.
While Dutch doors are typically viewed as single doors, they may also be installed as double doors, providing an even larger opening to visually extend your modest area. These twin Dutch doors are ideal for use as patio doors in a compact space.
Curtain Doors
source: architecturaldigest.com
If you haven't found a door type that matches your decoration or aesthetic, you may have been thinking about how to hide an entryway without a door. Curtains can be used as an alternative door for tiny rooms when you need a separator to seal off a space.
You don't have to bother about door swing when you use curtains rather than a door. Instead, you just need to be concerned with buying curtains that match your room and complement your design.
Curtains are a low-cost door solution, making them an excellent choice for those on a tight budget. Hanging a curtain may provide instant seclusion and effectively divide your room as needed. As a result, they make great portable doors for compact household spaces.
Choose The Best Space-Saving Door!
The good news is that there are several alternatives for dramatically reducing or eliminating door swings. Some of these door types, such as French doors, are simple to install in an afternoon, whilst others, such as pocket doors, necessitate more thorough installation with the assistance of a professional.
Similarly, there are door styles to suit various budgets, ranging from low-cost curtains to bespoke Bi-fold doors. Working with a manufacturer committed to quality and customization will assist ensure that you have just what you require to take your room to the next stage.