The festival of colours is upon us, and that means it's time to let your imagination run wild. This special phase of the year is a time we use to reflect on our lives, as we celebrate the victory of light over darkness, or good over evil. That said, Holi is always an occasion to take out the colours and be as creative as you can. There are many ways to mix and match to bring out that joyous and eccentric feel of the season. Today, we'll show you some of the best Holi Décor ideas to invite that Holi magic and flair into your home. Let's get decorating!
High On Style Wine Rack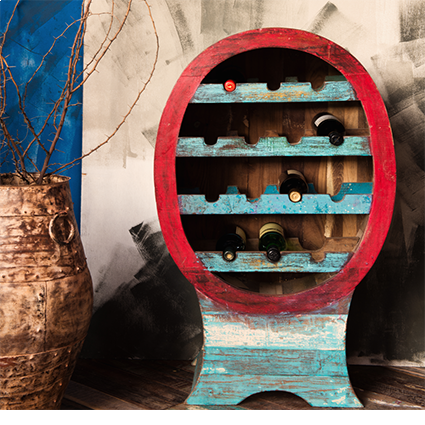 No Holi celebration or party would be complete without a few beverages to match the occasion. And that's why you need the High On Style Wine Rack to help accommodate your drinks in rustic style. 
Imbued with faded red, white, and an accent of blue, this masterpiece is an amazing decorative piece to get your home into a Holi mood. But beyond aesthetic appeal, here's what else to love about this special wine rack: 
It's Perfect For Long-term Storage Compared To A Refrigerator Which Can Ruin The Taste

It's A Convenient Way To Store Wine And Other Types of Bottles

It Preserves Taste And Flavour And Saves You The Trouble Of A Dry Cork
Keep your beverage bottles safe, classy, and stylish with the High On Style Wine Rack. This statement piece will serve you well beyond this season as it makes for an impressive collector's item as well. 
Cartwheel Mirror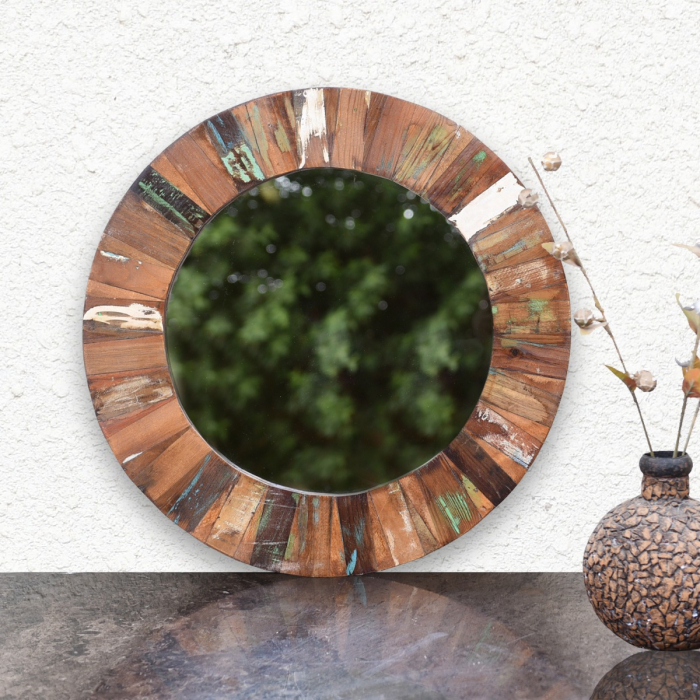 Brighten your interior home décor game even further with this one-of-a-kind cartwheel mirror. Its multi-coloured palette is eye candy enough, however, it offers a reflective centrepiece that you may also use to bounce off other visual accents you have going on. 
Some of the upsides of the Cartwheel Mirror from Artisans Rose include: 
Elegant And Simple Decorative Piece To Instantly Uplift Your Home This Holi 

Distressed Contemporary Chic Vibe That Ties In With The Holi Feel 

Unique Edgy Design That's Beautifully Minimalistic 
As a placement tip, you could position the Cartwheel Mirror around windows and other light sources to spread the natural light into darker areas of a room.  
Colourful Cushion covers
Holi is called the festival of colours for a reason. This time of year is perfect for exploring your wild side and trying to combine some significant Holi colours to pay respect to their respective symbolisms. 
One way to do that is by switching out cushion covers to mirror the hues that are quite popular with the occasion. For example, here are a few cushion cover options from Artisans Rose and how each pays homage to Holi:
Telephone Cotton Cushion Cover- The Red Signifies Fertility And Love

Bike Cotton Cushion Cover- Its Blue Hues A Reverence To Lord Krishna

Jaafur Ivory Cotton Silk Cushion cover- For Floral Patterns To Celebrate The Onset Of Spring

Letters Pink Cotton Cushion cover- Pink Is A Popular Holi Colour And Demonstrates Care And Compassion
Other vibrant options you could also try out include the Nishat Cotton Silk Cushion Cover, Mehtab Silk Cushion cover, and Letters Orange Cotton Cushion cover. Combine three of four colour options across your furniture pieces to fully capture the rainbow of awesomeness that Holi is all about and to make any Holi party stand out. 
Plush Single-Seater Sofa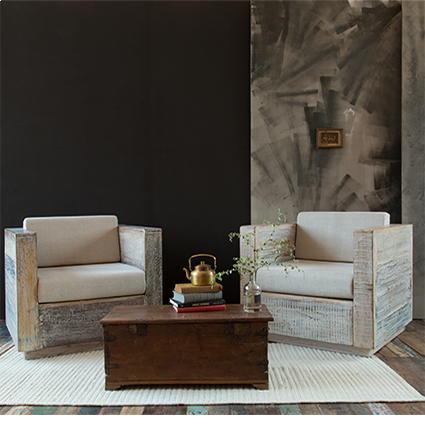 What is the best time of year to buy new furniture in India? Holi only comes around once in 12 months, so why not take this time to also revise your living room aesthetics? In particular, the festival of colours provides an opportune moment to add to your furniture visuals or completely switch out everything and take your tone in a new direction. 
Either way, the Plush Single-Seater Sofa is an excellent functional and decorative piece to work with. Here's why it makes for one of the best Holi Décor 2023 has to offer: 
Comes In An Elegant Distressed Lime Finish That Offers The Perfect Background For More Colourful Décor (This Finish Makes It Pleasantly Soft To The Touch And Easy On The Eye)

Timeless Design And Style That Ensures Purpose Well Beyond Holi 

Incredibly Comfortable Cushioning That You Can Just Sink Into For Hours On End

Handcrafted And Reclaimed Wood Which Ensures Authenticity And Environmental-consciousness 
Also, you could take this time to revise your other home furniture with more Holi-favourable selections. Other recommendations from the Artisans Rose store include the Afnan Bar Chair, Salerno Arm Chair, and Cougar Tiger Wooden chair to name a few. 
Picture Frames & Wall art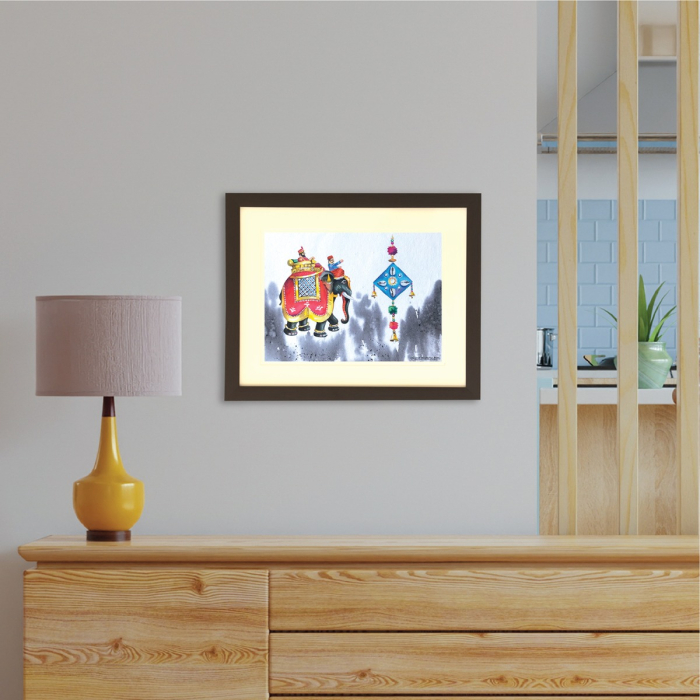 Now let's talk picture frames. A wall without any décor can take the fun out of Holi no matter how hard you try to decorate other spaces. To avoid that, we recommend adding life and colour to your walls this Holi by way of picture frames. 
These are also perfect for preserving special family moments in tangible memory while improving the Holi aesthetics around your home. Some amazing picture frames from Artisans Rose include: 
Mitena 09 Wall Collage Photo Frame

Dyani 10 Wall Collage Photo Frame 

Alvart Photo Frame Silver 

Zopyros Handpainted Picture Frame
Beyond picture frames, you could also go with wall art with nods to Holi. These can complement your picture frames or you may use them as an alternative or substitute.
Consequently, a few wall art/painting options we recommend especially for Holi encompass the Blue Pottery Collection, Sns Collection, Puppet Wall, and Gaja Collection Wall art.
Don't Miss Out On The Holi sale!
Beyond these awesome Holi festive Décor ideas we've described, we also have plenty of more inspiration and rewards in store for you this year around. Artisans Rose is pleased to announce that the Holi sale is now live and that you stand to enjoy up to 10% instant discounts when you buy from the store. So start shopping today, to get all the individual pieces you need to bring the Holi vision you have for your home to life. You're sure to find many other irresistible options beyond the ones in this list. Explore now.