It is possible to add zest and create a special style of the apartment with an invisible door. This way, you can show your creativity and imagination. These design solutions are aimed to visually increase the space inside the room and create a holistic picture. Of course, the installation of this type of door is more complicated and requires a professional approach, but the benefits are worth it.
Benefits of hidden mounting doors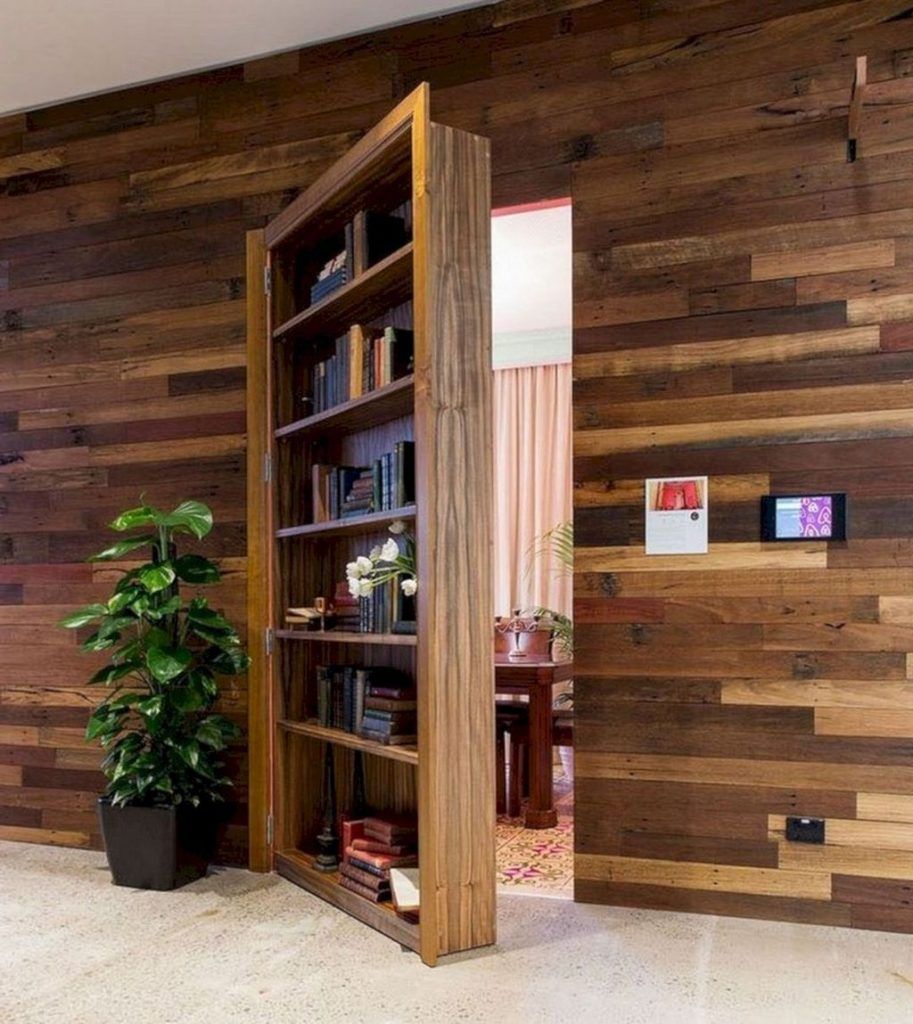 source: pinterest.com
Invisible door does not limit the possibilities of the owner, on the contrary, it rather opens up unconventional ways of solving. According to experts, some of the advantages of such door systems include:
original and stylish appearance;

it is suitable for any style of interior;

the possibility to use the leaf under the paint, wallpaper, panels etc;

wide choice of opening mechanisms;

a large selection of materials;

improvement of sound insulation.
A hidden leaf solves a lot of problems. Especially when you need to design the entrance to a bathroom or closet without violating the overall integrity of the room.
Types of hidden doors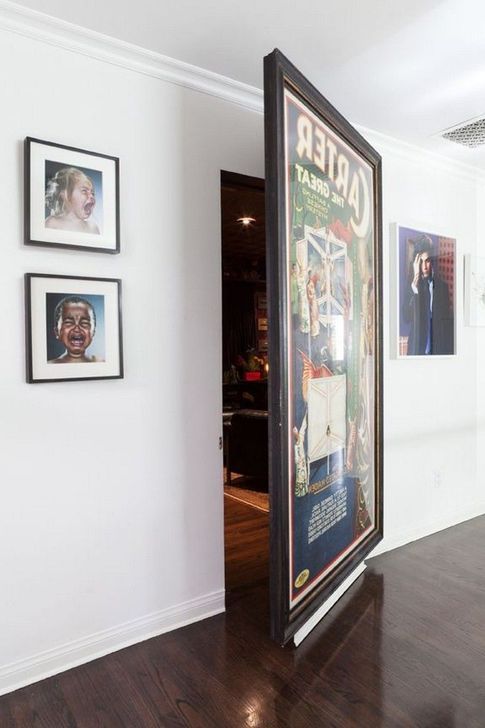 source: pinterest.com
By the type of opening, invisible door systems can be hinged, sliding and roto-doors. The most common are hinged designs. They are easy to install, and there are many of them on the market.
Magnetic handles or roto doors are used for the greatest disguise of the door opening. There are no handles in the leafs of this type. It is enough to push the door to open it. The effect of monolithic can be achieved by using the same paint for the walls and leaf, or the same wallpaper. Wallpaper with a vertical stripe looks very stylish. In addition, it can hide gaps in the door frame. It is important to note that the installation of the invisible door takes place before the finishing stage in the repair, because the walls need to be specially prepared.
Factory invisible doors and custom-made doors
source: pinterest.com
Custom doors will undoubtedly fit more accurately into the overall style. However, if your goal is not a total disguise, you can also use what stores offer. In addition, these doors can completely copy the appearance and texture of the walls, and vice versa, provide a contrast. The market offers a huge variety of models, textures, materials and colors, so everyone can show his taste and create an individual style of the apartment, playing with visual illusions. You can even buy doors in Toronto: triodoors.ca. It's simple and easy to place an order for an invisible door system from the comfort of your home.