Sliding doors are not only space-saving but also easy to install. They allow easy movement in and out of the room. Generally, traditional doors limit the space. It does not allow to access another section of the room until it is closed. At that time, slide doors are convenient for movement. It helps to keep the room open when you want and is also convenient to close when you need some privacy.
Barn Sliding Doors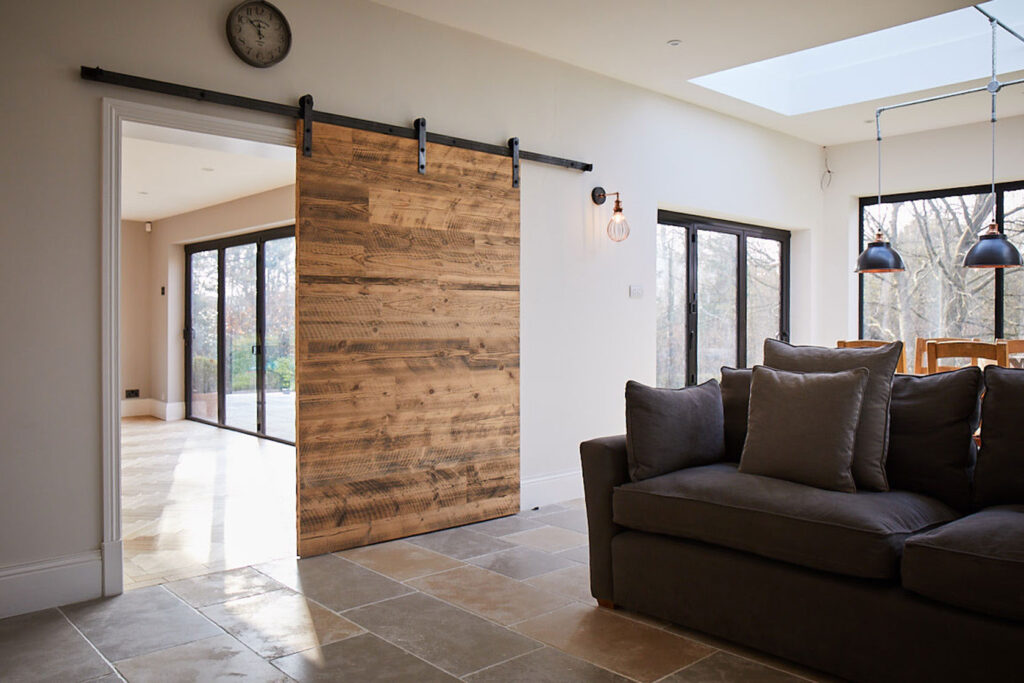 source: maincompany.com
Barn doors are usually useful to simulate light from a window. It is most suitable for the kitchen. However, the use of a barn door depends on the space you put it. For example, the TV room or playroom for kids also has functional barn doors. They can fit in the smallest room. Therefore, barn doors are the most popular choice for slide doors.
Cavity Sliding Doors
The sliding doors that hide in the cavity are called cavity sliding doors. The door slides into a hidden pocket. Cavity doors are made from mostly wooden material. However, contemporary designs of cavity sliding doors include glass material too. They are useful in making en-suite bathrooms and walking dressing rooms. Apart from that, cavity sliding doors are also used as partitions. 
Double Sliding Doors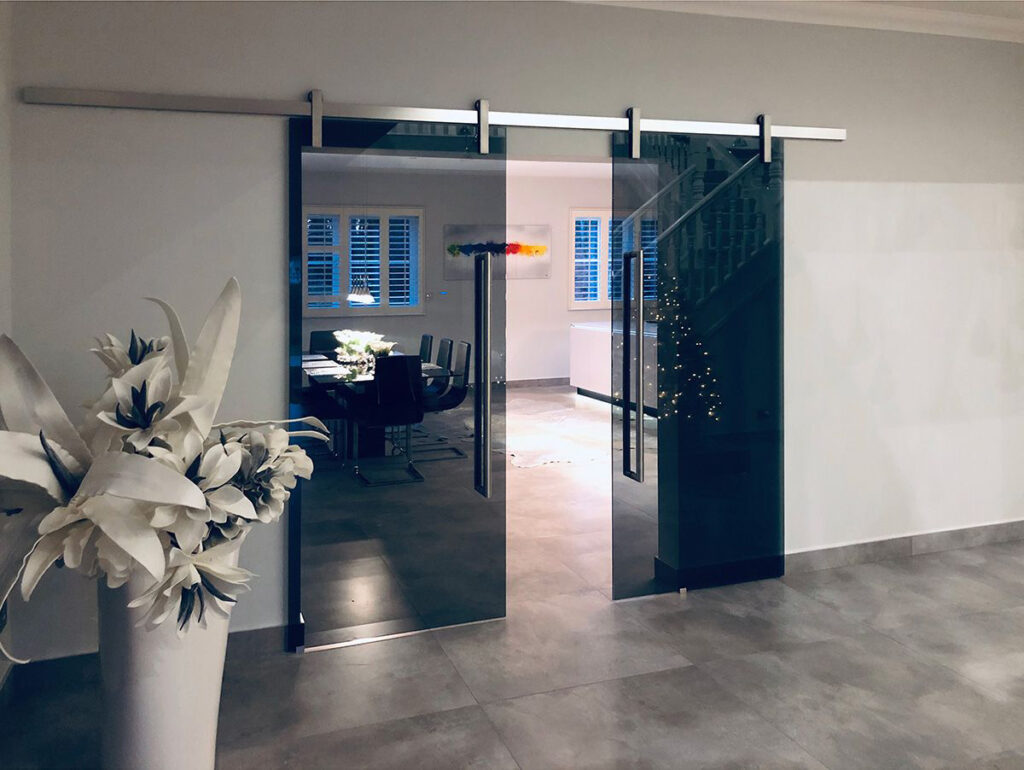 source: elegantdoors.co.uk
These convenient and attractive door installations are increasingly popular for all types and sizes of residential and commercial properties throughout Australia today. Single cavity frame doors are a useful upgrade from conventional hinged door styles that make doorways more easily accessible, especially for wheelchairs for moving furniture out. The unique design of a sliding door set within a door cavity provides a streamlined, attractive element of decor that is also cost-effective and durable.
White Rustic sliding Doors
It will transform your entryway into a side-sliding entry. These heavy-duty solid sliding doors in white color have a chic look. It is a fancy to bring innovation into the home. A bedroom or kids' room is a good space to apply these stunning white sliding doors. It is available in spruce wood too. Delicate texture is the specialty of this design. It is available online with a whole kit. Pr-drilled screw holes, wood panels and a manual are there in a kit. Thus, you can make a DIY for your beautiful home. 
In Wall Sliding Door
source: eclisseworld.com
This is a suspension door that tracks or drags across an opening instead of revolving on hinges. In addition to that, they are suitable for smaller spaces. It neatly tucks into a wall. You can make your laundry room better with lesser noise by installing in-wall sliding doors. Moreover, a pantry of your house may have this type of door to save space in the kitchen. If you wish to make a home office and separate yourself from the family, it is a good option for slide doors.
Rustic Wooden Doors With Studs
It is suitable for interiors as well as exteriors of your home. It has versatility and flexibility. Make a grand entry with two panes and studs in it. The attraction of studs especially in dark colors gives attention to detail. You may have round studs or the square shape studds. Apart from that, the design of the studds also matters. If you place the studds at the horizontal edges of the doors, it will look classy. 
Large Mirror With Rustic Touch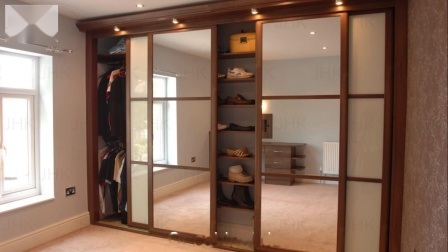 source: raydoor.com
This type of slide door design will not only gives you functionality but also adds decor to your house. It is a popular farmhouse design door style. Additionally, it gives bohemian vibes when you choose the dark color palette. The pro tip is that you have to choose broad borders around the mirror. Must have a raised edge to give it a highlight. Mix and match colors with other interiors of the room. Add the lighting in the center of the room to make the most use of the mirror.
Textural And Patterned Slide Doors
Vertical patterns as well as horizontal patterns on the doors make an illusionary effect. It makes the space look larger. Even the designs of spheres or polygons on the doors are in trend. Instead of having boring Sliding doors, add some patterns to them. For Instance, geometric patterns or symmetrical free-hand patterns. It will uplift the overall look of the room. 
Slab Sliding Doors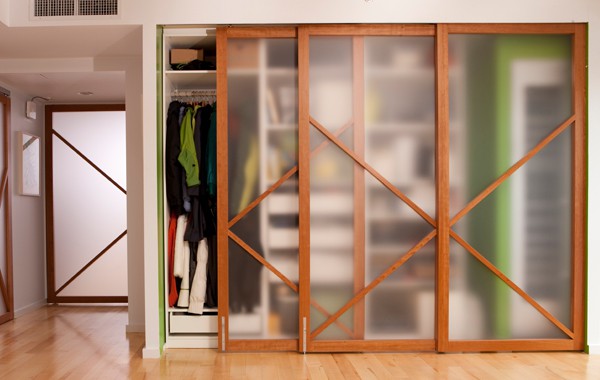 source: pinterest.com
Wooden slabs in a horizontal attachment loop are the key design of this look. The slabs must be broad or wide enough to be noticed. The wooden slab slide doors are the only option to give a classy wooden touch with a mid-century house look. Dark color wood with raw finish slabs gives it a fantastic look. Your living room space will get a fresh modern touch with the help of this design. Moreover, the study room and home-office area also need this type of slide door design.
Natural Living Edge Door.
The most popular and funky look of the sliding door is the living edge design. It looks like a trunk of a tree is placed in the place of the doors. Moreover, this piece of door is a single piece from a tree trunk. Yes, it comes with no borders or uneven borders. You will have a natural wood look in your home with contemporary vibes. The best part is the raw and organic look can give you jungle vibes. 
Sliding Door Aluminium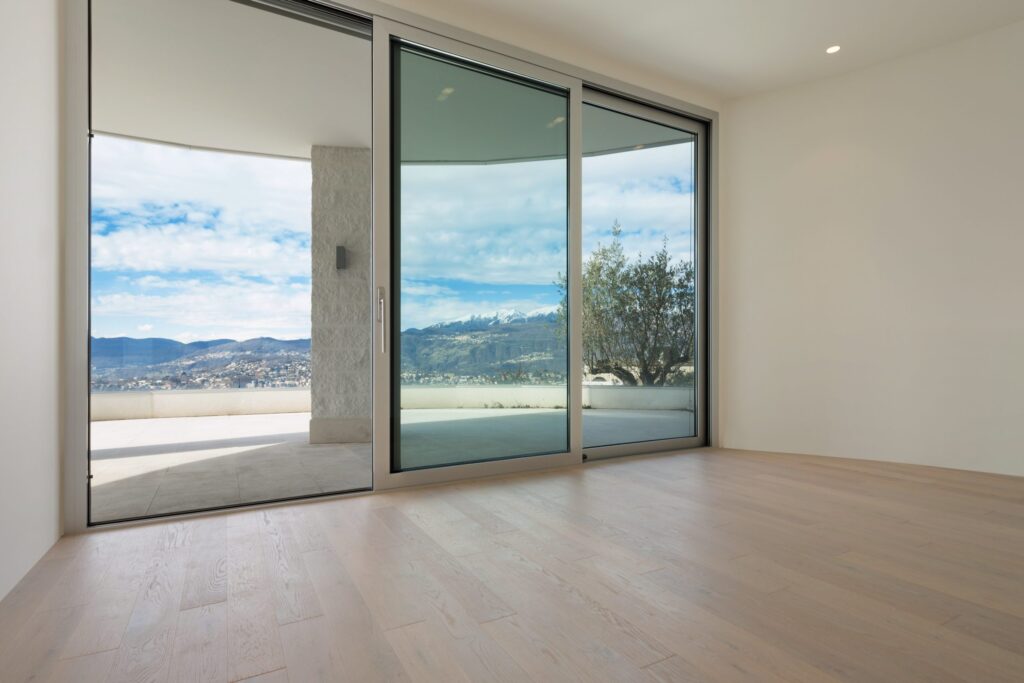 source: aiswindows.com
As aluminum is affordable and customizable, it is a choice of interior designers. The quality and durability are a matter of discussion. Overall performance of aluminum is good compared to other metals. Though it is very cheap, it is not suitable for every project. You have to choose the framing and slide door panels wisely before opting for aluminum.
Conclusion
Slider Doors are the best at making a house appear larger. The style world is currently awash with sliding barn door ideas. Interior Decorators around the world figuring out how to incorporate these classic pieces into valuable additions. All shared space entryways can get benefits by implementing slide doors. So, choose one of the best sliding door designs that suit youtube space and make it functional and attractive too.